Ever since we discovered turkey bolognese my family have finally enjoyed eating bolognese! They have never been big fans of the traditional spaghetti bolognese made with beef mince. I have never understood why because this is actually my favourite dish. And I am not exaggerating when I say that I could eat it almost every day!
So one day I decided to try making it with turkey mince instead of beef mince and it's been a real game changer! Now that my family enjoys eating bolognese. I feel good about making it often and I finally get to satisfy my love for bolognese regularly. It's a win-win!!
Turkey Bolognese Is Amazing Because
Turkey mince is lower in fat than beef mince so it is healthier!
It is full of flavour.
This recipe contains vegetables for added flavour as well as nutrients.
Best of all it's a super easy recipe to make.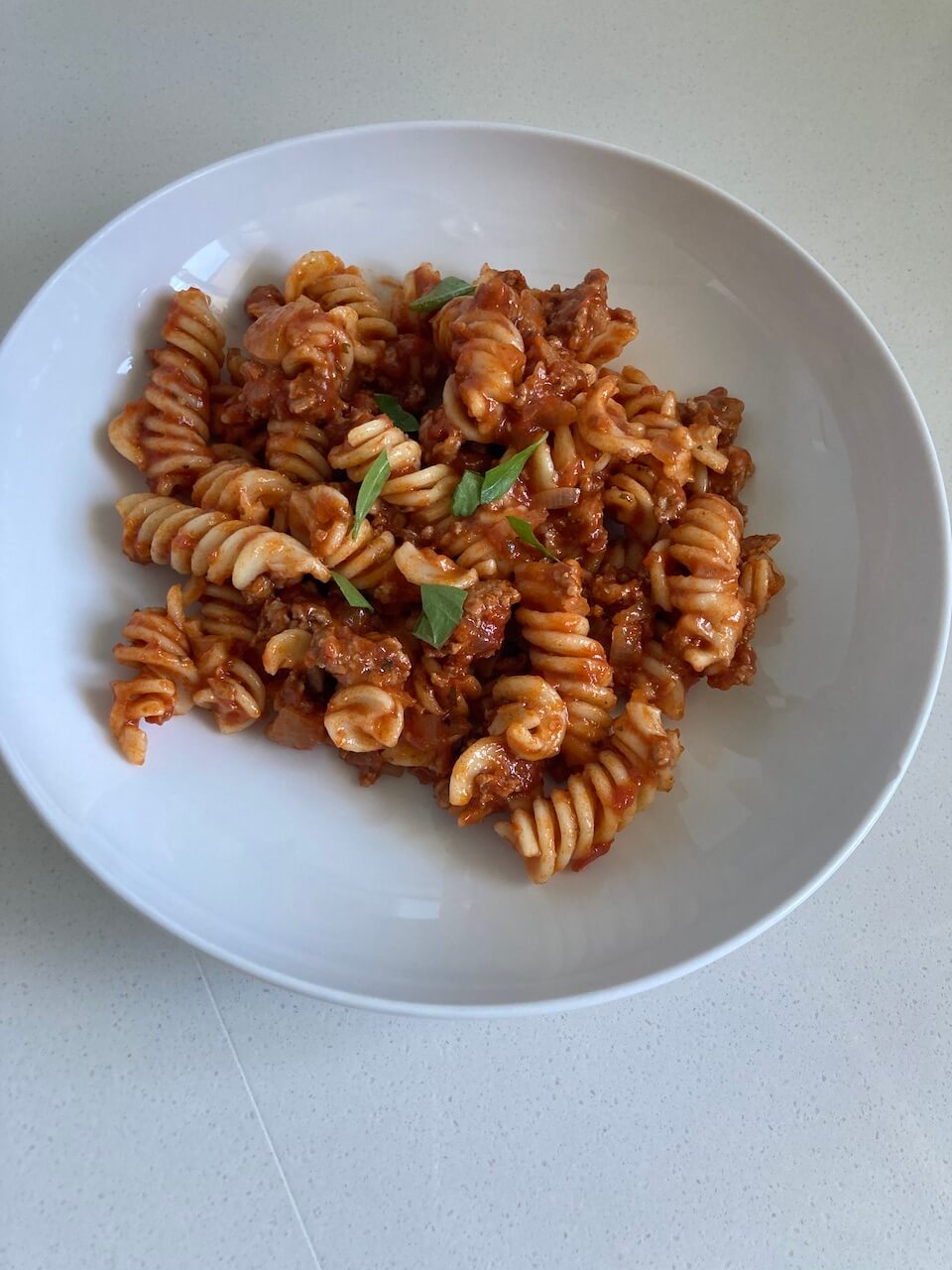 What To Serve With Turkey Bolognese
You can serve turkey bolognese with any pasta you prefer. I love the traditional spaghetti pasta but my family loves the spirals the best. You could also serve it with zucchini noodles instead of pasta. And if you make a delicious fresh salad and garlic bread to go with turkey bolognese. You will have an amazing dinner on the table in no time at all!
Turkey Bolognese Recipe
Ingredients
500 gm turkey mince
1 tablespoon extra virgin olive oil
1 medium onion finely chopped
2 carrots finely chopped
3 stalks of celery finely diced
2 cloves of garlic crushed
1 cup of chicken stock
1/2 tsp dried thyme
1/2 tsp dried oregano
1/4 tsp cumin
1/2 tsp dried parsley
add salt and pepper to taste
400g passata
1 can of crushed tomatoes
Instructions
Peel and finely chop the onion, celery and carrots
Heat olive oil in a medium saucepan and add garlic and vegetables. Cook until the vegetables are soft.
Add the turkey mince and cook until brown.
Add the passata, crushed tomatoes and stock.
Add oregano, thyme, cumin and parsley.
Bring to a boil, stir then lower the heat to the lowest setting and simmer for 25 minutes.
Cook The Pasta
While the sauce is simmering. Cook approximately 400 grams of your choice of pasta until al dente
combine the sauce and pasta together in a big serving bowl.
Serve with parmesan cheese and fresh basil leaves to garnish.
Notes
Don't worry if it looks like there is a lot of sauce because the pasta will soak it all up and the delicious flavours will infuse into the pasta.
Taste as you cook and add seasonings and herbs according to your liking.
If you think the sauce is a little on the dry side then add more chicken stock.
You could make turkey bolognese with turkey breast mince but I find that it's drier than regular turkey mince.
Other Easy Recipes You Might Like To Try