This Easy Mediterranean Couscous recipe is packed full of nutrients and it is the ideal side dish or it can also be eaten as a complete meal. Best of all it will take very little time and effort to make. It's perfect for those nights when you want to cook your family a healthy meal but have no energy to fuss around in the kitchen after a busy day.
This easy Mediterranean couscous recipe is also perfect for when you entertain guests at your next dinner party. All the colours of the ingredients make it look very appealing and you can easily serve it hot or cold.
What Is Couscous And Why Is It So Good For You?
I used to think couscous was a grain but I was wrong. Couscous is actually made from a mixture of semolina and water. It is then rolled into tiny balls. So couscous is a type of pasta and it originates from Northwest Africa.
The great thing about couscous is that it is so versatile. The other night I felt like a bit of a change from the usual rice or potatoes. So I made my Easy Meditteranean Couscous as a side dish. Then because we had leftovers I took some to work for lunch the next day and my son took some to school too.
My family really enjoys this recipe, it's a big winner in our house and I make it often. Best of all it's super easy to whip up and full of natural goodness. So I thought that I would share it with you today. But first, let's talk about all the health benefits couscous has so we can all get really excited about couscous!
Health Benefits Of Couscous
Whole-grain couscous contains fibre. We all need a good amount of it in our diets because fibre will keep us feeling fuller longer.
It can also help to lower cholesterol.
Couscous is a fantastic source of plant-based protein which is essential if you follow a vegetarian or vegan diet.
Couscous contains selenium an essential antioxidant that helps our bodies to
repair damaged cells,
reduce inflammation
contributes to a healthy thyroid function
According to Healthline couscous may even be beneficial in reducing cancer risk.
Apart from all the significant health benefits that couscous has. One of the reasons why I really like to include it in our meals. Is because it is just so easy to prepare. You can make couscous with just simple ingredients like water or broth. Or you can go all out and add fancy ingredients such as sun-dried tomatoes, capsicum, olives, feta cheese, and grilled chicken. The choice is yours and the possibilities are endless.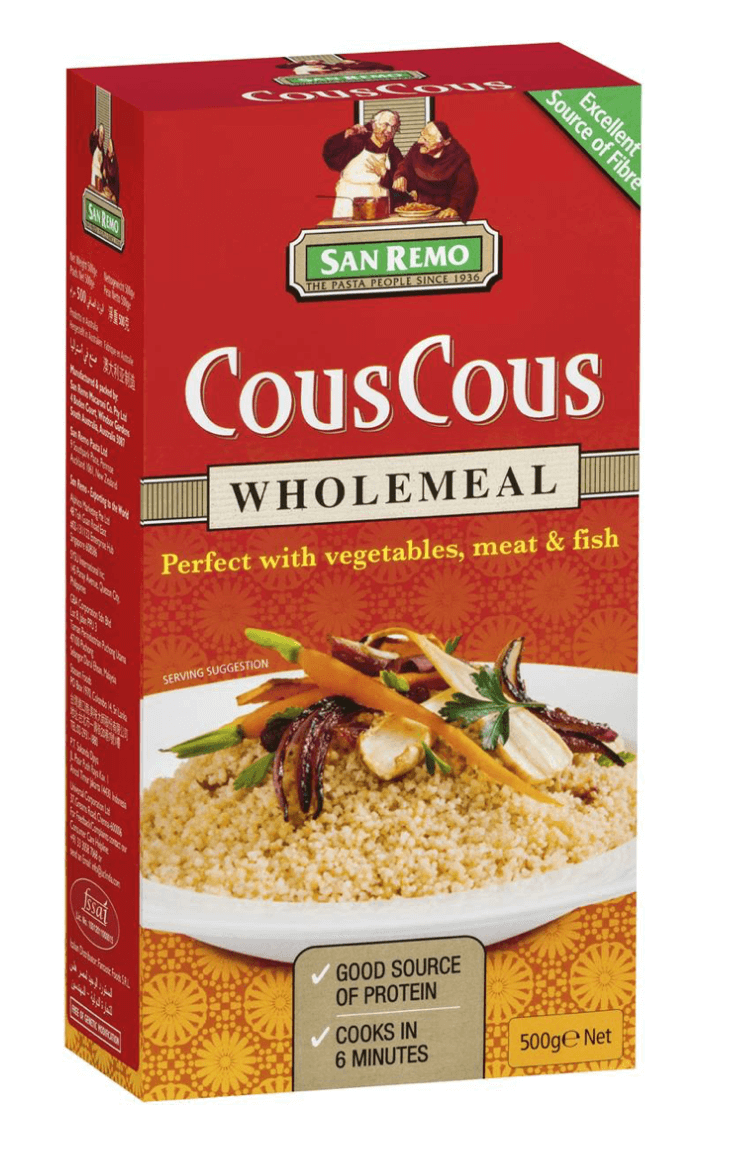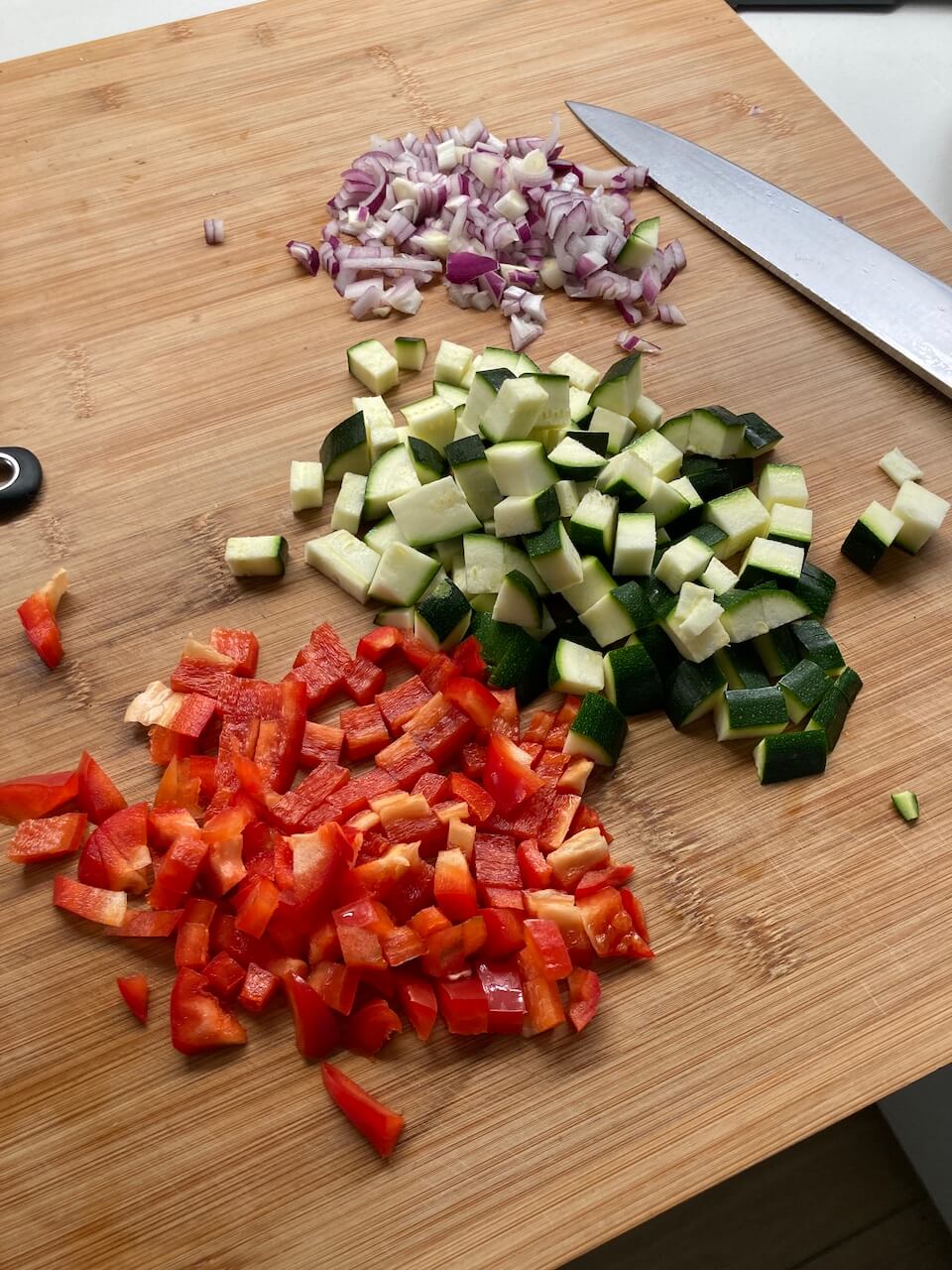 Easy Mediterranean Couscous Recipe
Ingredients
1 1/2 cups of boiling water
1 1/2 cups of instant couscous
small red onion
clove of garlic
1/2 tsp cumin
1/2 tsp coriander powder (or you can add a handful of chopped fresh coriander to garnish at the end)
medium-sized zucchini
 small red capsicum
one cube of chicken stock. I like to use Massel stock cubes
200 grams tinned tomatoes
tin of chickpeas
olives
olive oil
Instructions
Make the instant couscous first and set aside-Simply add 1 1/2 cups of boiling water to 1 1/2 cups of couscous. I use the San Remo couscous. Check the water/broth instructions on the packet of your preferred couscous.
Chop onion and garlic then drizzle pan with olive oil and cook for 5 minutes
Add chopped zucchini, capsicum, tinned tomatoes, cumin, and coriander powder to the pan and cook until vegetables are slightly tender. Be careful not to overcook.
Add the stock cube and tinned chickpeas. Cook for a further minute
Mix all the cooked ingredients into your premade couscous
Add pitted olives. Mix through and drizzle with olive oil.
This Mediterranean couscous can be served either hot or cold as a salad.
Enjoy!
This recipe serves about 4
Other Ingredients You Might Like To Add To This Easy Mediterranean Couscous Recipe
Grilled chicken
Baked pumpkin cut into cubes
Cooked lamb
Pine nuts
Cooked beef strips
Feta Cheese
Tuna