My Favourite Fragrances-
I have been on a quest to find a signature fragrance for years. There are just so many lovely-smelling fragrances to choose from. So finding just one has been a fun challenge. In the past I have smelled fragrances on friends and have really thought "that's the one for me!!" But when I have worn the same one myself. I haven't liked it nearly as much as I did when I smelled it on them.
So over the years, I have narrowed my favourite fragrances down to five. I like to use a little perfume every day but I don't wear too much because I have a super sensitive nose. I much prefer a soft and faint effect when it comes to fragrances.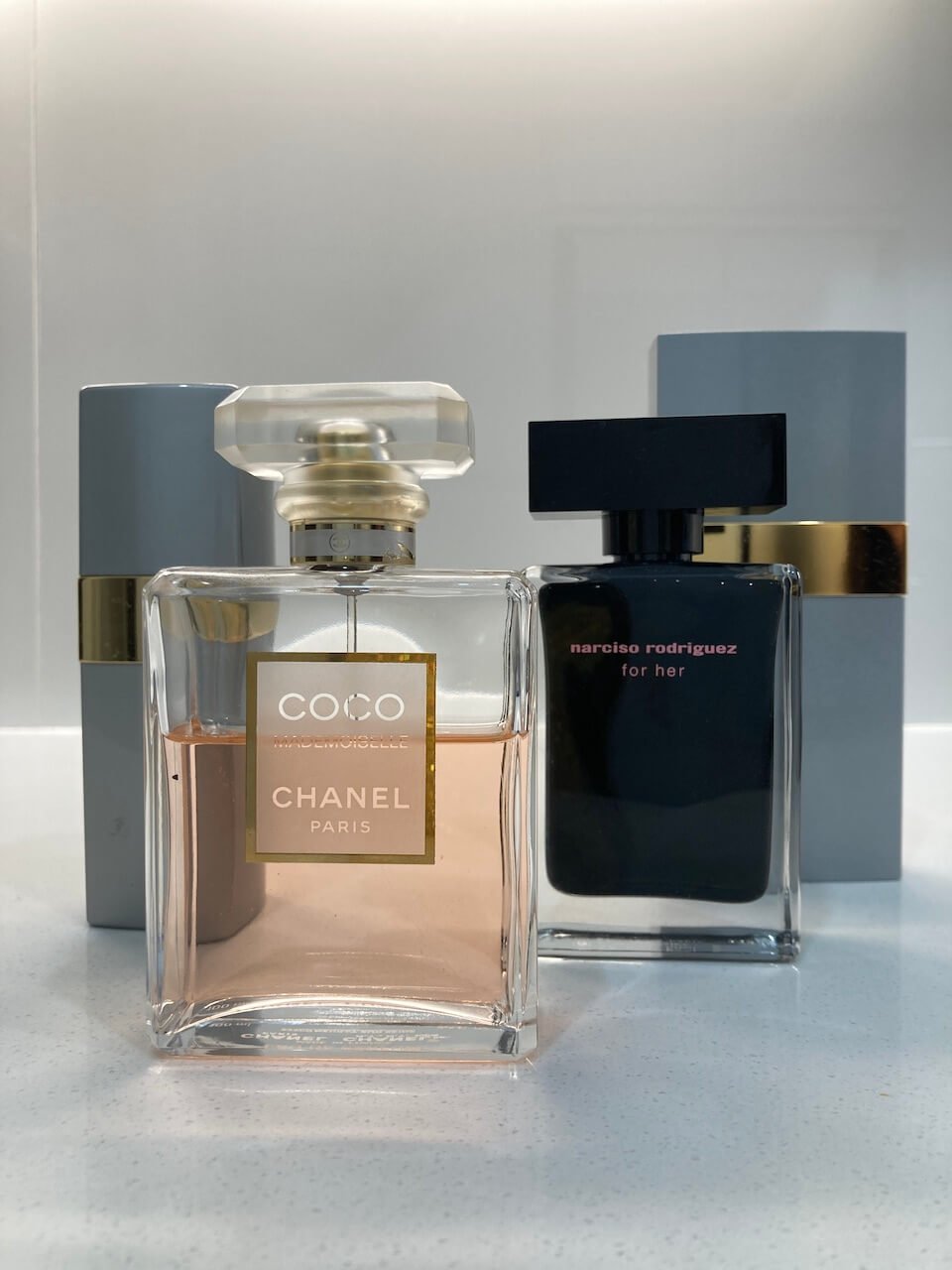 A List Of My Favourite Fragrances
Chanel Nº19
I love this classic fragrance. My husband gave it to me many years ago. It was either an anniversary or a birthday present. I can't remember because it was that long ago. I loved it then and I love it now. For me, Chanel Nº19 is a perfect balance of floral and woody. It contains bergamot which is one of my favourite scents. And this probably explains why I love drinking Earl Grey tea. One of the main ingredients in Earl Grey tea is actually bergamot oil.
White Linen By Estee Lauder
My dear uncle Bill, the best uncle in the whole world gave me a small bottle of White Linen perfume when I was a teenager. He brought it back especially for me when he returned home from a trip to America. I love White Linen because it is a gentle floral fragrance that reminds me of spring. It is also very special and I love it even more because my uncle introduced me to this lovely fragrance all those years ago.
Narciso Rodriguez For Her
This beautiful fragrance smells so lovely with a distinct yet subtle note of patchouli. I remember trying this perfume when I was pregnant with my younger son. I was in the Myer city store and shopping for baby things but I went ahead and treated myself to this fragrance. Because I knew that after I had my baby it would be a long time before I would have the luxury of a leisurely day out shopping.
O de Lancome
This is one of my favourite fragrances because it is very different to the usual floral, woody ones that I love. O de Lancome has more of a citrus smell. So it's quite fresh and perfect to wear on a summer's day. When I think about this fragrance, I think of crisp white shirts!
Coco Mademoiselle
This is probably my most recent fragrance purchase. One of my very good friends used to wear it a lot and it reminds me of her. I like it on me too! It's a very elegant fragrance and I usually wear it at the weekend if I am going somewhere special or if I go out for dinner.
This fragrance is different from the others that are my favourite. Coco Mademoiselle has a slight oriental note to it. So it's less subtle than my other fragrance favourites. I feel a bit more daring when I put it on. Probably because it is a more obvious scent. I really love it though and it's nice to have a special occasion fragrance.
**********
These are my five favourite fragrances. Now I don't own all of them at the moment and I have certainly never owned them all at the one time. I tend to alternate between them. Currently, I am wearing Narciso Rodriguez For Her on the days when I remember to quickly spritz as I run out the door. And I leave Coco Mademoiselle for more special occasions.
I have tried other fragrances in the past that I have liked. But probably not enough to buy another bottle. So although I haven't found just one fragrance that I love enough to call my signature fragrance. These five fragrances are my favourites that I always go back to!
Fashion-Related Posts You Might Be Interested In
Ten Wardrobe Essentials For Every Woman