Hi everyone! It's great to be back again today linking up with Holly and Sarah to share a few of my weekend highlights! I hope that you all had a great weekend. Even though it's now autumn here in Sydney. I don't think that we will be feeling any cool temps for a while. And this is totally ok with me! And by the looks of this week's weather forecast we are in for a scorcher of a week!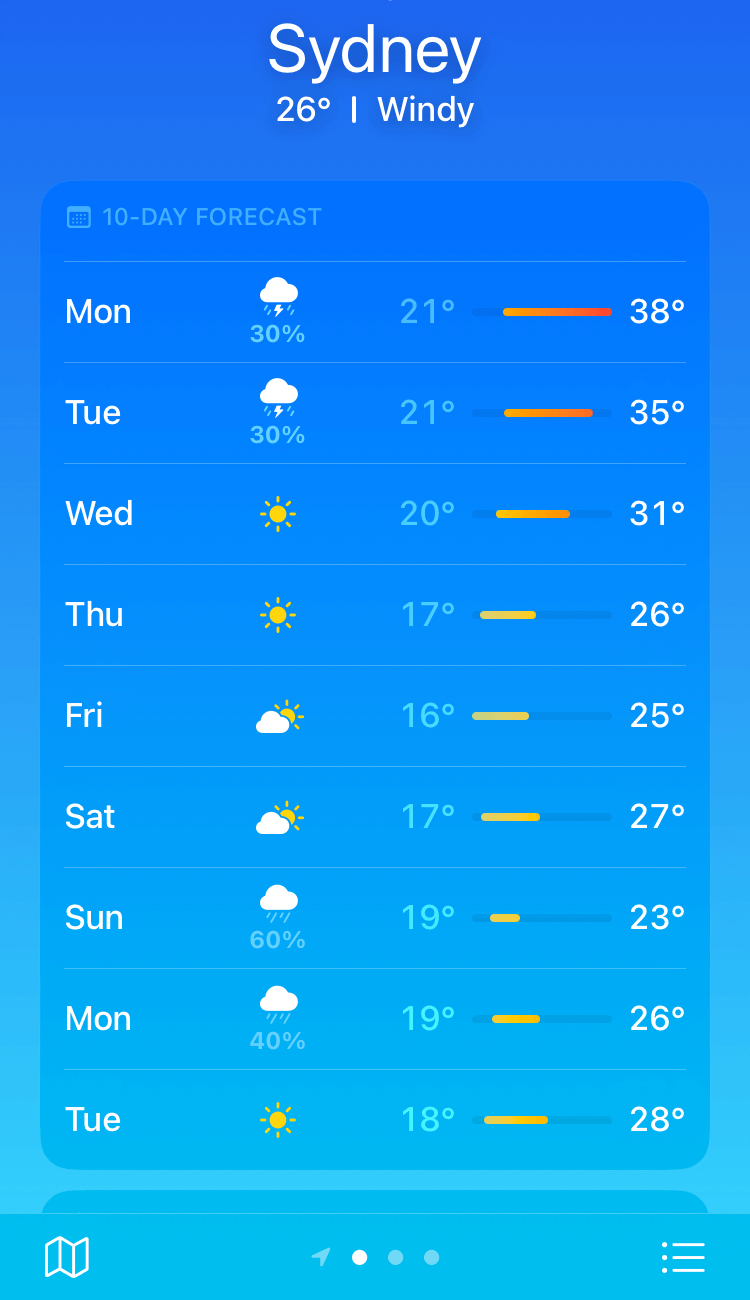 Anyway, I'm so glad that you are here! So let's jump right into some weekend highlights!
Friday Night
I felt so tired on Friday night but I wanted to get ahead and do a bit of prep for our Saturday night family dinner. Luckily I had ordered my groceries online so I didn't have to go anywhere near the busy supermarket. My order arrived at 7 pm and after I packed all of it away. I used up the last of my energy to make some hummus that I wanted to serve as part of the cheese platter. This is such an easy recipe to make. All you have to do is throw all the ingredients into a food processor and you're done! It's so easy peasy and you can find the recipe right here.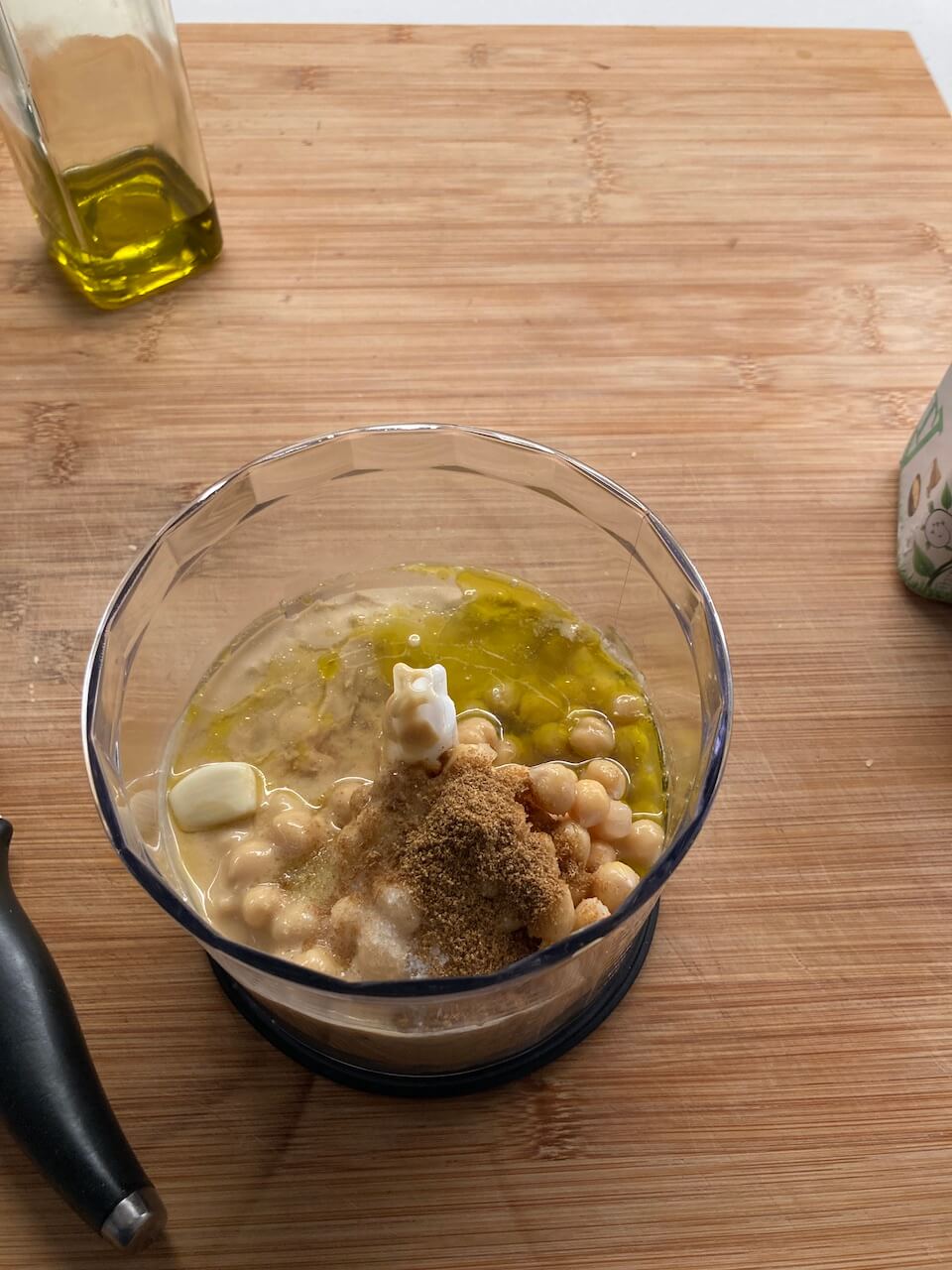 A Big Family Dinner
Saturday was our monthly family dinner or 'cousin connect' as we call it. And it was my turn to host so on Saturday afternoon my kitchen looked like this.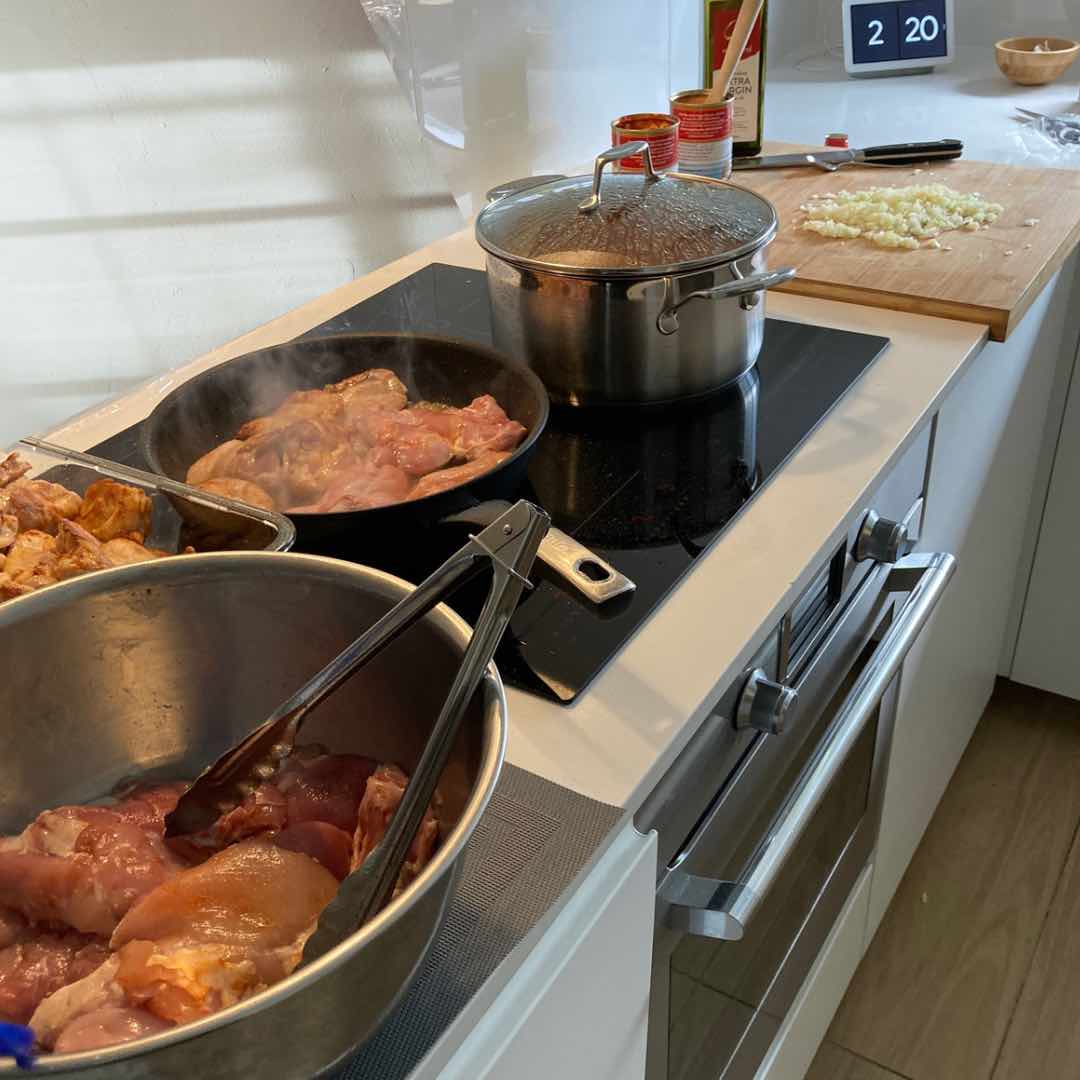 I made some Mediterranean chicken. Which is just basically chicken thigh fillets cooked in a tomato-based sauce. Then sprinkled with feta and black olives over the top. I like to pop it back in the hot oven so that the cheese melts a bit before I serve it.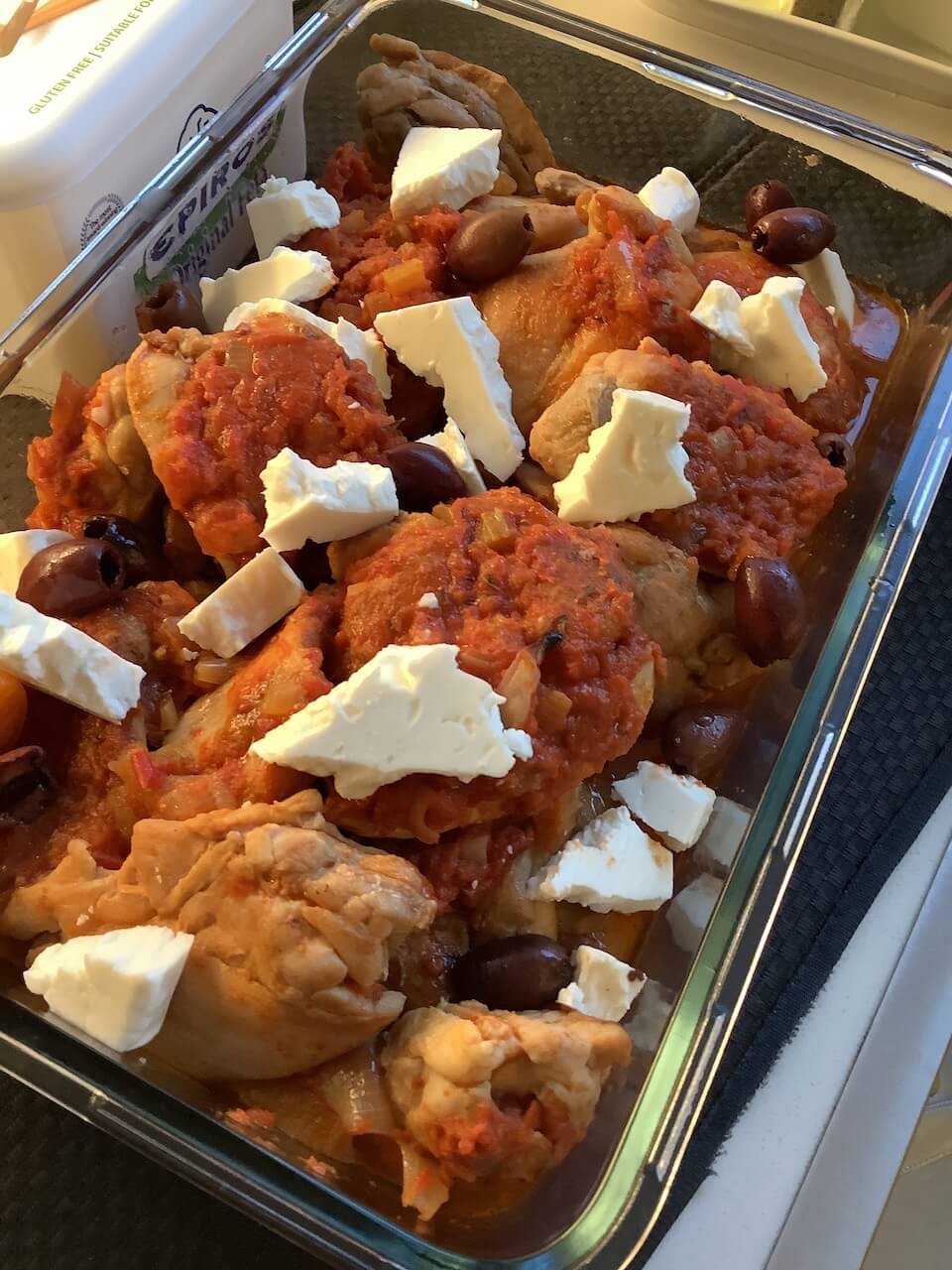 I also made spinach, feta and ricotta pie.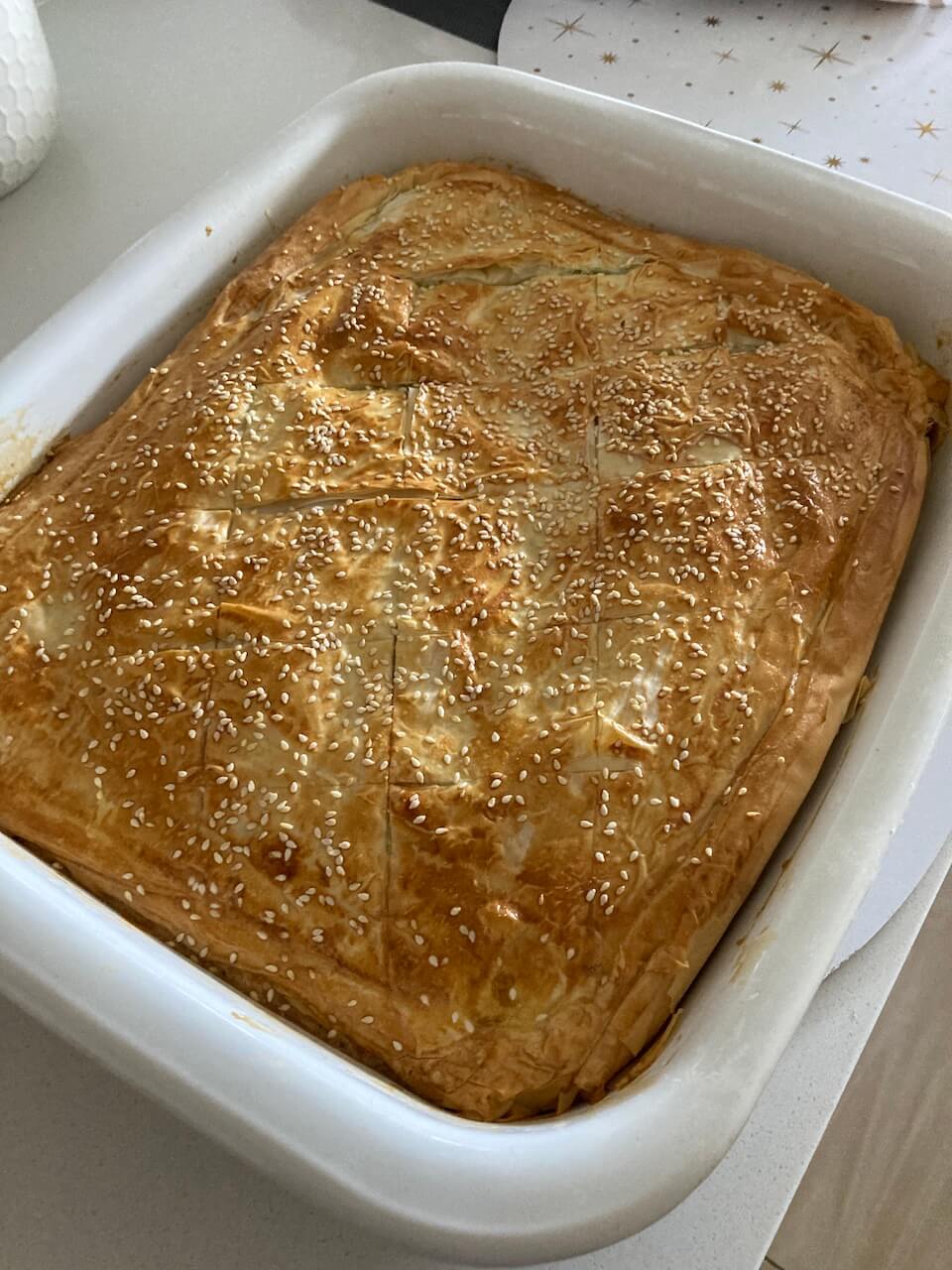 There was also a big salad, rice and sausages because I always panic that we aren't going to have enough food!
About 10 minutes before everyone started to arrive I was scrambling and only just had enough time to put this together. Phew! Luckily I had already made the hummus the night before.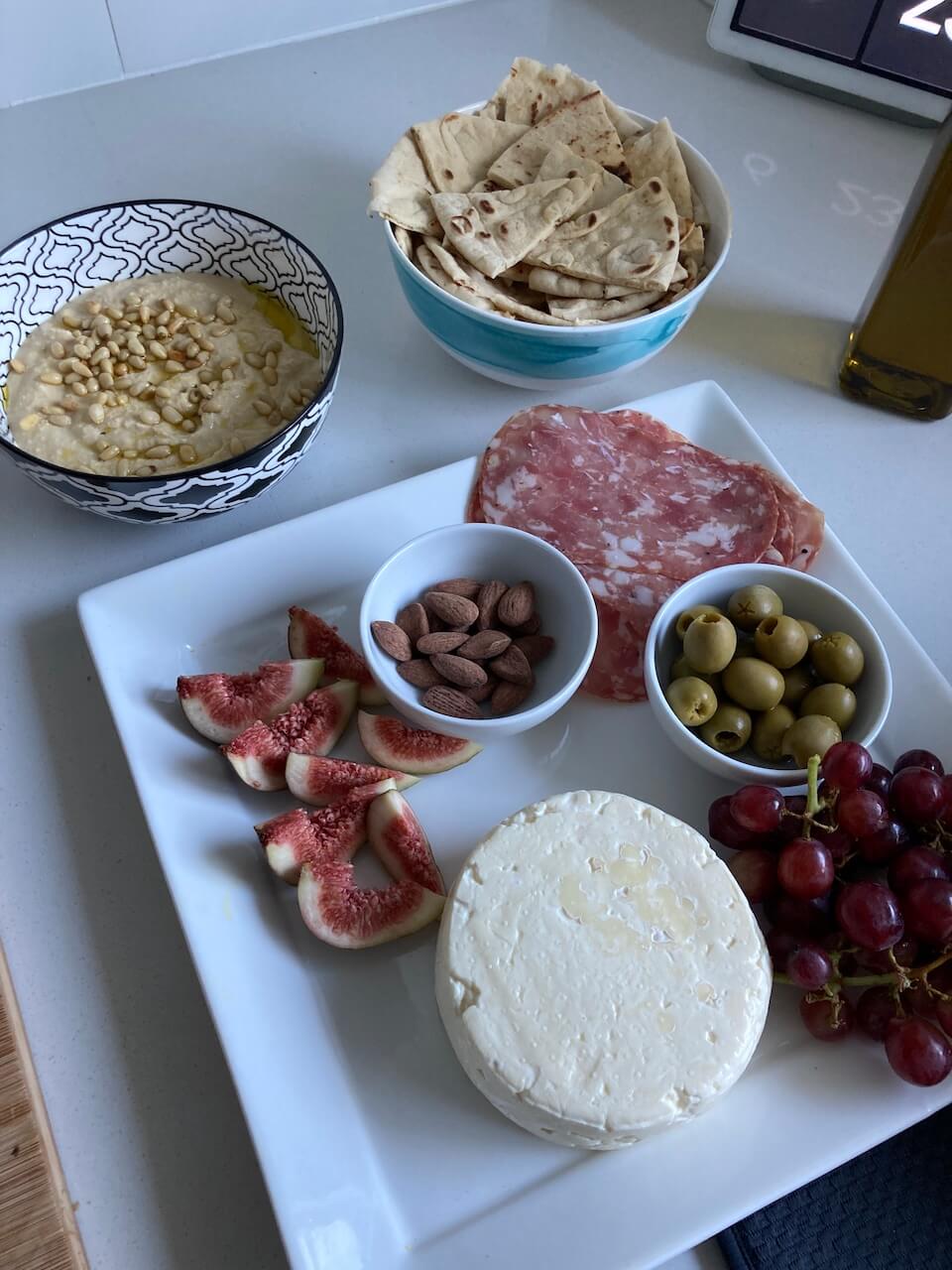 For dessert, I made a super easy peach cobbler and I completely forgot to take a pic when I took it out of the oven. But here is a photo of it just before it went into the oven.
A Fun Night
It was so good to see almost everyone. My son's fiancee had to work and my cousin's girlfriend couldn't make it as she was busy packing to move house so we missed seeing them. But there's always next month! I really look forward to our monthly dinners and so this was at the top of the list of weekend highlights for sure.
It was so funny, the whole family kind of arrived at almost the same time. We were all excited to see each other and we were hugging and saying hello etc. Then as soon as they found out that the black car parked in our driveway was actually Sam's new car. Everyone went back outside again to check out his new wheels. Everybody was so happy for him!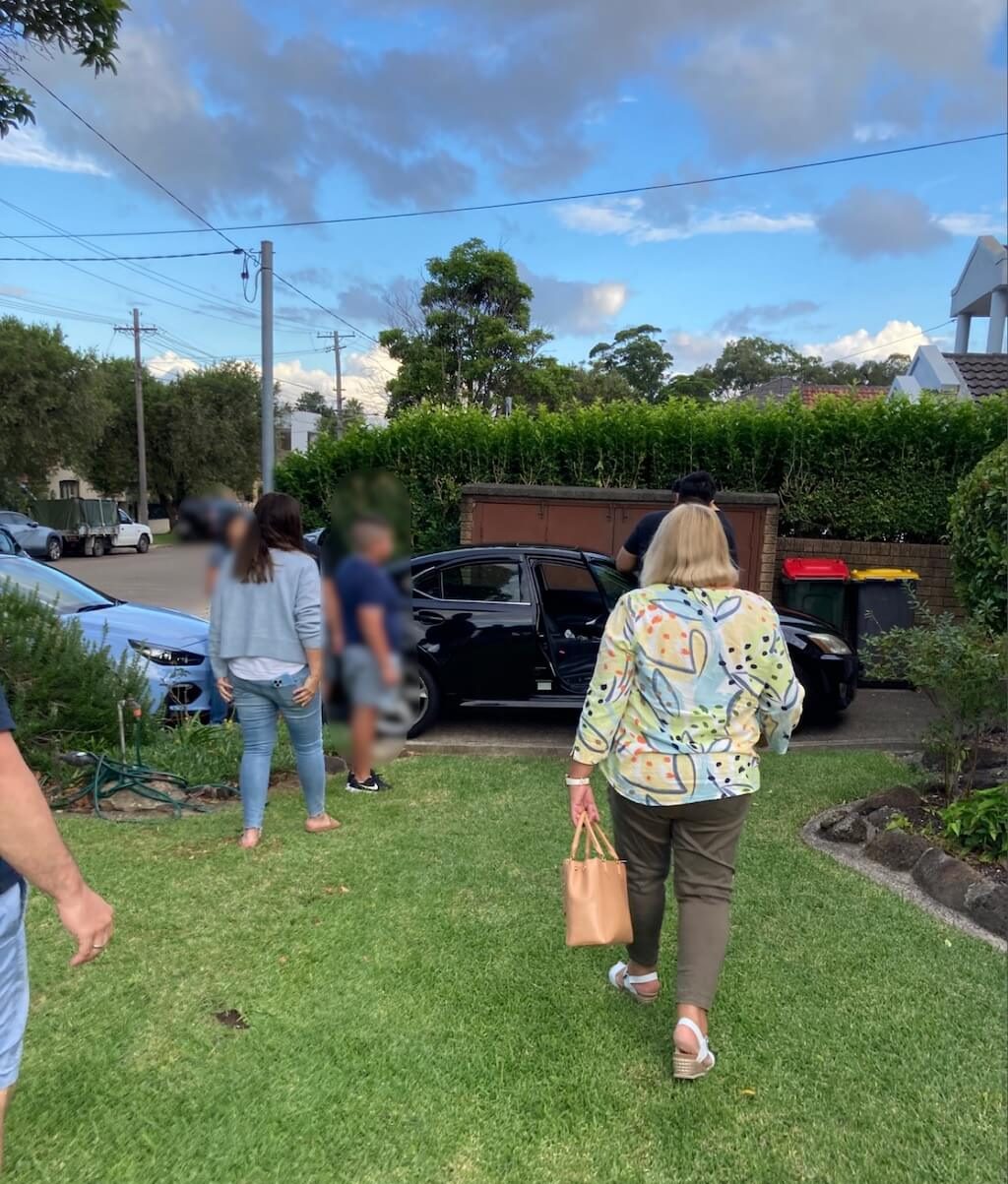 I was so thrilled that we got to eat outside in the courtyard because it can get a bit squishy in our small dining room. The weather forecast had predicted thunderstorms but luckily they were wrong. Instead, it was a beautiful night and we stayed outside finished dinner and chatted for ages. Until a cricket jumped on my aunty's head and then the same cricket went down my top. After all the shrieking we quickly moved into the lounge room ?.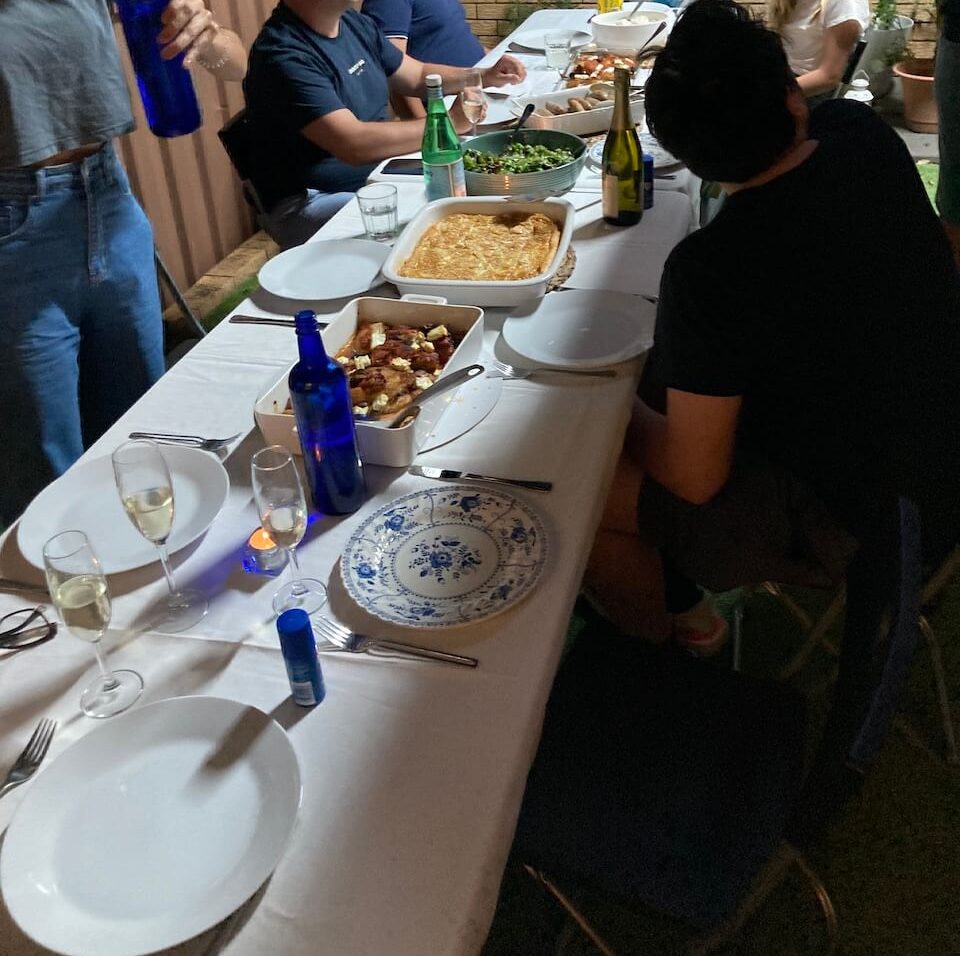 Sunday
I walked to church on Sunday and it was such a beautiful day! So sunny with bright blue skies.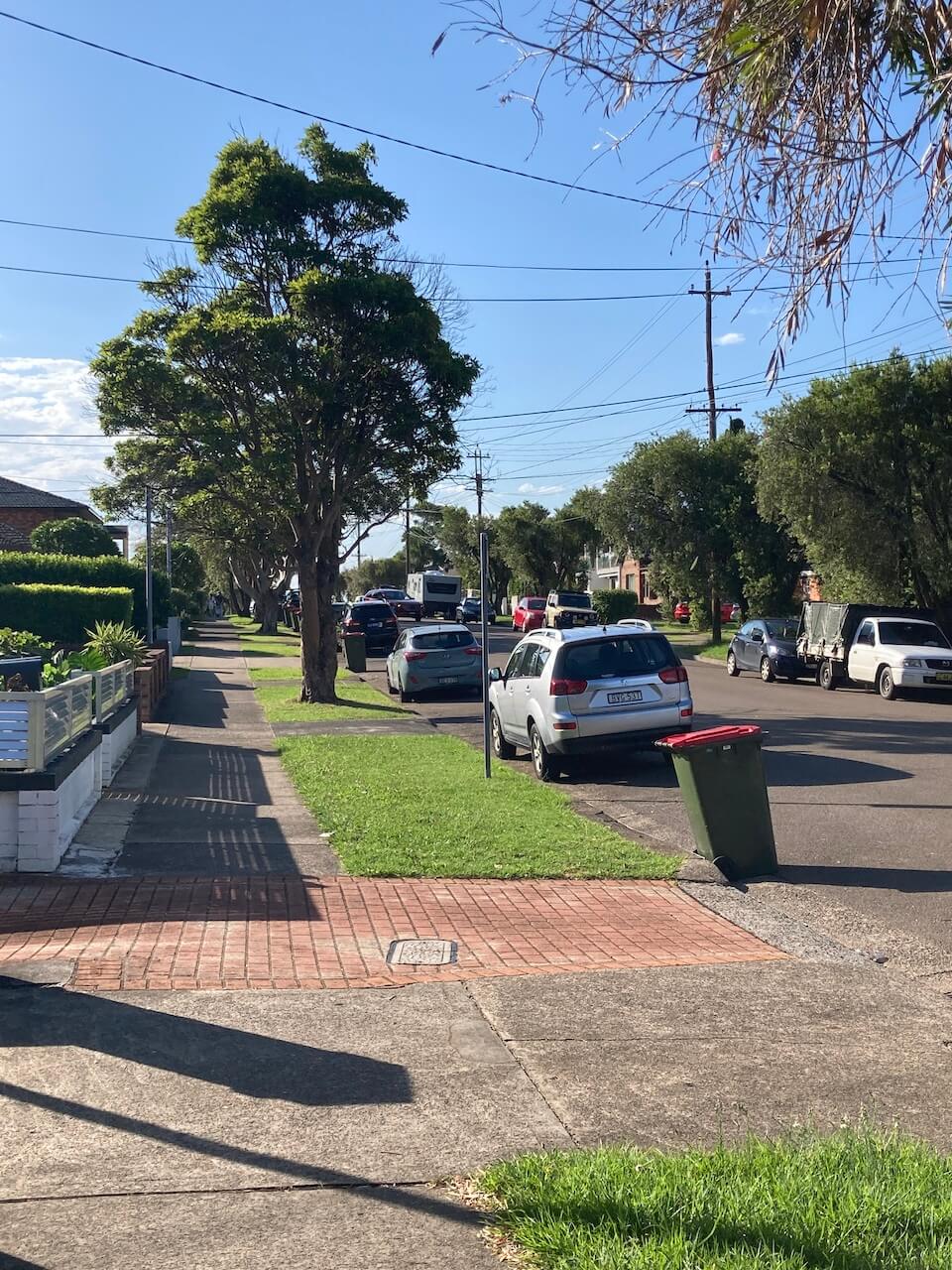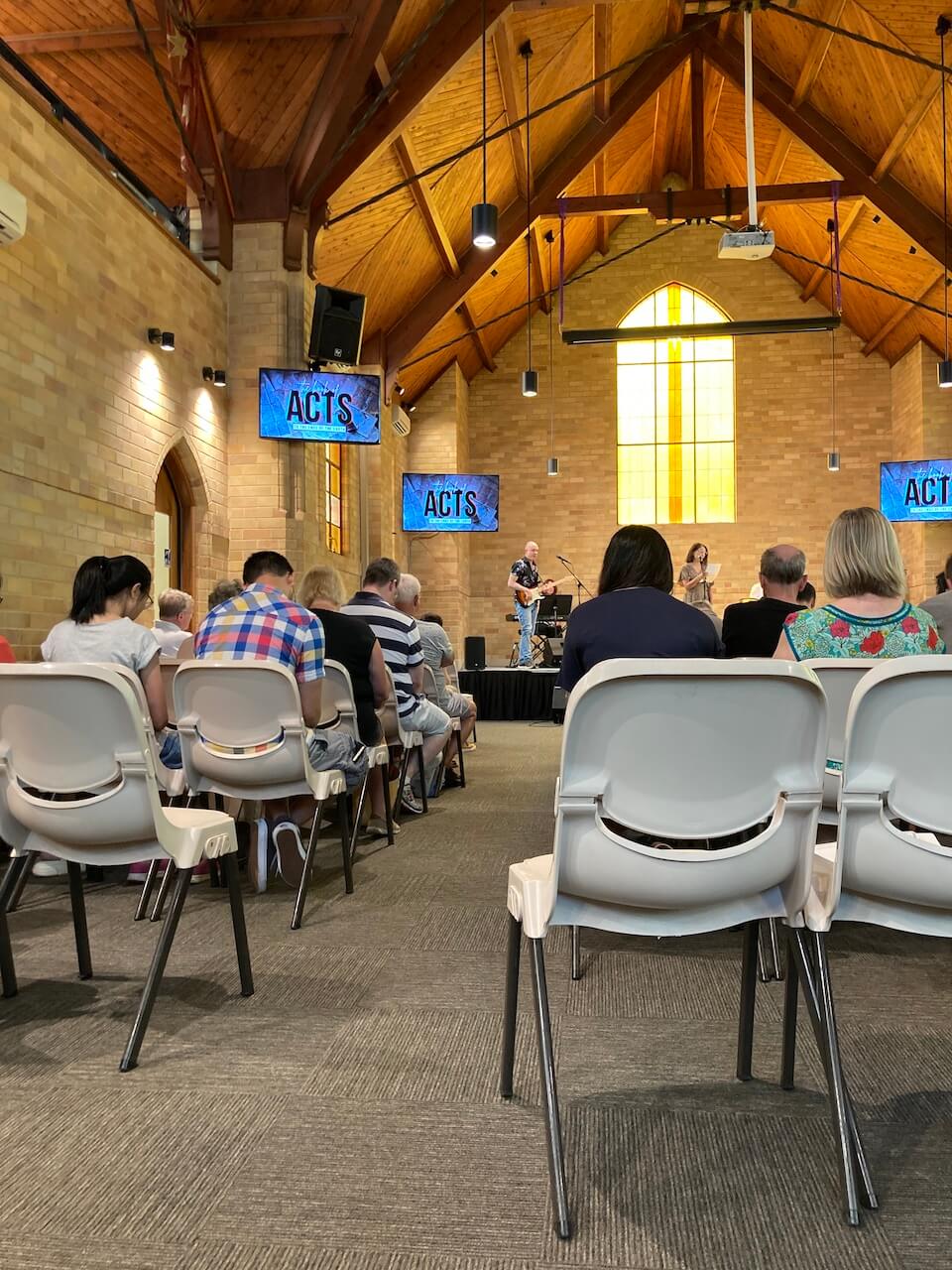 We are studying the book of Acts and after the sermon, we sang one of my favourite songs" In Christ Alone".
I can never get past the last few lines without choking up every single time! I get so emotional whenever we sing this beautiful song in church.
"From life's first cry to final breath
Jesus commands my destiny"
Afternoon Tea
When I got home I had some lunch and then before Steve went to work we shared a nice cup of tea and some carrot cake.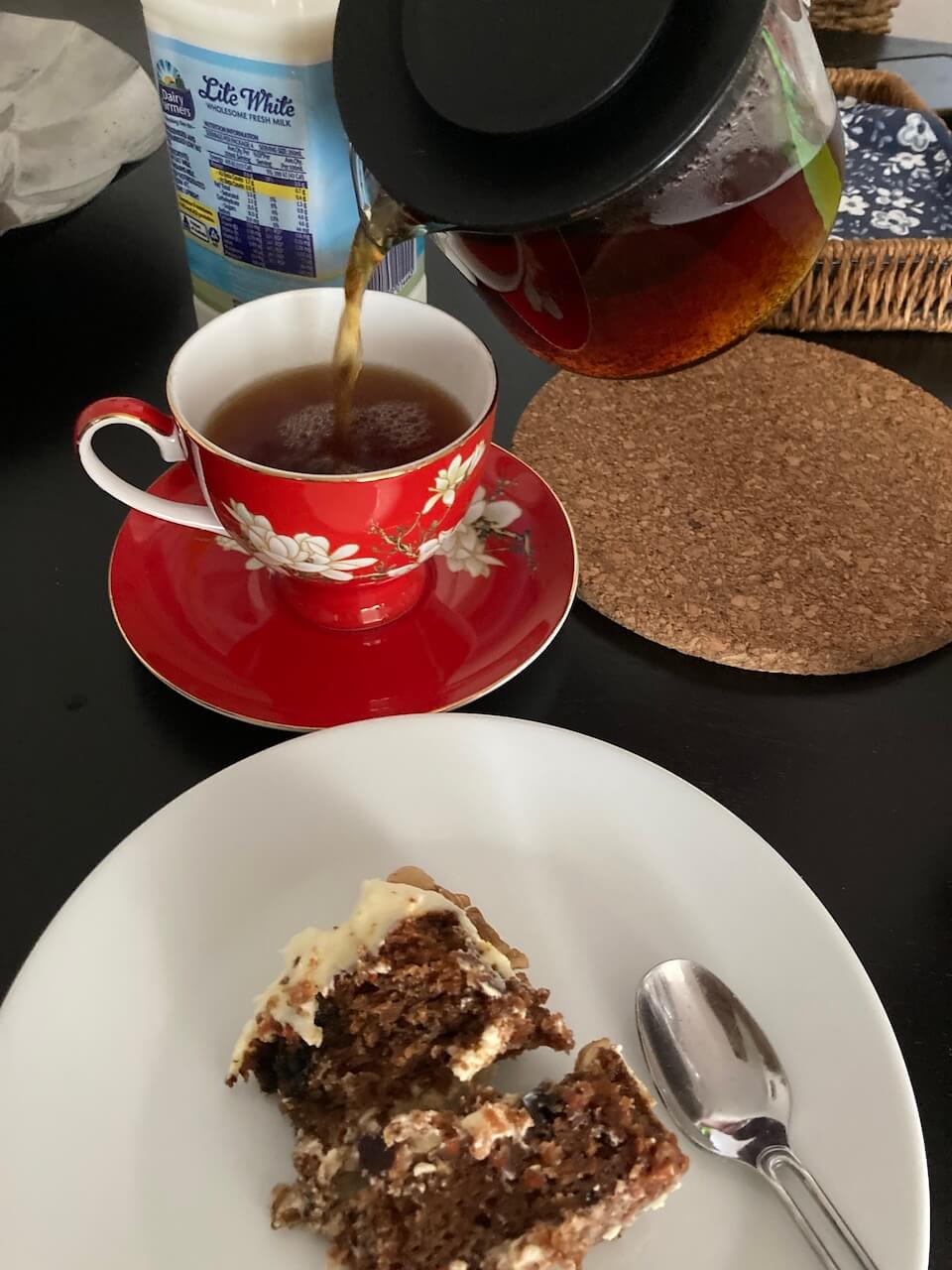 Quick Trip To Aldi
Later on, I walked to our local Westfields to grab a few things from Aldi. This is our quiet street.
Then if you walk for about 10-15 minutes you'll walk right into a very busy suburb with lots of shops, restaurants, cafes and tall apartment buildings. I really love where I live because it's peaceful and calm, but still has a great buzz nearby.
Here's that amazing Aldi nighttime face cream that I mentioned the other day. I had just managed to scrape the last bit at the bottom of the jar the night before.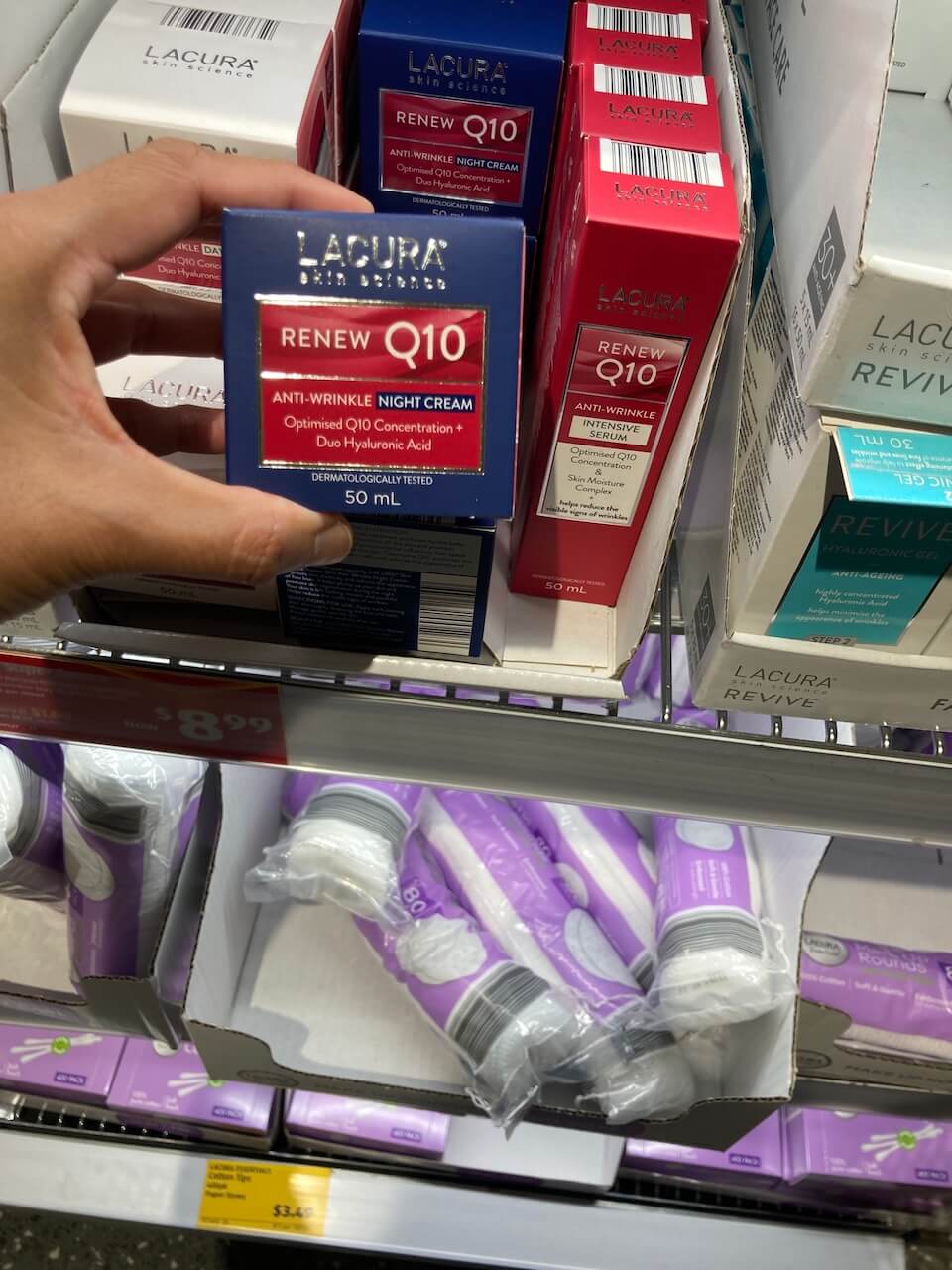 While I was there I also bought some porcini mushroom and truffle triangoli. It's a fancy kind of ravioli and you can't find it in any other supermarket. I'm going to make this for dinner on Wednesday night and I'm really looking forward to it because it's absolutely delicious! I have had it a few times before but not recently.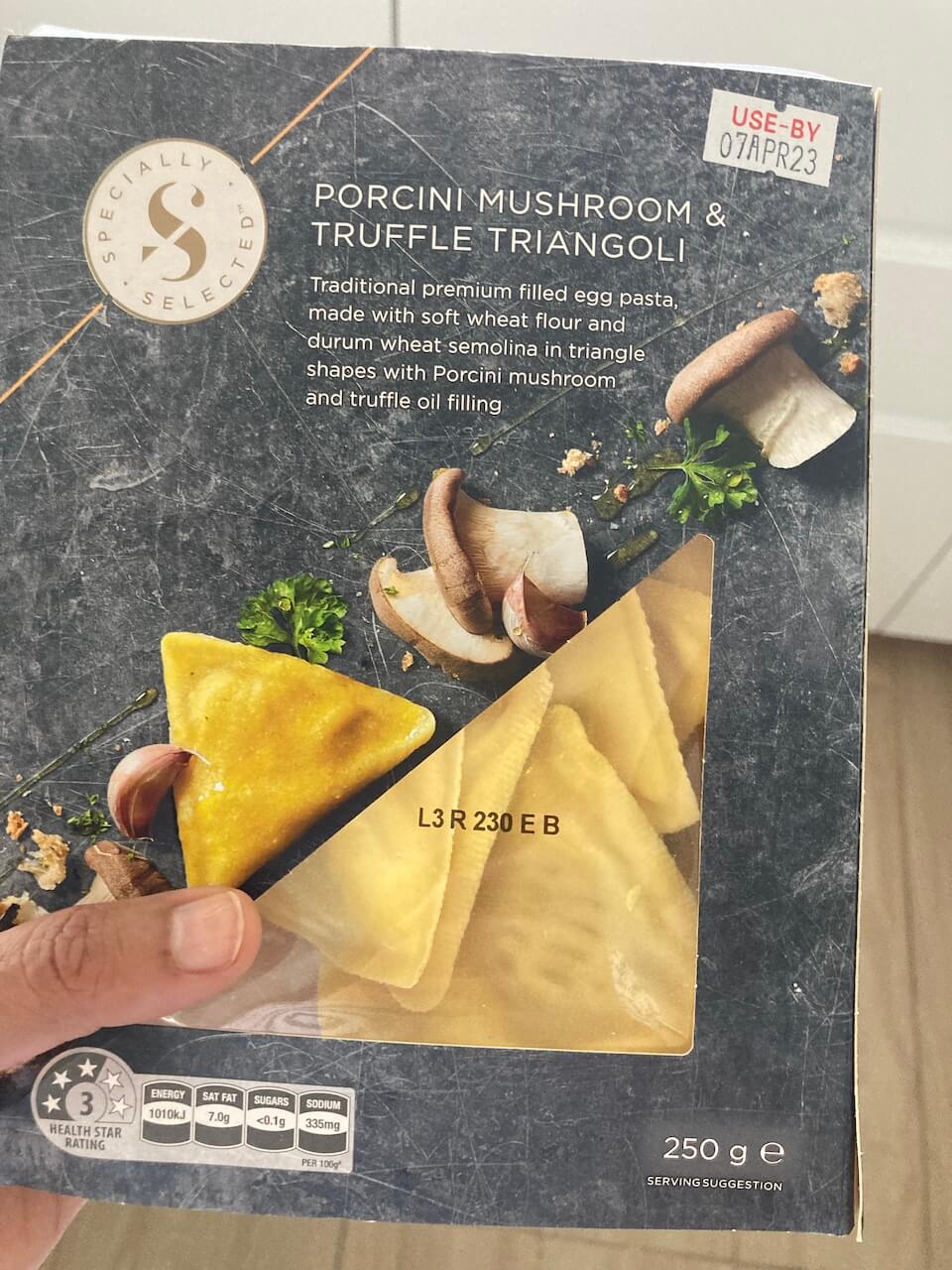 And that wraps up my weekend highlights. Weekends, when I get to spend time with my family, are always the best ones. Now I'm staring down the barrel of a very busy week and I have something on every evening except for Wednesday. But they're all fun things except for one so it's all ok. I hope you have a great week and I look forward to being back here on Wednesday.
Happy Monday!