Sometimes life can throw some real curve balls at us. But even though we might not feel happy during challenging times. I think that it's important to remember that there are a whole lot of things that we can be happy about. It's important for our mental health and well-being to practice gratitude. So today I have put together a list of simple things to be happy about. When we recognise the simple things that bring us a sense of happiness then we will soon realise that we really do have a whole lot of things in our lives that we can be thankful for every day.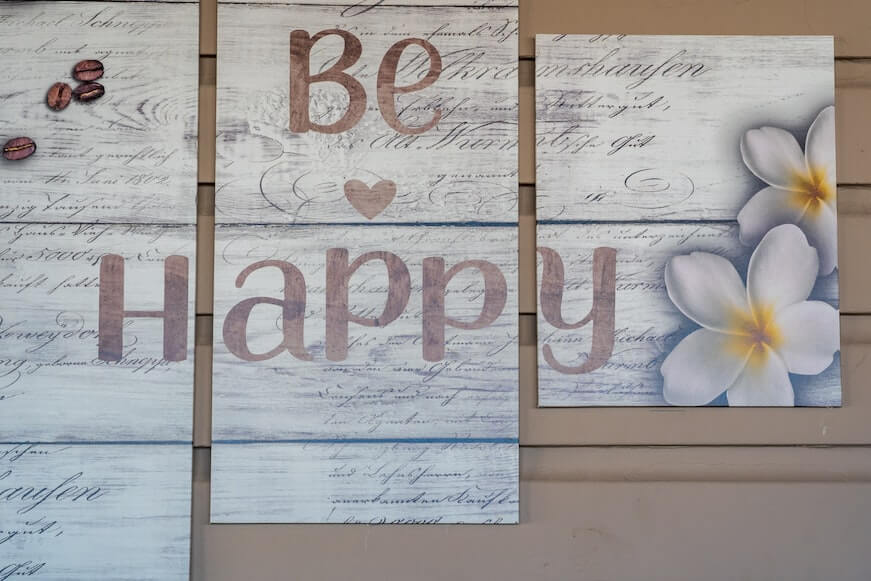 Simple Things To Be Happy About
A Hot Shower After A Long Day
Washing away a long hard day in a soothing hot shower is my absolute favourite thing to do. When I step out of the shower and feel all squeaky clean then put on some fresh clothes I instantly feel happier.
Dancing
It's hard to stay grumpy when you hear your favourite music from your teenage years. Go ahead and dance like there is no one watching. Better still find a fun exercise dance class and dance your way to happiness every week!
Laughing So Hard Your Sides Hurt
This is just such a great feeling!
Apple Pie And Ice Cream
The best go-to comfort dessert ever! Perfect for either cold winter nights or warm summer days.
Stationery
New pens, notepads, sticky notes and shiny paper clips. They are just instant mood lifters. My favourite stationery shop for all these lovely stationery items is Kikki. K.
Fresh Clean Sheets
The feel and smell of crisp clean sheets are one of the most simple things to be happy about.
Washing Your Hair
I love how soft my hair feels after I wash it. Then every time I catch the smell of shampoo it just makes me feel so happy.
Cuddling Up Next To Your Partner On The Sofa
I feel warm cozy and safe when I cuddle up next to my husband on the sofa. Of course, if we are watching something scary on TV then he is on his own because I'll be cuddling the closest pillow!
Lunch Breaks
I always joke with my coworkers that the best part of the working day is lunch breaks!
Fridays
Even the hardest days are bearable when it's a Friday and you know that you have the weekend to look forward to.
Scented Candles
Lovely soft scents evoke feelings of warmth and coziness.
Getting Dressed Up
I love having a fun event to look forward to that requires getting all dressed up. I feel so happy planning my wardrobe, hair and make-up leading up to the event.
Cheese Boards And Wine
Any favourite food will always make me feel very happy. But enjoying a lovely glass of wine with a cheeseboard just always feels so luxurious.
Sleeping In
Waking up naturally without the shock of the alarm going off makes me feel so relaxed for the rest of the day.
Rainbows
When I spot a rainbow in the sky I am reminded of how even after all the dark clouds and rain there will eventually be some bright sunny, colourful days. My beautiful friend also encouraged me to remember that rainbows are like a sign from our loved ones in heaven saying hello to us.
Holding A Baby
Cuddling new life in our arms is just so precious.
Long Distance Phone Calls From Family Or Friends
I love chatting with my aunt and cousin who live so far away in the USA. We spend ages catching up and reminiscing. My face almost hurts from so much smiling after we have finished our long-distance conversations!
Watching A Good Comedy
Spending a couple of hours lost in a good comedy plot can do wonders to lift my mood.
Receiving Parcels In The Mail
When I receive a parcel in the mail, I feel as excited as I do when I unwrap a birthday gift!
Seeing A Ladybird
Ladybirds remind me of spring. So whenever I see one I feel happy because it means that warmer days are just around the corner. They are also the only bugs that I am not deathly afraid of!
Having  A Clean House
Nothing beats the feeling of a fresh clean house because it means that I can relax and enjoy myself without worrying about any housework waiting to get done.
Seeing The Bottom Of The Laundry Hamper
Even though this lasts about one minute in our house. It's still one whole entire minute of happiness!
Squeaky Clean Teeth
Squeaky clean teeth mean lovely fresh breath
Visiting An Antique Store
My happy place is a big antique shop called Mitchell Road Antique And Design Centre located in Sydney. Whenever I go for a visit it's like I take a trip down memory lane. Seeing all the fun decor from the '70s and '80s makes me feel so happy…….ah those were the days!
Fairy Lights
Fairy lights are just so magical and can make any space look so inviting. You can't help but feel happy whenever you are around some pretty fairy lights
Family Get Togethers
Having family in our life is just so special and I think that it's so important to never take them for granted. The happiest memories that I have are the ones of my family being together.
Having My Hair Stroked
I love having my hair stroked because it just feels so soothing. It's just the best feeling when someone plays with my hair!
Related Articles
How To Stay Positive In A Negative World