A Pencil skirt has a straight and narrow cut, it is slim fitting with a hem that falls either just at the knee or below. The Pencil skirt is very flattering to the figure and can even make you look taller. What a bonus for us vertically challenged girls!
I bought this lovely black pencil skirt from Country Road a couple of years ago and I really love the fit. It is comfortable, flattering, and can easily be worn for any occasion depending on how you style it.
Today I thought I would style the classic black pencil skirt 5 ways. I have some casual looks and a couple more dressy looks for fun evenings. I hope you like them.
Pencil Skirt Outfit Number One
First up I thought I would try a casual look. Here I have styled the skirt with a classic white T-shirt and denim jacket. I added some cute fun slip-on sneakers with a star pattern.
This is a great outfit for mid-season weather,  like what we have here in Sydney at the moment. We are heading into spring and have enjoyed some warmer days but it's still too cold for me to bare my arms brrrrrr.
I like wearing a skirt with sneakers. It's a cute look as well as being practical for all those days you need to run around doing errands. I bought these cute slip-on sneakers from Gap when Sydney opened its first Gap store. I was super excited, but unfortunately, Gap didn't last very long here in Australia's tough fashion market. Consequently, they closed their doors about three years ago.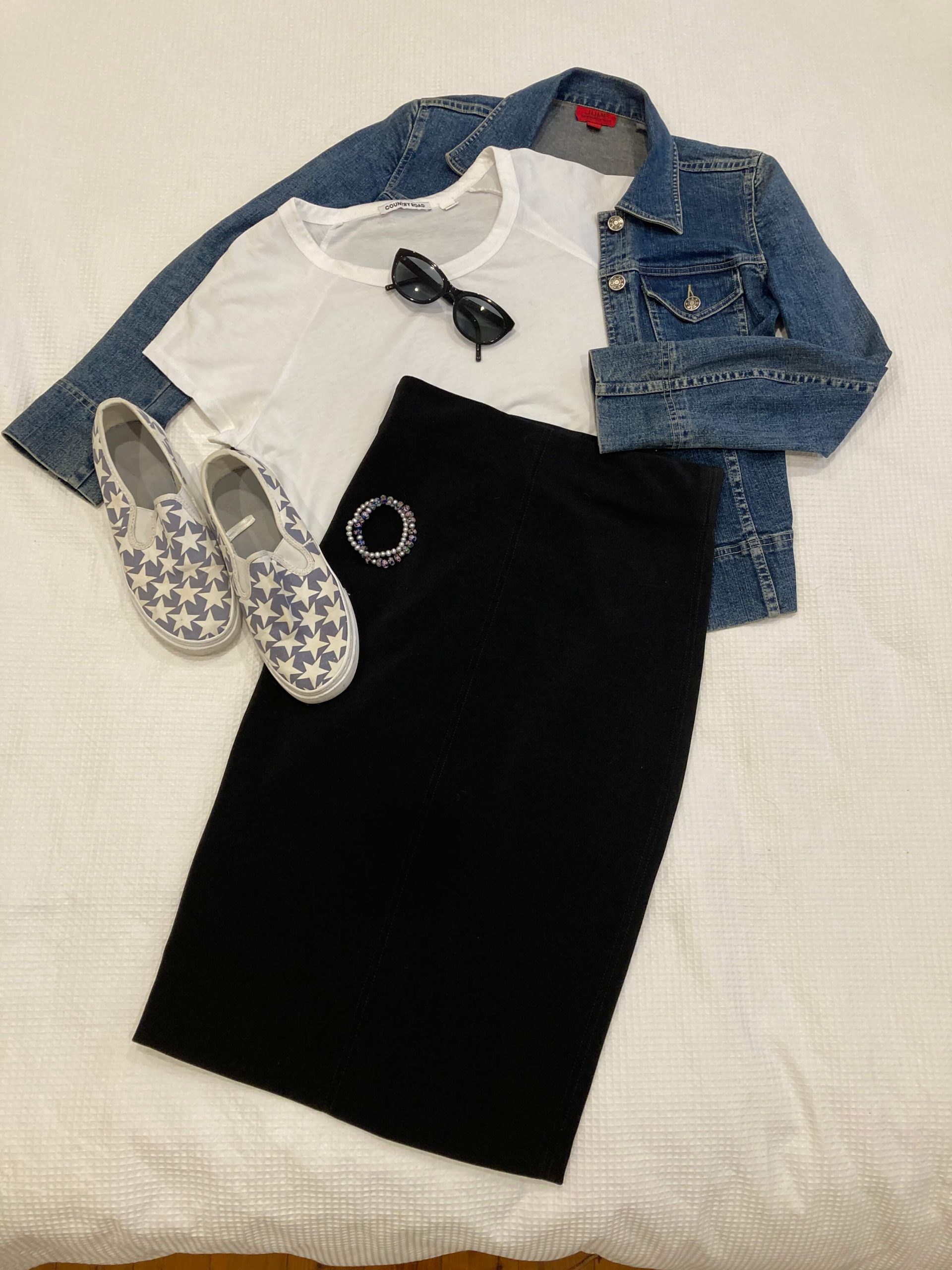 Outfit Number Two
This is a great Autumn or Winter outfit and one I have worn a few times. I like the ankle boots with the skirt, it's a little bit dressier but still fun and casual. When I wear a jumper with my pencil skirt, I make sure to do a front tuck. This way the whole outfit doesn't look bulky or frumpy. I like front tucking because it will give you a more figure-flattering look.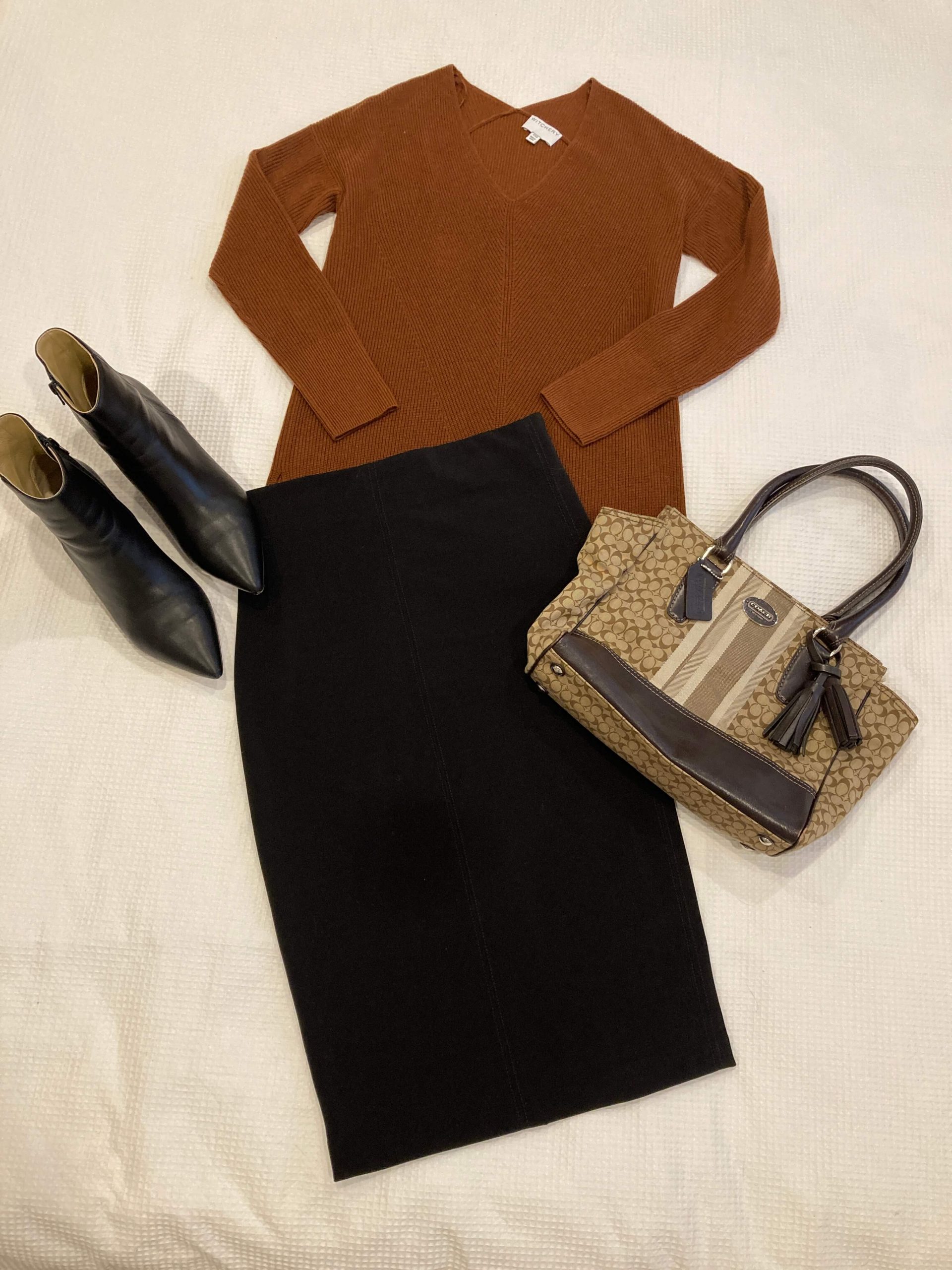 Here is a closer look at the ankle boots. Ankle boots look incredibly stylish when worn with a pencil skirt. I bought these from Country Road last year, I love the pointed toe and angled heel. They are also really comfortable and warm. Perfect for going out on a winter night.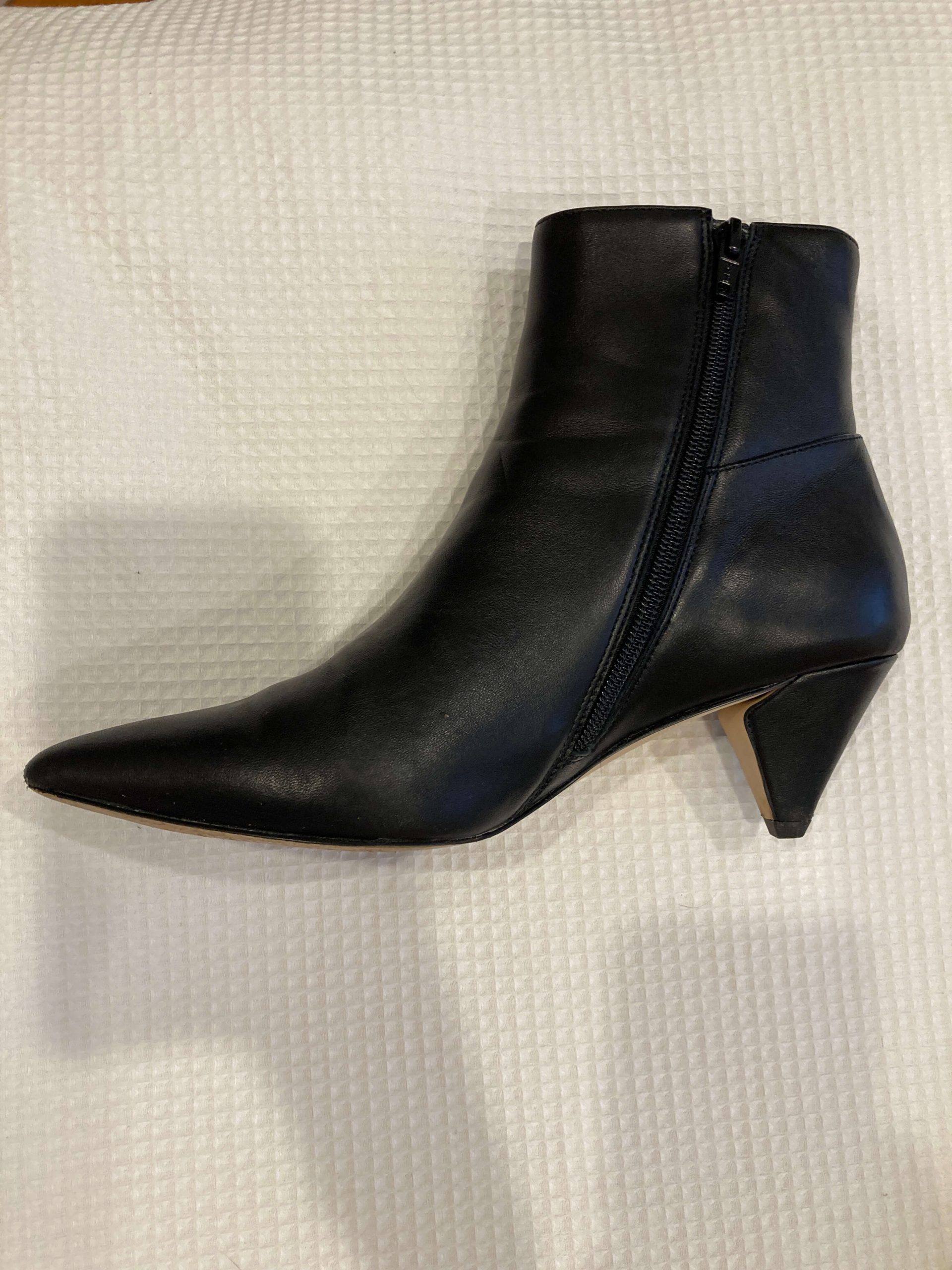 Outfit Number Three
Yes! A fun bright T-shirt with a back pencil skirt. Why not? I love this T-shirt which I bought from a place called Mitchell Road Antiques. My sixteen-year-old Son actually spotted it for me. At Mitchell Road Antiques they sell vintage homewares, furniture, clothing, and accessories. My family and I really love going there on the weekends. Sadly we can't because it is shut due to the Covid lockdown. Once Sydney opens up again, this is the place I'll be heading to first!!
Anyway back to the outfit, I am very conservative when it comes to wearing bright colors. But somehow I don't mind this orange. Maybe it's because I have a weakness for Reese's peanut butter cups. This outfit just screams fun and styled with leopard slingback shoes it is also a bit daring. Well, it is for me anyway, I usually go for more neutral colors.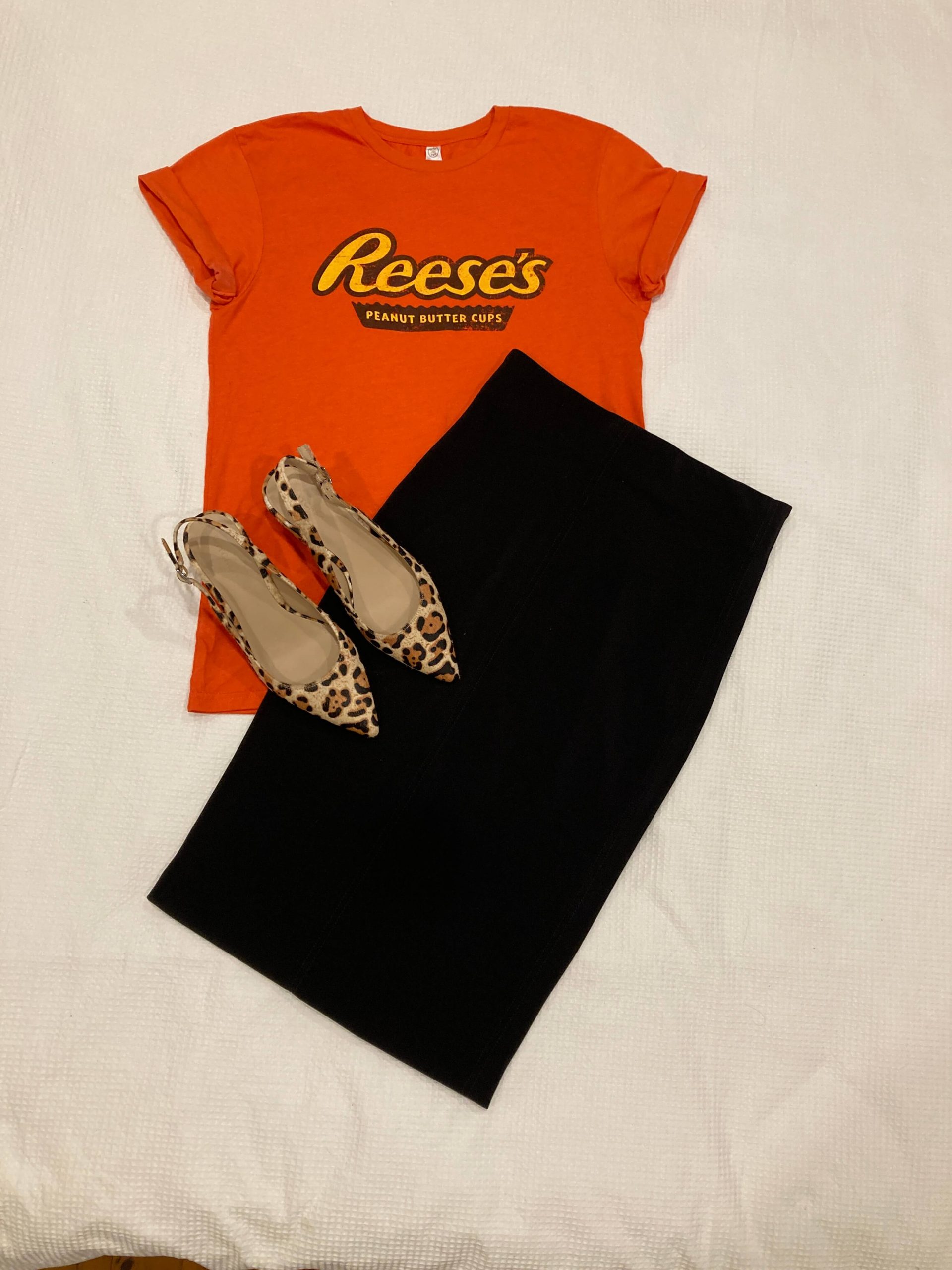 I would also wear this T-shirt tucked into the skirt, or front tucked.
Outfit Number Four
For this next look, I have styled the pencil skirt with a white shirt. I really like this white shirt because it has a really nice button detail, see the slits on either side leading up to the collar. I paired this look with some patent leather clogs, for a slightly more relaxed comfortable feel. I have such a weakness for clogs, they are truly comfortable and can elevate any outfit from simple to fun and interesting.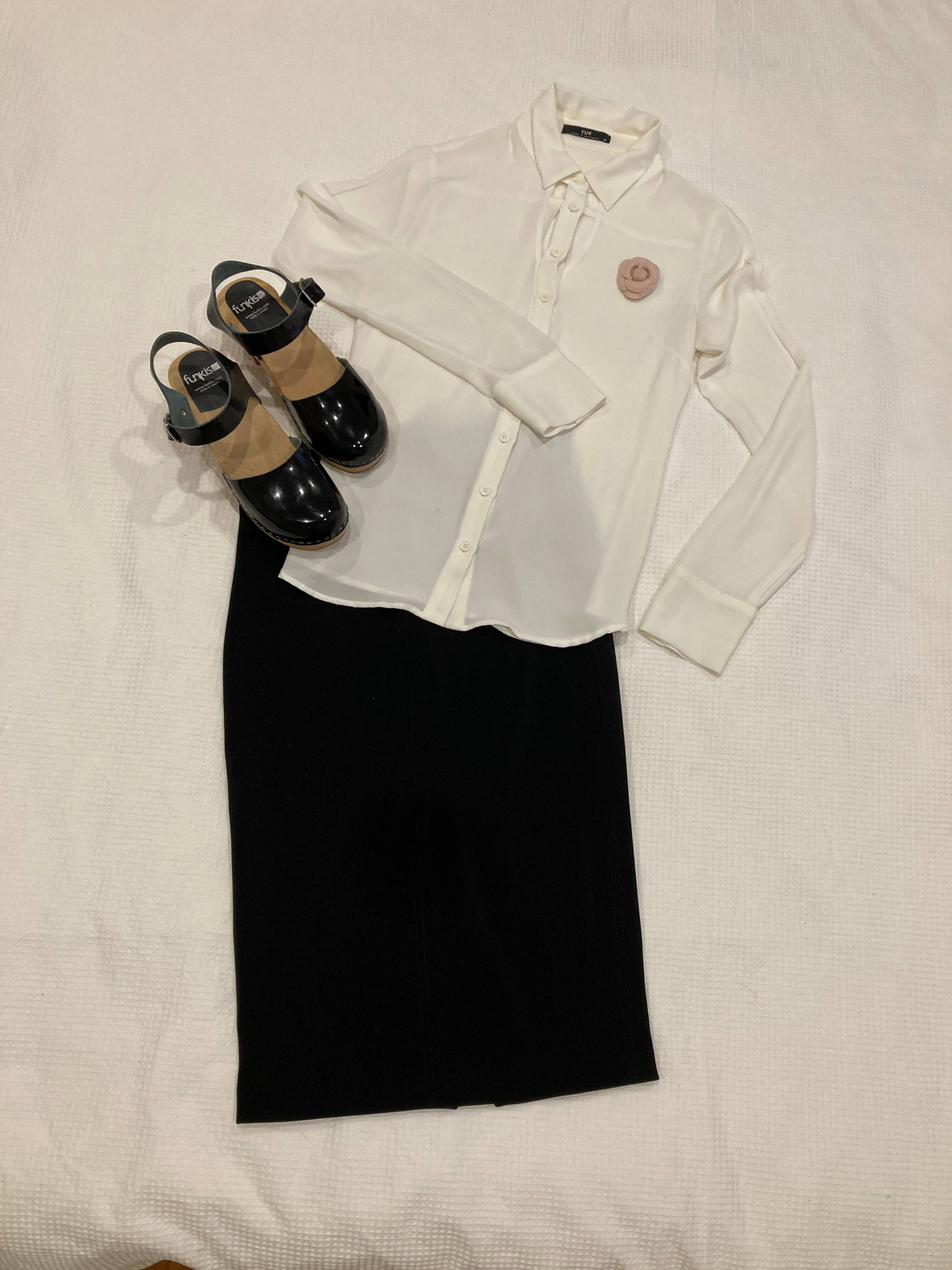 This dusty pink brooch adds a tiny bit of color to the outfit. This brooch is beautifully made and I bought it on Etsy. I had been looking at the classic Chanel Camellia brooch for a long time. But I wasn't keen to spend over $500 on a brooch.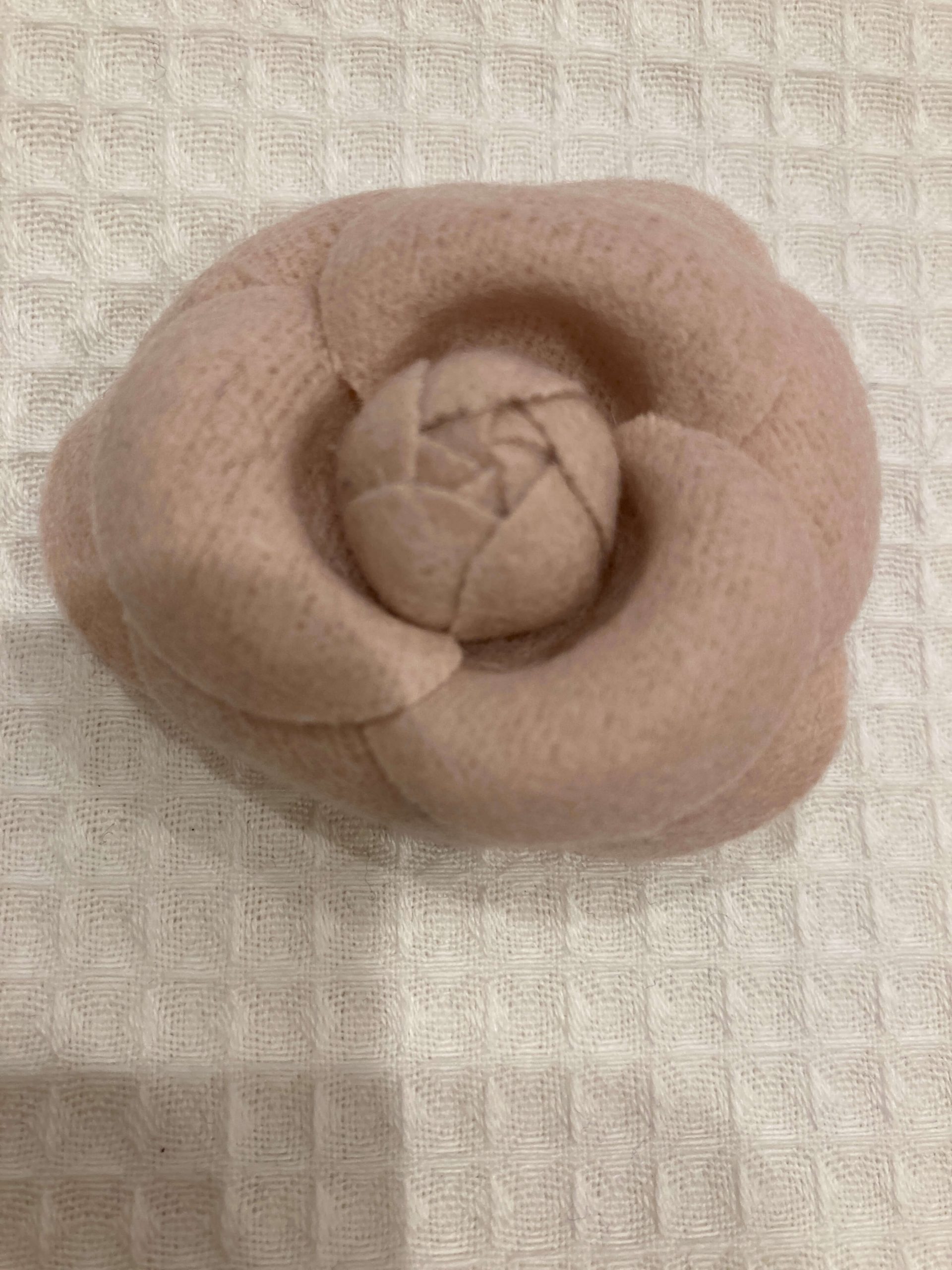 The Last Pencil Skirt Outfit~ Number Five
This outfit is perfect for a night out. The black pencil skirt is teamed with this gorgeous shimmery gold top. Again I like to tuck this top into the skirt to maintain a flattering silhouette. The strappy heels paired with the pencil skirt make this outfit look elegant and dressy. I can't wait until Sydney opens up again and we can go out for dinner. I will be wearing this for sure!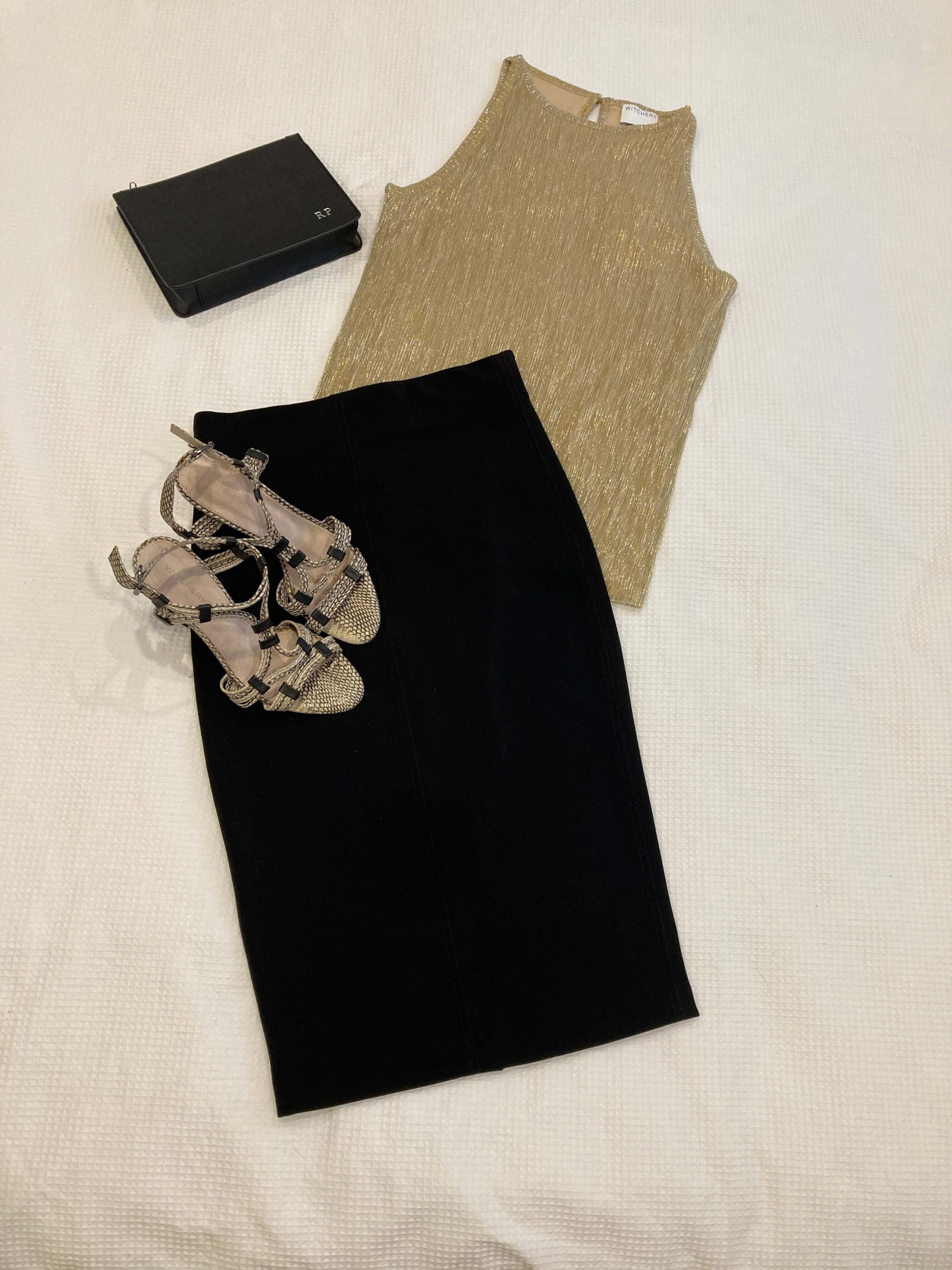 I hope this post gives you some inspiration for styling a black pencil skirt!
If You Are Interested In How I styled a striped Black and White T-shirt. You can find that here
Links To Two Of My Favorite Clothing Stores
Country Road Australia     www.countryroad.com.au
Witchery   www.witchery.com.au