These peanut butter M&M cookies are full of melt-in-your-mouth sweetness and deliciousness. They are colourful and I guess a great way to describe them is ….FUN! You just can't help feeling happy once you take that first bite right into the gooey centre full of peanut butter.
And because they are also packed with M&M's these cookies have a delicious crunchy element too. You honestly can't beat the delectable peanut butter and M&M's combination. It's an absolute winner every time!
One of the best things about this recipe is that it is easy! So these peanut butter M&M cookies are perfect for baking with kids. You've probably heard that cooking with children has so many learning benefits. From basic maths skills to literacy and fine motor skills.
Cooking is a perfect way to teach children these concepts in a fun and hands-on way. Not to mention the big boost of confidence your kids will get from spending time in the kitchen with you!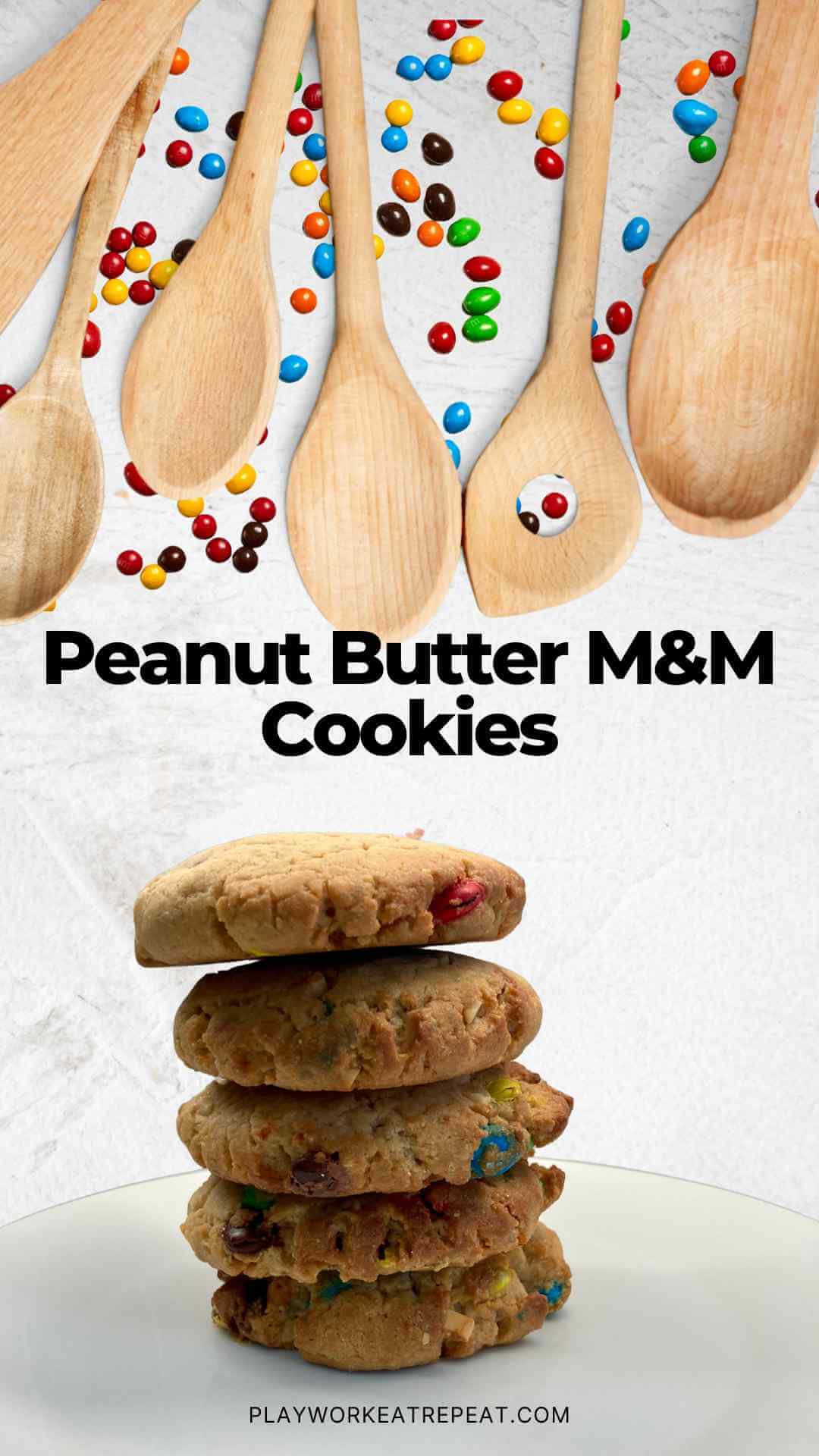 Peanut Butter M&M Cookies
Ingredients
2 cups plain flour
2 teaspoons of baking powder
2 teaspoons of cornflour
1/2 cup of butter
3/4 cup of brown sugar
1/4 cup of granulated sugar
1 egg
2 tablespoons of milk
2 teaspoons of vanilla extract
1/2 cup of peanut butter. Either smooth or crunchy
1 cup of chocolate M&M's. You can use mini M&M's or normal-size ones.
Instructions
Preheat the oven to 180°C/350°F. Line a baking tray with baking paper and set aside.
Mix all dry ingredients together in a bowl (flour, baking powder, cornflour) then set aside.
Using another bowl beat the melted butter, brown sugar and granulated sugar until combined.
Add the egg vanilla, peanut butter and milk and mix until well combined.
Add the dry ingredients to the wet ingredients and fold the ingredients together gently until combined.
Carefully fold the M&M's into the cookie dough.
Using your hands roll even balls of cookie dough and place them on the prepared baking tray. Flatten the cookies out to desired thickness.
Bake for 10-12 minutes.
Once cookies have cooled for approximately 5 minutes. Transfer them to a wire rack to finish cooling completely.
Notes
Cooking time will vary slightly depending on the thickness of the cookie dough. If you prefer a thick cookie then the cooking time will be 12 minutes. If you flatten your cookies out then you will need approximately 10 minutes of cooking time.
You can use either smooth peanut butter or crunchy peanut butter for this recipe. I prefer crunchy peanut butter for added texture and crunch.
For this recipe, I used mini M&M's but I think regular-sized ones would be ok too.
Make sure to fold the M&M's in very gently as the colour of the M&M's tends to run very quickly.
Cookies will stay fresh in an airtight container for up to a week at room temperature.
Make peanut butter M&M cookies for your family or give them to your co-workers and they will love you forever. They also make lovely gifts to give to your friends during the festive season. Just wrap them up in cellophane bags and decorate them with a pretty ribbon. Peanut butter M&M cookies are so crunchy and colourful that they are sure to spread happiness and joy with every bite!