I'm always on the lookout for simple yet delicious meals that I can make for my family. There are days when the time seems to slip away faster than I can chop an onion! So I'm all for recipes that cleverly cut corners and make my life a little easier. This deliciously satisfying recipe for Italian meatballs ticks all the boxes because it's healthy, full of flavour and so easy to make. Another big bonus is that Italian meatballs are a perfect dish for entertaining. I have made it for when it's been my turn to host our monthly family get-together and it's always been a real winner!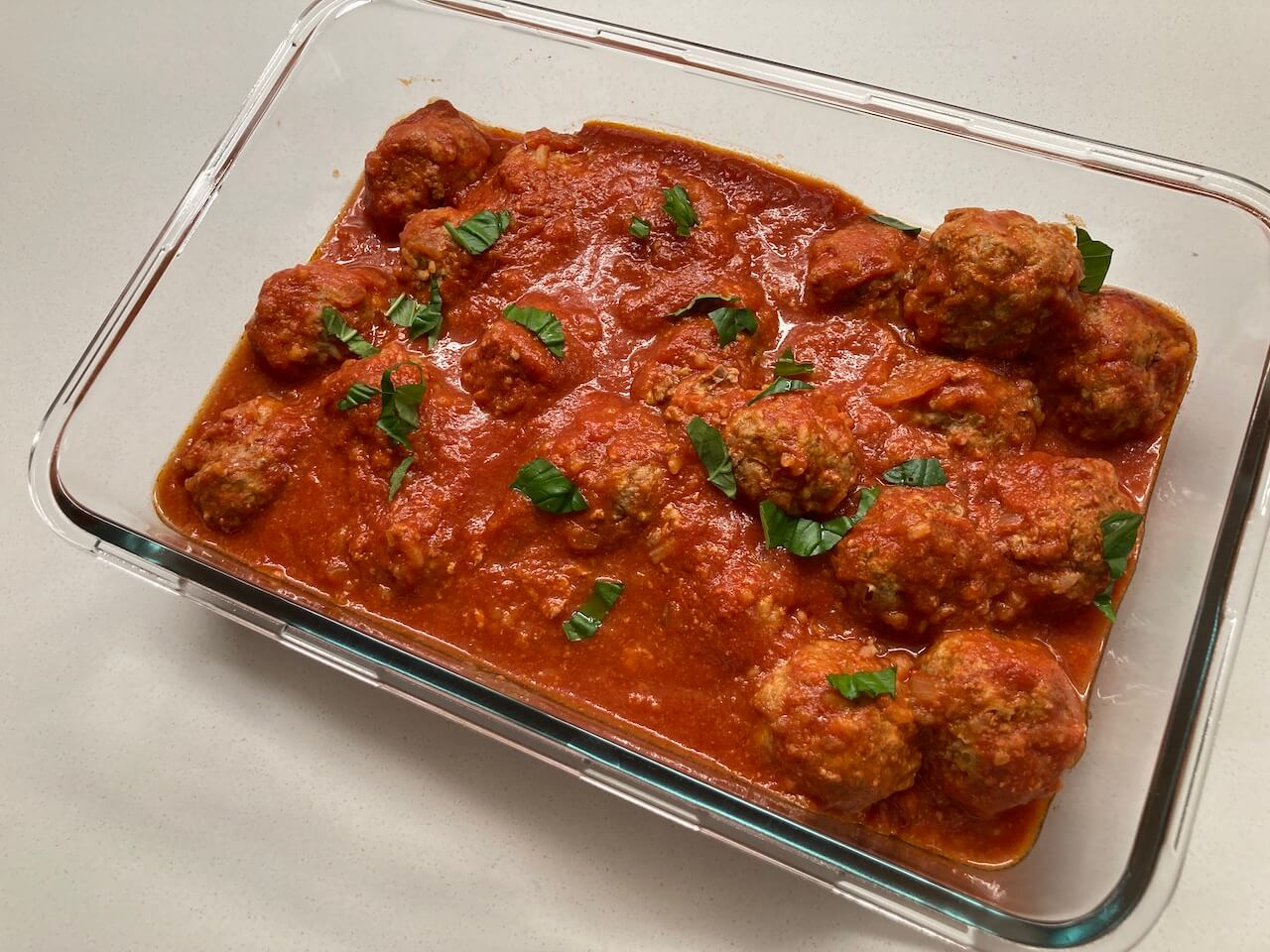 Italian Meatballs
Ingredients
500 grams of minced meat (beef, pork or a combination of both)
1/2 cup of breadcrumbs
Onion flakes
1 tsp of minced garlic
2 tbsp dried parsley
1 tsp dried basil
1 tsp dried oregano
1 tbsp onion flakes
1 egg
1/2 tsp white pepper
1 tsp salt
For the tomato-based sauce
3 cups of passata
1/2 cup of chicken or beef stock
1 tsp dried basil
1 tsp dried oregano
1/2 tsp cumin
1/2 tsp minced garlic
1 tbsp onion flakes or one medium-sized chopped onion
salt and pepper to taste
Instructions
In a large bowl, combine the minced meat, breadcrumbs, onion, garlic, parsley, egg, salt and pepper. Mix well until all the ingredients are evenly combined.
Shape the mixture into meatballs of your desired size. You can make them small or large depending on what you prefer.
In a large pot, combine the passata, stock, dried basil, dried oregano, minced garlic, and onion flakes. Season with salt and pepper to taste. Stir well to combine.
Gently drop the meatballs into the sauce, ensuring they are fully submerged. The sauce should be at a simmer.
Cover the pot and let the meatballs cook in the sauce for approximately 25-30 minutes, or until they are cooked through. It's a good idea to stir the meatballs occasionally to make sure that they cook evenly.
Serve over your preferred side dish and enjoy!
Reasons Why Italian Meatballs Are A Perfect Dish For Entertaining
Easy To Prepare
This recipe gives you a hassle-free way to prepare meatballs for a crowd. By eliminating the need for pan frying or baking. You save time, effort and best of all washing up and mess. While the meatballs are simmering in the rich tomato sauce you can be focussing on all the other things that you need to get done to prepare for your gathering. Or better yet you can be attending to your guests.
Versatile
Italian meatballs are a versatile and crowd-pleasing dish that attracts a wide range of tastes. You can also customise the recipe using different types of minced meat, such as pork, beef, turkey or chicken. Additionally, you can also adjust the seasonings to suit your tastes and the dried herbs can be easily substituted for fresh ones.
Make Ahead Option
Italian meatballs can be easily prepared and stored in the fridge until you are ready to cook them. This means that you can plan and prep for your gathering ahead of time. This will eliminate last-minute stress and it will ensure that you can enjoy spending time with your guests.
Serve A Crowd
This recipe can easily be scaled up or down to accommodate the number of guests you are entertaining. Whether you're hosting a small gathering or a larger party, you can adjust the quantities of ingredients accordingly.
Accompaniment Options
This Italian meatball recipe pairs really well with a variety of side dishes. You can serve Italian meatballs with different pasta shapes such as farfalle, spiral pasta or good old spaghetti. Italian meatballs are also delicious when served with mashed potato, rice or even simple crusty bread.
Whether you're looking for a simple weeknight meal for your family or planning a fun and relaxed gathering with friends, this easy recipe for Italian meatballs has got you totally covered! It's the kind of dish that is so fuss-free and simple to make yet full of flavour and will leave everyone asking for seconds.
Other Simple Recipes You Might Like To Try