Today I want to share with you this absolutely delicious Healthy Granola Recipe. It has just the right amount of sweetness, crunch, and goodness. My family absolutely loves this Granola. They have it for breakfast with milk or they have it just on its own as a snack. It can be heaped on some yoghurt with a dash of honey and it can be added to steamy, creamy porridge! mmmmmmm YUM!
This Granola is packed with wholesome goodness. Full of fibre, proteins, and minerals and full of nutrients we all want our families to feast on.
But here's the thing. I try super hard to avoid store-bought cereal that is full of sugar and a bunch of other stuff that is less than ideal. However realistically, I also work full time, and some weeks I just don't quite reach my ideal goal of superwoman and I have to go with store-bought cereal. And that's OK. But mostly I try and make this Granola because it is so worth it! This quantity will last about two weeks for the three of us.
Healthy Granola Recipe
---
Ingredients
2 Cups Rolled Oats
3 Cups Coconut Flakes
1 1/2 Cups Mixed Nuts- Chopped or Crushed
1/4 cup Pepitas
1/4 cup Sunflower Seeds
1/2 Cup Dates
1/4 cup dried cranberries
2 Tsp Cinnamon
1 Tsp Vanilla
3/4 Cup of melted Coconut Oil
1/4 Cup Maple Syrup
Directions
Preheat Oven to 160 C
Line a big baking tray with Baking paper
Mix all dry ingredients except the dates and cranberries in a bowl
Add coconut oil and Maple Syrup, stirring well
Spread the mixture onto the lined baking tray. Make sure to spread it out to form one layer.
Place in oven for approximately 10 minutes, stir then put back in the oven for 10 minutes. Granola is ready when it is a lovely golden colour.
Once the granola comes out of the oven stir in the dates and cranberries.

Cool completely and then store the healthy granola in jars. 
---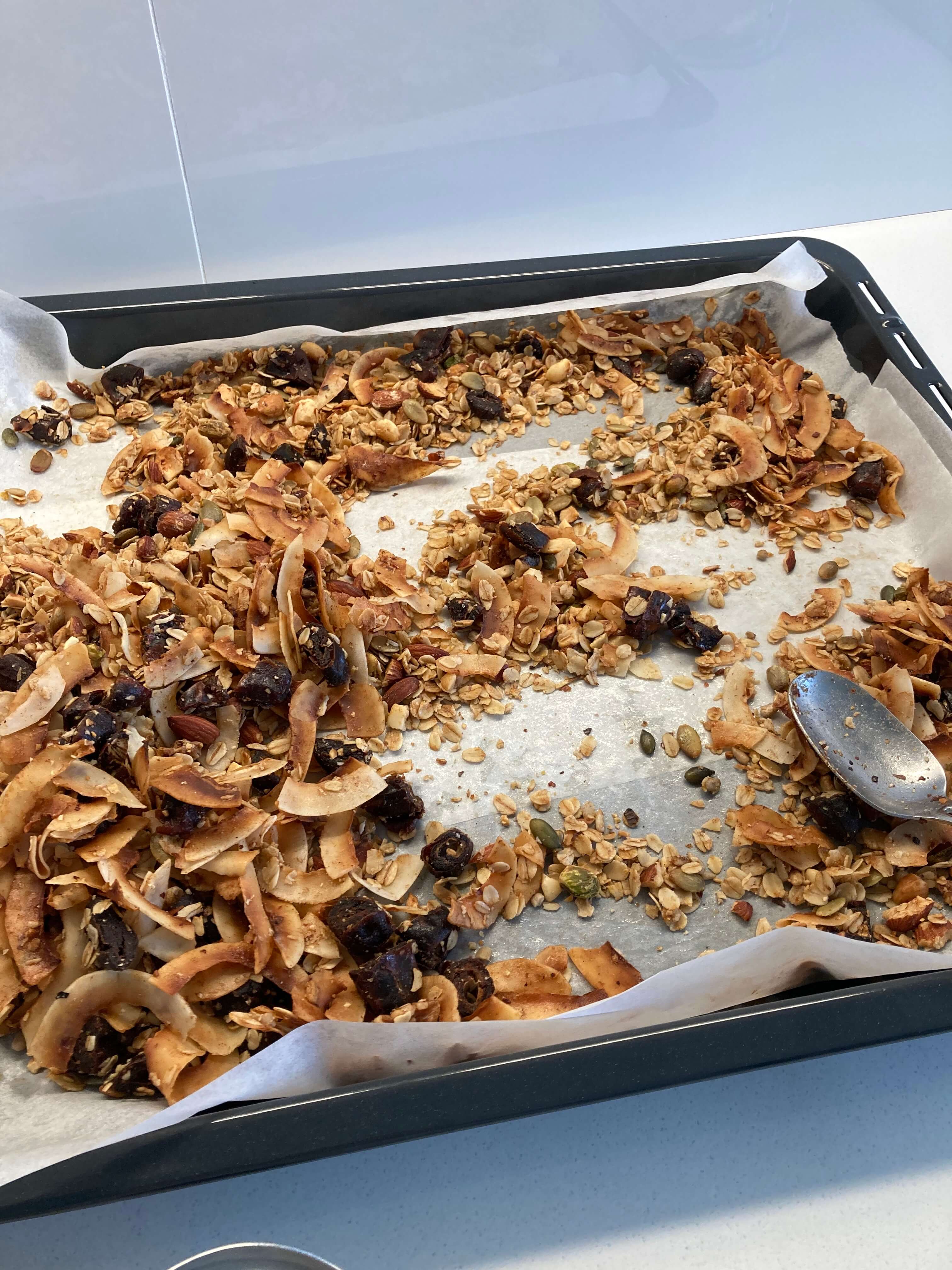 These are the jars I use. Aren't they cute? I picked them up from Kmart and I love them! I divide my Granola into two of these jars and they fit perfectly!
The recipe includes Coconut Flakes and the only place where I have been able to find coconut flakes has been in Aldi. I admit I haven't tried health food stores but I did look in Coles and Woolworths and all I could find was Desiccated coconut. While I'm sure desiccated coconut would be ok. I think that these flakes absolutely give the Granola that extra bit of crunchy texture.
So there you have it. Seriously THE best Healthy Granola Recipe. Try it. You won't be disappointed.
*********
Here Is Another Healthy Recipe You Might Like To Try