This healthy banana bread recipe is very simple to make because you will only need to use one bowl. Hooray for less washing up! It's a great idea to make this banana bread when you have really overripe bananas as it will give it that delicious natural sweetness and extra banana flavor. Therefore the more ripe the bananas are the sweeter the banana bread will turn out.
I usually use about 2 bananas for this recipe but if you would like it even sweeter you could definitely add 3. Importantly, if you are looking for a gluten-free option you could use gluten-free flour instead. Furthermore, the great thing about this recipe is that if you make it with gluten-free flour you can still keep the same measurements for the rest of the ingredients.
I use rapadura sugar instead of brown or white sugar because it has a higher mineral and antioxidant content than other refined sugars. Rapadura sugar contains Vitamins A,C, B1,B2,B5, B6, and Niacin.
I am a big fan of wholemeal Spelt flour because it has more fiber which helps the body to slow down its digestion. This in turn means that it helps reduce spikes in blood sugar levels after eating.
To jazz things up I also like to add walnuts to this healthy banana bread recipe but you could also try other ingredients like sultanas, or chocolate chips.
Go ahead and make it, it's really good and easy!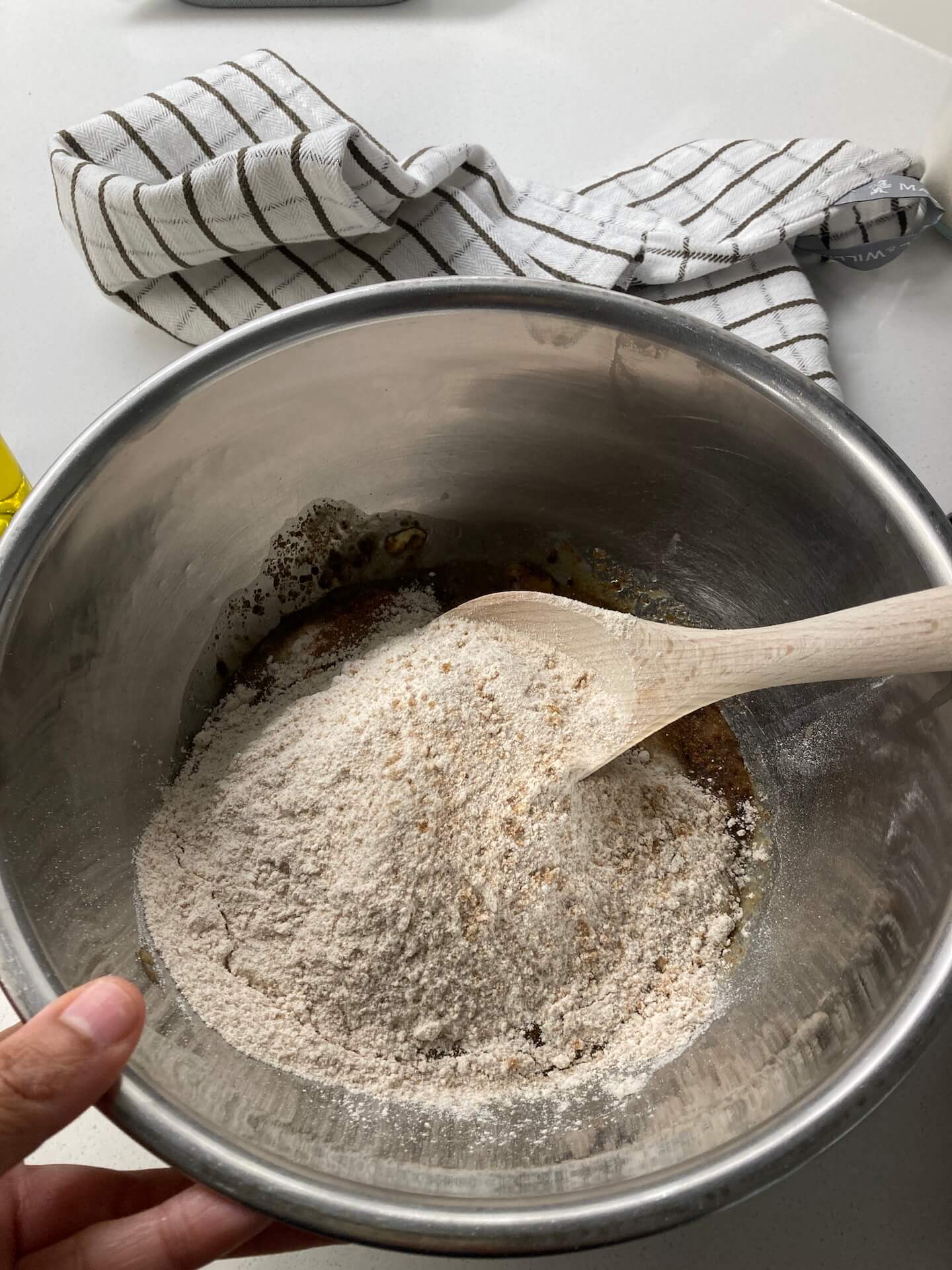 See how you just need one bowl to add all the ingredients.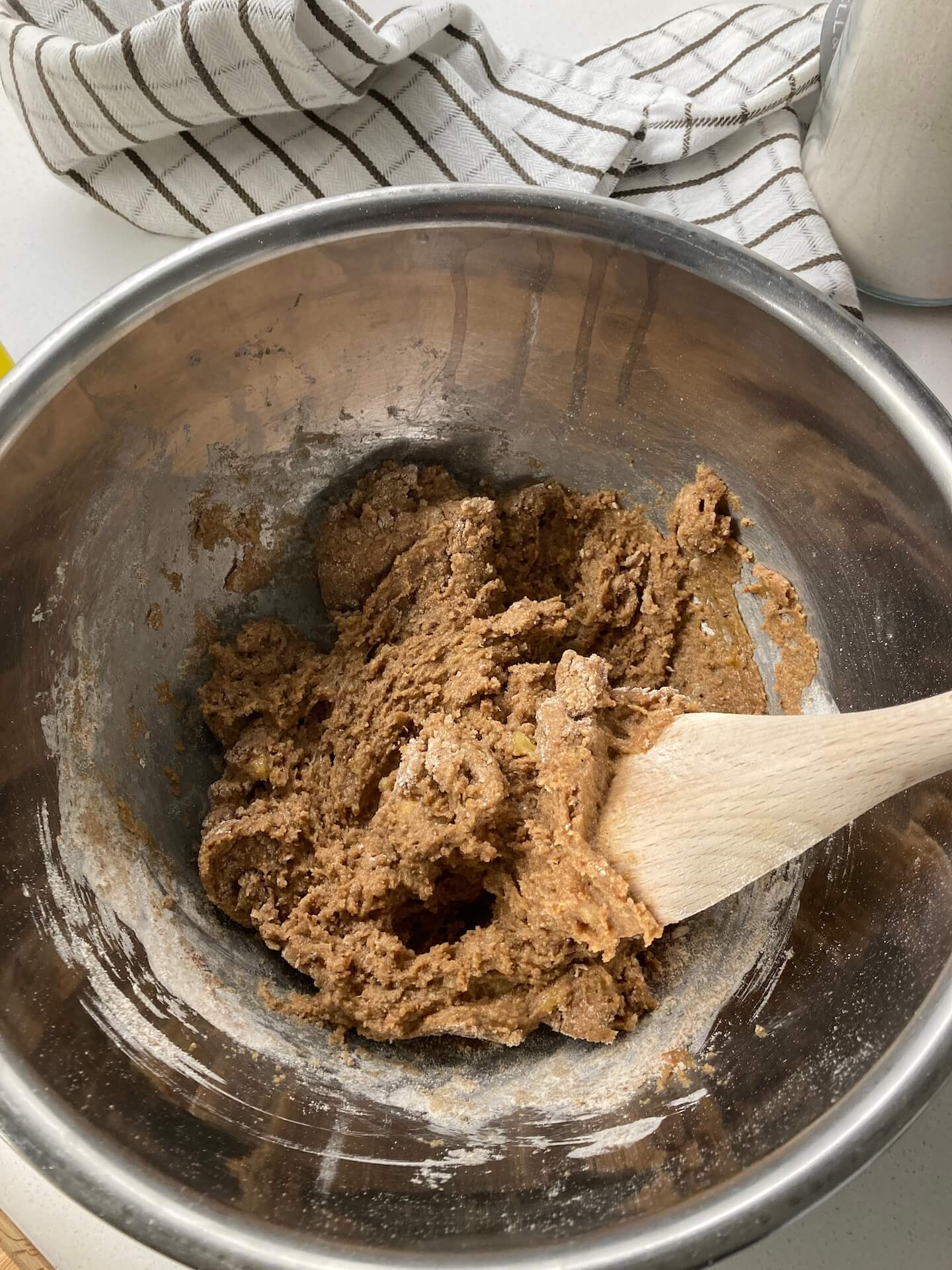 The mixture is ready to go into the loaf pan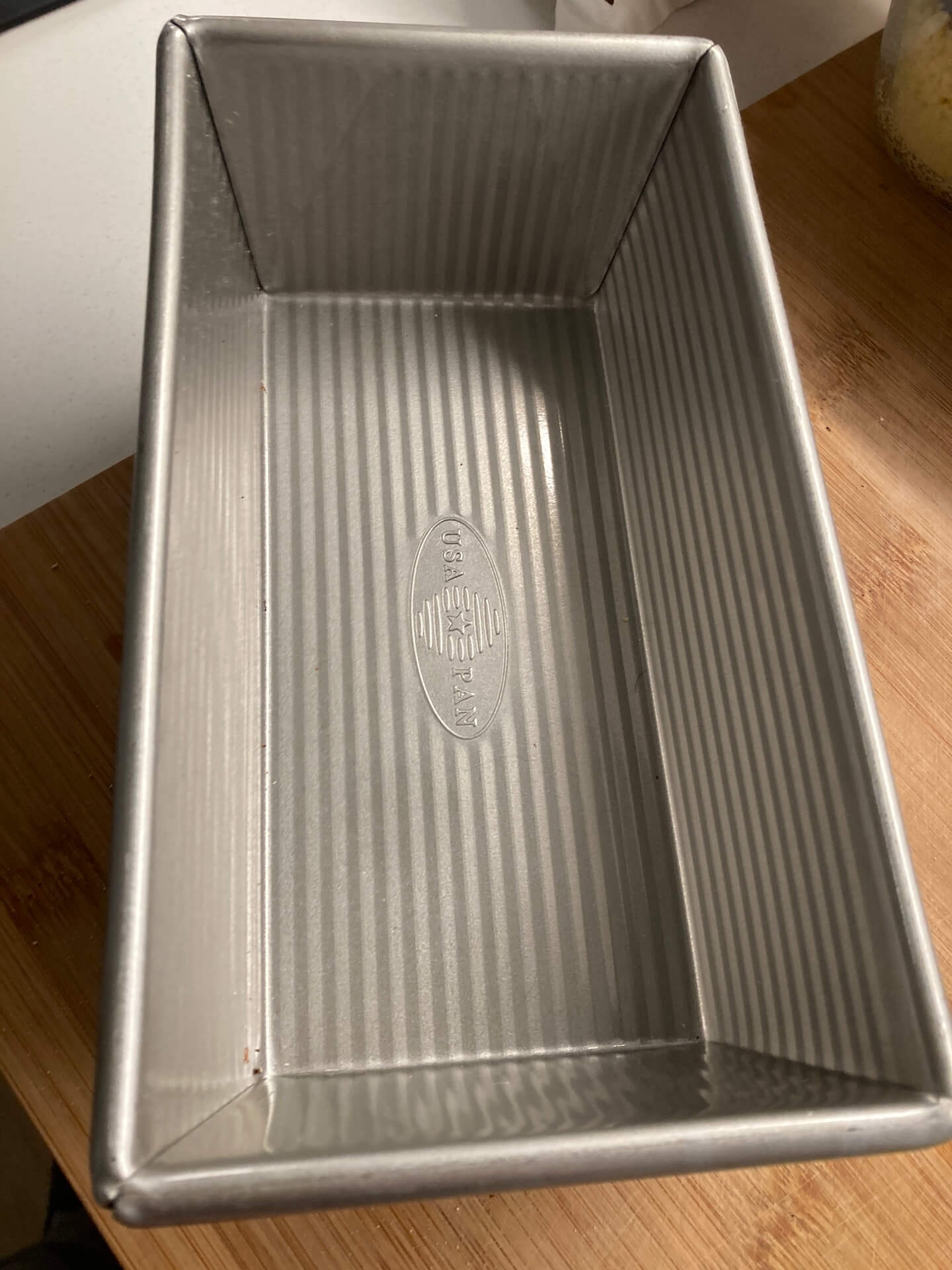 This loaf pan is fantastic and it is from USA Pan Bakeware. Its dimensions are  9x13cmx7cm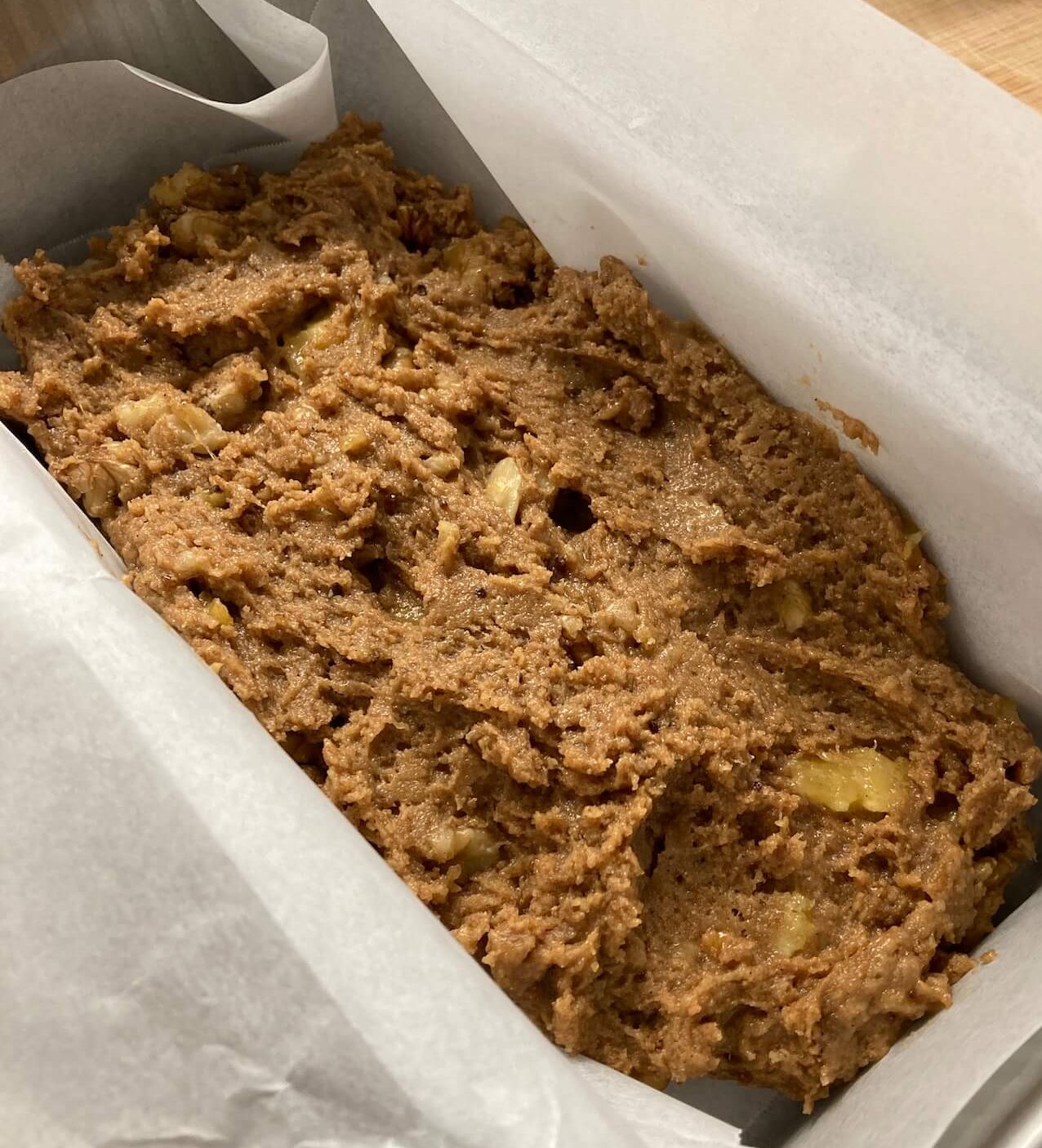 Banana bread mix ready for the oven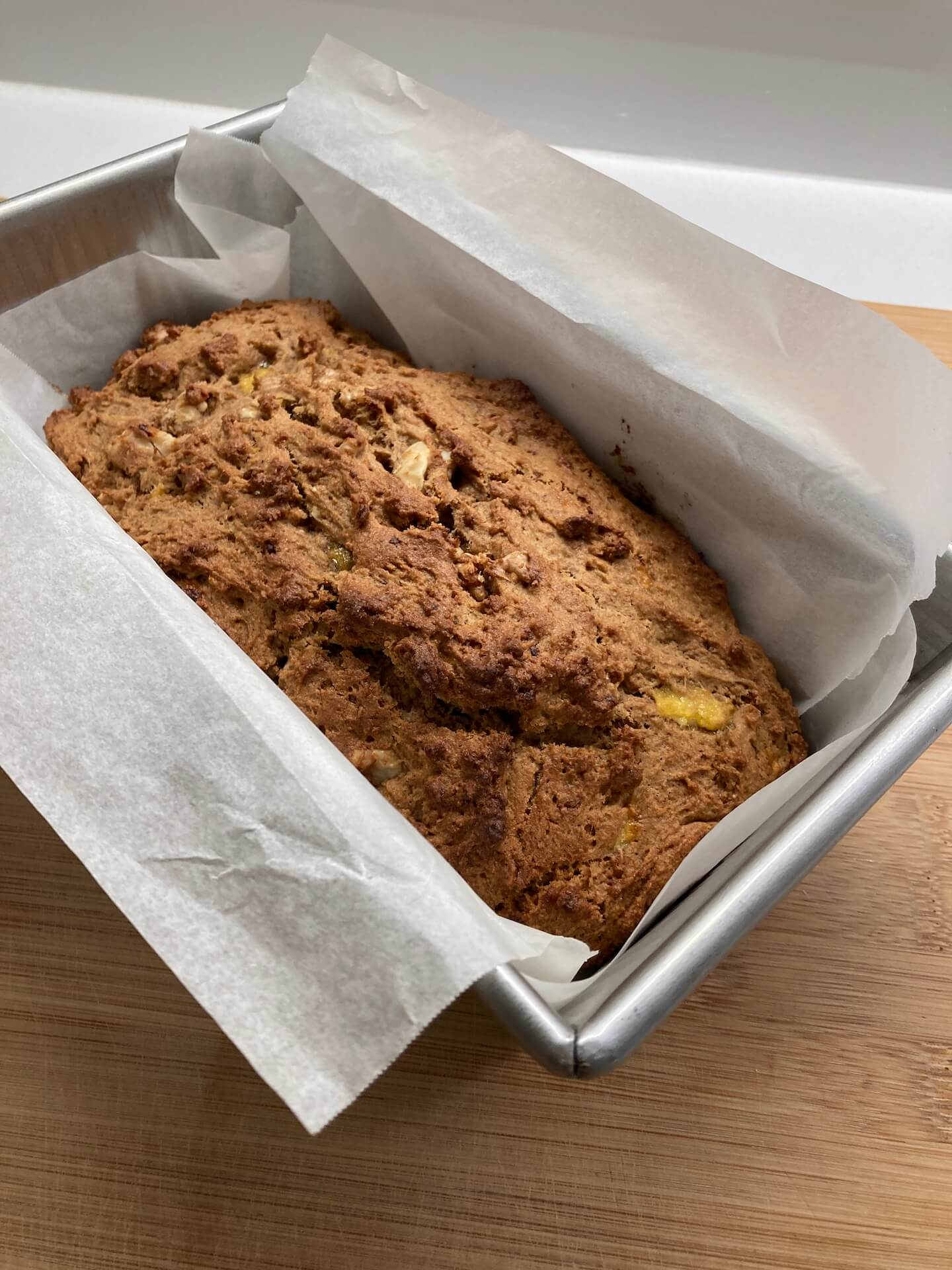 Out of the oven and ready to eat after it's cooled.
Recipe For Healthy Banana Bread
Ingredients
1 1/2 cups wholemeal spelt flour
1 large egg
3/4 cups rapadura sugar
1/3 cup butter melted
2 or 3 very ripe banana
1 teaspoon vanilla extract
1 teaspoon baking powder
1/2 teaspoon cinnamon ground
1/4 teaspoon nutmeg
Method
Preheat oven to 175 C or 350 F
Prepare a loaf pan with butter and line with baking paper
In a mixing bowl combine melted butter and sugar
Mash the bananas and add to the butter and sugar mixture
Add egg and vanilla and stir
Mix in the baking powder nutmeg cinnamon and flour
Pour batter into loaf pan
Bake for 35-40 minutes or until a skewer comes out clean
Remove from oven and let cool completely
One Last Thing
If you are looking for more recipes using healthier alternatives, you can find my recipe for gluten-free orange cake here