Well hello everyone and Happy Monday, I am on a mission to be a tourist in my own city of Sydney this Summer and to kick things off  I am going to share with you what a fantastic time I had on  Saturday visiting The Grounds Of Alexandria with my lovely fun friend. We had promised to visit here after lockdown and finally we did!!
Visiting The Grounds Of Alexandria
You will find The Grounds Of Alexandria in industrial Alexandria, which is an inner-city suburb of Sydney. It has a large cafe, restaurant, bar, bakery, mini farm, and a florist. You could definitely spend the whole morning or afternoon there enjoying the sights, sounds, and oh-so-delicious smells.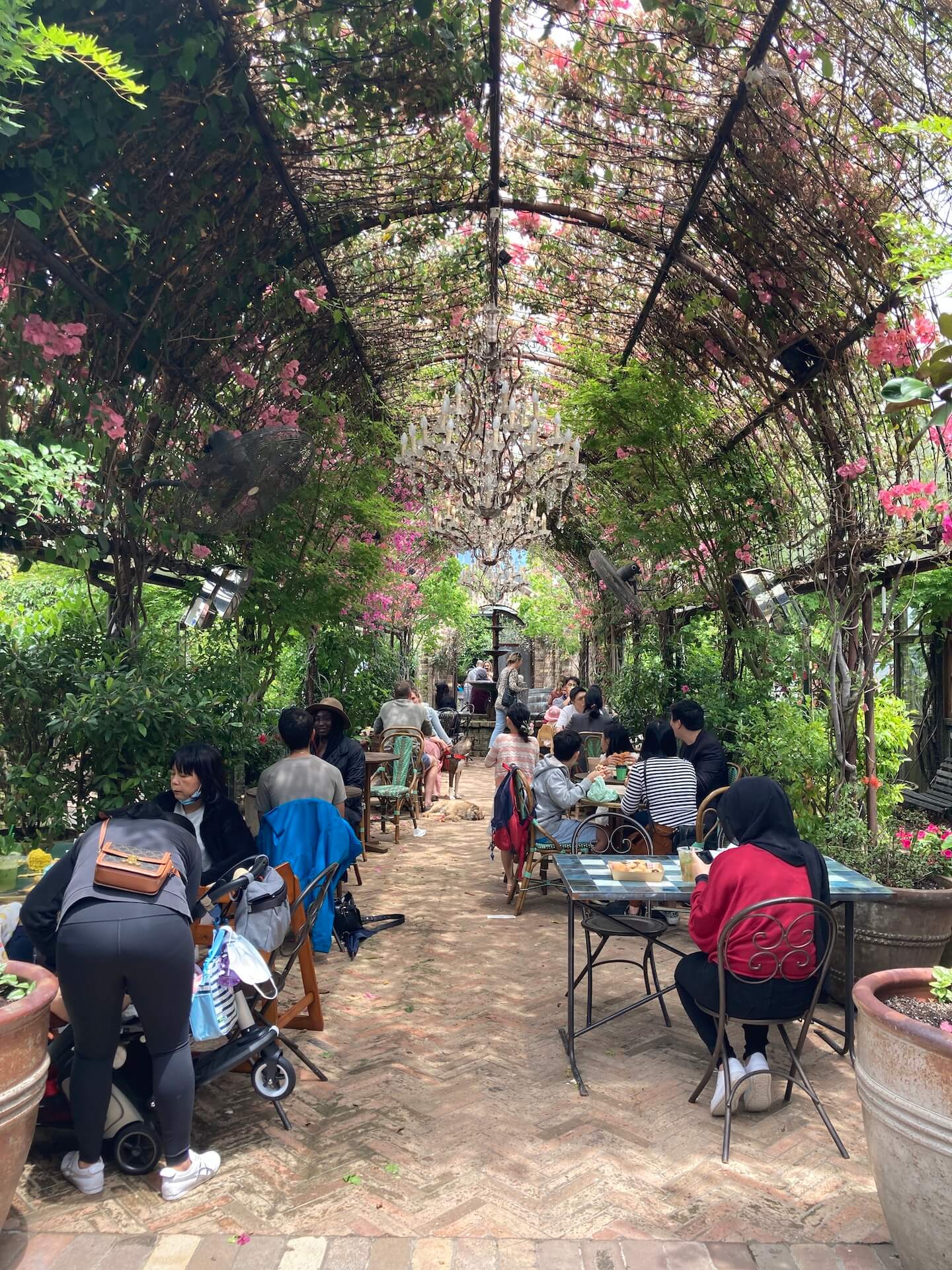 Until January next year, if you visit The Grounds you will see that it has been transformed into a most amazing Beauty and The Beast experience. My friend and I booked a table at the cafe so we could enjoy brunch and then have a wander around.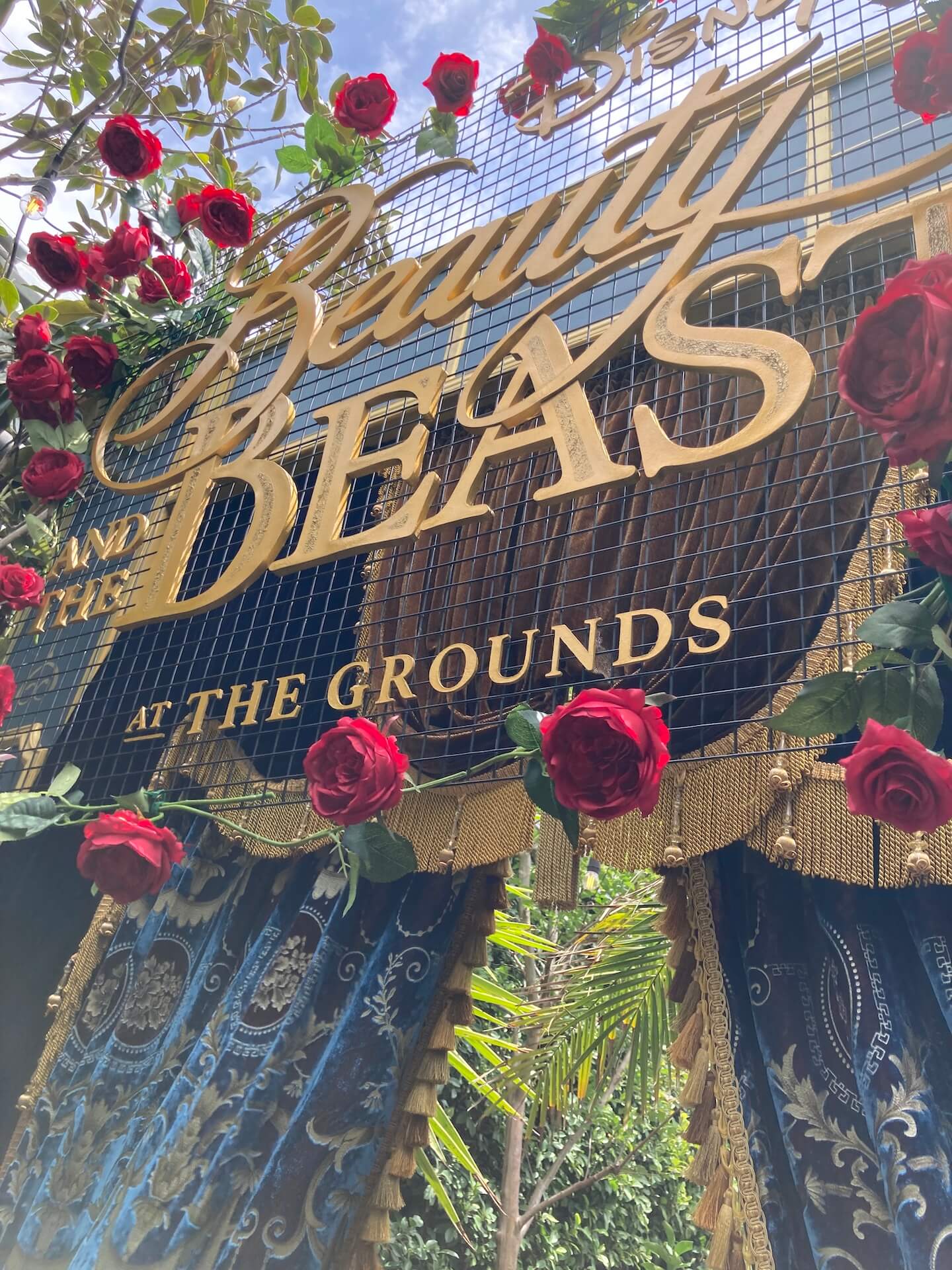 As soon as we walked inside it was buzzing with so many people.  After being in lockdown for so long, it felt a little overwhelming being in a crowd. But I was happy to be out for the day and because everyone still has to wear a mask I felt pretty safe.
There were couples, groups, and families enjoying the beautiful sunny day. I also spotted quite a few little girls all dressed up as Belle from Beauty and The Beast. They looked so cute in their yellow dresses and they were obviously big Disney princess fans.
Hello Sunny Sydney!
During the week, the weather had been just awful. It was back to winter again and it was raining,  windy, and even cold enough to be wearing a jacket! The weather forecast didn't predict good weather for the weekend either. But thankfully Sydney graced us with beautiful blue skies and sunshine. Yay! I was really convinced it was going to be a really wet weekend, I'm so glad that I was completely wrong.
We were about 15 minutes early for our table reservation at the cafe so we took the opportunity to have a little stroll around the Grounds.
There were a few stands lined up along the entrance. They were beautifully decorated and looked so appealing.
The first one we saw was a lemonade stand where they also had the most beautiful plump red strawberries for sale.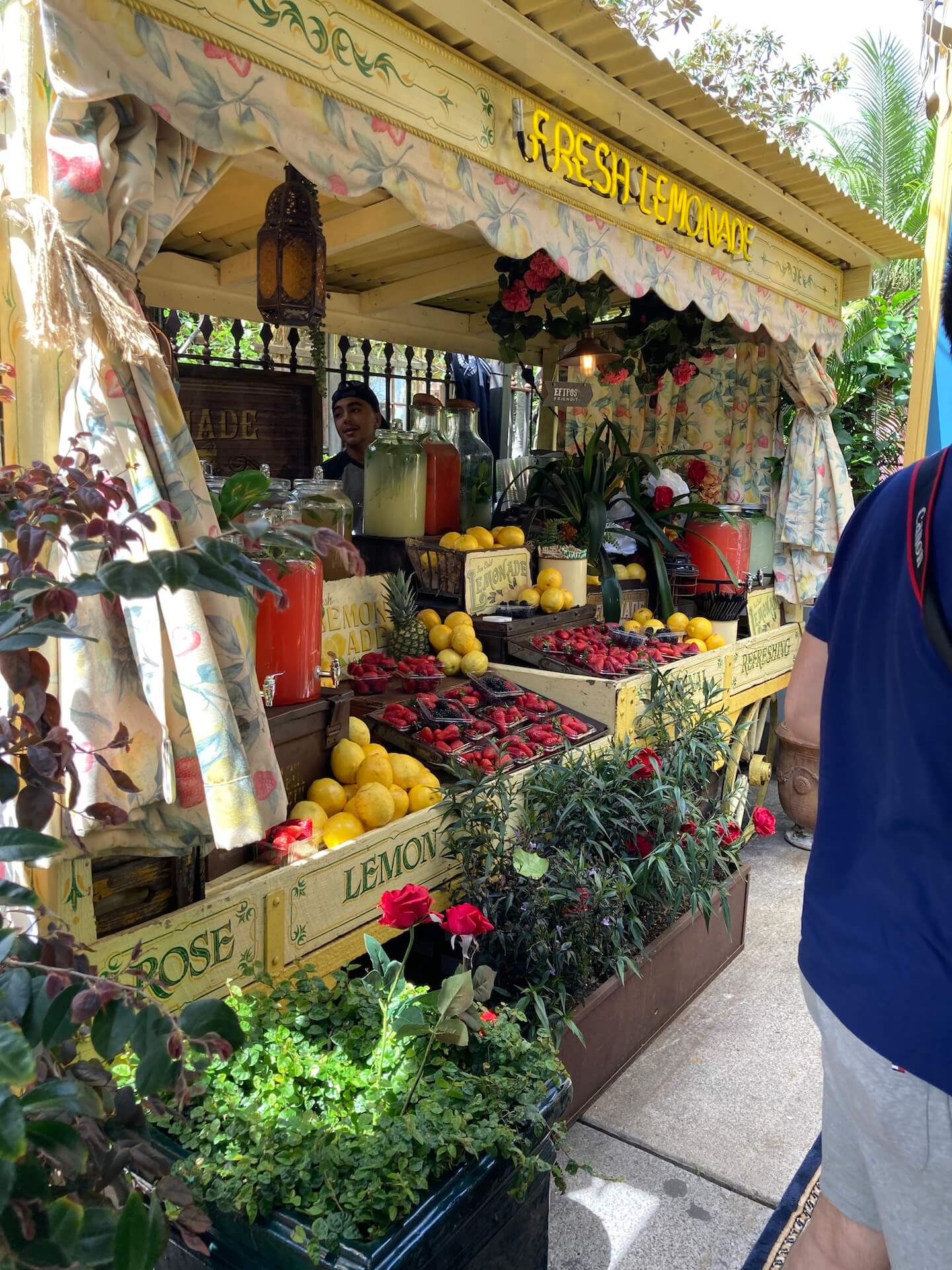 They also had a yummy donut stand too.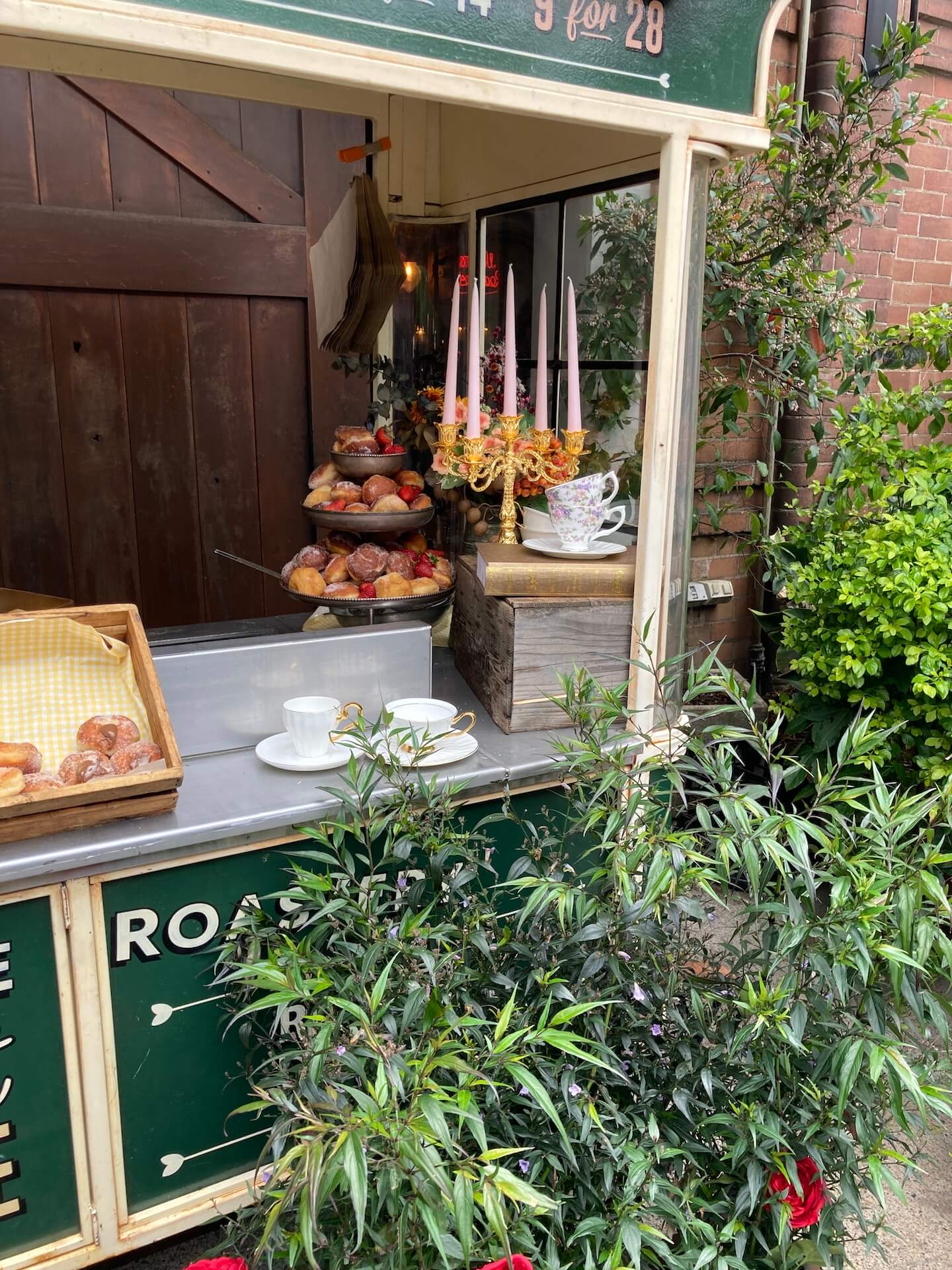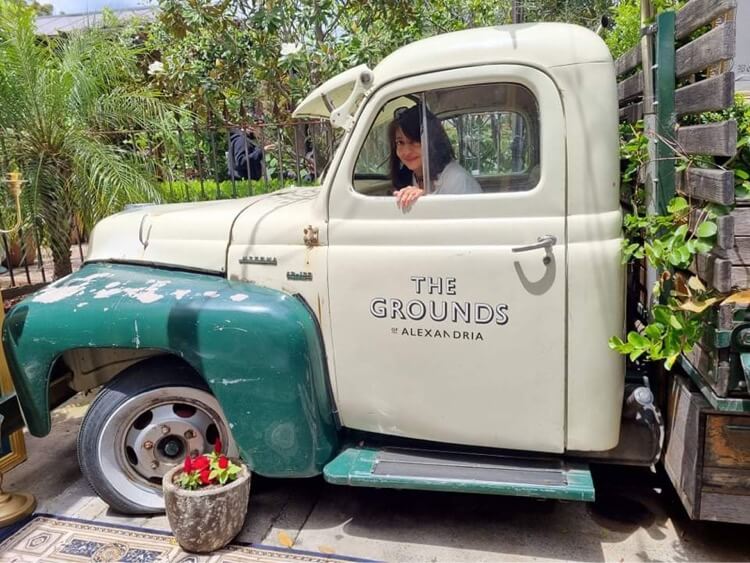 When visiting The Grounds Of Alexandria you are sure to find all these cute props and backdrops for taking photos. This old truck is one of them. So I climbed right in for a quick pic.
Beauty And The Beast At The Grounds Of Alexandria
Look at this giant Beauty and the Beast Rose and book display. Isn't it beautiful!! I noticed there were lots of fairy lights around. I can only imagine how beautiful and magical it must look in the nighttime.
We saw some Beauty and The Beast storyboards and a fun cake display. (The Cakes weren't real)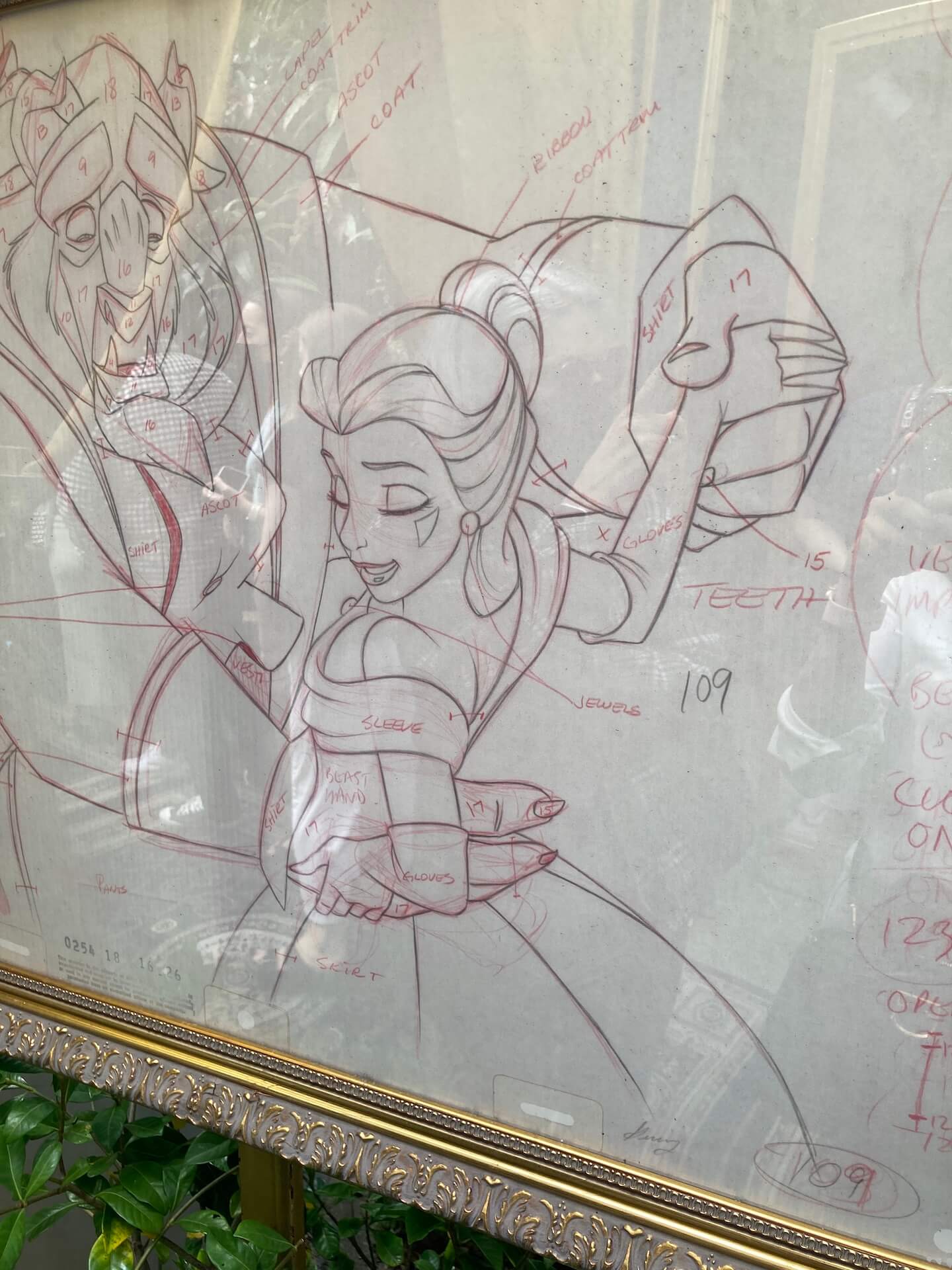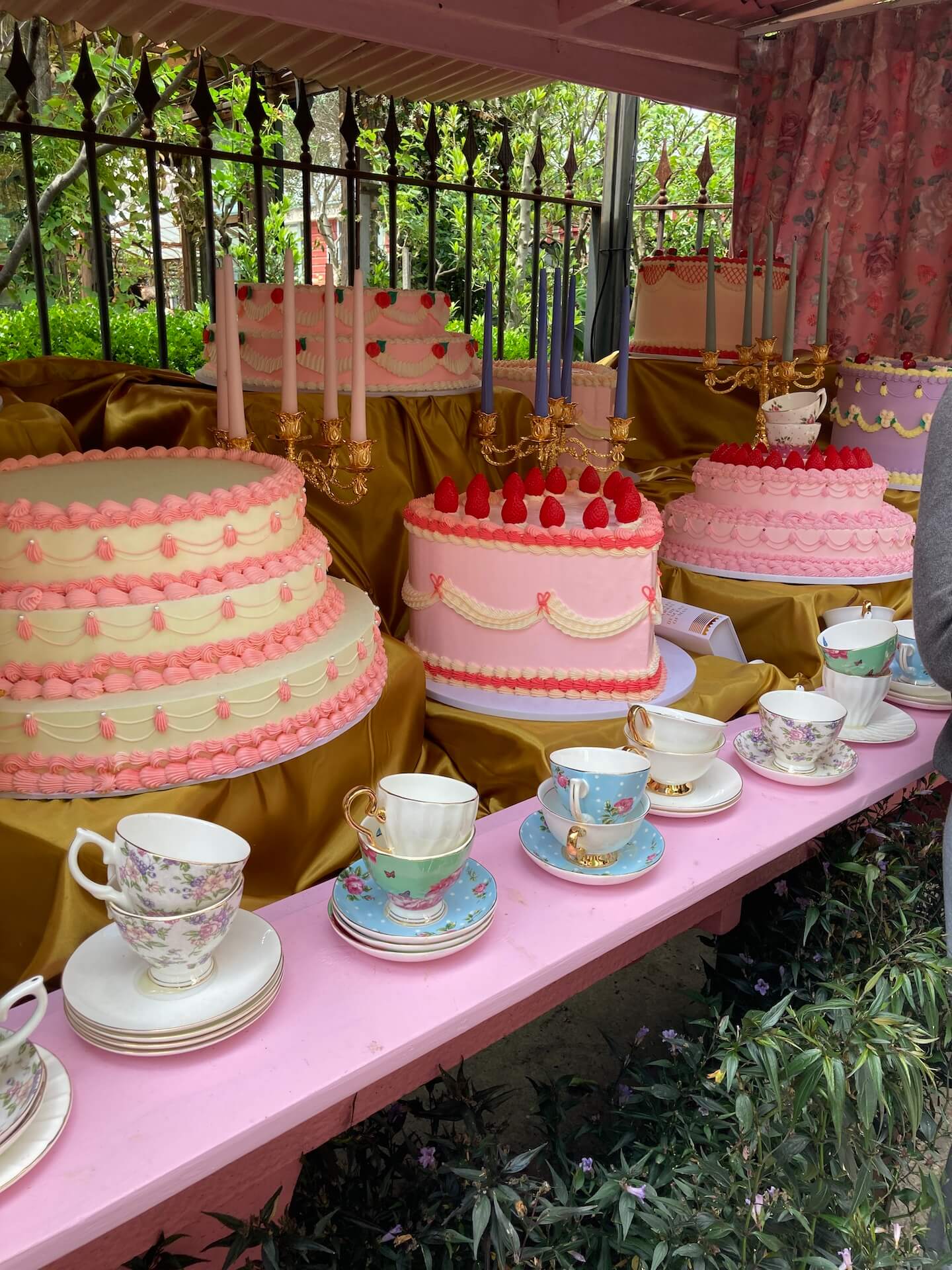 There were red roses everywhere and they looked so real too!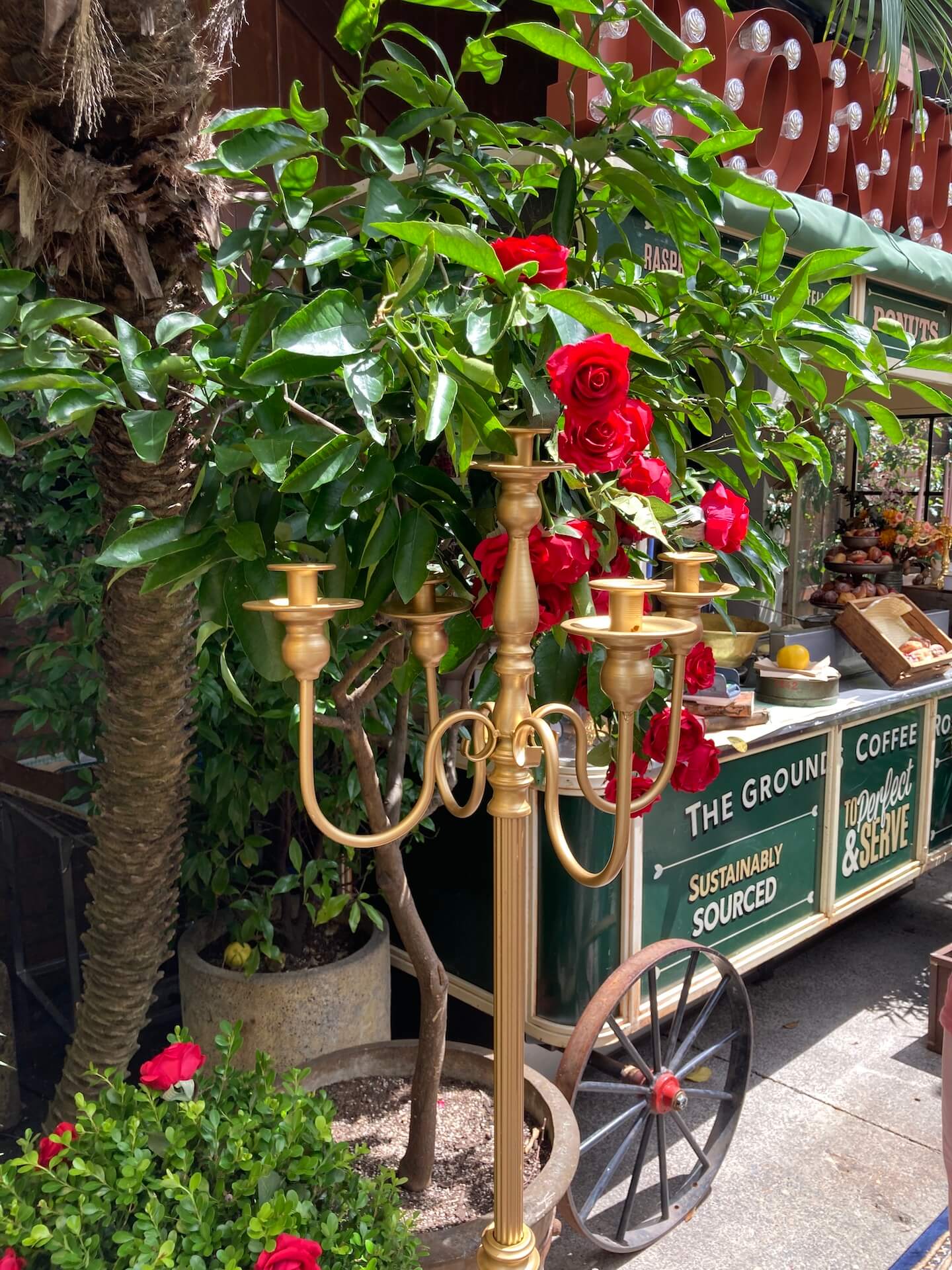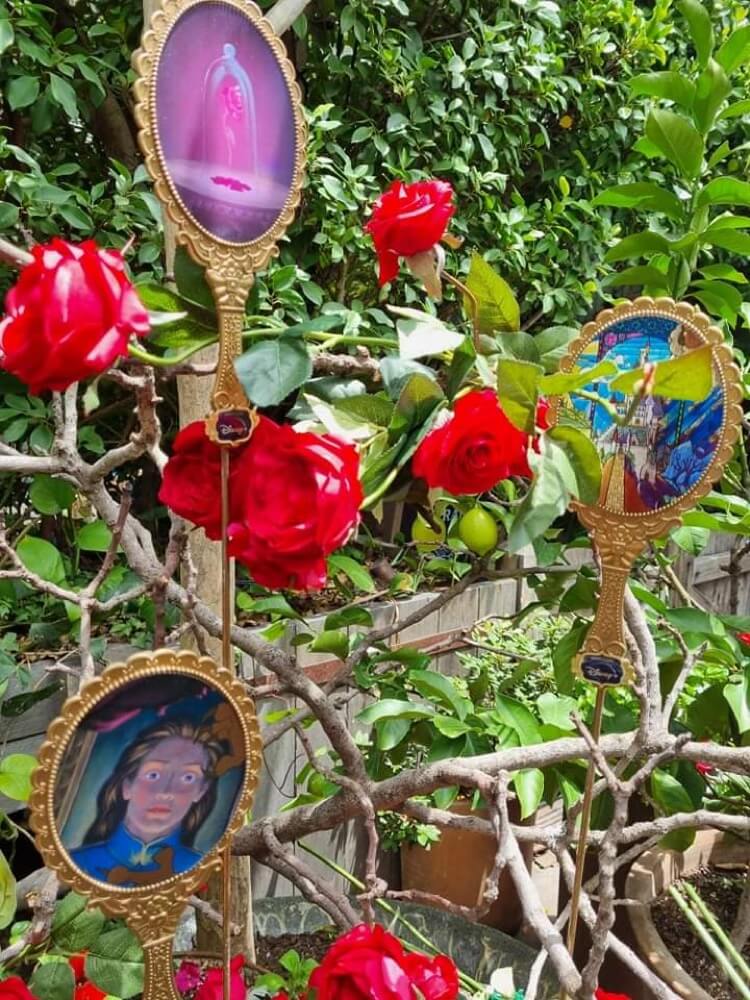 See the beautiful gown in the glass display. I tried to get up close to read the small sign and find out where it was from. It was obviously related somehow to Beaty and The Beast but the writing was so small and the sun was reflecting off the glass. So I gave up trying to read it and just admired the gown instead.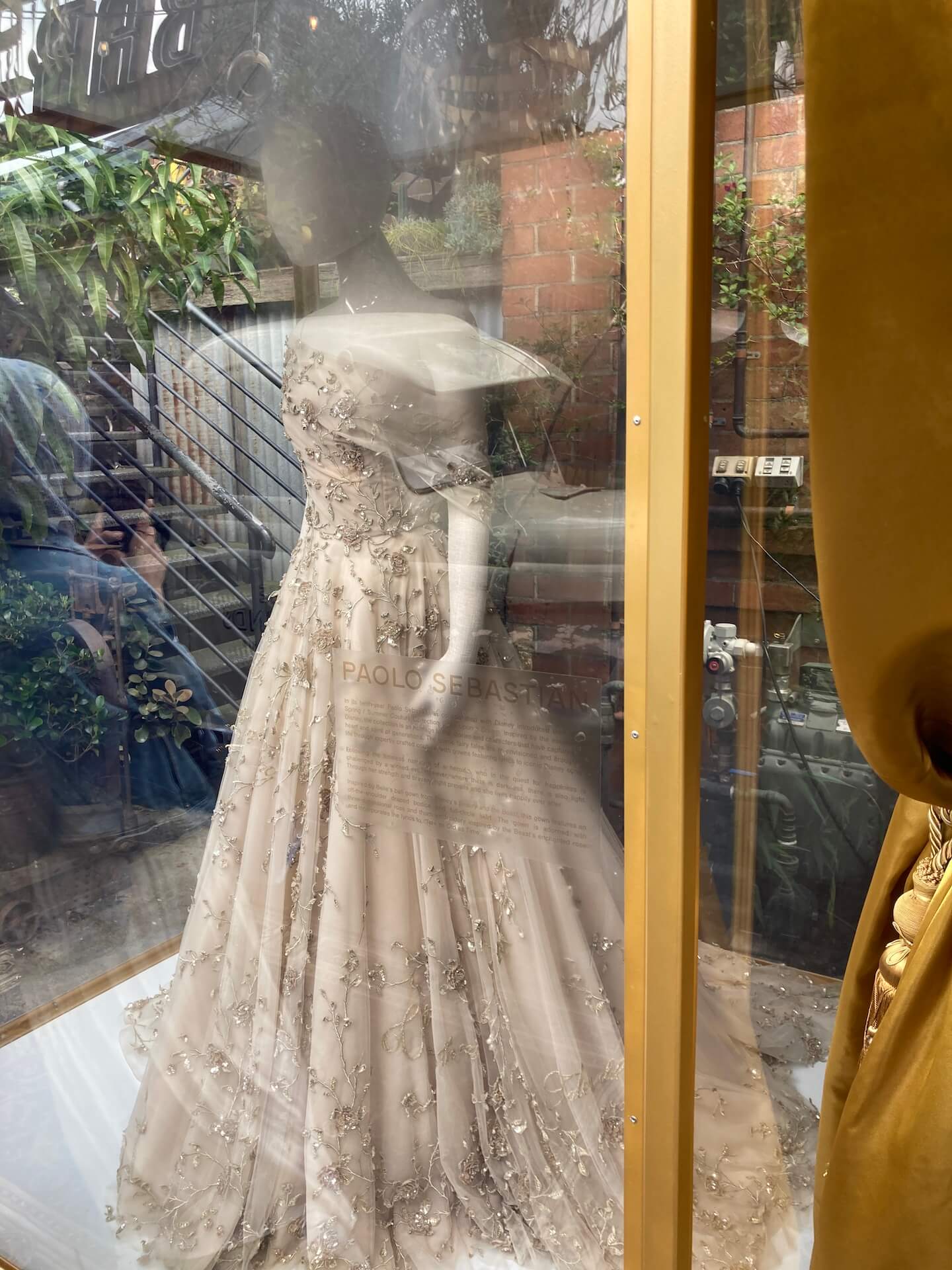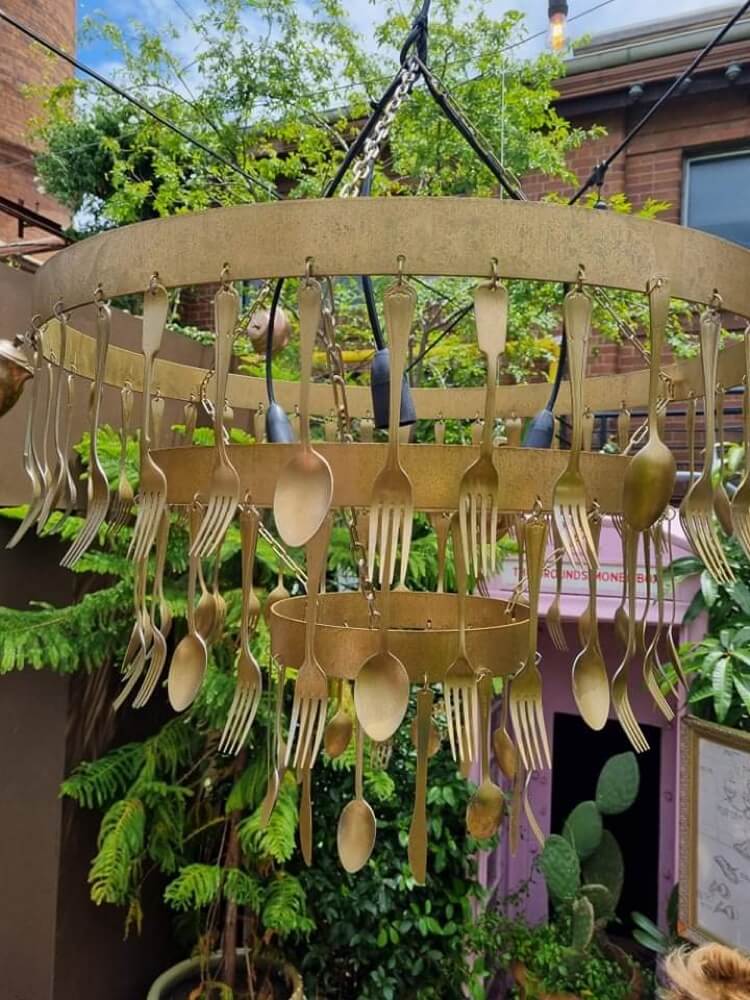 A fun Chandelier!
The Brekkie Burger
My friend and I went back to the cafe as 15 minutes went by in a flash and our table was ready.  We thought we would eat first and then keep exploring afterward. I was really happy to find that we were seated at a table in the outdoor area as it looked super crowded inside the huge cafe.
After going through the menu and feeling indecisive I finally picked a brekkie burger with polenta chips. And let me tell you it did not disappoint. The only complaint I have is that I didn't have a large bib to wear while I ate it! Ha! The burger was so full of delicious bacon, avocado, relish, mayonnaise and an egg cooked just the way I love it, nice and runny.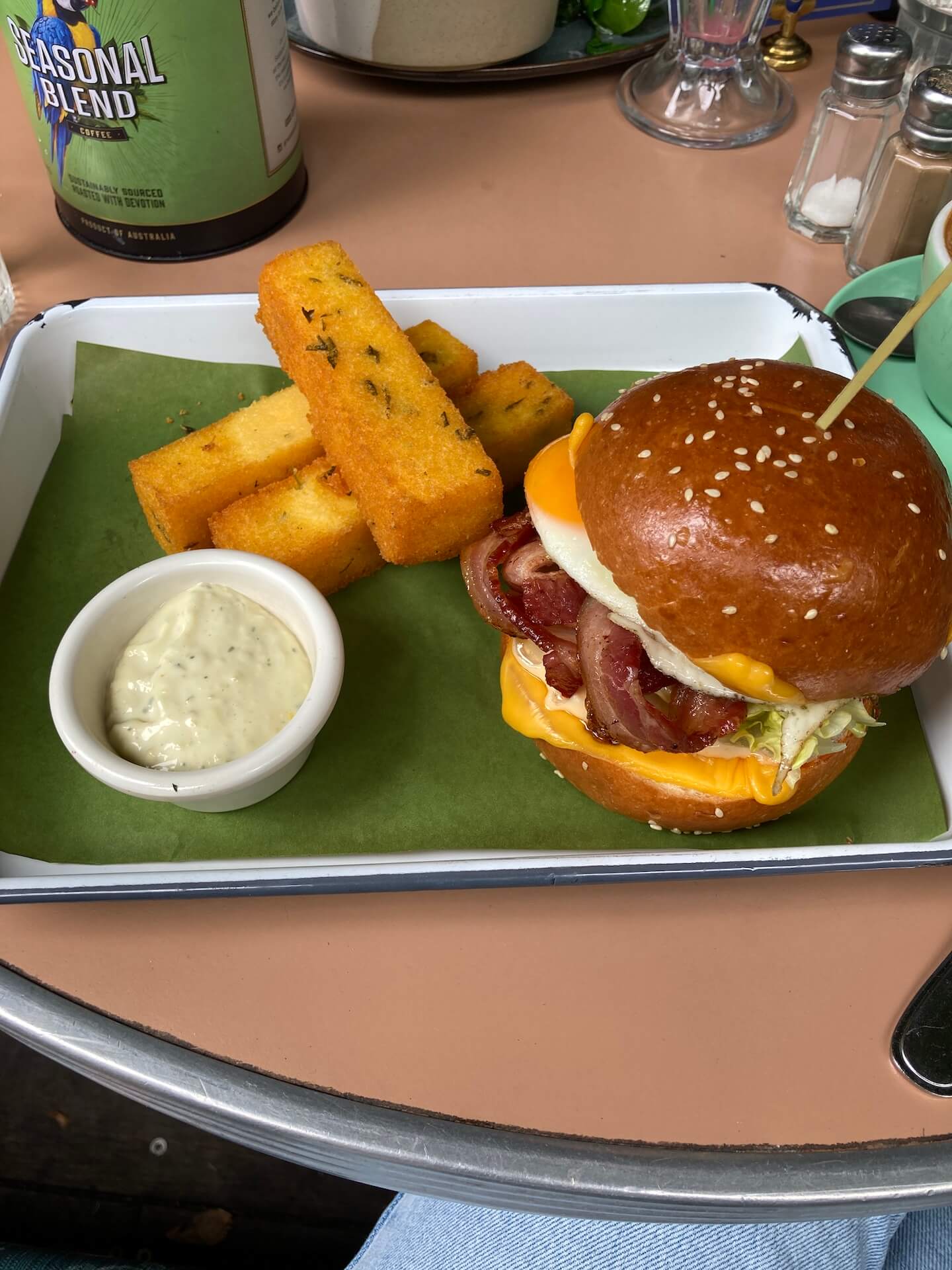 At first, I didn't even know how I was going to pick it up with my hands because the burger was so full of ingredients! I was eventually able to try and sort of hold it in the most ladylike way possible. Not sure how successful I was because when I brushed some of my hair away from my eyes that were bothering me, I got some egg on my forehead! At this point, I just gave up and ate the rest of my brekkie burger with a knife and fork. Ha!
My friend ordered the eggs on sourdough toast with avocado and spinach. There was a lot of green going on with her plate and we both agreed that it probably would have been better with a dash of tomato relish.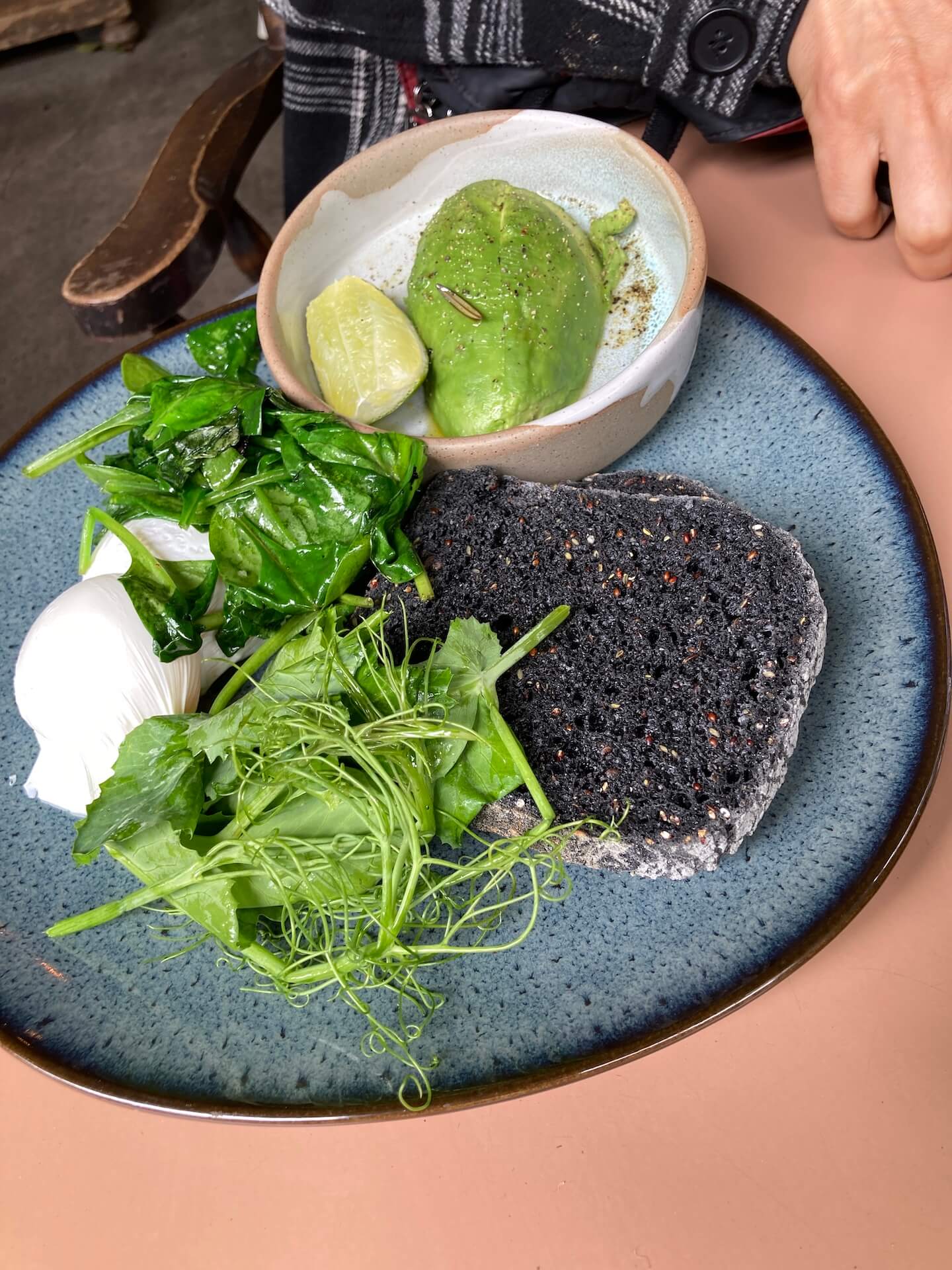 A delicious berry smoothie! I just ordered a coffee which was very nice, but I will definitely be trying this smoothie next time!
So Much More To Explore
After we finished eating, we kept wandering around because there was still so much more to see. We went inside the small florist shop, gosh it was beautiful! The flowers were so colourful and the variety they had was just so amazing.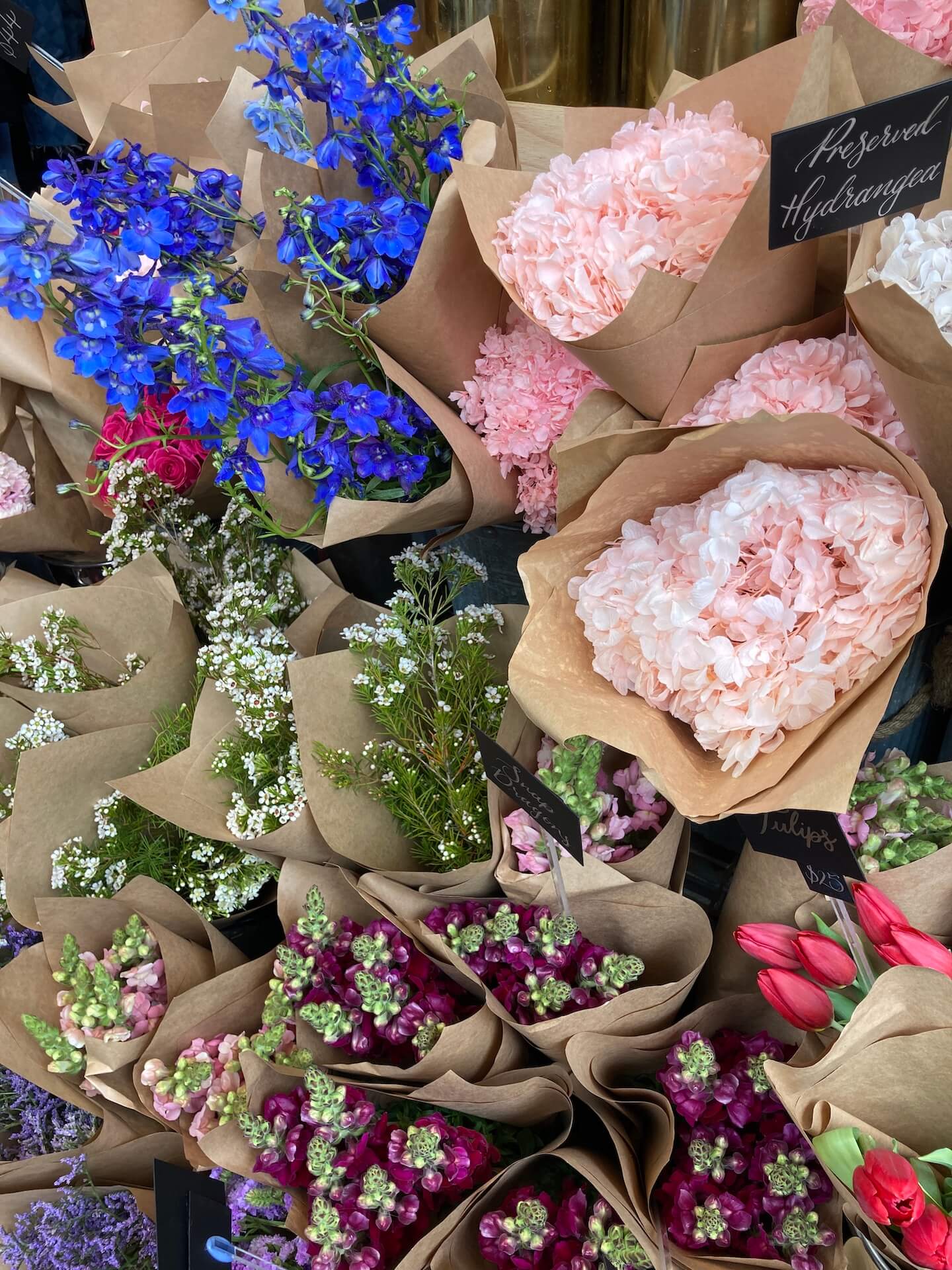 We spotted some potpourri, body scrub, and soy candles for sale. They all smelt so good!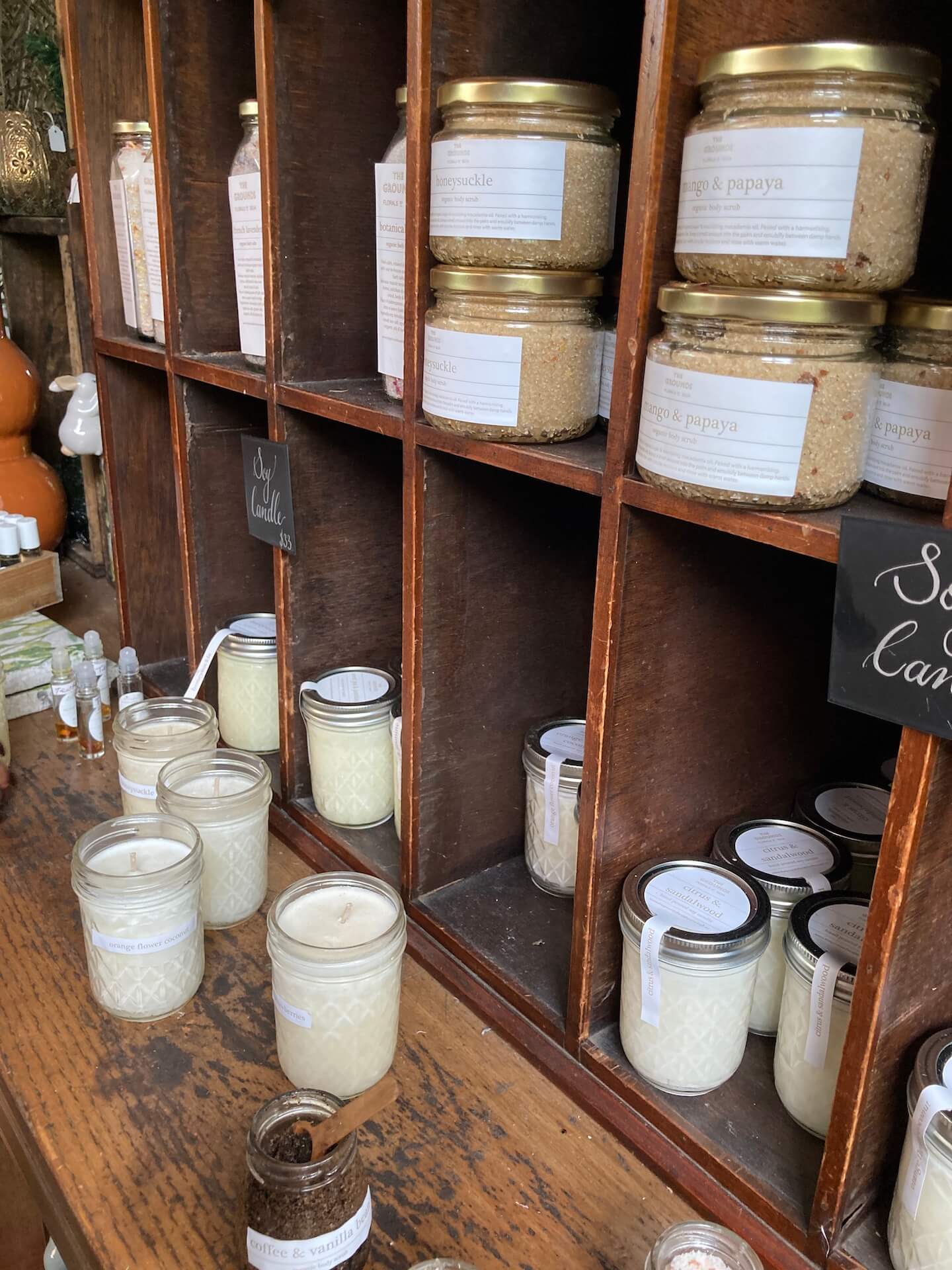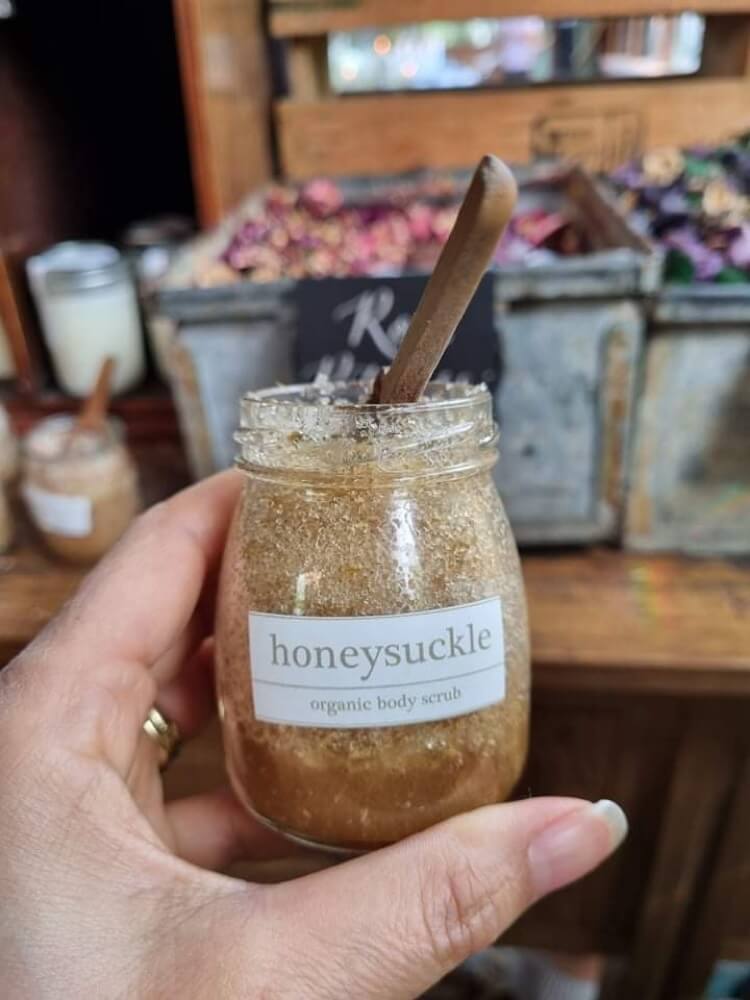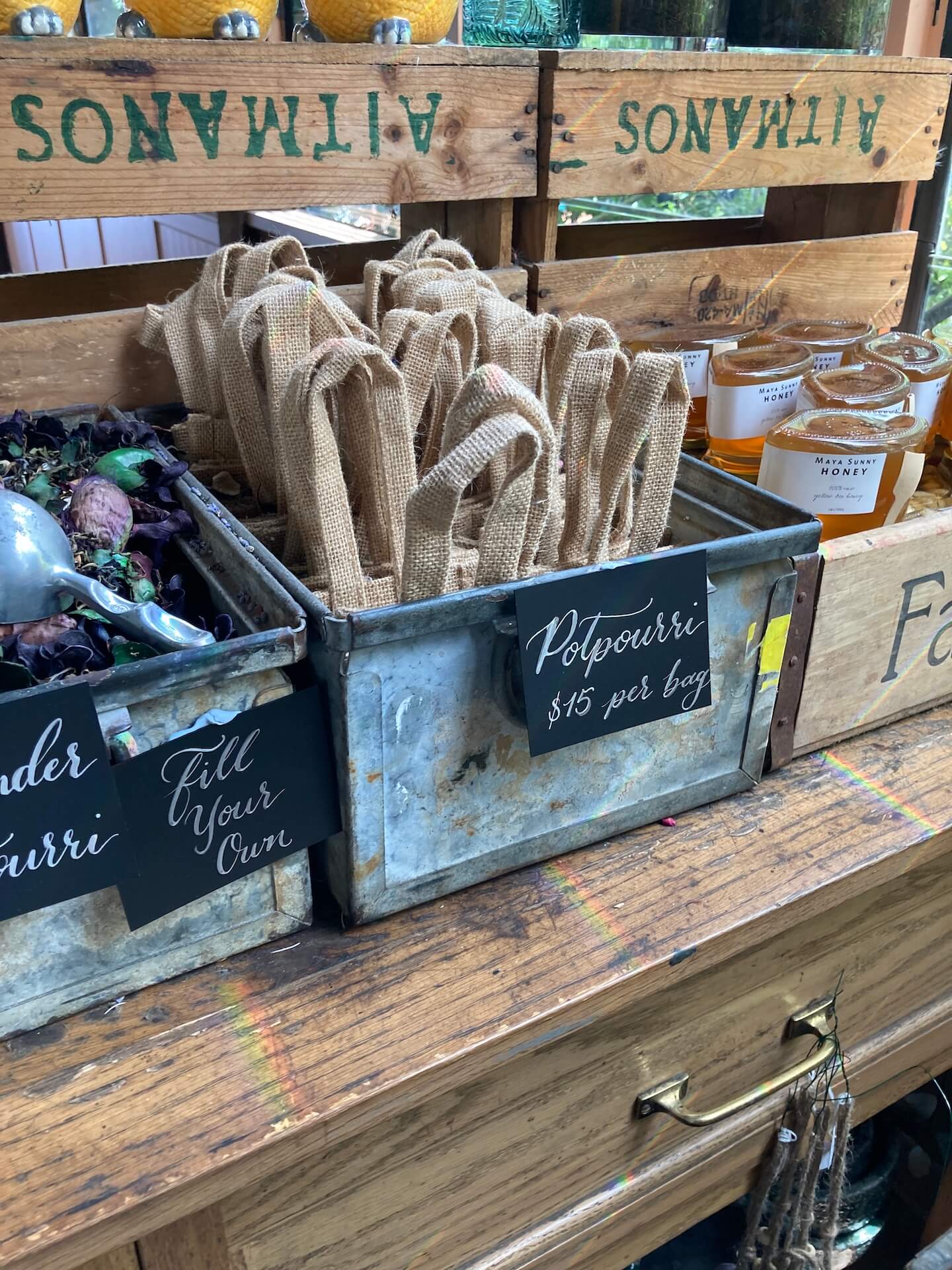 I have such a weakness for soy candles they make my home feel so cozy when I light one. So I went ahead and bought the honeysuckle candle.
We kept wandering around and then found the animals. There were a couple of cute goats and some chickens. A few years ago they also had a resident pig called Kevin Bacon but he has retired to a real farm now.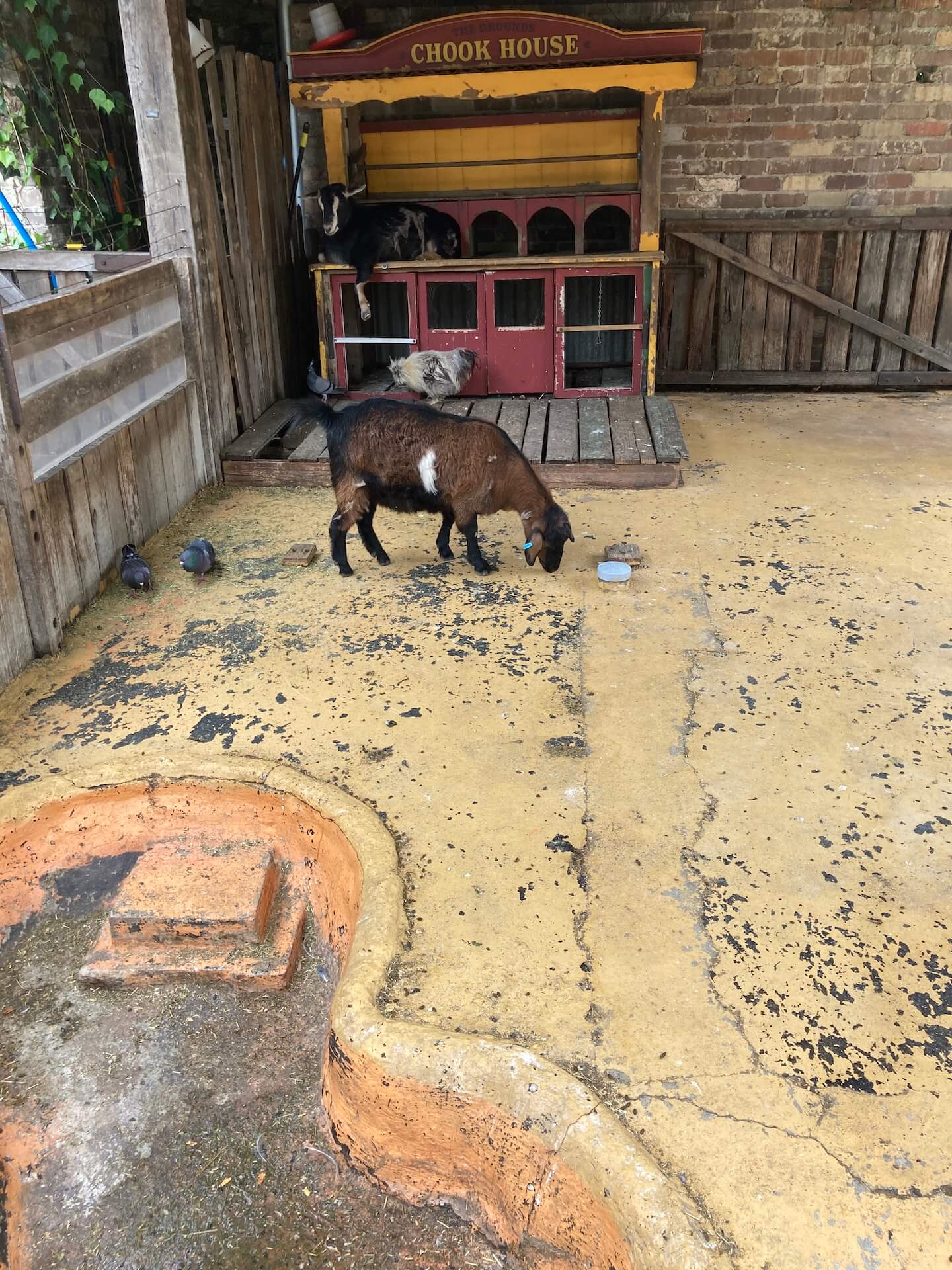 We found a statue of the famous Kevin Bacon the pig.
We had the best time visiting The Grounds Of Alexandria! I had looked forward to it for ages during lockdown. I was almost sad when it came time to leave.
If you are ever in Sydney make sure you go there for a visit. The food is delicious, and they have great gluten-free and dairy-free options too. There is just so much to see and plenty of really cool places to pose for photos. I guess a great way to describe a visit to the Grounds of Alexandria is that it truly is an enchanting experience.
I hope you all have a great rest of the week, Happy Monday friends!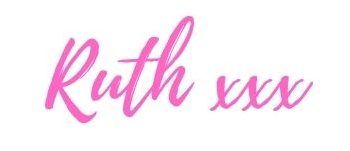 Linking up with My Glittery Heart for today's Hello Monday post.