I think that one of the things that makes a strong positive impact on a kids life is traditions! Traditions are fun they strengthen family bonds, foster a real sense of belonging and create long-lasting special memories. Traditions can be big or small, they can be yearly traditions or traditions that occur often. Here are some of my favourite traditions from my own childhood and some traditions that my family and I do now.
My Favourite Childhood Christmas Traditions
My family is from Peru and they migrated to Australia in the '70s. So growing up we celebrated Christmas Peruvian style. We got together with family on Christmas Eve and ate very very late. So late that as a kid I could barely keep my eyes open ! I don't know how Peruvian children manage to stay awake Christmas Eve but they must be made of much stronger stuff than I was.
Christmas dinner included the traditional turkey, salads and of course rice. Peruvians eat rice with everything! Then we would count down to midnight and at the stroke of midnight we all kissed and hugged wishing each other "Feliz Navidad". Afterwards, we would open the presents and then lastly we would enjoy some hot chocolate with the traditional Italian Christmas cake, panettone! Fun times!! On Christmas Day we just slept in and ate leftovers.
My Favourite Childhood New Years Eve Traditions
Ok, so this is where things got a little crazy. It's a Peruvian tradition to eat 12 grapes once the clock strikes midnight BUT you have to eat each grape with each stroke of the clock. Each grape is supposed to represent one month and one wish that you make. Do you know how hard that was?? I don't think I ever got past five or six grapes. And I certainly didn't have time to think of any good wishes because as I shoved those grapes in my mouth I was just wishing I didn't choke and die! It was fun though!!
Then I'm not sure if this is really a Peruvian tradition but it was definitely my Mums tradition. You see she was a keen traveller and she believed that if you grabbed an empty suitcase and ran around the block just afer midnight then that meant that you would for sure travel overseas that year.
So just picture this for a minute 12 grapes then a sprint around the block. Easy peasy! Sure enough, we did this year after year.  We probably looked like we were on the run from someone who was trying to stab us!! But hey, we did travel, I got to go to Disneyland not once but twice!!
Surviving my childhood traditions has meant that now my own family traditions are much much tamer. No more running around the block or potentially choking on grapes in the hopes of gaining a year worth of wishes. No,we do calm things like
Eat A Non-Healthy Sugary Cereal During School Holidays.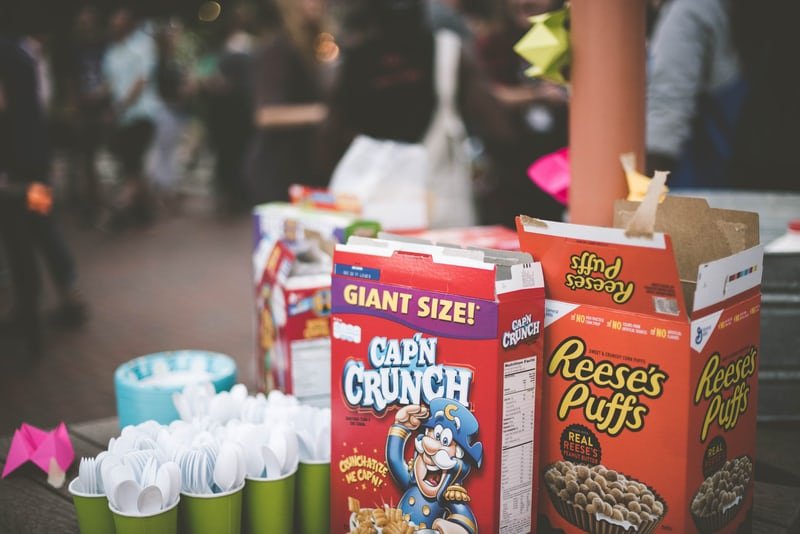 That's right! Every school holiday my boys were allowed to pick any cereal they wanted. Fruit loops was a big favourite. Then one year my cousin gave us three boxes of American cereal for Christmas and we all just about lost our minds with excitement. We had Reece's Puffs, Lucky Charms and Cinnamon Toast Crunch. That was probably the best year of my kids lives!!
Star Wars
We are all huge Star Wars fans and have of course seen all the original. But we've made it a tradition to watch the latest ones together first as soon as they are released at the cinemas. We've even done things like go off any social media so we don't see any spoilers. We want to make sure we all have the same reactions together! I love that we do this!
A few years ago I managed to nab some free tickets to a Star Wars fan event held at the Sydney Opera House. My boys got some Star Wars merchandise signed by Harrison Ford and I touched the sleeve of his shirt ahhhhh…….sigh. I'm giddy just thinking about this! Haha. Going to this special event together cemented our love of Star Wars as a family forever!!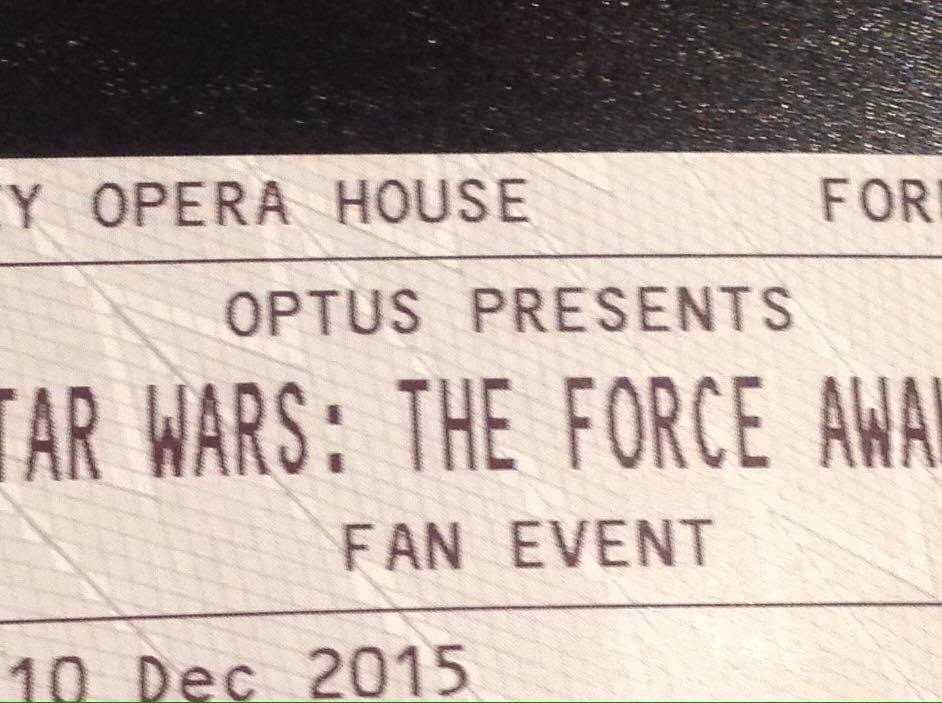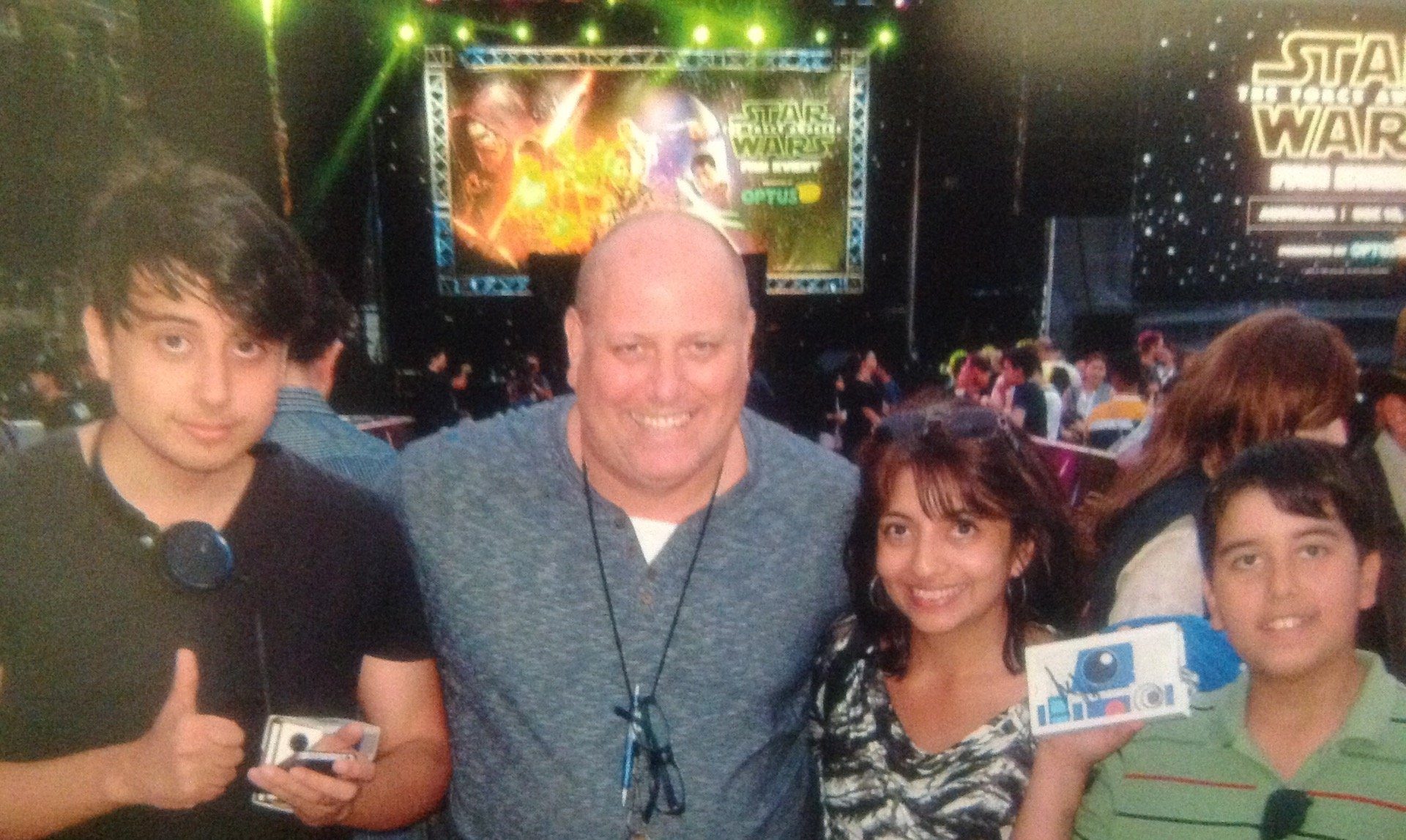 Visit David Jones For Christmas
Every year we visit the Australian department store, David Jones to see the Christmas window display. It used to be very elaborate but recently it's been quite low-key. But we still go to have a look because hey it's tradition!
Years ago when my kids were little we would also visit David Jones to have "Snacks with Santa". I would get some tickets for this event and we would get all dressed up to go. The ticket included party food and then a Christmas show followed by photos with Santa. My boys are all grown up now, but they do remember this very fondly.
Family Movie Nights
As a family, we like to pick a movie to watch together regularly and it's usually a classic. We watched all the Godfather movies and gangster-type movies last year. With my husband's new job working such long hours we haven't done this so much recently. But it's definitely a favourite tradition and something we need to do again soon!
Take Turns Choosing Take Away
We don't get takeaway very often so it's always special when we do. To keep things fair as well as fun we take turns choosing where we are going to order takeaway food from.
Kiss Goodbye, Kiss Goodnight
Traditions can be daily, for us kissing goodbye is what we do every day. None of us ever leave the house without kissing each other goodbye. It's the same with bedtime, we always kiss each other goodnight too. Well just to be clear, I get all the kisses, my son and husband give each other a handshake and a pat on the back. Man style!!
Traditions Are Special!
Indeed, traditions are definitely special. They help lift us out of the ordinary everyday grind and help create special memories that last forever. Thanks so much for letting me share some of my traditions with you!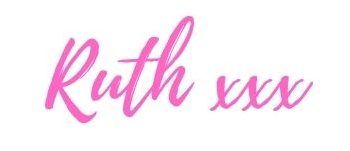 Linking up with Erika and Shay for today's Let's Look post