Christmas Home Tour 2021
Hi Friends and happy Monday, wow the weekend sure flew by! I finally managed to get my act together and I finished decorating the house. So I thought that it would be fun for me to open my door and welcome you into my home for a little Christmas home tour.
Christmas Lights!
Saturday afternoon I decorated my verandah with some solar-powered fairy lights. They are so easy to put up as I don't have to muck around with any electricity. I don't think they are as bright as the electric ones. But I'm happy with them and they have lasted quite a few years which is great
These candy canes and Christmas trees are really cute and the little trees change colour!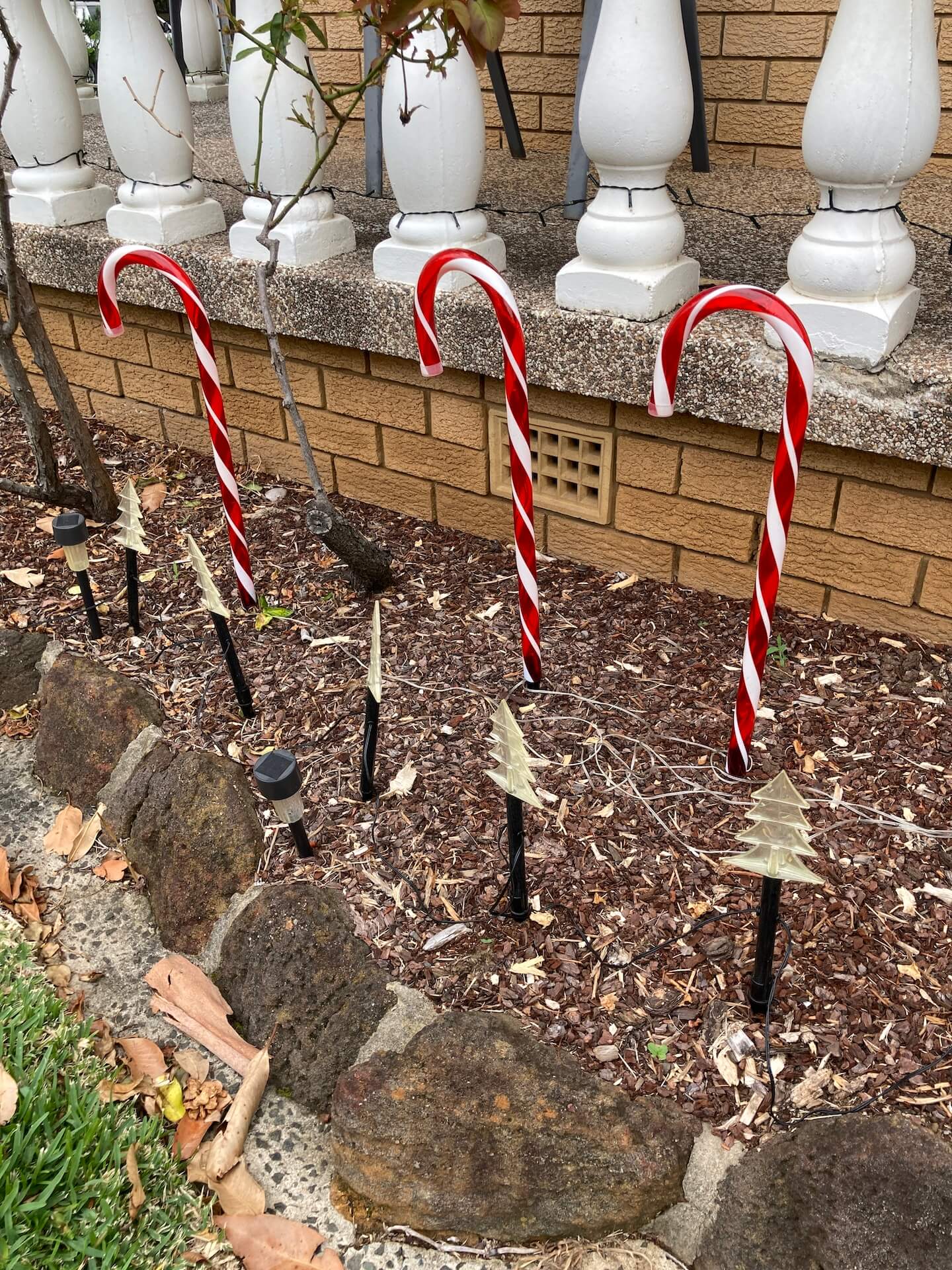 I wrapped the verandah with some multi-coloured fairy lights. I know I said that the solar-powered fairy lights were easy but even so I always manage to get myself in a tangle. Grrrrr! I am so impressed with houses that have a ton of lights. How do they do it??
I didn't take a nighttime photo because the solar lights are still super faint. We're back to cloudy rainy days and the little solar battery hasn't had a chance to power up yet.
I've had this festive sign for a long time too. Every year I stick it in my tall pot plant that's just outside my front door.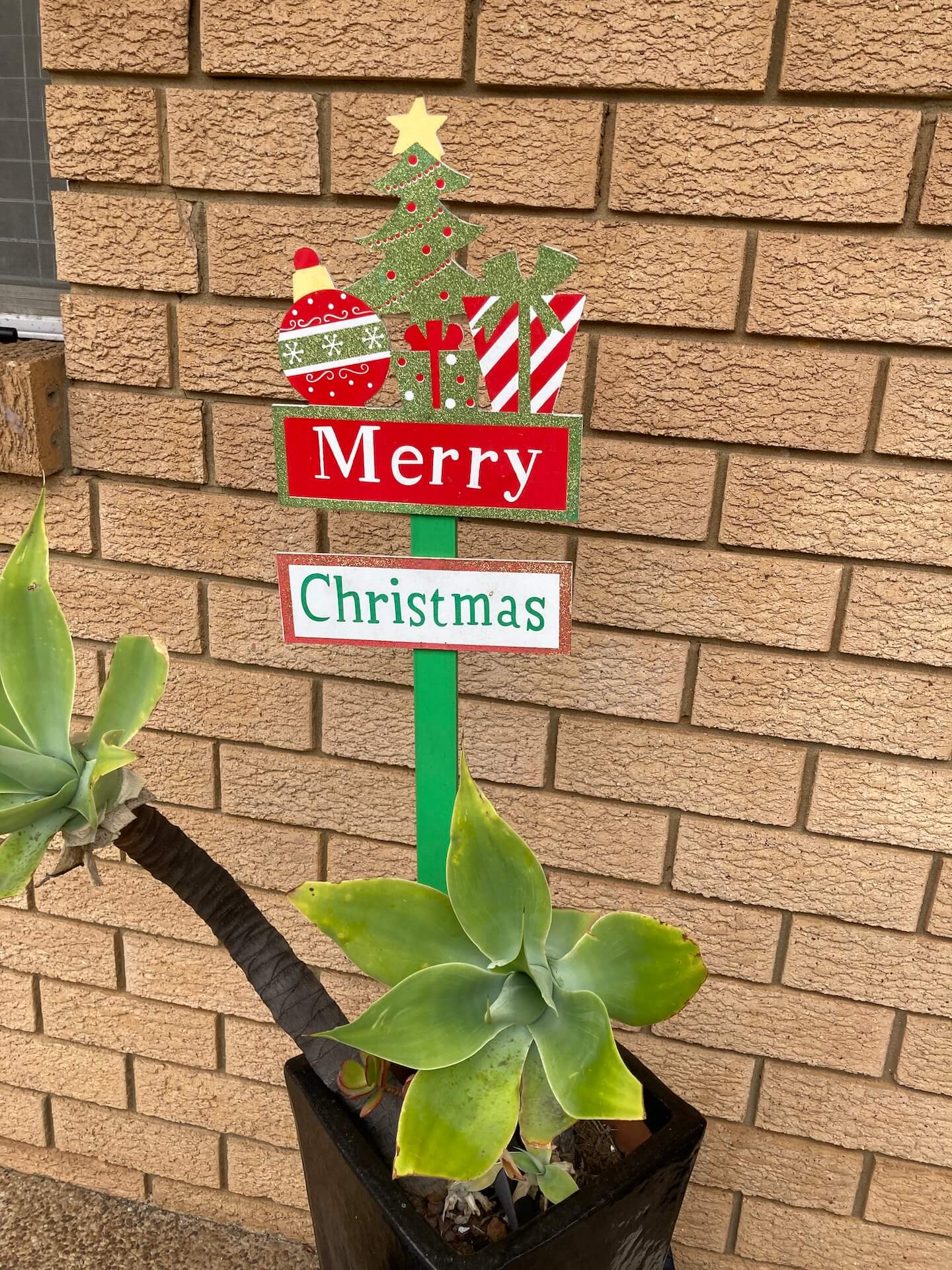 I bought his Christmas wreath from Ikea a few years ago, it's simple and I really like the bright red baubles. I do think that it is starting to lose some of its shine so I might change this one soon.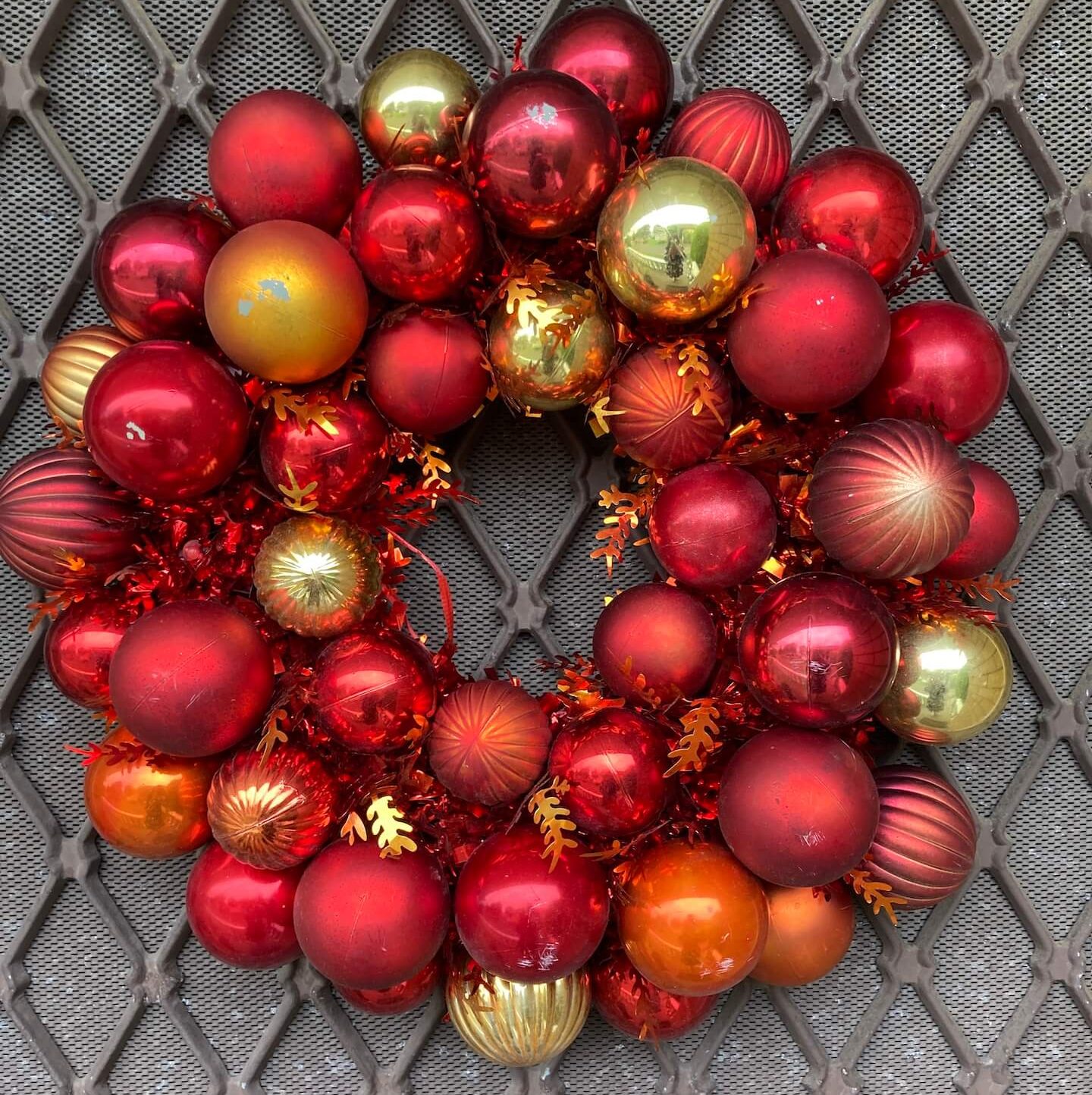 The Entry Way
The first thing you will see when you come into my house are these two stars hanging on the wall. They are also from Ikea and they have a timer. Every night they turn on at 6 pm and then they turn off at 11 pm. How clever!!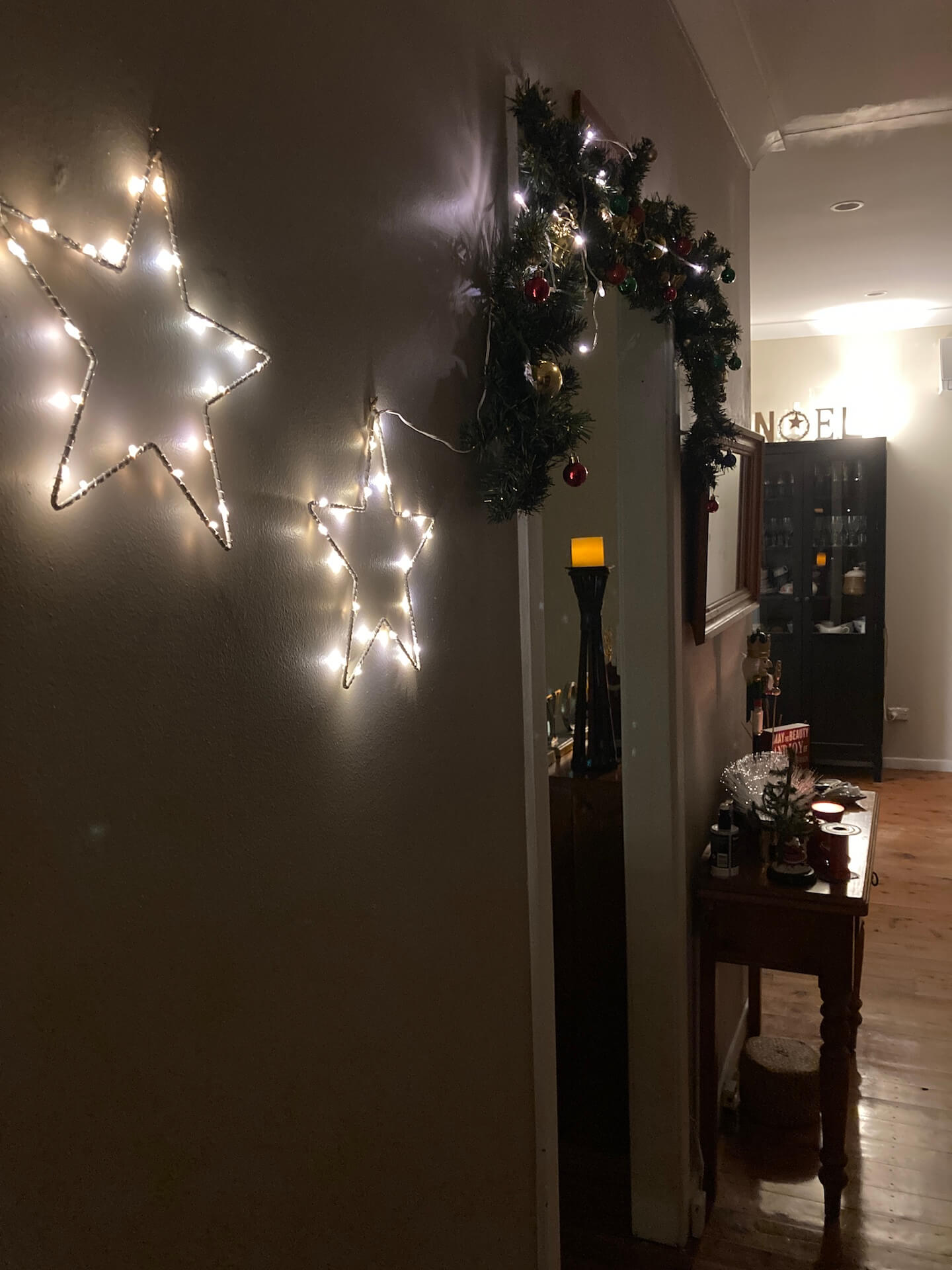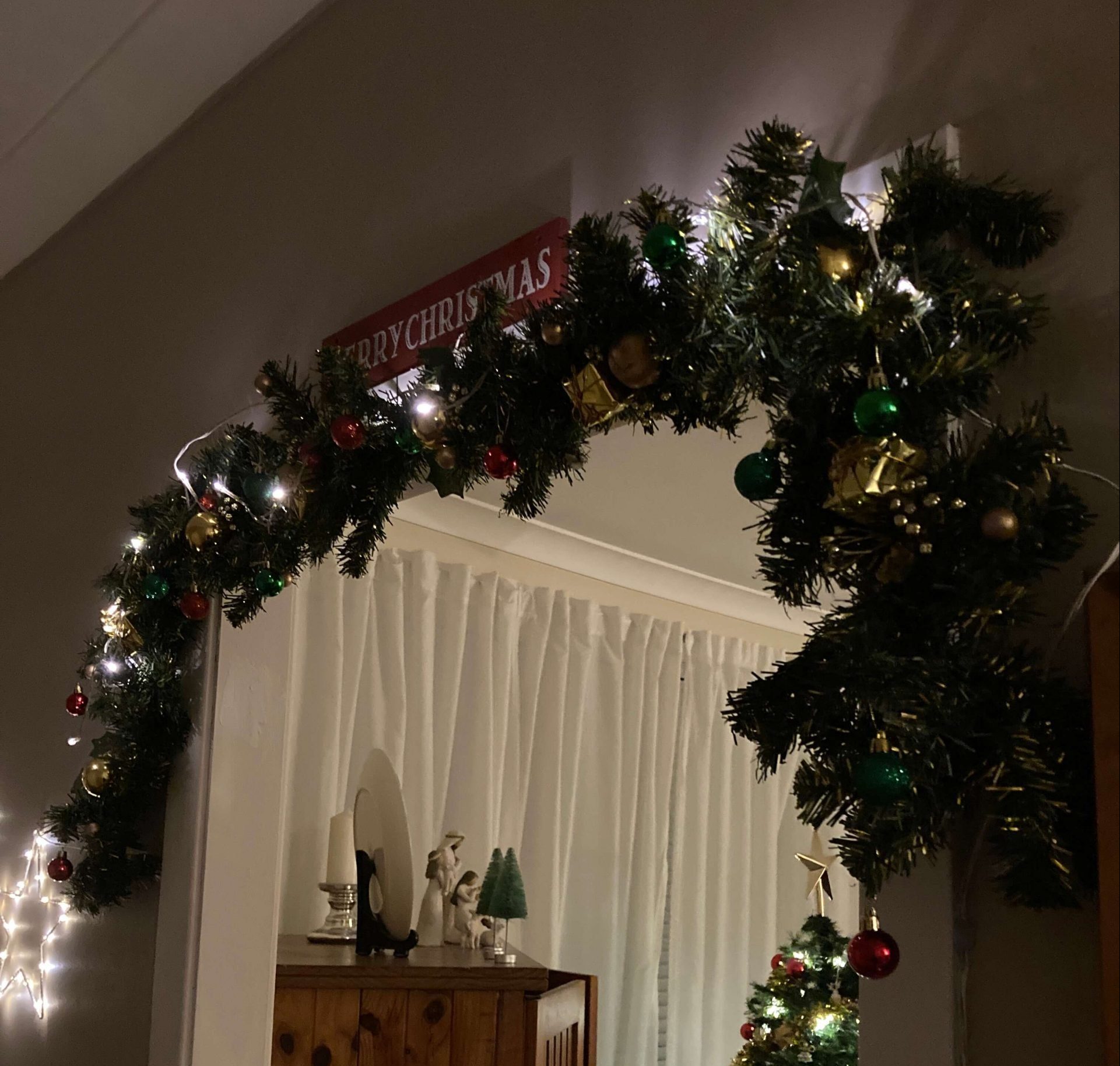 The garland over the door frame got a bit of a makeover, it was looking really dull. It had a sad-looking gold ribbon on it. I was so tempted to throw it out but in the end, I'm glad that I didn't. To fix it up I cut off the ribbon then just added a few more small baubles and wrapped a string of tiny twinkle lights. I was happy with the end result, a much livelier-looking garland!
This small entry table has a few Christmas knick-knacks. The nutcracker is from David Jones and I bought it about twenty years ago. Back then it was a bit of an extravagant purchase. Now it's easy to find nutcrackers everywhere, but all those years ago you couldn't.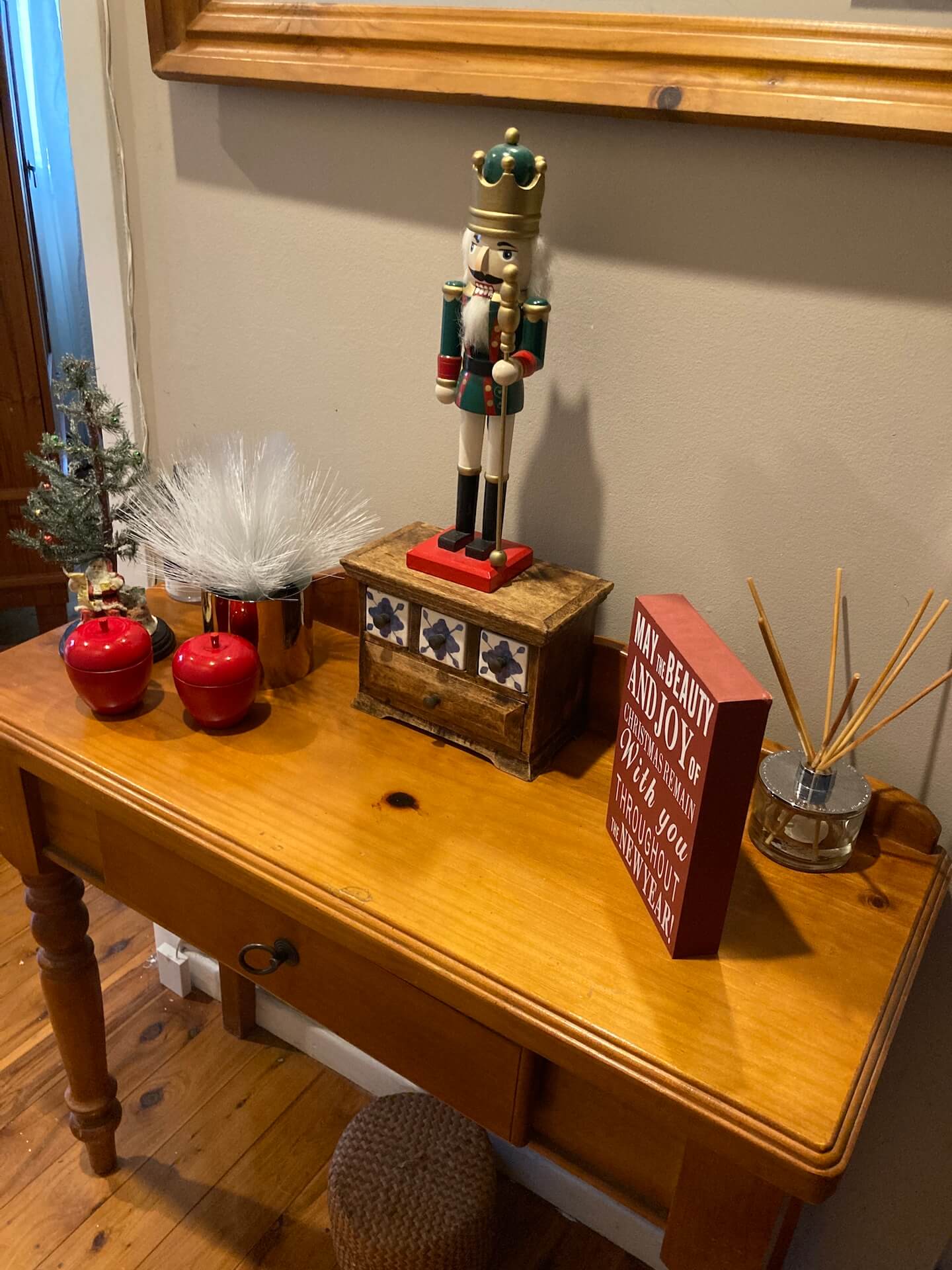 I picked up this sign from a two-dollar shop years ago.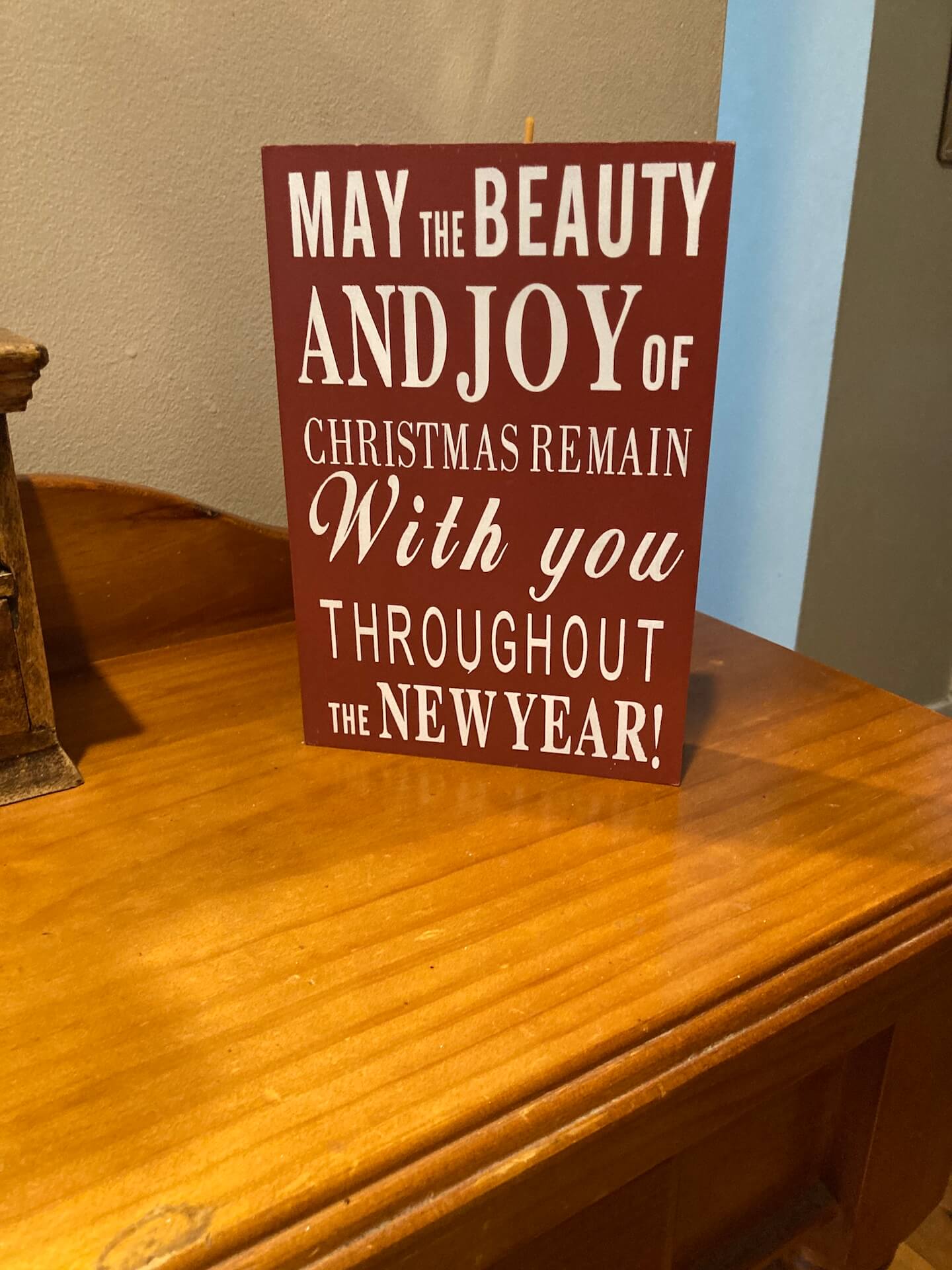 Dining Room
I usually have some eggs made from stones in this bowl but for Christmas, I like to fill it up with some red and gold Christmas balls.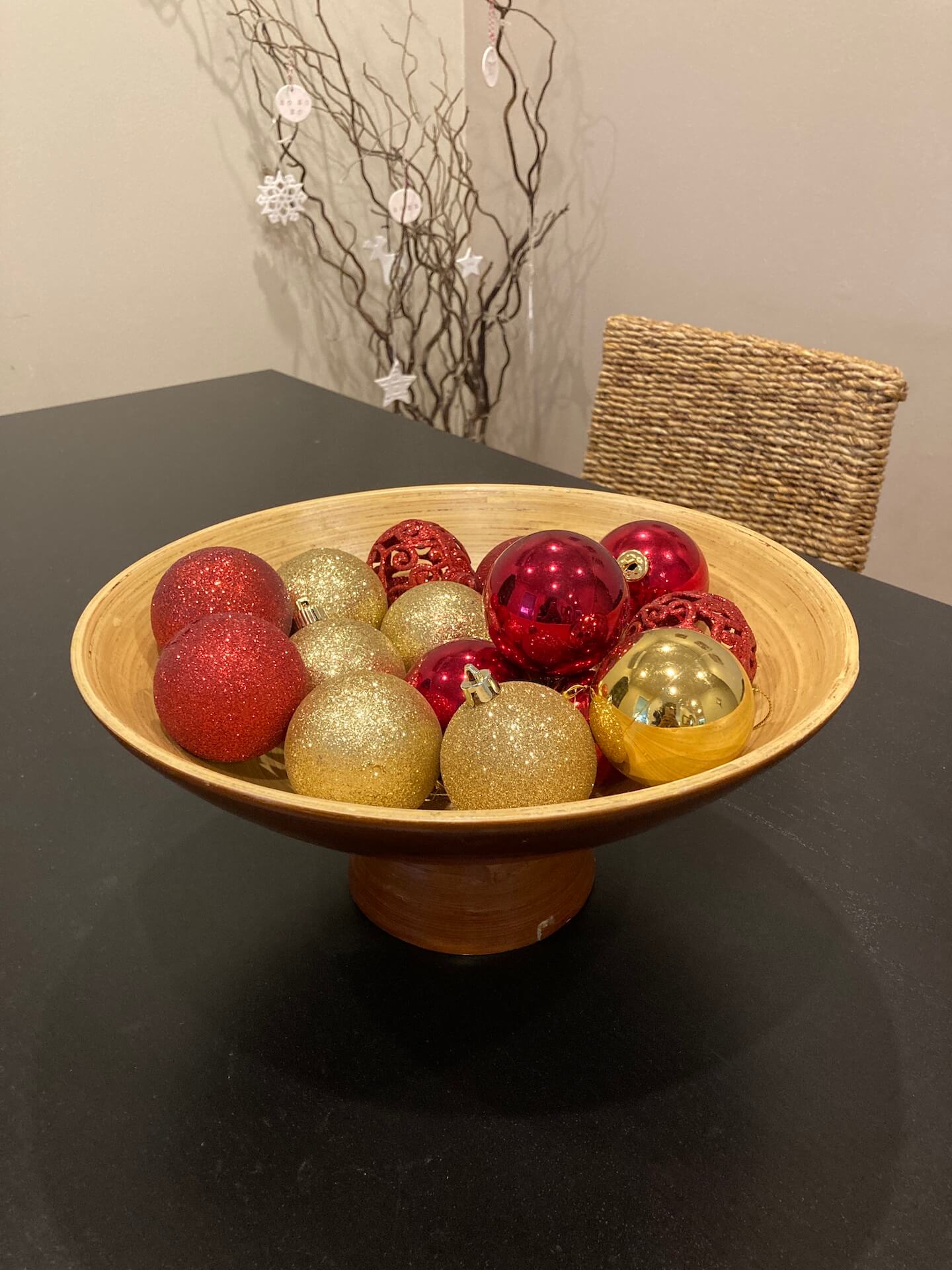 These twigs have fairy lights on them all year round but for Christmas, I add some white decorations that I have collected over the years.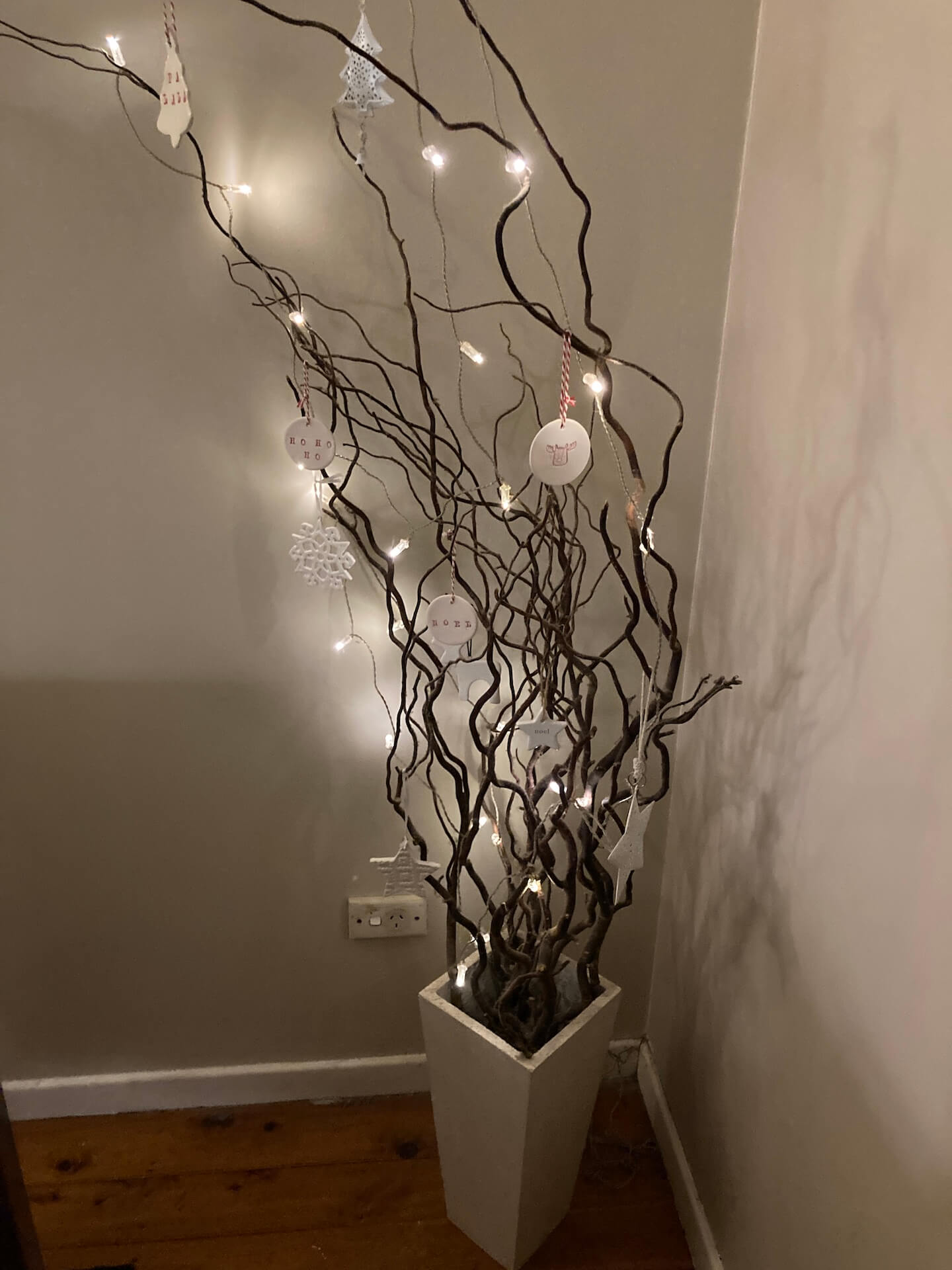 Noel Noel!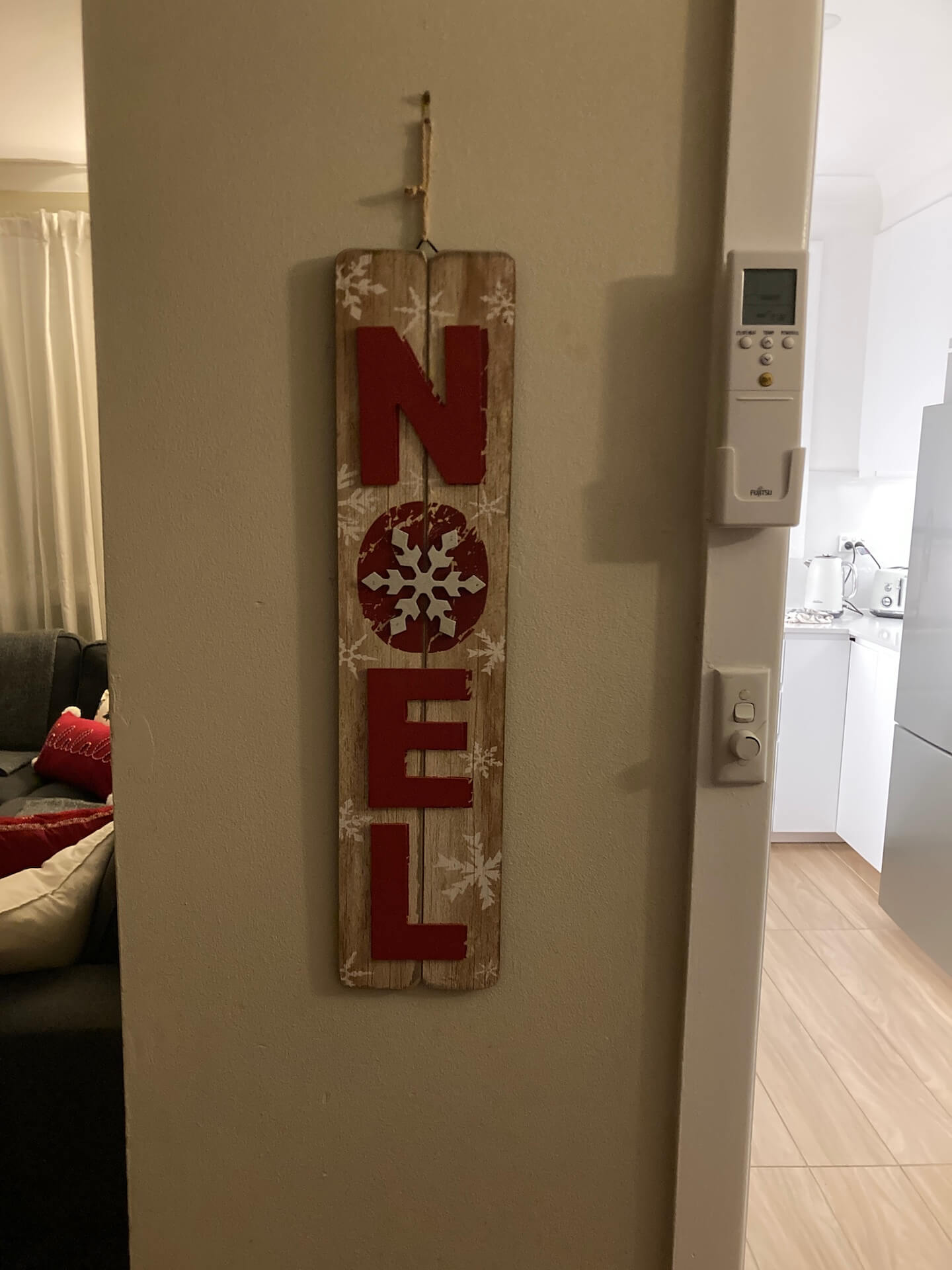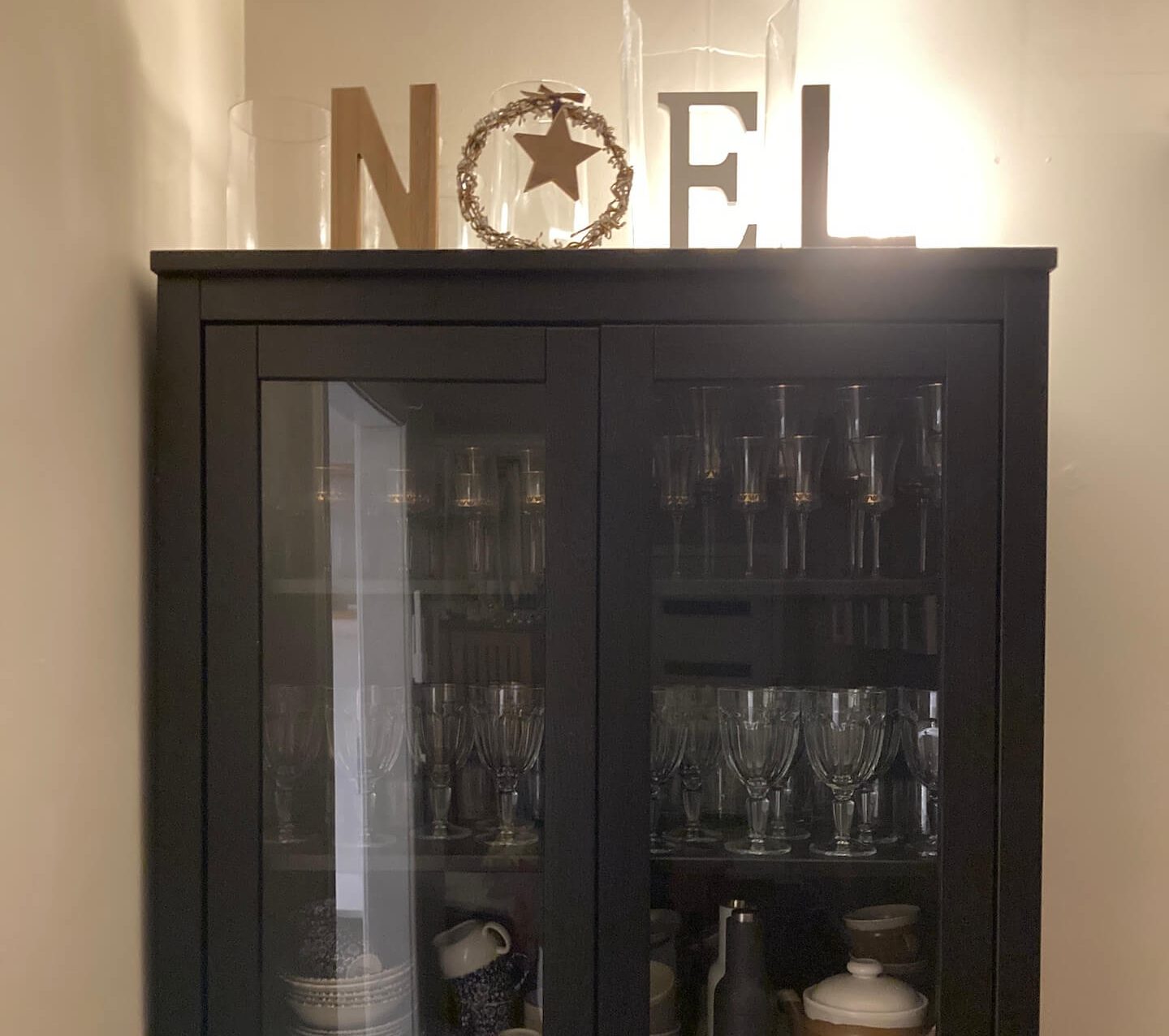 The Living Room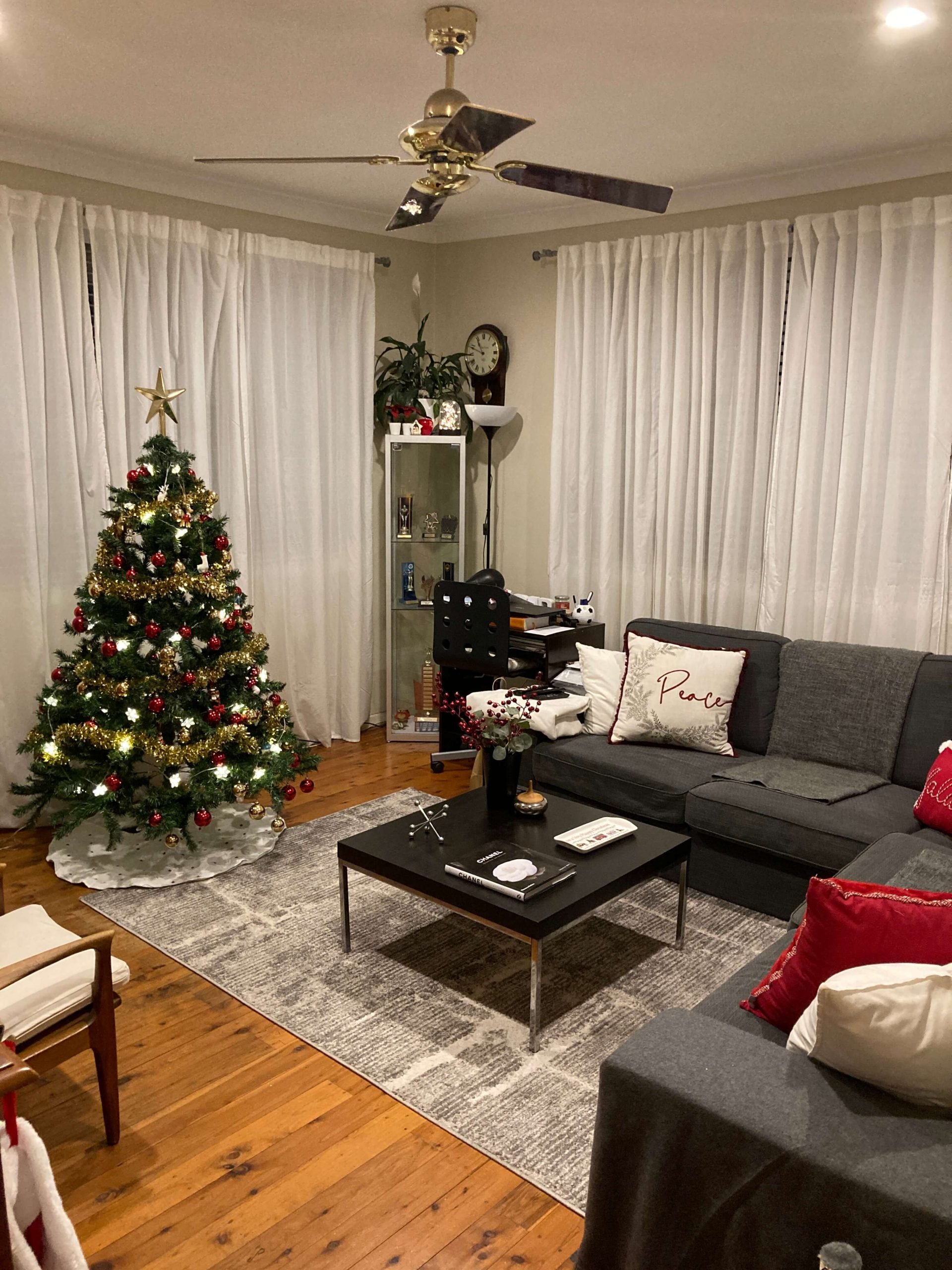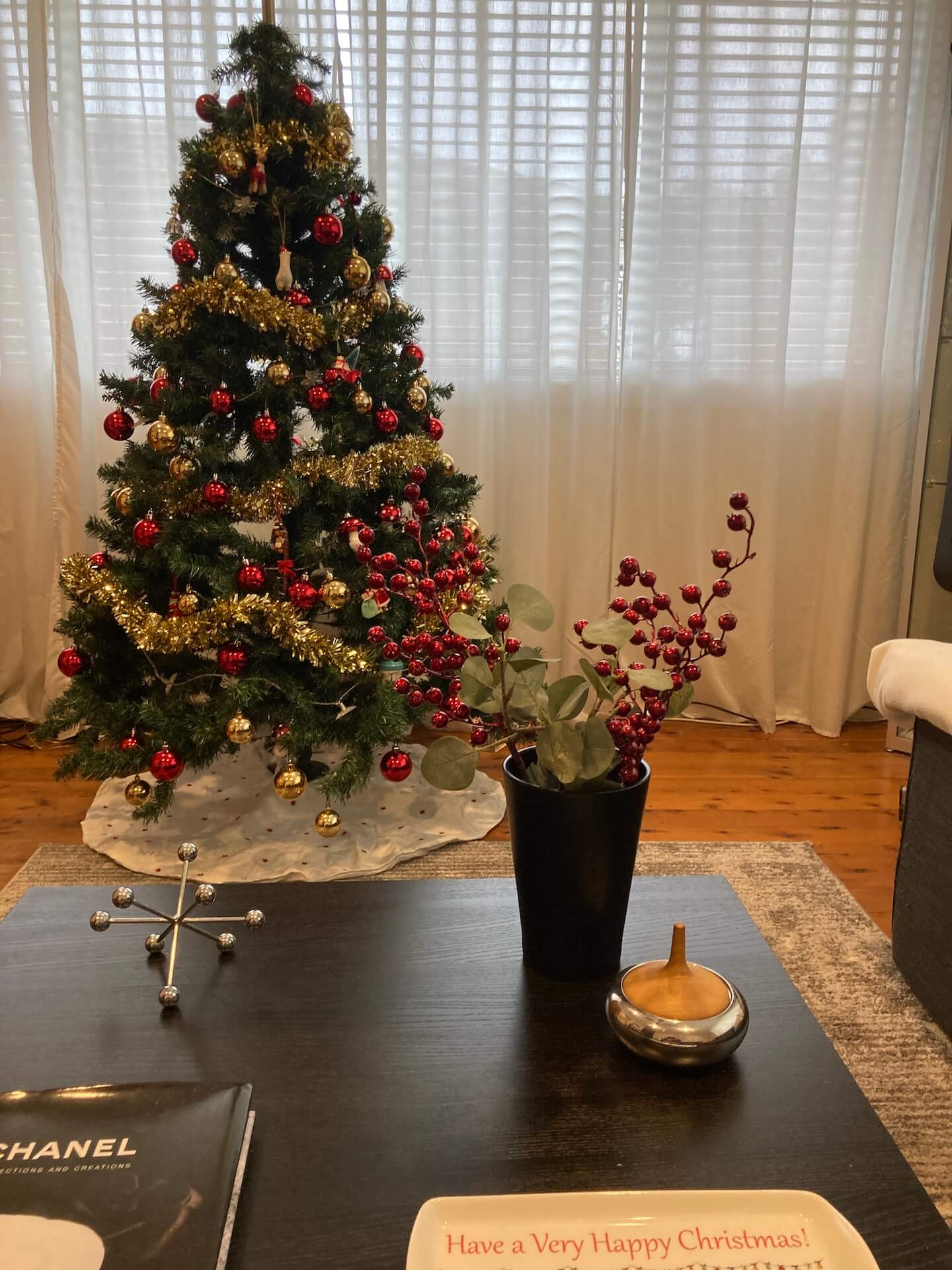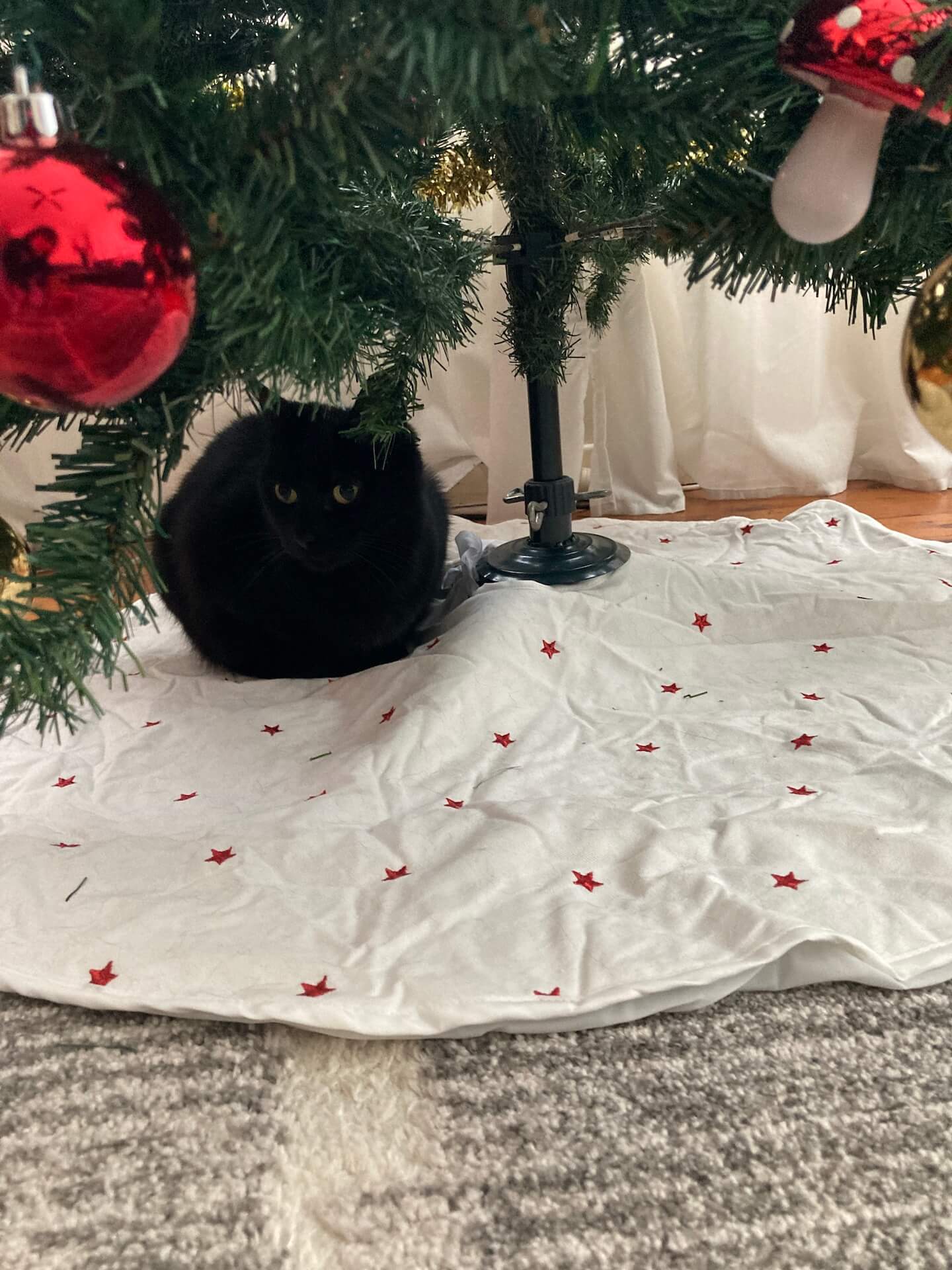 When I put the tree skirt around the Christmas tree, my little cat instantly thinks it's been laid out for her comfort! She's so funny.
The stocking holders in this next photo are from Pottery Barn and the stockings I had monogrammed from Vistaprint.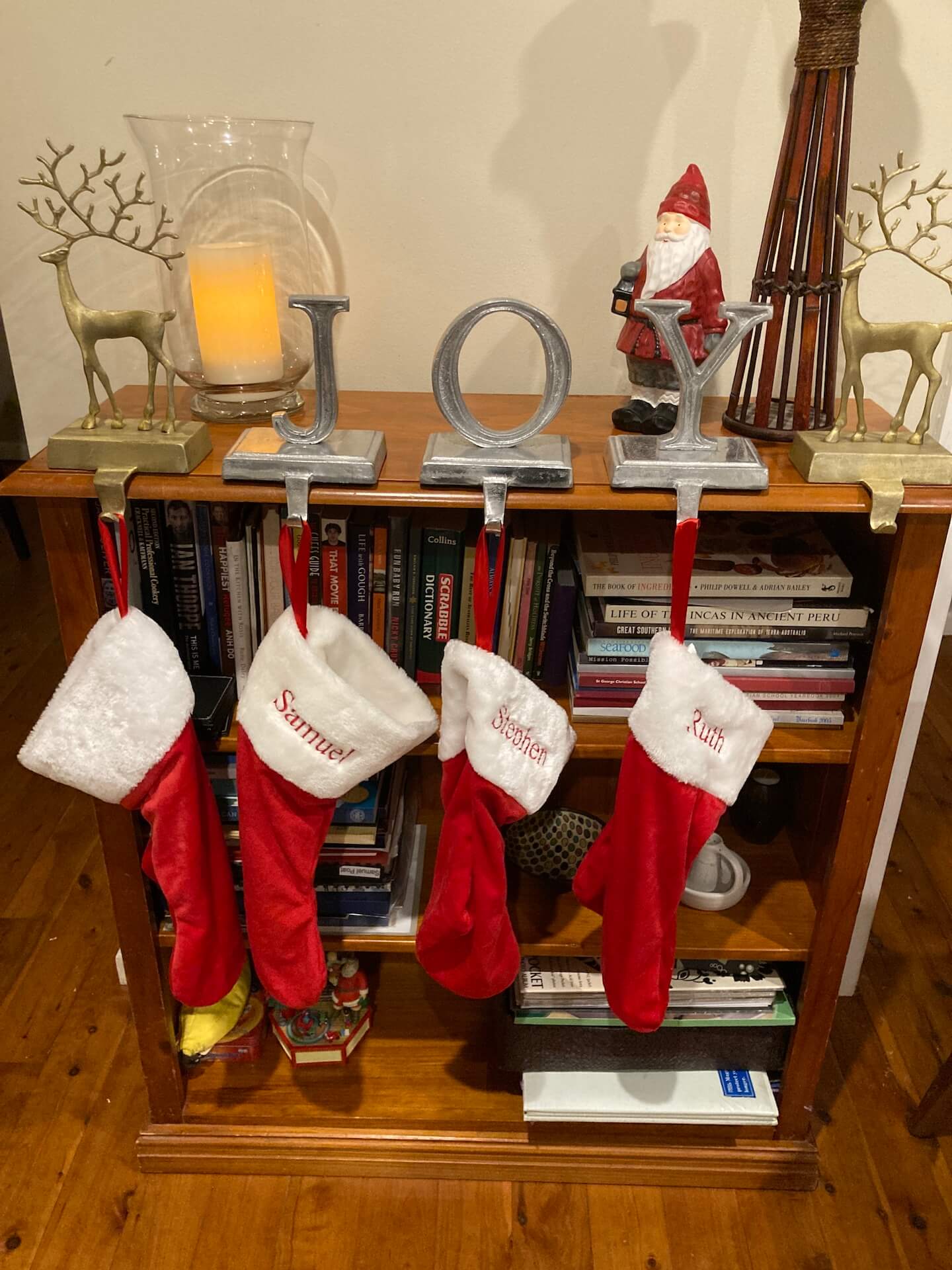 These two pillows are a new addition this year.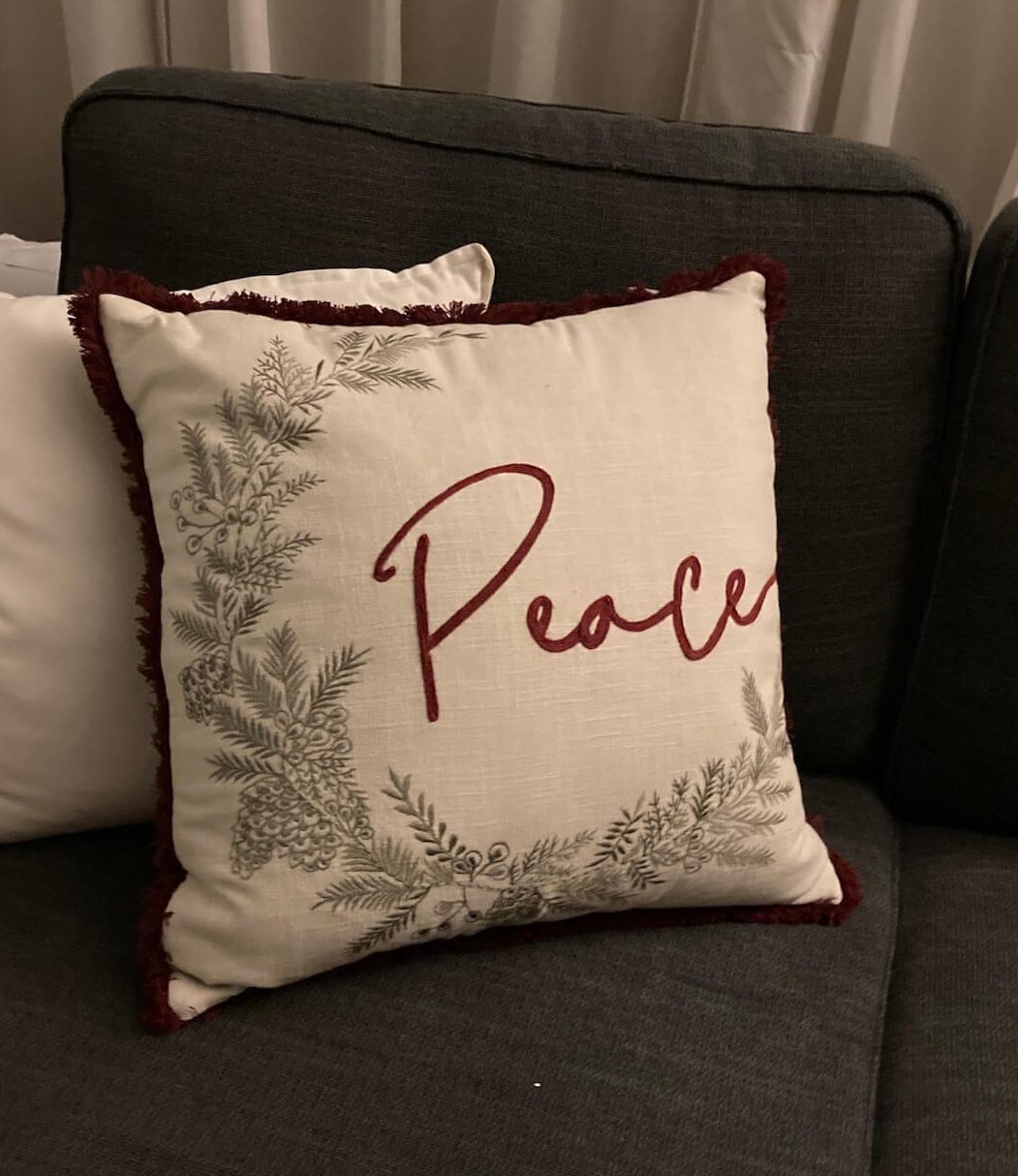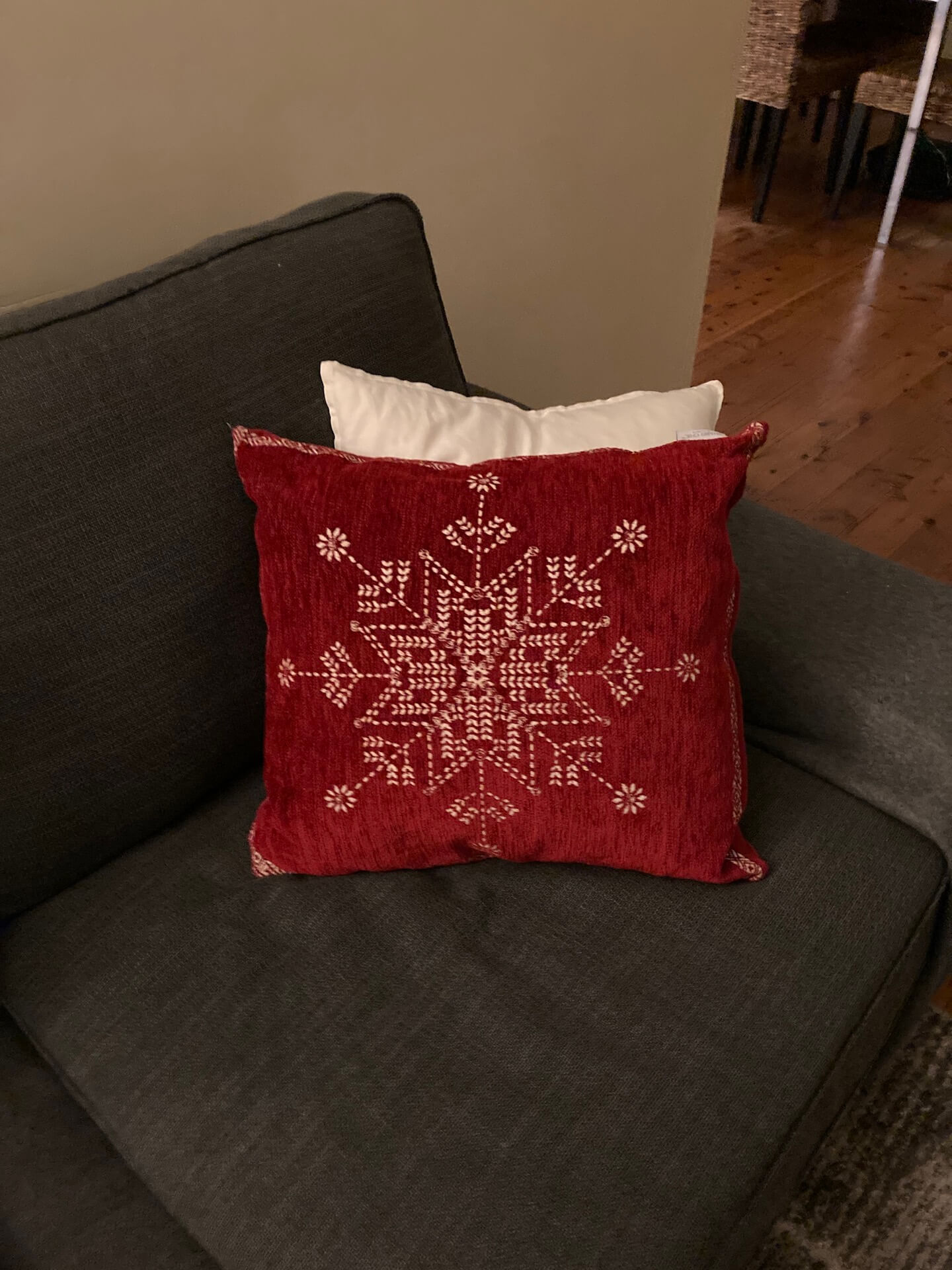 These other two I bought from TK Maxx last year. When my husband saw them he asked me why I had bought a pillow that said falafel ??? Bahahahaha!!
This gorgeous nativity is from Willow Tree, I love how simple it is. The shepherd's staff is so delicate, I accidentally snapped it last year when I was putting it away. I was so mad at myself but I fixed it straightaway with super glue and you can't even see where it was broken. phew!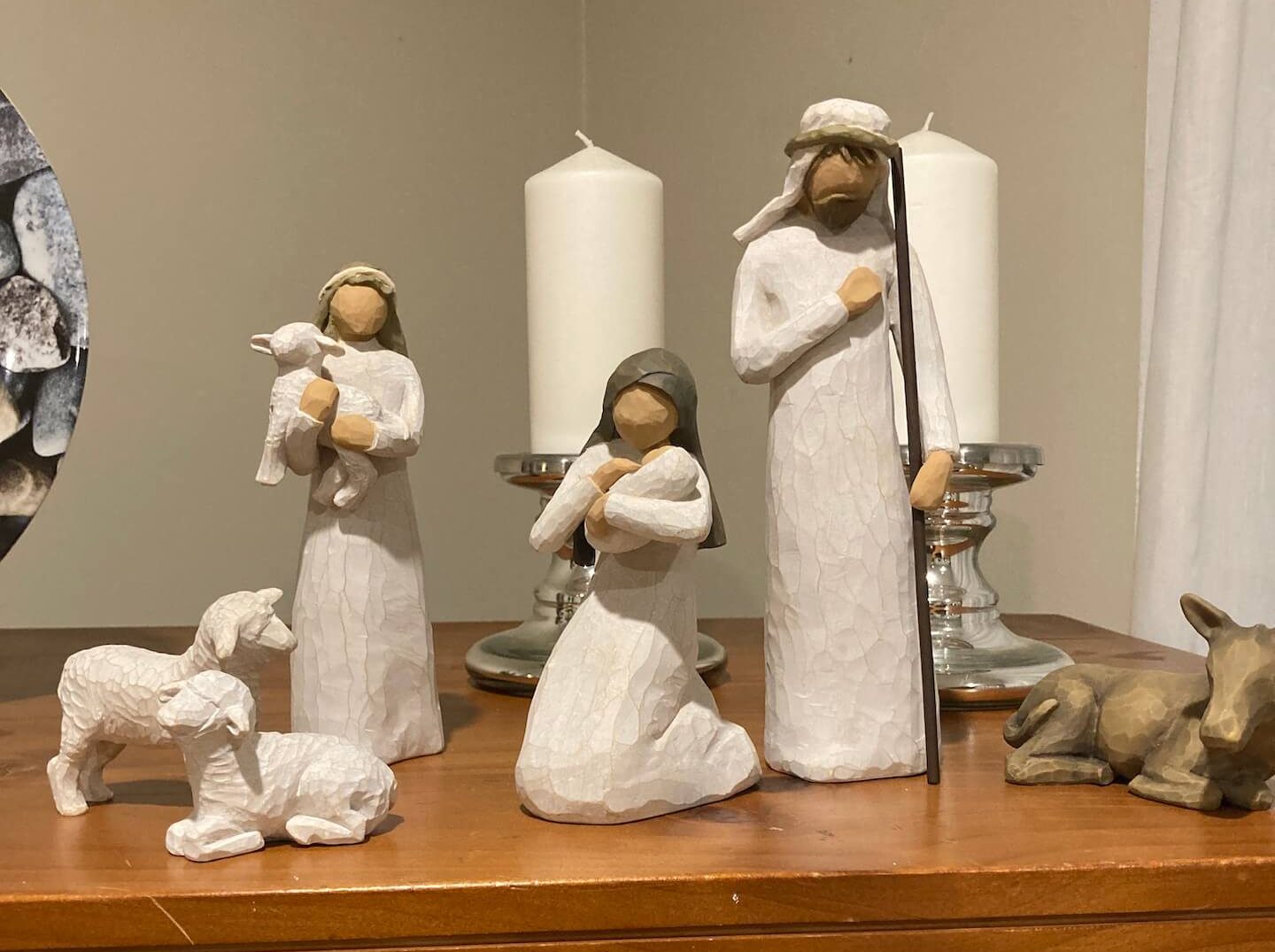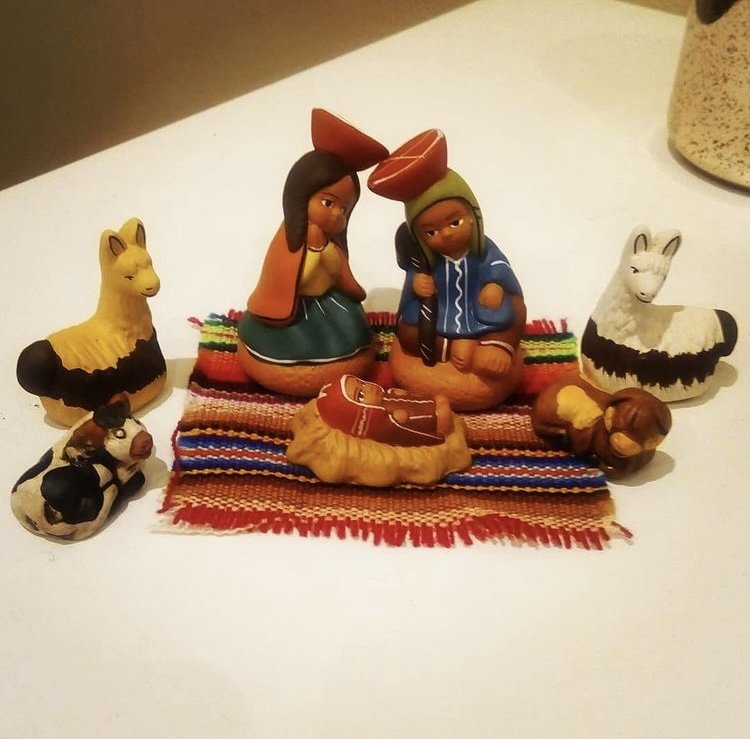 Look at this miniature Peruvian nativity. My aunty gave me this and I just love how cute it is!
Kitchen
There are only two things going on in the way of decorations in the kitchen. I wanted to keep things simple so all I did was place a few gold balls and a string of lights into a glass vase.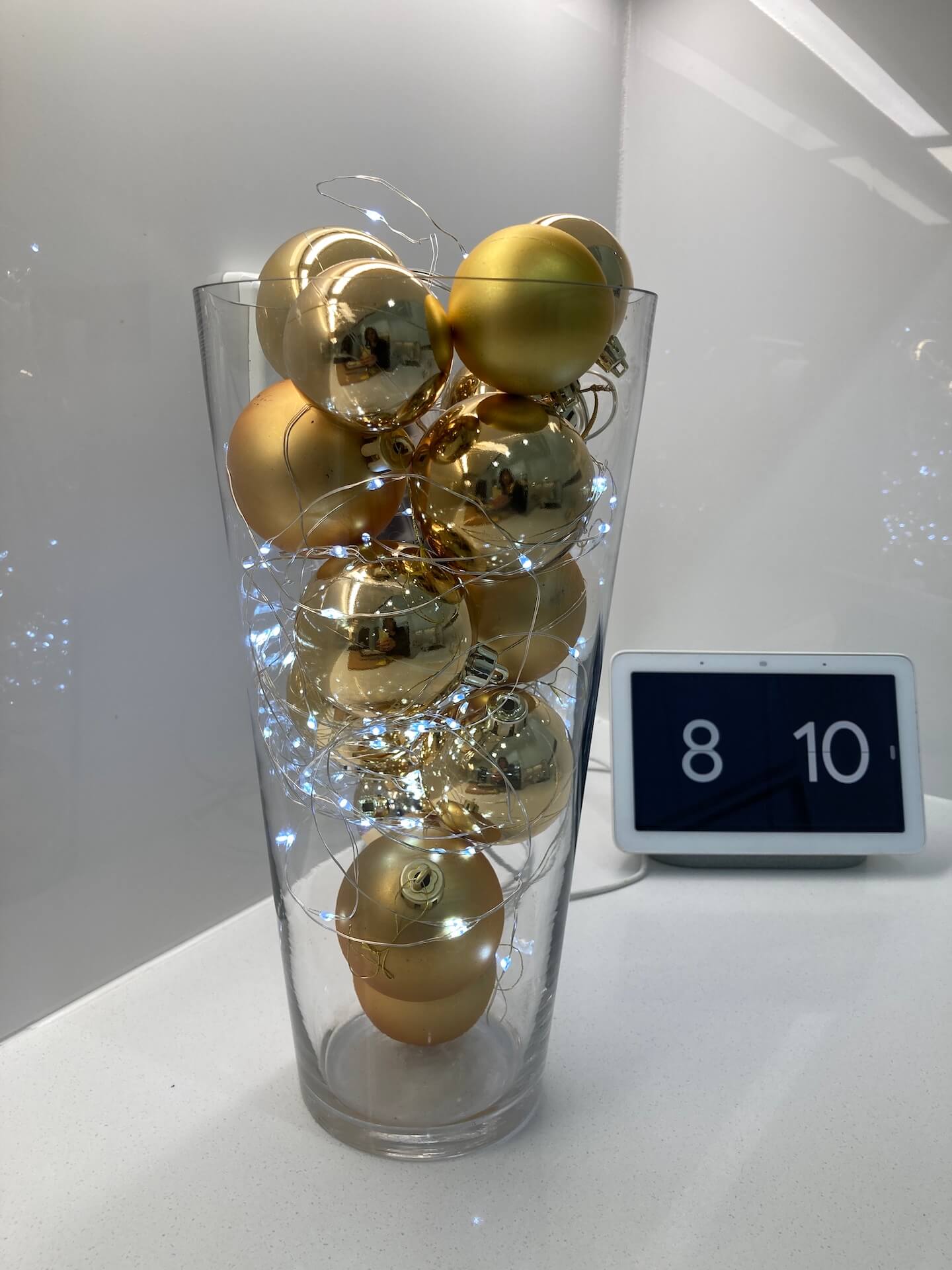 I bought this new sign on Saturday. It sits nicely on these open shelves above our tiny breakfast bar.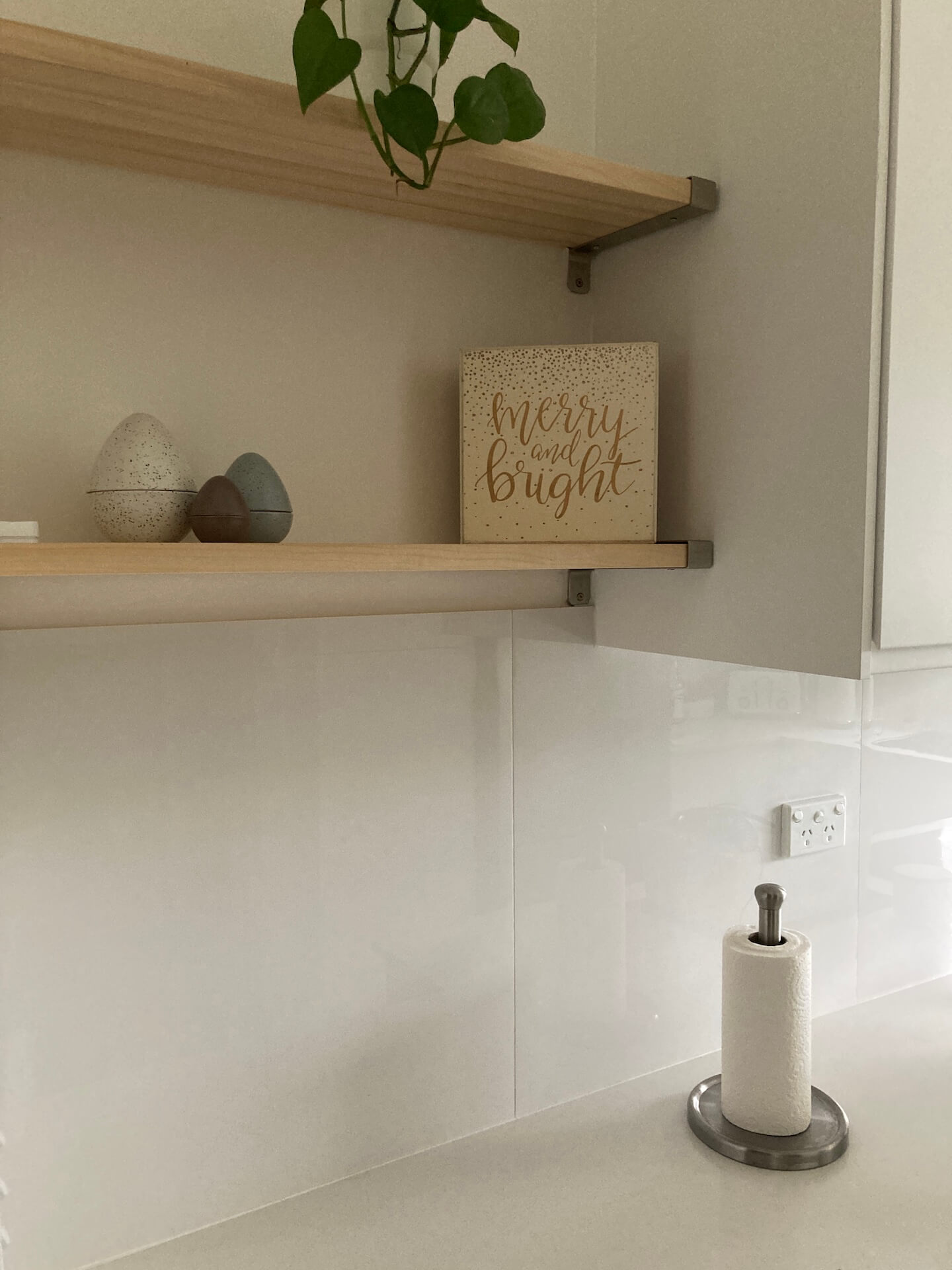 That's it, friends, that wraps up my little Christmas home tour. I always like to see how other people decorate for Christmas, It's a great way to get some ideas and inspiration. Plus I'll be honest, I just love having a sneak peek inside people's homes.
I hope you all have a great week, Oh my goodness! I can't believe how close we are getting to Christmas. Eeeeeeeks I have to get onto my Christmas shopping quick smart!!!
Happy Monday!