This year I made my mum a Pineapple Upside-down cake for her birthday and it was a great success!
Happy 93rd Birthday Mum!
Hi everyone hope you are all doing well. Thanks for stopping by today. It was my mum's birthday yesterday and she turned 93! Yes Sir, 93 now that's a big number. If she knew I had just revealed her age on this blog, I would be in big trouble. She actually looks very good, Mum has great skin and I really hope I look as good as she does when I'm 93!!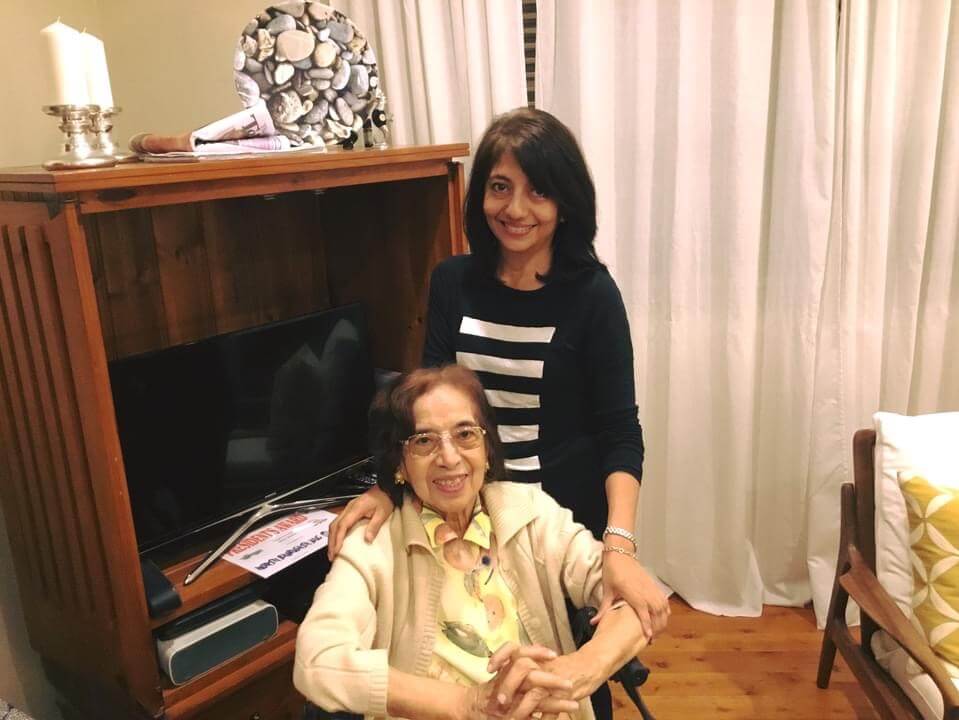 My Mum has been living with us for about 7 years and she was always very mobile and independent up until about 3 years ago. Unfortunately, she had a few falls and age finally caught up with her so now she gets around using a walker.
Reminiscing About Last Years Celebration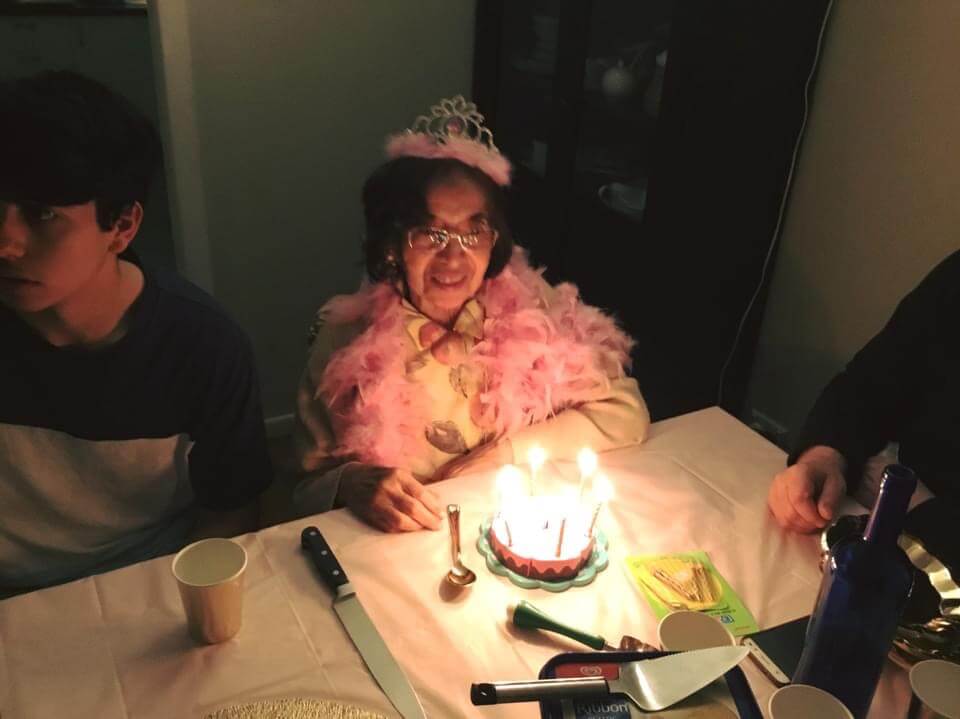 Last year we had the whole family over for a little celebration, but this year things were a lot different. We are currently in week 12 of lockdown and still have many more weeks left to go. I think maybe mid-October restrictions might be lifted if we get our vaccination rate up to 70%.
Anyway, lockdown this year meant it was just us celebrating my mum's birthday. By us I mean myself, my husband Steve, and Sam our 16 soon to be 17 years old son.
The Pineapple Cake
I made some of Mum's favorite dishes for dinner and instead of a traditional birthday cake, I made her a pineapple upside-down cake. Mum doesn't like creamy cakes anyway, so this was just right. Whenever I see a pineapple upside-down cake it takes me back to my childhood. They were hugely popular back then and if my mum wanted to impress, that's what she would bake.
I make mine from scratch but I have to tell you something funny, I grew up thinking that the only way you could make a cake was if it came out of a boxed packet mix. My mum used to cook like a champ and all her food was always so delicious and lovingly made. But when it came to cakes and biscuits, they were either store-bought or from a packet mix. Mum even made the pineapple cake using the packet mix and I must say it still tasted really good!!
Ikea Measuring Spoons
While I was making the cake yesterday, I found myself thinking that packet mix might be the way to go! I love all things Ikea, but earlier this year I bought a set of measuring spoons from Ikea without realizing that they are all in Decilitres. WHAT??? They are marked with DL. I had never even heard of a decilitre before so I had to quickly google 'what is DL on my measuring spoons'. Turns out there are a bunch of angry DL measuring spoon owners out there on the internet and they're all mad at Ikea.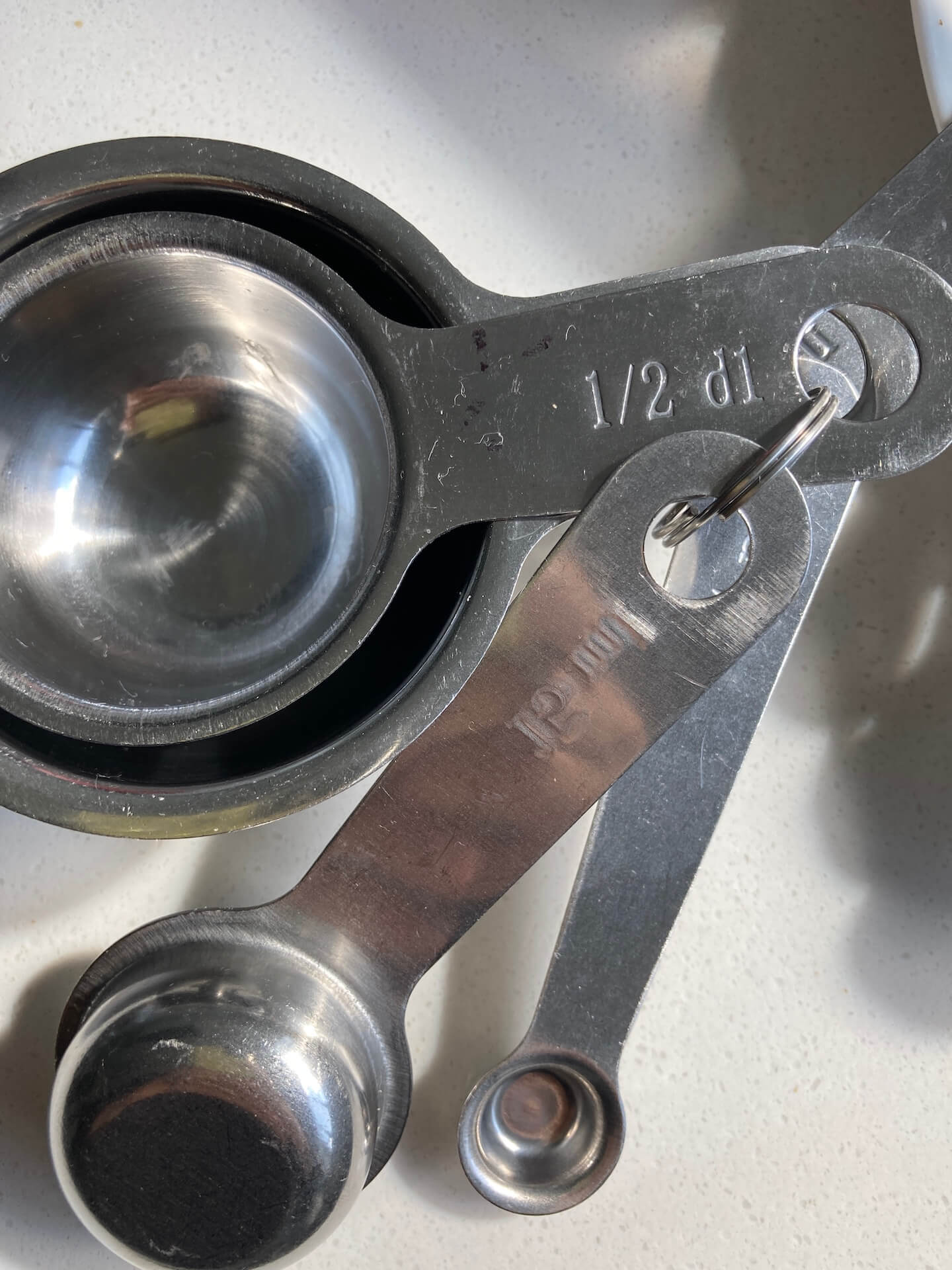 I am going to invest in another set of measuring spoons soon because every time I bake I have to do maths measurement conversions. Let me tell you something about myself I HATE MATHS, like with a passion. Numbers are up there with clowns for me. I'm scared of both of them.
A Quiet But Fun Birthday Dinner
Anyway, we did have a nice dinner together even though we ate super late. We waited for Steve to get home from work. Normally we wouldn't have waited but none of us had anywhere to go the next day. We knew we could afford to stay up late and sleep in if we needed to.
Mum was very happy with the cake, she said it tasted delicious, so that was good. Instead of the usual glacé cherries, I used walnuts to decorate instead. I don't think the cake looked as pretty as it does with the glacé cherries but we all prefer the taste of walnuts.
Sam said he liked it too but for his birthday in October, he would like a Pavlova. Following in my Mum's excellent baking tradition, I will be BUYING the pavlova base from the supermarket and decorating it. Done and done!!
---

R

ecipe for Pineapple Upside Down Cake
Ingredients
For the topping
50 grams melted butter
50 grams brown sugar
7 pineapple rings
Glace cherries or walnuts
For the cake
100 grams softened butter
100grams caster sugar
100grams self-raising flour
1 teaspoon baking powder
1 teaspoon vanilla extract
2 eggs
2 tablespoons pineapple juice from the tin of pineapples
Method
Preheat oven to 180C/160C fan
Grease and line a round cake tin with baking paper
pour melted butter into the prepared cake tin making sure it is spread evenly
sprinkle brown sugar evenly
Arrange pineapple rings and place glacé cherries or walnuts in the center of pineapple rings. Set aside
Place softened butter, caster sugar, self-raising flour, baking powder, vanilla, eggs, pineapple juice in a bowl. Beat until it's soft using an electric mixer.
Spoon cake mix on top of the prepared cake tin. Make sure to smooth it out evenly.
Bake for 45-50 minutes. The cake is done when a skewer comes out clean
One Last Thing
If you are looking for something sweet but healthy you can find my recipe for healthy banana bread here.