For Monday's styling and fashion inspiration post I thought it would be fun to look at some neutral outfits. Without a doubt, I have to say neutral outfits are my favorite to wear. While I don't mind a good pop of color every now and then I do tend to stick to neutrals a lot of the time.
Whenever I'm out shopping for clothes, I am always drawn to neutral colors. I just think they look so chic and timeless. Over the years I have invested in some neutral-colored staple pieces. Doing this has given me a good foundation for my wardrobe. I can mix and match easily without fear of colors clashing.
I love taking fashion inspiration from style icons of the past. Many of their most memorable outfits are mainly composed of simple pieces and often using a neutral color palette. Think of Audrey Hepburn and her slim black pants, ballet flats, and a crisp white button-down shirt. There's also 1970's Jackie Kennedy, if you look at what she wore during that decade, a lot is made up of simple neutral-colored pieces and they are still in fashion even today!
Another great thing about wearing neutrals is that you are more likely to spend less on current color fashion trends that unfortunately will only last one season. It's a win for your pocket and a win for the environment.
Wearing neutrals also means that nobody will notice if I wear the same white or black t-shirt over and over. The same cannot be said if I was to wear a hot pink one.
Here Are Some Of My Favorite Neutral Outfits
Number One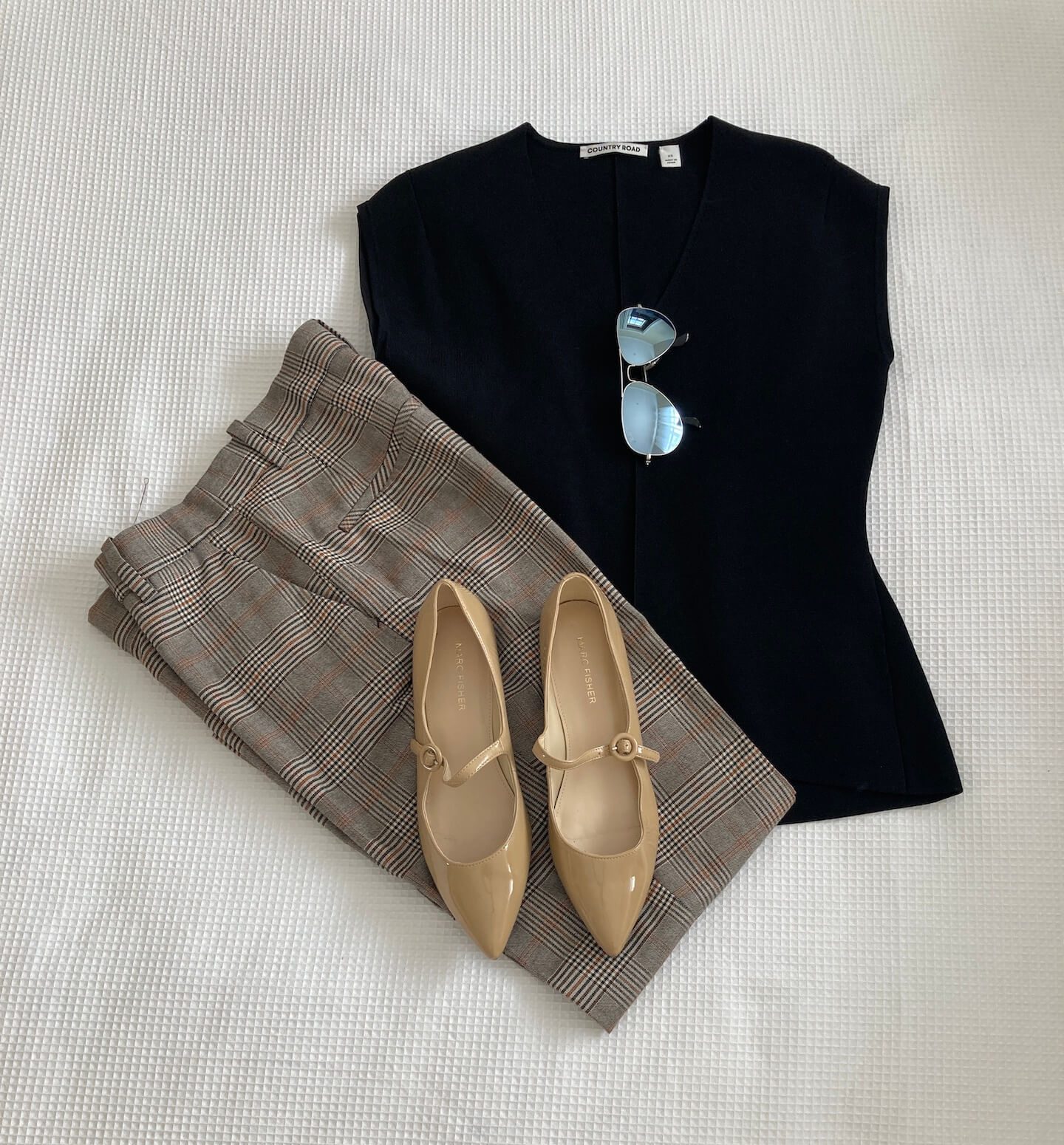 Here you can see that patterns can be neutral too! These pants are a nice earthy colored tartan, I bought these from H&M last year. They are a nice relaxed fit and I really like the tailored waist and side pockets. The black top is from Country Road and it's the same style as the cream-colored one I showed you in last week's Spring outfits post. I love how this top goes in at the waist and gives you a really nice shape.
Nude shoes are my favorites, they can be worn with absolutely anything and are just so elegant. I like these pointy-toed ones and I love how the strap gives it a cute detail. I bought these online from Marc Fisher a few years ago and although they might not look it they really and truly are very comfortable.
Number Two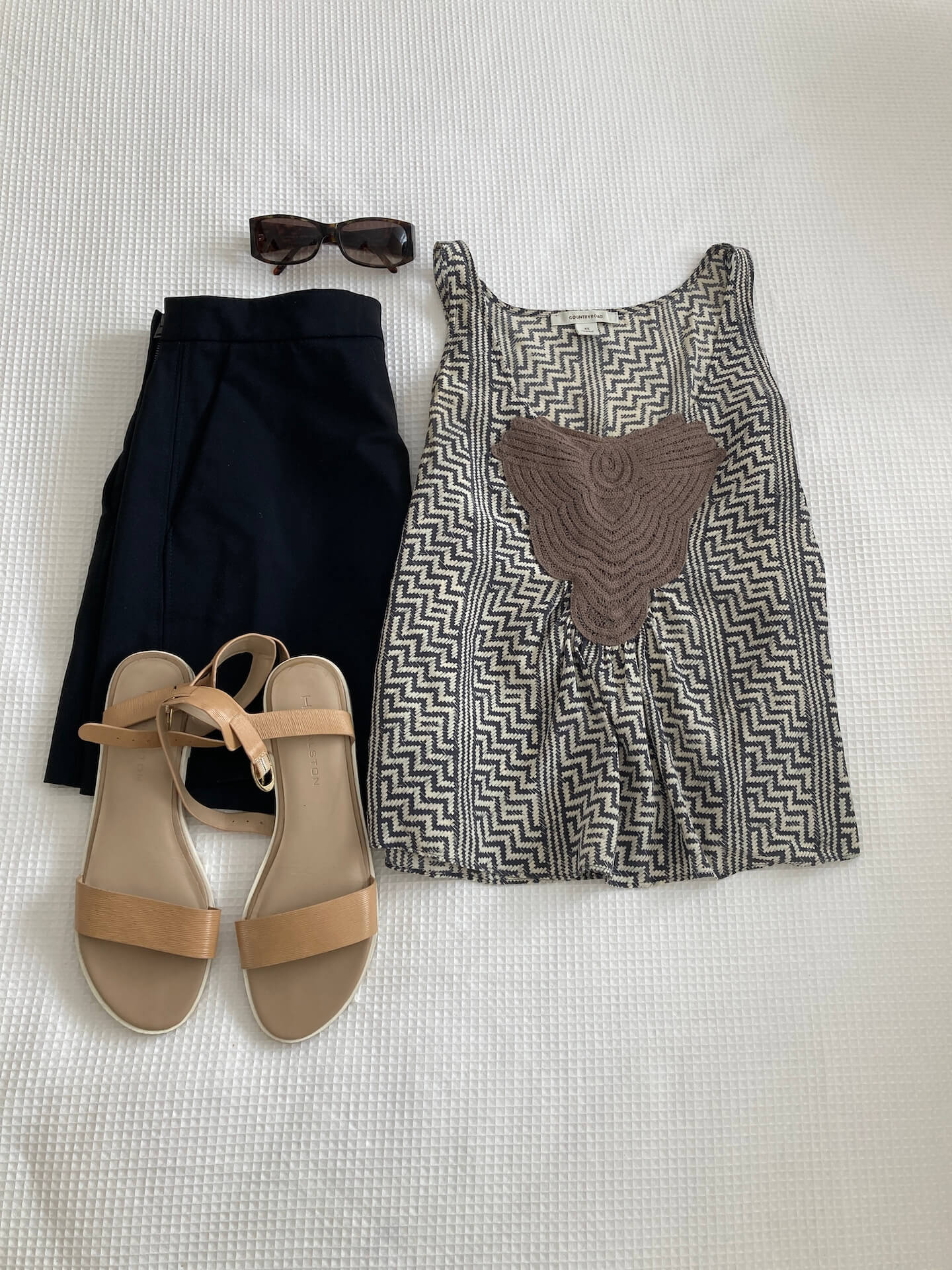 Here's another example that neutral does not mean boring. Playing with patterns and textures will give neutral outfits an extra measure of interest. I bought this silk top with the gorgeous detail at the front from Country Road many years ago. I can safely say that I have almost worn it to death.
Number Three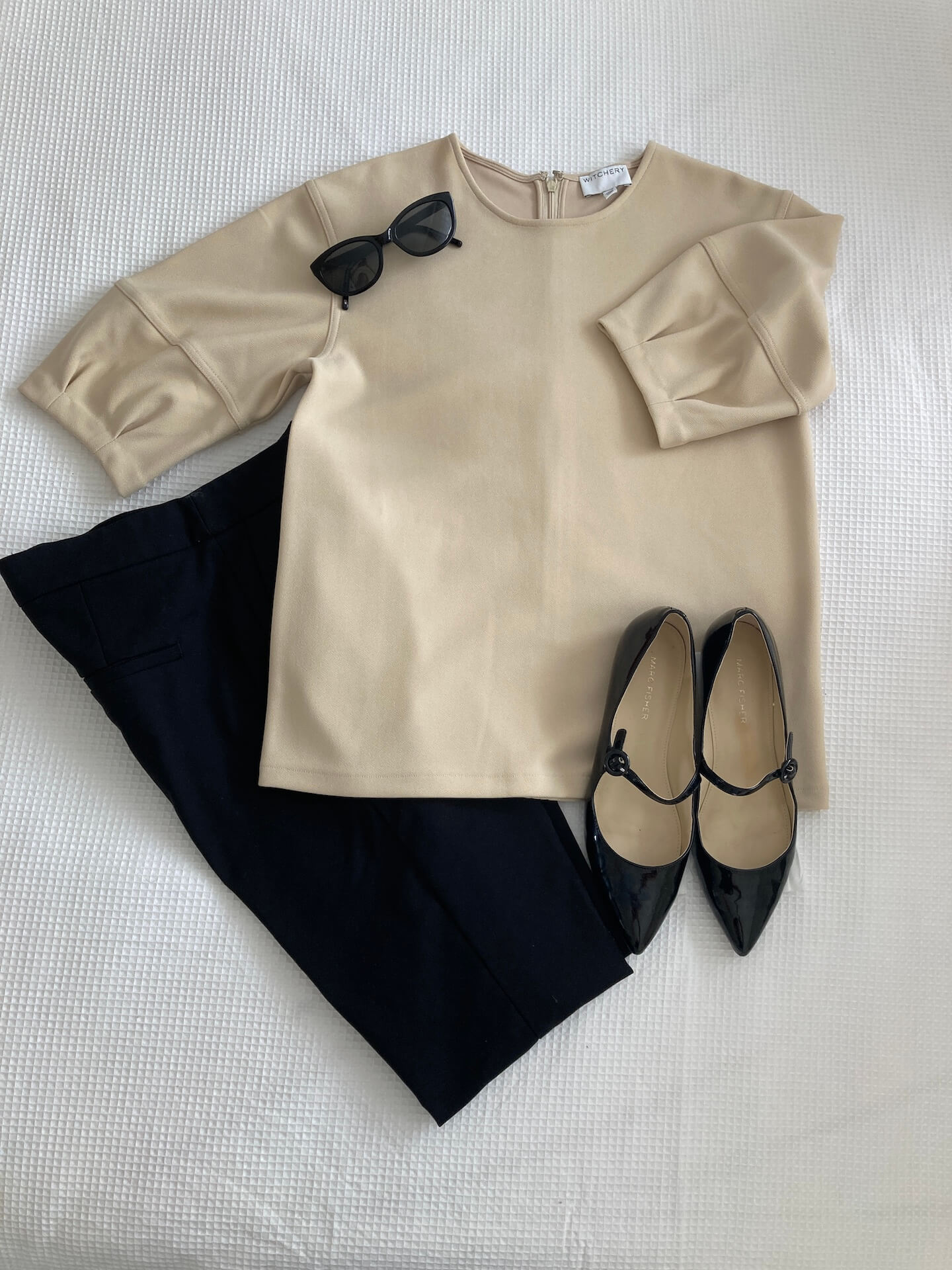 Beige and black, my two favorite color combinations! I think they look brilliant together. Poor old 'beige' has been given a bad rap over the years. It's been called mean things like boring and draining on the complexion. So poor old beige has been forced to hide under different names such as Cosmic latte, Ecru, and Tuscan.
I'll always be friends with beige but I think the trick is to find the right shade for your skin tone. If in doubt you can always switch things around and wear beige away from your face. So, for instance, you could wear a black top and beige pants or a beige skirt instead.
Number Four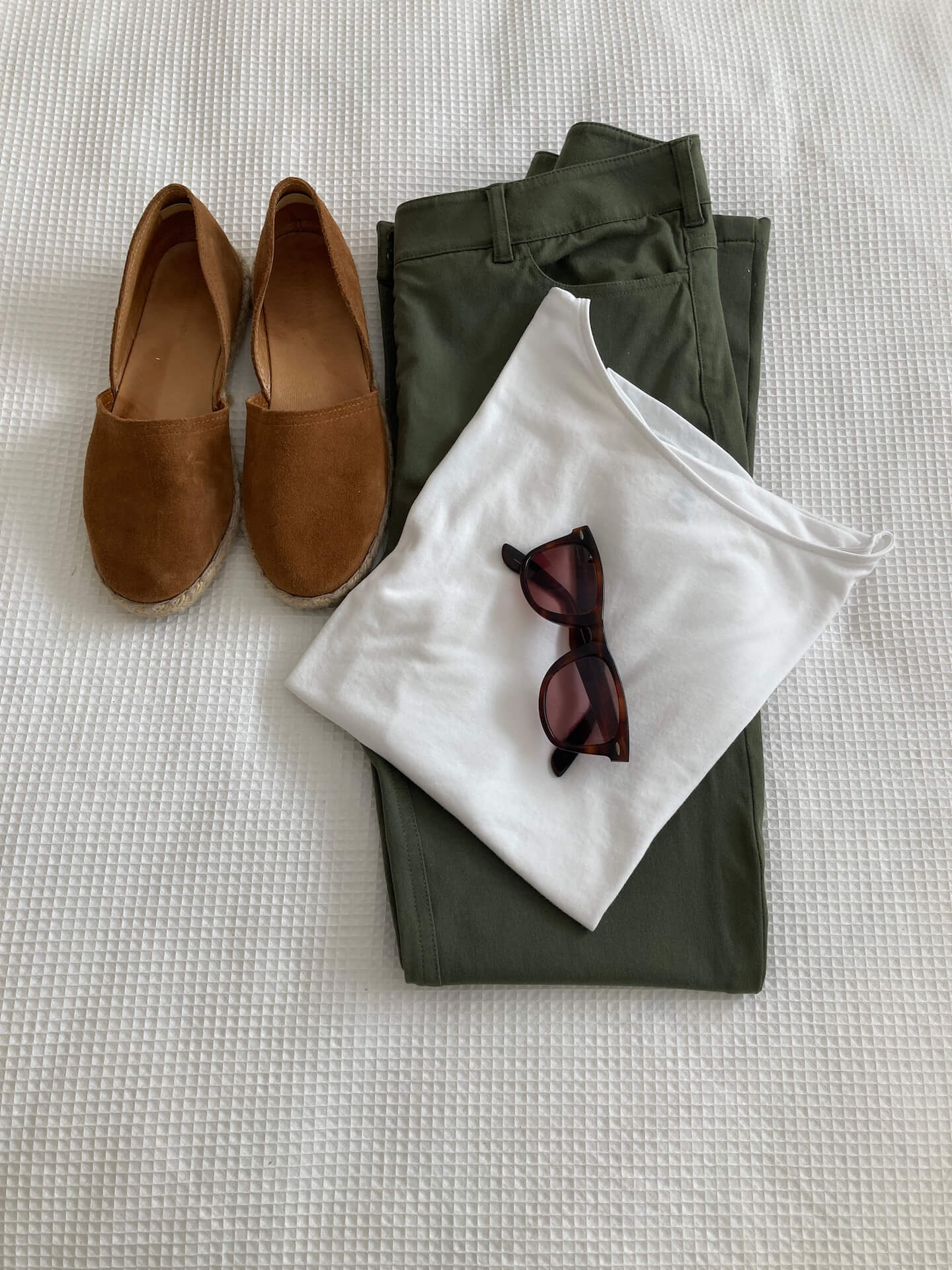 My good old white t-shirt, here I have styled it with this gunmetal green pants and tan suede slip-on shoes.  These colors are earthy and relaxed. See the Rayban Wayfarer sunglasses with the tortoise shell frames. I've had them for about 30 years. I saved up for them while I was at uni and even got prescription lenses put in costing me a small fortune back then. But here's a great example of how investing in timeless classic pieces will keep you in style forever. Heck, I might even request to be buried wearing these.
Number Five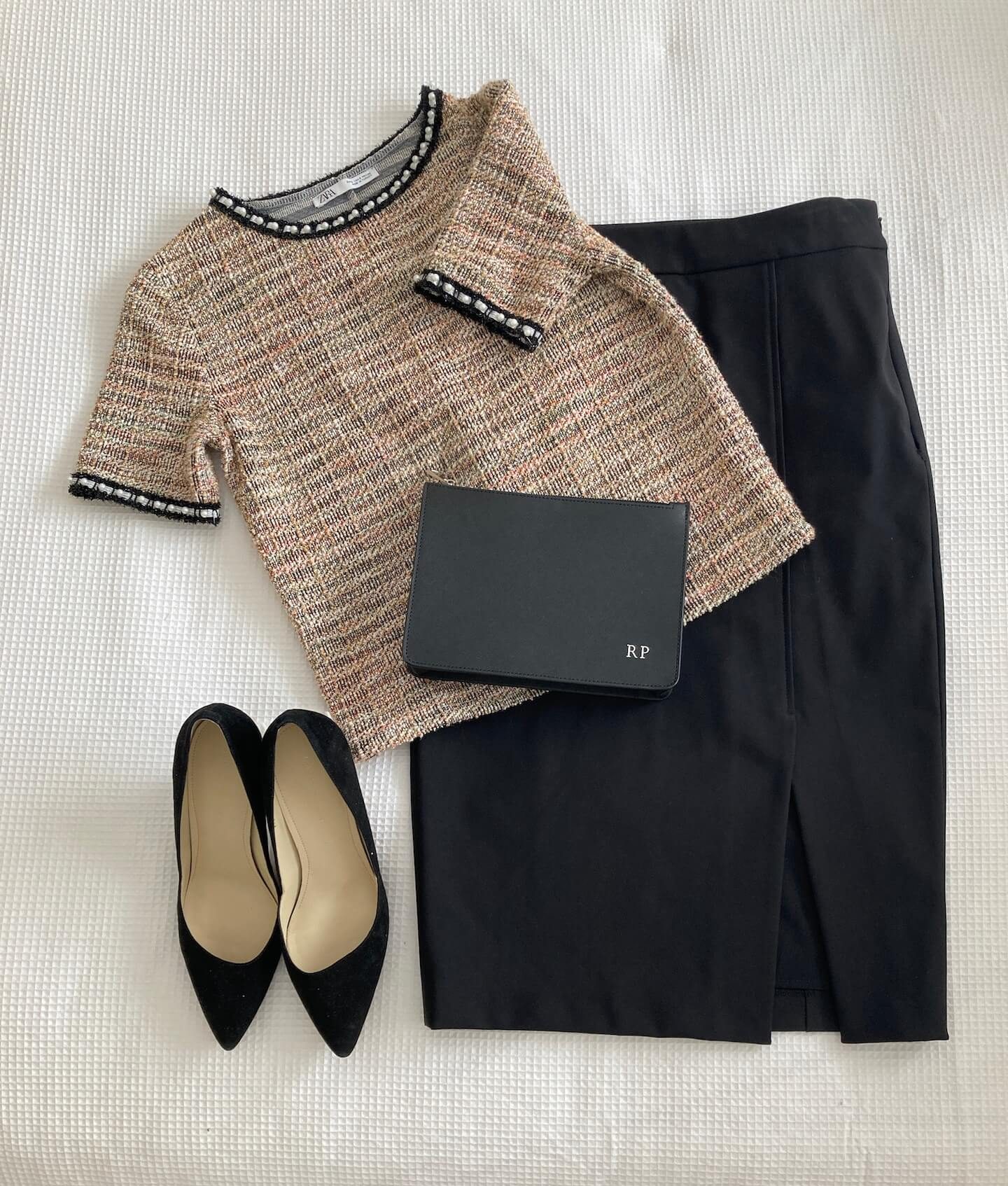 When I spotted this top at ZARA it reminded me of the Chanel look. You know the classic tweed fabric that Chanel uses for their tops and jackets. I also like the soft colors in the top and while I don't usually go for embellishments, I was ok about the pearls around the neckline. When I wear this top with a classic pencil skirt like this one I think it looks quite elegant.
I hope you enjoyed looking at some neutral outfits for some style inspiration. You can let me know what you think in the comments or you can find me on Instagram.