In honor of Spring finally arriving here in Sydney I thought I might put together a few Spring outfits. I'm just so excited that Spring is here, and I have really been enjoying the clear blue sunny skies and seeing the lavender in my garden blooming.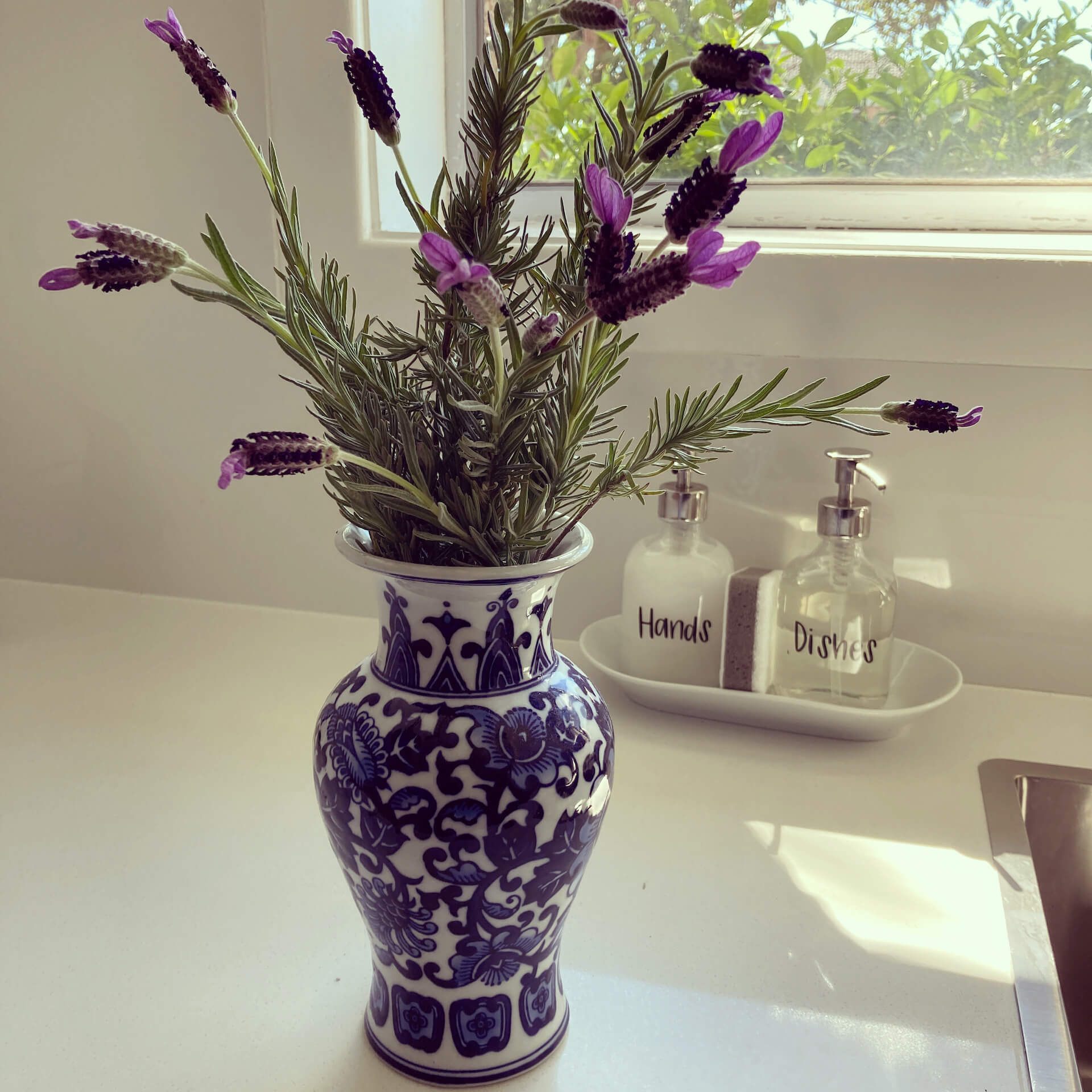 Today, I picked some to put in my cute vase that sits on the hall table. The bees were feasting on the pollen so I had to be super careful when I picked a few sprigs. See how pretty the lavender looks in the vase? Anyway, let's move onto some ideas for Spring outfits.
Let's Look At Six Spring Outfits
Outfit Number One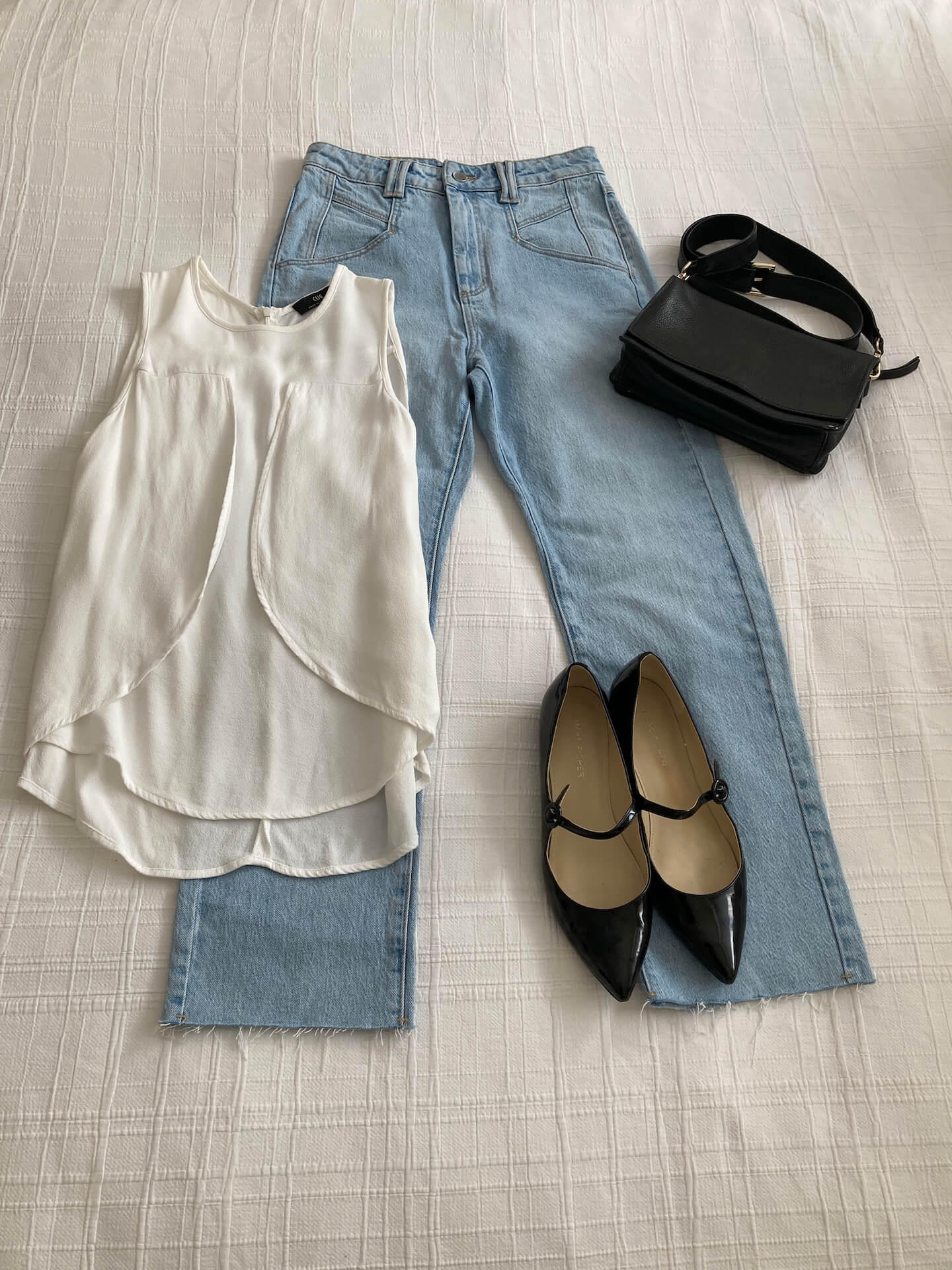 I bought these slim straight jeans from Witchery a few weeks before lockdown and I haven't worn them yet! I really like the highrise silhouette because it makes my waist look thinner. The straight cropped legs fit really nicely and the raw edges are not too raw. Do you know what I mean? I've seen some that look severely frayed and I think the jeans end up looking a bit shabby.
Any white top with faded denim washed jeans is such a classic look. I think this outfit looks clean and bright and so good for spring! It gets super hot here in Australia so these jeans are just perfect to add to my list of spring outfits, especially right now and in the coming weeks when it's still cool especially in the mornings.
The pointy patent leather shoes give the outfit a bit more of a sophisticated edge and so it looks a little dressier. These jeans would also go well with boots, loafers,  sneakers, or even sexy stilettos. It just depends on the occasion.
Outfit Number Two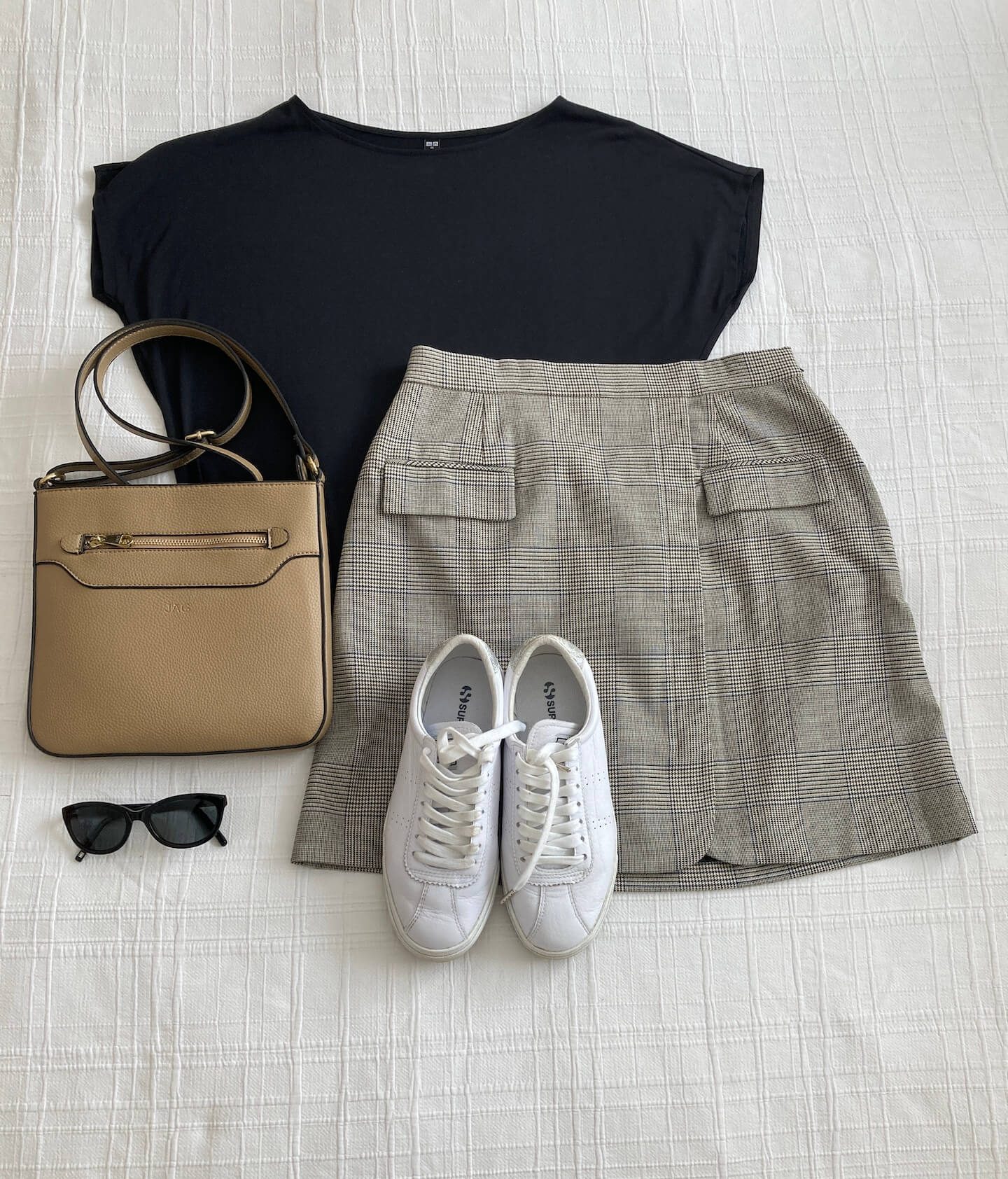 This next outfit is super relaxed, casual and comfortable. The skirt reaches just slightly above the knee so it isn't too short and I like to wear this skirt with sneakers. Again, this is a skirt I bought from Witchery. I don't receive any affiliates for mentioning Witchery, I just really like their clothes.
The cute skirt has fine black checked lines running through the fabric and so I think it looks good with a black t-shirt. I have worn this with a white t-shirt too but I think I prefer black. The black t-shirt is from Uniqlo and I like the scoop neck. It's a nice change from the usual round or crew necks.
Crossbody bags are unbeatable! They are so handy for when I'm out and about and I need my hands to be free. This lovely bag was actually a Kris Kringle gift from a work colleague a few years ago and the logo says it's from Jag. I love the neutral color because it goes well with any outfit. The black piping around the bag is also a cute detail that goes nicely with the black top.
Outfit Number Three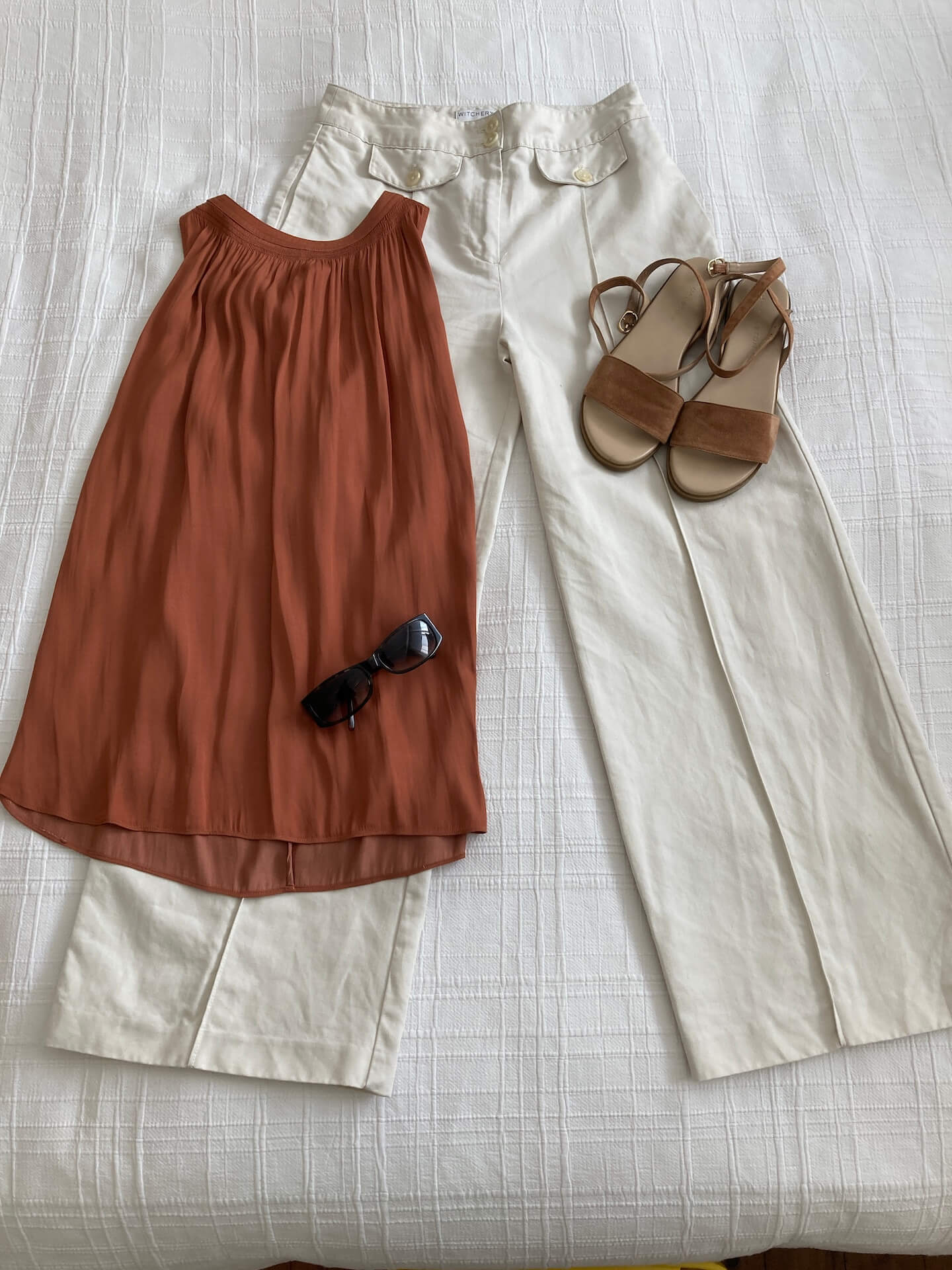 This next  Spring outfit has my favorite neutral color combinations. The wide relaxed stone-colored pants are very comfortable. The high-rise fitted waist, zipper, and button make the pants have a slightly more tailored look. The rusty-colored top has a really cute neck detail. See how it is stitched nicely around the neckline to give the whole top a drapey look.
I wear this outfit with the top tucked into the pants to give a more fitted look. I also read somewhere that if you wear looser pants it's a good idea to wear a more fitted top. Vice versa when wearing a loose top it's probably a good idea to wear more fitted pants or skirts. I think this makes sense.
The rusty suede sandals go so well with the top. I'm always a bit conscious to not look too matchy but I like this combination.
Outfit Number Four
I used to never wear pink, then all of a sudden a few years ago I started liking pink and I shocked myself! But I can't get enough of this dusty pink now because I think it just says spring! I picked up these pants from ZARA last year and I really love the cut and fit. They look way more expensive than they actually were and they don't wrinkle, what a bonus!
The creamy-colored top is from Country Road Australia. It's probably a bit hard to tell from the photo but the cut of the top makes it look nicely fitted when I wear it. I bought this one a few years ago,  the good thing about Country Road is that they often bring out the same or similar pieces each year but in different colors. So last year I bought the same top but in black.
I love my little Furla Metropolis bag. My handbag expert friend introduced me to the Furla brand a few years ago and she encouraged me to spend a slightly eye-watering amount on this little bag. It's very cute but very little so I usually wear it when I don't need to carry much.
Outfit Number Five
I'm not into a lot of animal print but I quite like this snake print blouse from Country Road. It has nice flutter sleeves and a gathered front. It is very loose and comfortable so I like to do a front tuck into the black shorts for a little shape and definition.
The shorts are from Witchery and they are made of a nice thick satin elastane fabric. They are not too short and they fit smoothly without looking boxy. They make a nice going out pair of shorts.
Outfit Number Six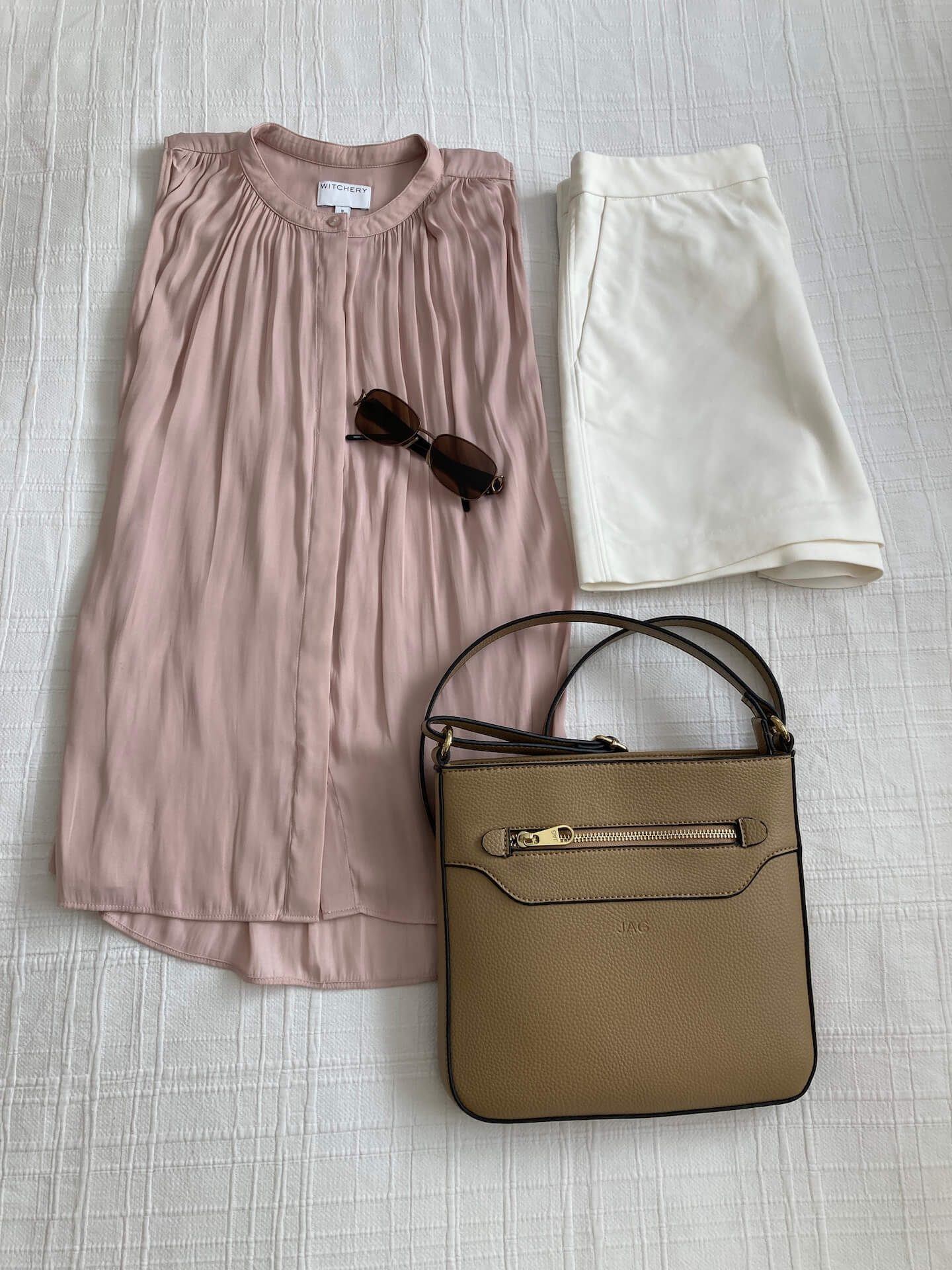 Another dusty pink favorite, this top is made of a polyester satin fabric with a gathered front and button detail. It's pretty,  feminine, and can easily be dressed up or down depending on where I am going. The top is quite long and wide even though it is extra small. I always wear it tucked in and because the fabric is thin it doesn't look bulky.
The shorts are the same as the black ones in the previous picture except of course these are white. I was tossing up whether or not it was a good idea to buy white shorts but I'm glad I did. I think it's great to have a pair of white shorts for spring and summer days. The good thing about these shorts is that they are NOT see-through… phew! The fabric is the right thickness to avoid this from happening.
Thank you For Joining Me to Look At Some Spring Outfits~
So that's it for now, just a few Spring outfits to get excited about spring and hopefully the end of lockdown. There's talk of maybe the restrictions easing at the end of September/October as most of the people living in NSW have been receiving their COVID vaccines quicker than expected. I'll just really be excited to get out of tracksuit pants and into some nicer spring outfits.
One last thing
If you would like to see how I styled a black pencil skirt 5 ways you can click here.