How To Entertain in In A Small Space– If you live in a small house or apartment don't let this stop you from opening your home to your friends and family for a fun dinner party or casual get-together. Here are some simple tips you can follow so you can entertain in a small space and create special memories with your loved ones during these holidays.
REDUCE YOUR CLUTTER
Before you think of anything else consider reducing your clutter as a number one priority. When you have something fun to look forward to like entertaining. Then even the task of decluttering will feel less daunting. Your small space will feel and look bigger if you minimise your clutter. Take the opportunity to get rid of things you no longer need. Try and find a place where you could move things to, for example, a garage or basement. Temporarily store things like appliances, non-essential decor, or small clunky furniture.
MAKE GOOD USE OF ALL YOUR AVAILABLE SURFACES
When you live in a small home then every bit of space or surface is very important. If you clear your kitchen countertops then you can use this area as a buffet space. Empty bookshelves can be used to hold cheese platters or can even be a drinks station. Similarly with coffee tables, once they are cleared they make perfect spaces for snacks, dips, or charcuterie boards. Coffee tables can even be used as an alternative to a dining room table.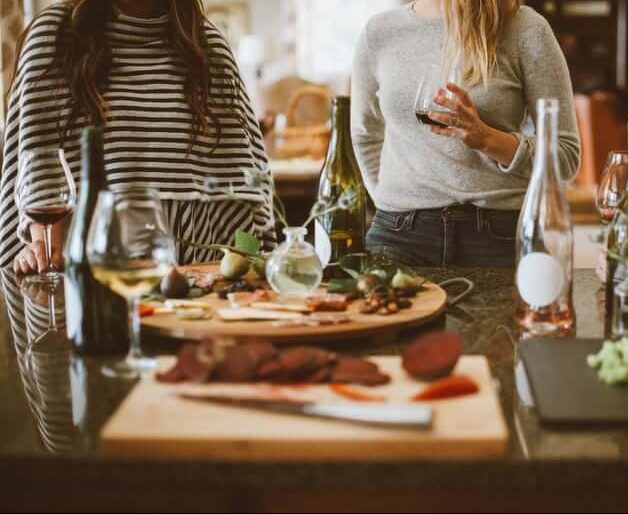 THINK CAREFULLY ABOUT YOUR MENU
It's a great idea to start planning your menu as early as possible. Consider things like the amount of fridge space you have. Don't be afraid to ask or accept any offers of bringing food. Guests are more than happy to contribute when it comes to food or drinks. This not only reduces the amount of work for you but also means that you are not taking up valuable fridge space storing numerous ingredients. Another good idea is to buy ready-made things like salads, sushi platters, or even entree platters.
In addition, you don't have to be a superhero in the kitchen. It's probably best to stick to cooking dishes you are familiar with as you don't need the added stress of experimenting with any new, fancy or complicated food. You want the dinner party to be a fun time for you and your guests.
MAKE A BIG BOWL OF PUNCH
Instead of offering a variety of drink options why not go ahead and make one big bowl of punch instead. There are so many fun recipes for a delicious and colourful looking punch to suit any occasion. Those big 1970 style punch bowls will add a really cool retro vibe to your next gathering. Or if you prefer, you can also serve your punch in a tall fancy pitcher!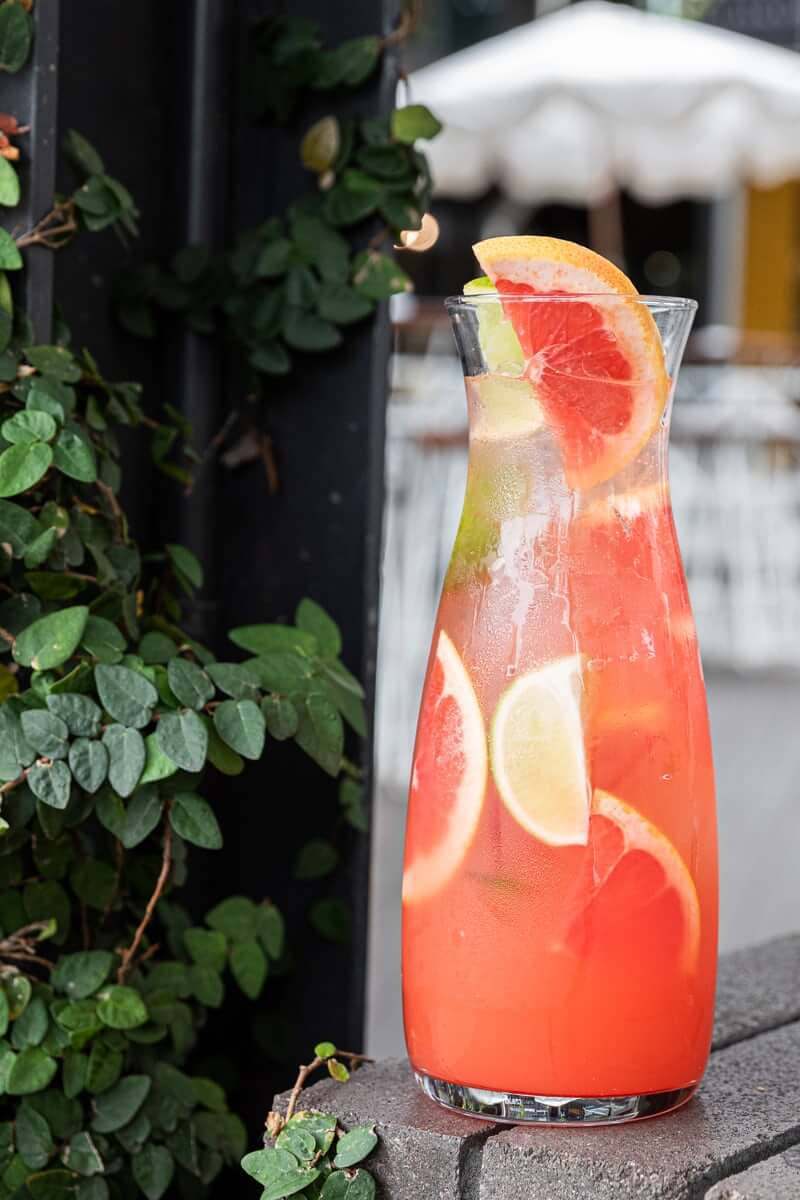 ALLOCATE A PLACE FOR COATS AND BAGS
Consider investing in a coat rack or stand and placing it close to your entryway. This is a much better alternative than having guests place their belongings on valuable seating space.
MINIMISE TABLE DECOR
Avoid large and overwhelming centerpieces instead try a few smaller decorative pieces. Like a small bunch of fresh flowers. Then you can add cute details like votive candles or even candles of various sizes. This not only looks really nice it also creates a nice ambience.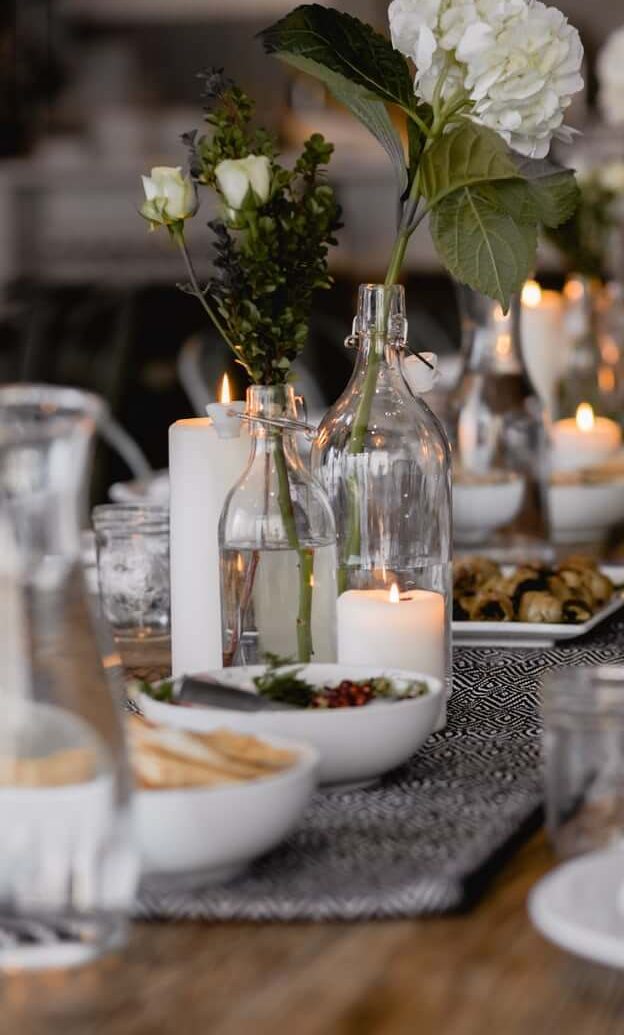 CREATE A COMFORTABLE AND INVITING MOOD
Small soft glowing candles arranged around the room will always create a warm and inviting atmosphere. Avoid harsh overhead lighting and use a combination of candles and lamps instead as this will create a much more relaxing atmosphere.
Small spaces can very easily get quite hot when it is full of people. Just be aware of this and keep guests cool with open windows, fans, or air conditioning. Also, try and remember to turn the oven off at least an hour before guests arrive. This will prevent your small home from feeling uncomfortably hot. Once the heat is trapped inside a small space it is difficult to cool it down, especially when it is full of people.
Play some fun music you know your guests will enjoy. Remember to keep the music at a comfortable noise level so people don't feel like they need to shout to be heard when they are talking.
MAXIMIZE SEATING AND TABLE ARRANGEMENTS
If you really want to have a sit-down dinner then just be mindful when it comes to the number of guests you invite. It might be best to keep numbers lower if you have your heart set on a sit-down dinner party.
If you have a smaller home this might mean that you don't have a large dining table. You could always invest in some sturdy fold-up tables. These are great to have and they don't take up a lot of room to store. If not then consider setting up different areas around your small space where guests can sit comfortably when they are eating. For example, you could use a coffee table and guests could sit on the sofa. A desk could also be easily transformed into a table by covering it with a table cloth.
For a super relaxed dinner party don't be afraid to use large pillows, ottomans, or poufs. They may not be fancy but they can make great seating.
GET CREATIVE
It's necessary to be as creative as possible when planning to entertain in a small space and sometimes you might need to improvise. You could do things like filling the laundry sink with ice to keep your drinks cold.
Don't be afraid to rearrange your furniture to make space for your guests. Push tables together to make room for a sit-down dinner. Use things like tiered platters when you serve the food to your guests.  This will hold a variety of dishes without taking up too much valuable table space.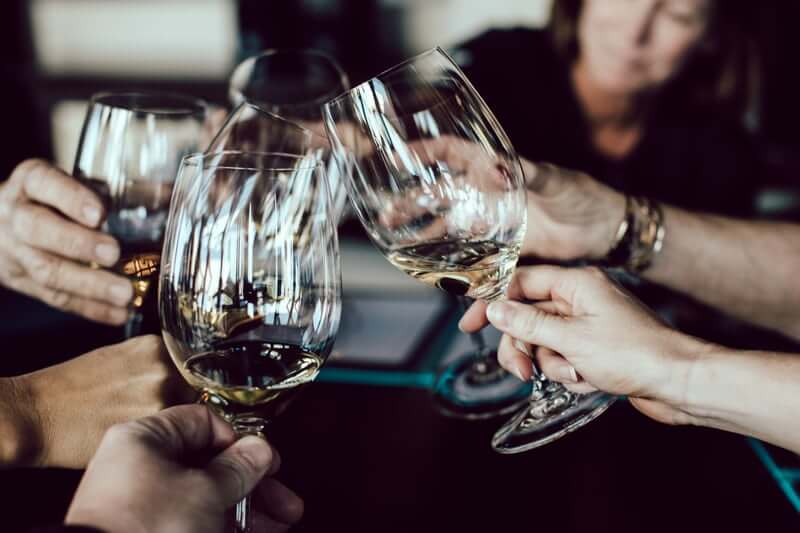 RELAX AND ENJOY!
Remember to enjoy yourself and spend time with your guests. If you are confident and relaxed then your guests will be too. It is easy to entertain even in a small space if you plan well and are not afraid to think outside the box when it comes to organising your home for your next gathering. Try not to get stressed over all the details and don't panic if things go not quite as you had planned. Have fun entertaining your friends and loved ones. Remind yourself that everything doesn't have to be perfect and just enjoy!