Earlier in Term two of preschool, we looked at World Earth Day and World Ocean Day. So I thought it would be fun to show you a few of the creative classroom setups we had going.
Fun Playdough Activity~
First, up for our playdough table, our lovely classroom teacher provided two playdough colours instead of the usual one. We had blue and green dough, this inspired the children to copy the little world globe that was also part of the setup.
If you look closely you can see how they are using the green playdough to add pieces of green land to their blue playdough. Watching the children use their own initiative and imaginations without being prompted was such a huge bonus. Aren't they smart little friends using the dough to make their own world globes!
We supplied some Earth coloured stones too for the kids to press into the dough and make patterns. There were some lovely different shades of blues and greens as well as natural stones. Classroom setups just look so visually pleasing when you use things like baskets and wooden trays for the tools and materials. Looks so much nicer than plastic trays, don't you agree?
I printed some sky images and laminated them to be used as placemats. The children really enjoyed this activity and my colleague and I were really pleased with how well the children played.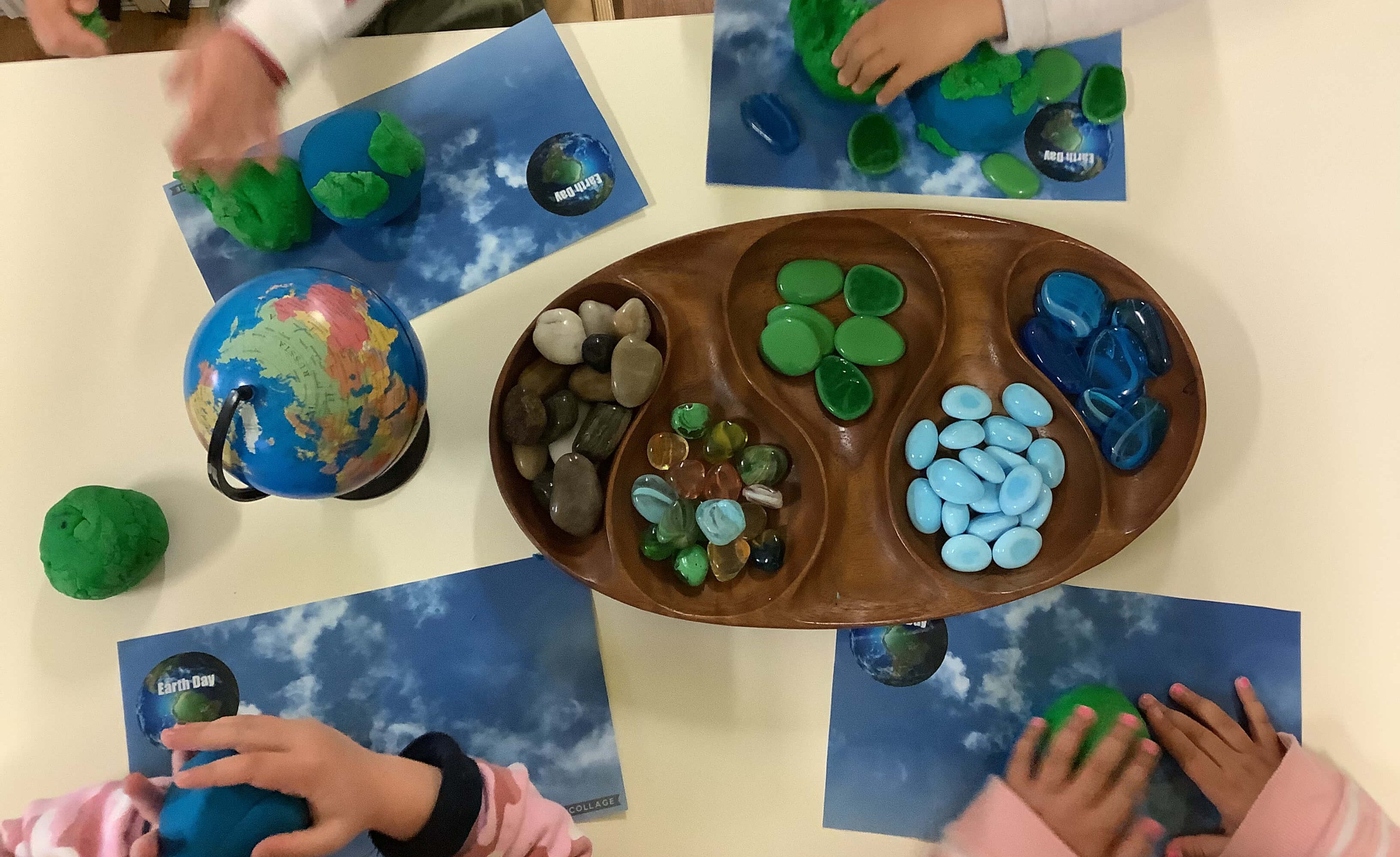 Sensory and Sorting Activity~
We usually have a sensory table for the children every week with either rice or shaving cream. For Earth Day my colleague had the brilliant idea of adding little bits of pretend rubbish into the rice tubs. The children then had to sort the 'rubbish' into two mini bins. One was a recycling bin and the other a rubbish bin.
This was not only a great sensory activity, but it was also a fantastic sorting activity too. And to top it off it gave the children a chance to really think about what household waste should actually be recycled and not just put into the general rubbish bin! How good was that?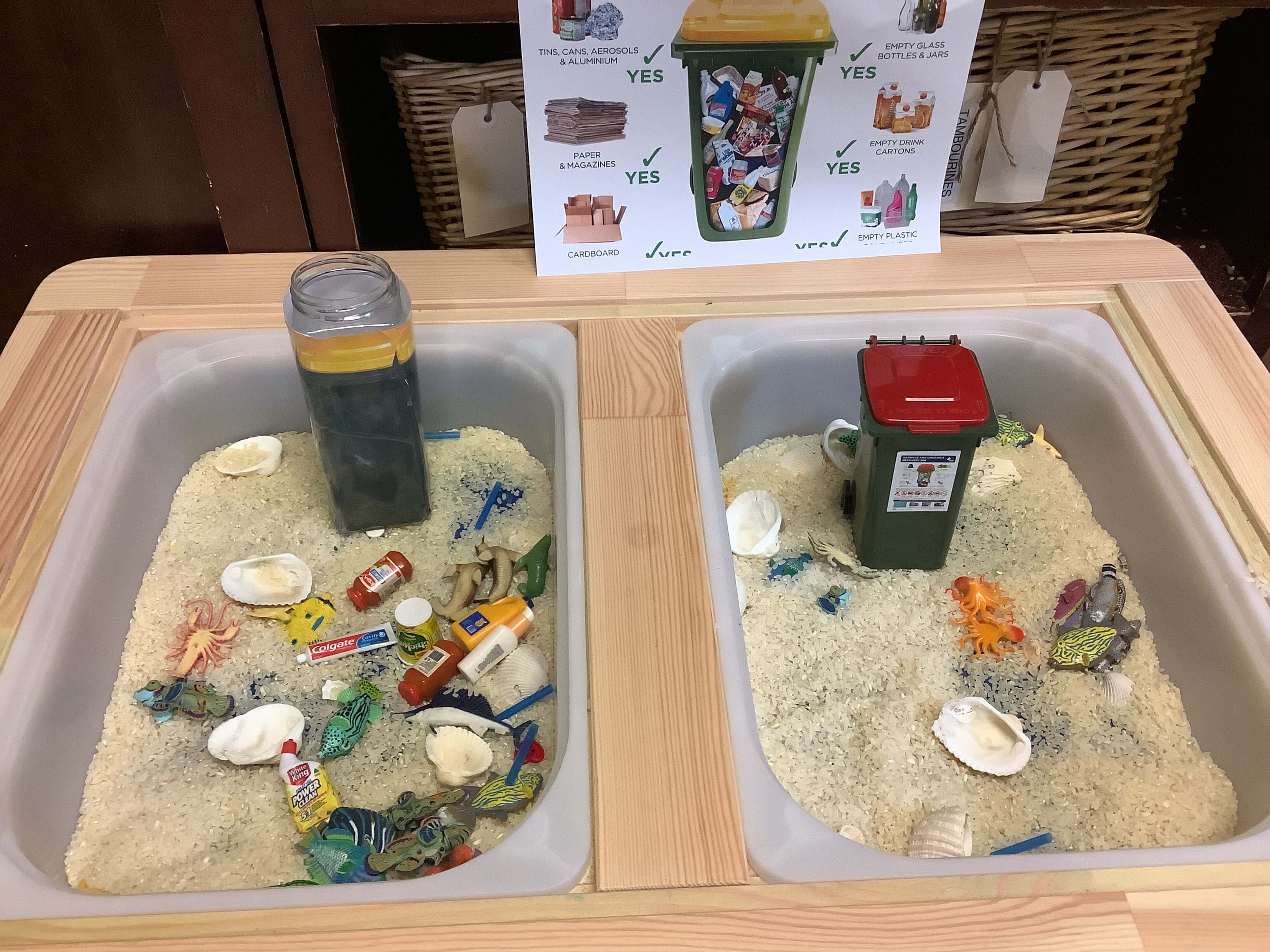 World Ocean Day~
For world Ocean Day we set up a cool book display complete with plastic sea animals and magnifying glasses. It was great to see the children browsing through the books and talking about all the different sea creatures.
There are a couple of cute but very active little kids in our class. I just love them and it was so great to see them looking at all the pages of the books quite engrossed in what they were discovering. They revisited these books over and over too.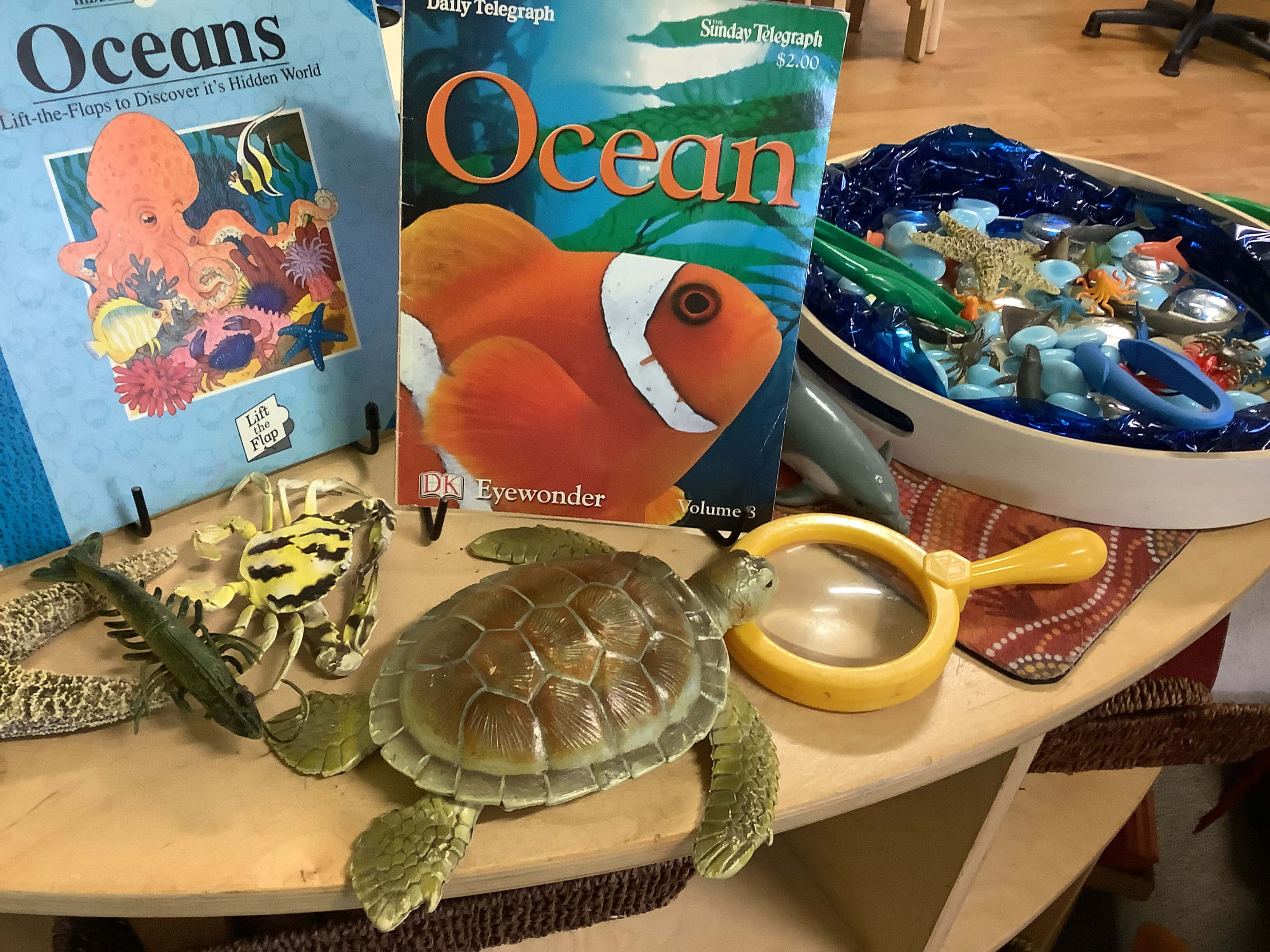 Another part of the book display was this 'Ocean' display. Again I went through our preschool cupboards trying to find interesting things to use and came up with this.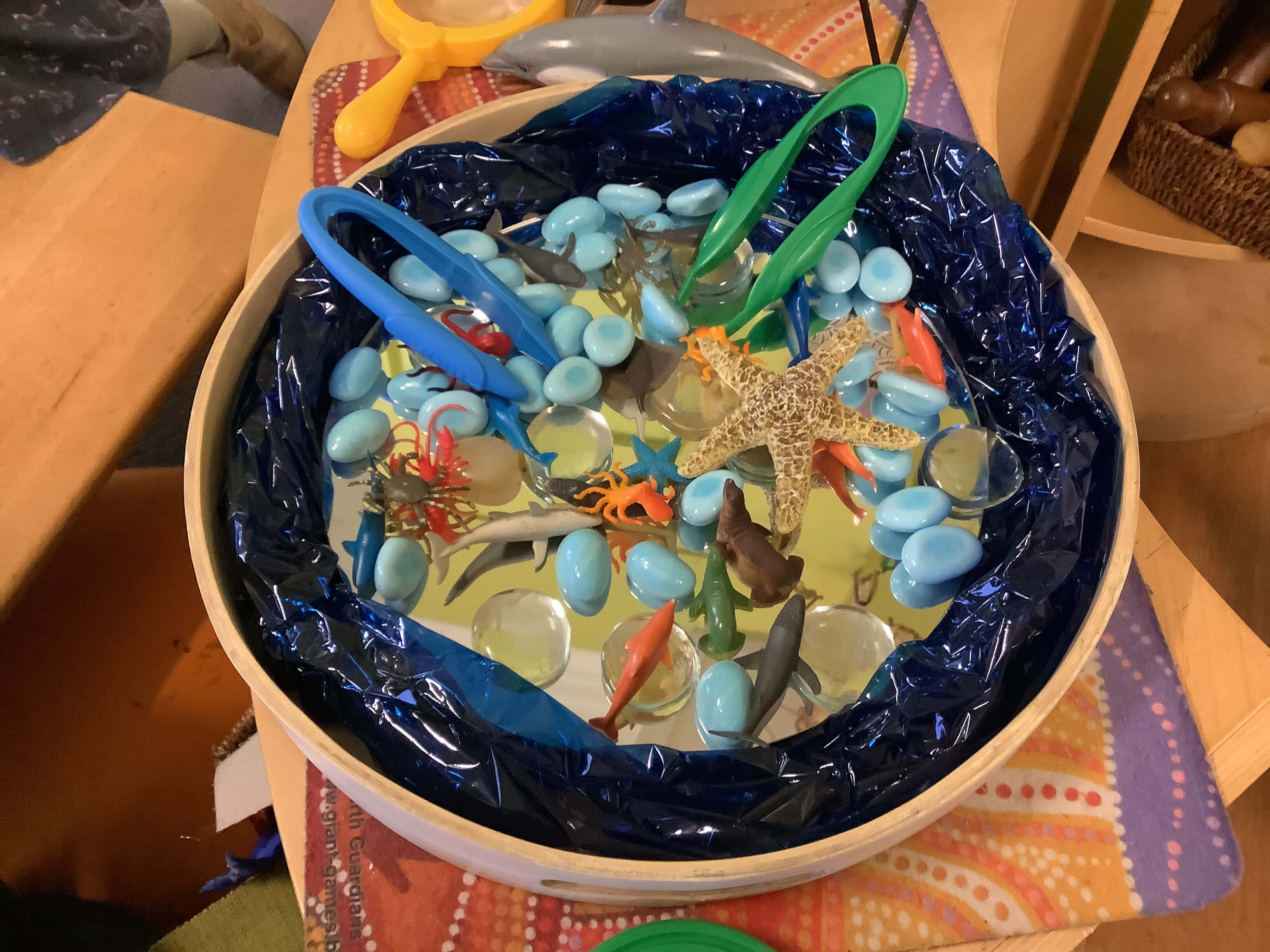 We recently bought a few of these round mirrors and they have really come in so handy. We use them for heaps of different displays and craft activities. I scrunched some cellophane and arranged it around the tray and mirror to represent the ocean, added more stones, and of course small sea creatures!
Even though it was a big rush to get it all set up, I was happy with the end result. We are always short of one thing at preschool and that is time!
Craft Table~
Finally, for our craft table, we added some images representing the environment. The children cut these out and used them for their collages adding other materials available to them too.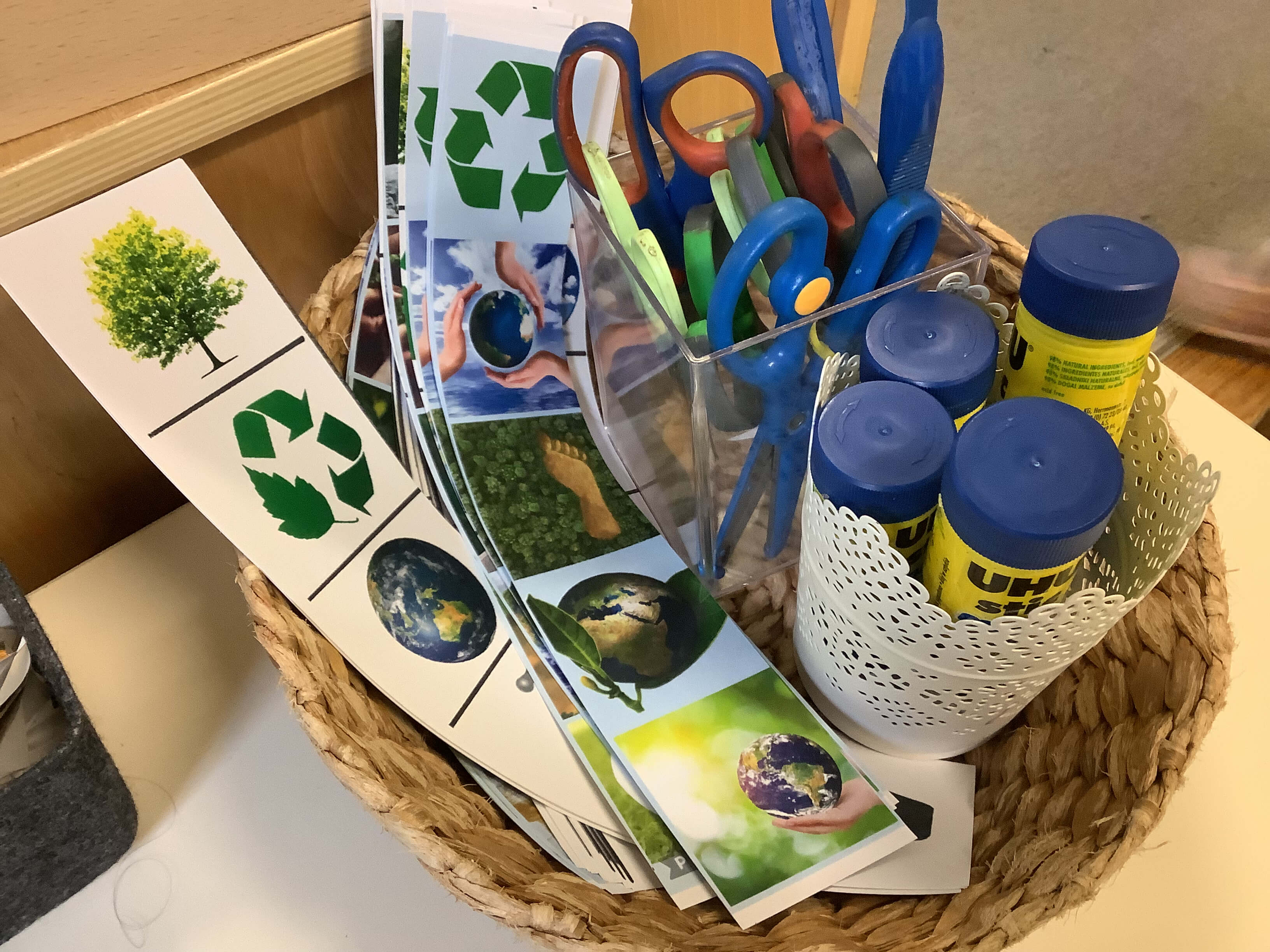 I hope you enjoyed a little peek into our classroom for Earth Day and World Ocean Day. I think it's great to cover topics such as these. It's so important that our next generation know how amazing our planet is. And it is vital that they not only appreciate our planet but that they also grow up being active participants in protecting and looking after our world so it is a happier and healthier place to live!