Hi, friends It's a wrap for another year of Christmas cheer! Can you believe it's all over already? I know that I can't! After so many weeks of prepping and planning. As well as panicking a little (maybe a lot) about leaving some things until the last minute. BOOM! Christmas came and went. And today I'm back here in full holiday mode not knowing what time or day it is to recap our fun Christmas Eve.
Christmas Eve
Our family follows the South American tradition of celebrating Christmas on Christmas Eve. This year my lovely cousin hosted all of us and she did such a brilliant job! It's not easy hosting so many people!
Christmas Margaritas
We kicked off the evening with some refreshing margaritas. My cousin's husband played bartender for a while. Even though he broke his left hand a few weeks ago he still managed to shake up some spectacular margaritas for us.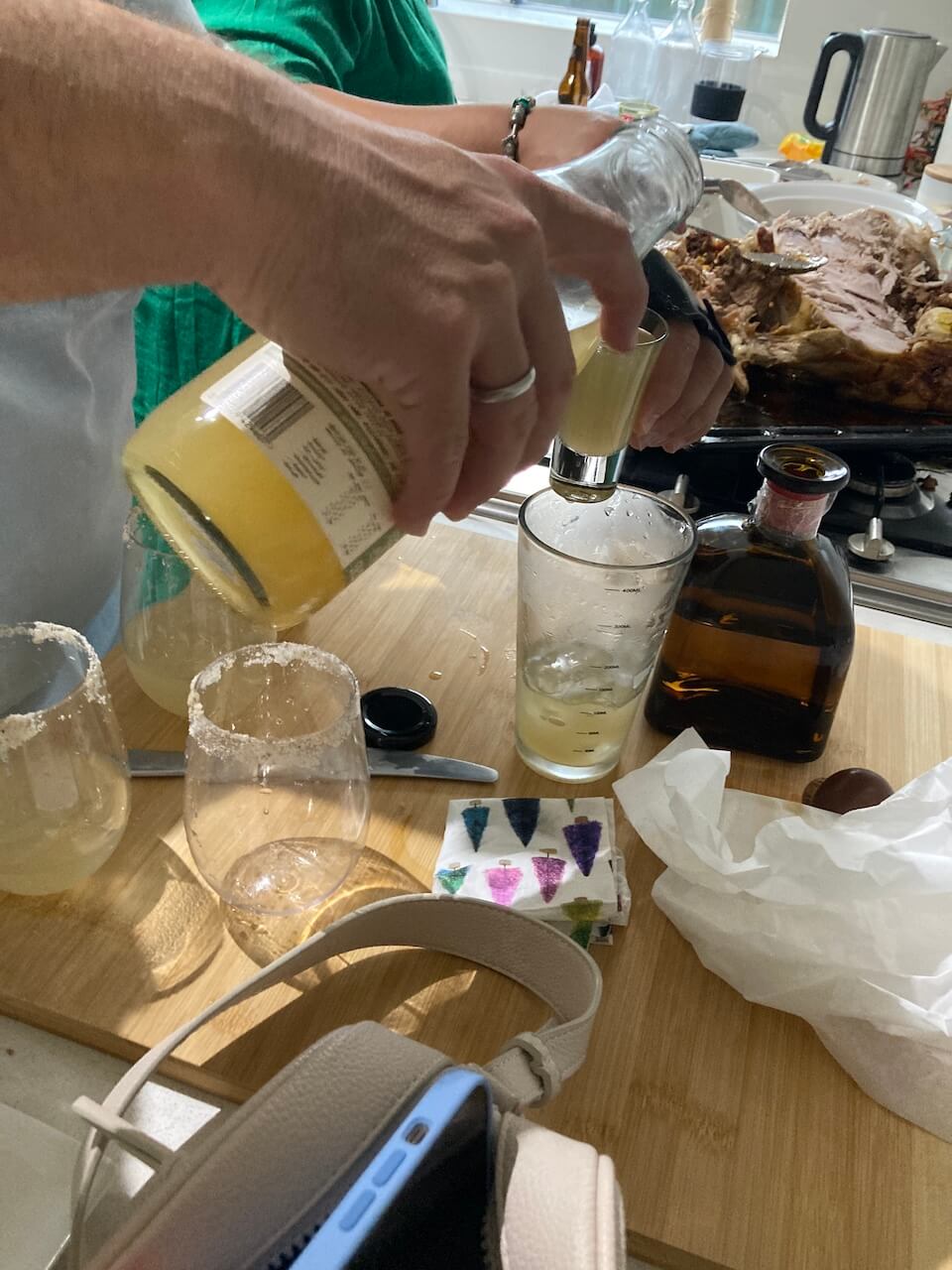 So Much Delicious Food!
Everyone brought a dish or two and we had so much delicious Christmas food. One of my cousin's brought this amazing cheese platter.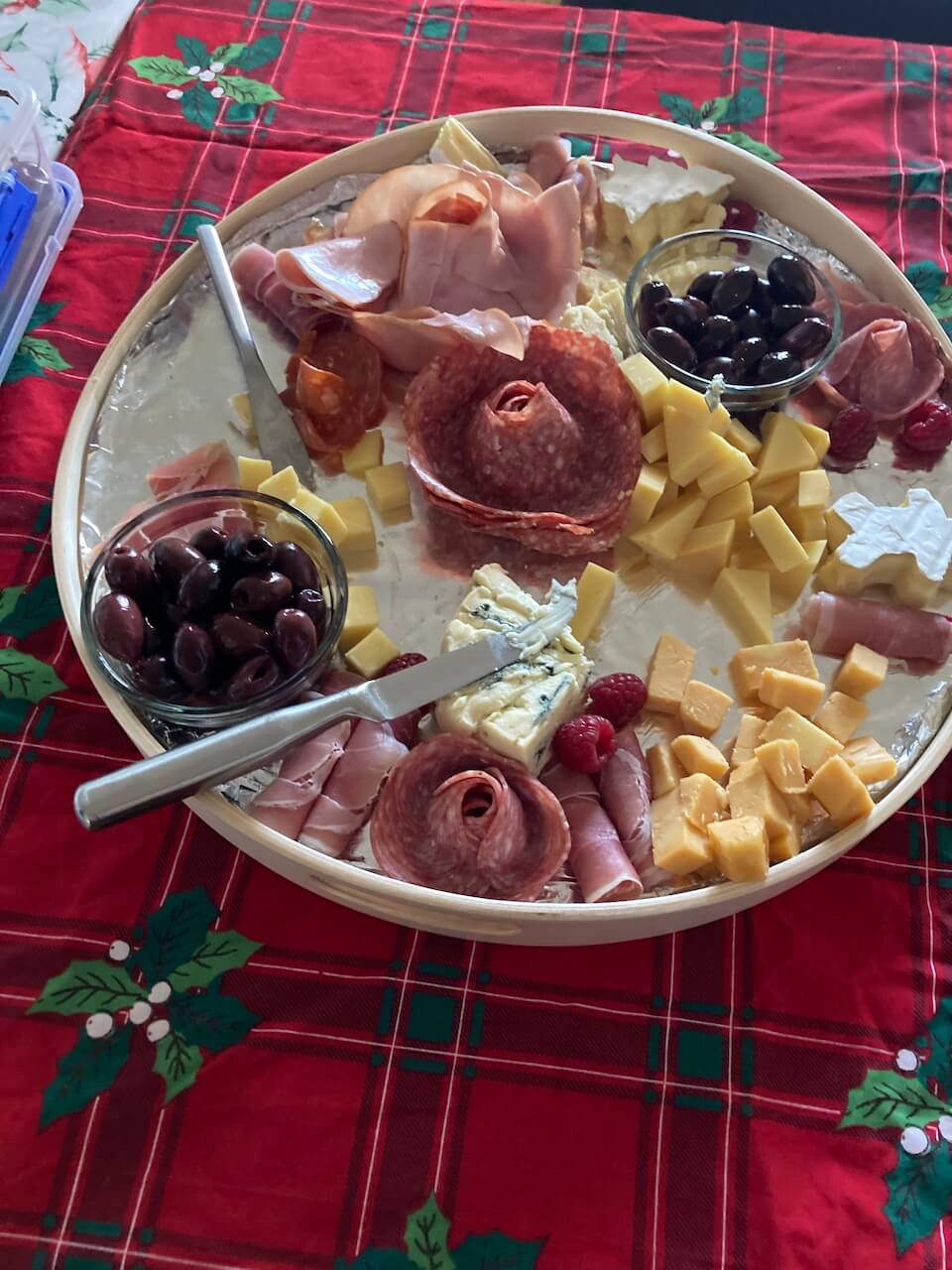 My aunty supplied some empanadas and they were gone in a flash.
We had so many yummy salads to go with the turkey, pork and ham. After weeks and weeks of cool to cold temps. Summer finally showed up this weekend in a big way! So the salads were perfect. I love a traditional roast with potatoes and veggies. But it's just too hot here in December so we just do the salad thing.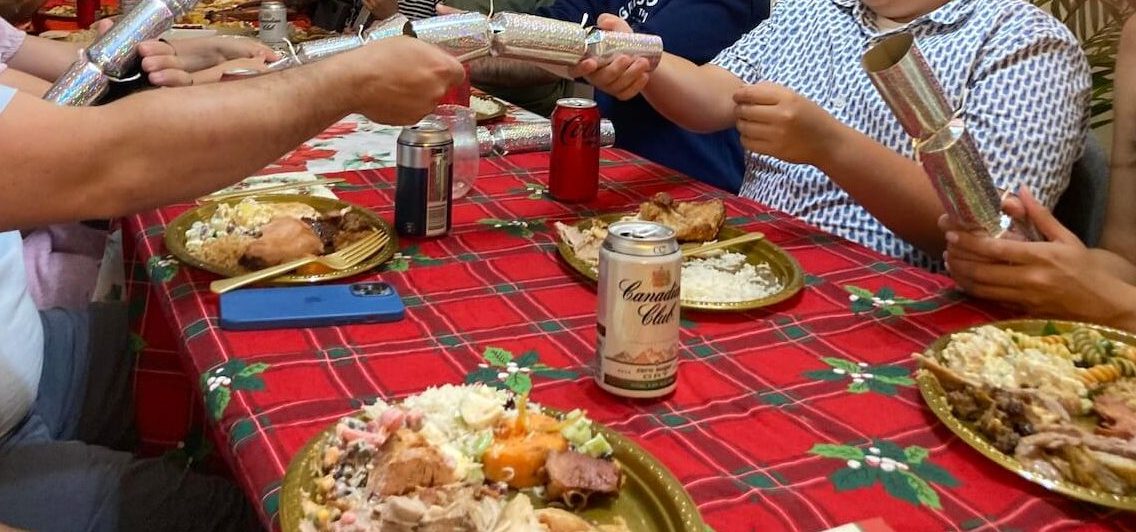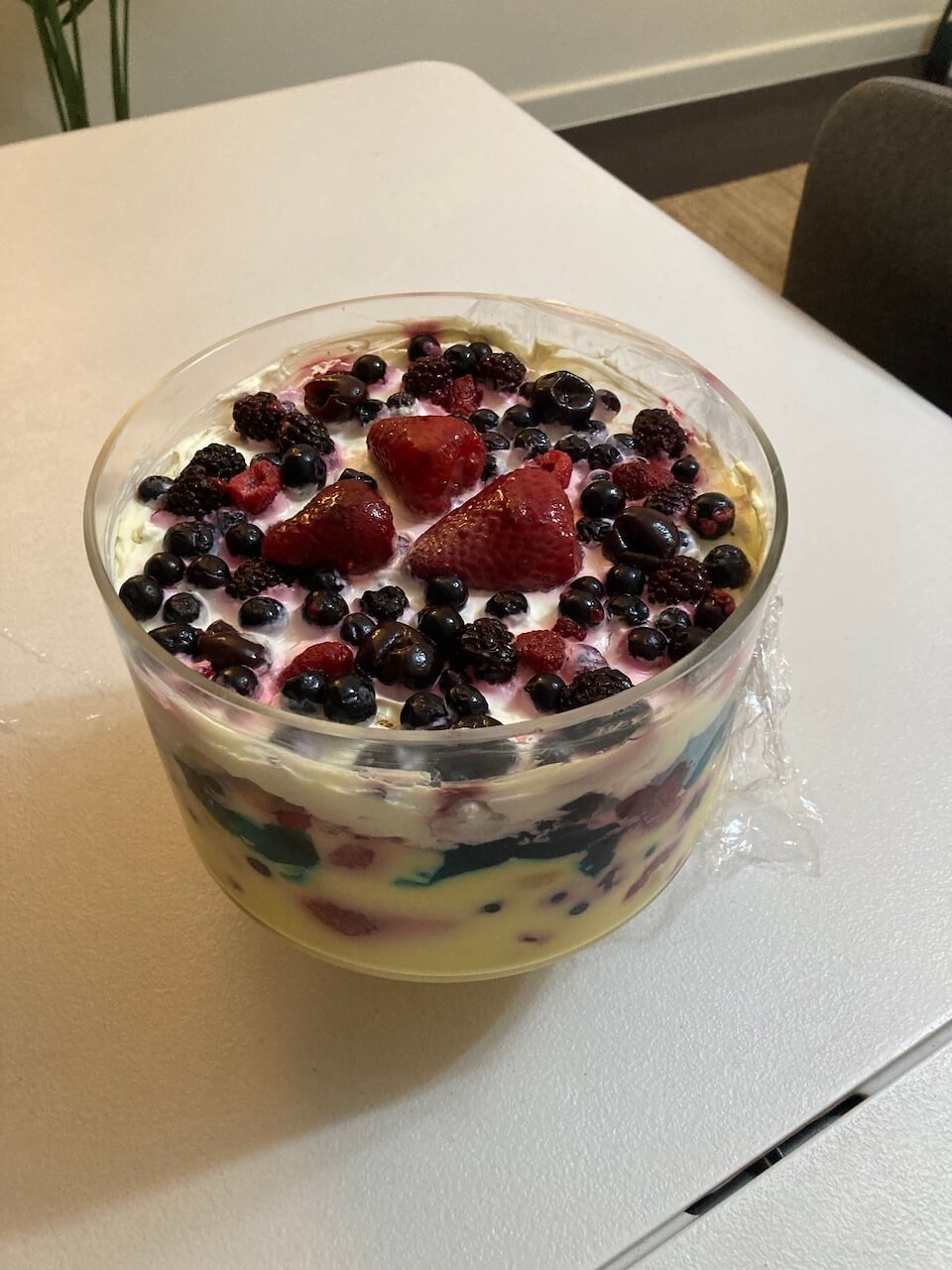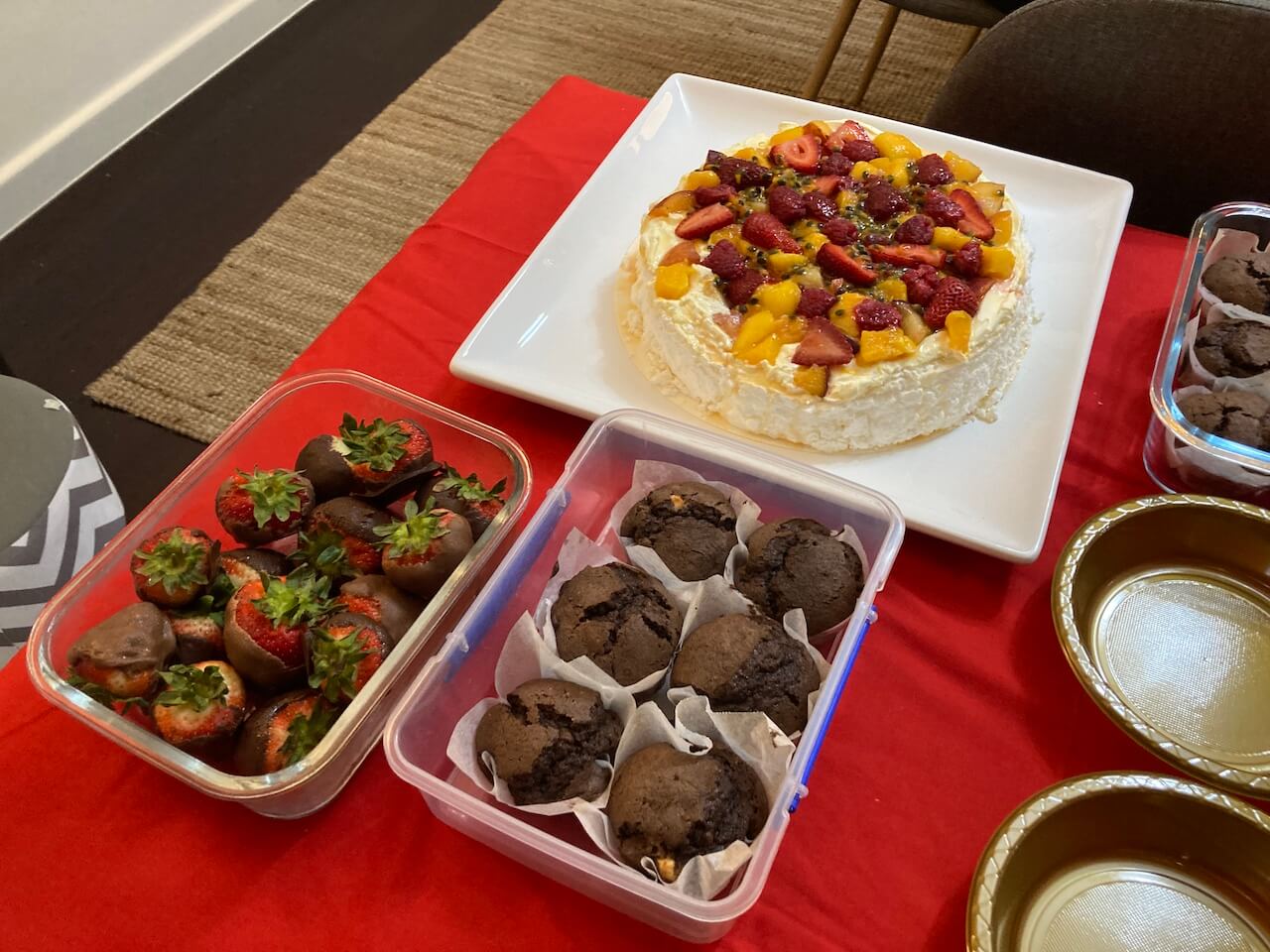 Karaoke
After dinner, we pulled out the karaoke machine that I borrowed from preschool. It's so fun to sing even when you can't sing!
Games!
My cousin asked me to organise some games for our Christmas Eve festivities. A few years ago I introduced some minute to win it style party games for our Christmas Eve celebrations and they were such a big hit. Then for some reason or another, we didn't do them last year.
But this year they were back on and oh my goodness we had such a blast!! I didn't realise how competitive my family is!! And I think that next year I might need to enlist a referee because there might have been a bit of cheating going on!
So I wouldn't get all confused I made up some cards with instructions for the games that we were playing. And I made sure to put all the props etc that I needed in individual bags. This way I could keep the games flowing along smoothly. We split up into two teams and each team chose a name which I won't mention here because they may or may not have been slightly inappropriate hehe.
I also used the karaoke machine to blast out some fun music after I called READY SET GO! We had the song by The Vengaboys 'We Like To Party' on full blast while the games were going on. Everyone was so pumped and my two youngest cousins who are 12 and 10 just about lost their minds with excitement!
Here Is A List Of Some Of The Games That We Played
1. Shake That Box
This is where you tie an empty tissue box filled with some jingle bells to your waist with a belt. Then you have to shake and wiggle until all the bells are out of the box. The first player to empty their box wins!
2. Don't Look Back
Each team has two players going head to head. One player holds a party hat while the other player throws cotton balls over their shoulder for their team member to catch. The team with the most cotton balls in their hat is the winner.
3. Hot Dog Challenge
This game requires one player from each team. And it's definitely not about how many hotdogs you can eat! You need a hotdog tied to a long piece of string and each player has to tie the string around their waist. The hotdog needs to be behind them and the string has to be long enough so that the hotdog dangles just above the player's knees.
Oh yes, I forgot to mention that you also need two rolls of toilet paper. The players need to spin around 4 or 5 times and then aim to crouch down and place their hotdog inside the toilet roll. The first player to do so wins!
4. Unwrapping Hershey Kisses
Did you know that you can only find Hershey Kisses in specialty candy stores here in Australia? And I paid $9.00 for this bag! But I have to say that it was most definitely money well spent for this fun game.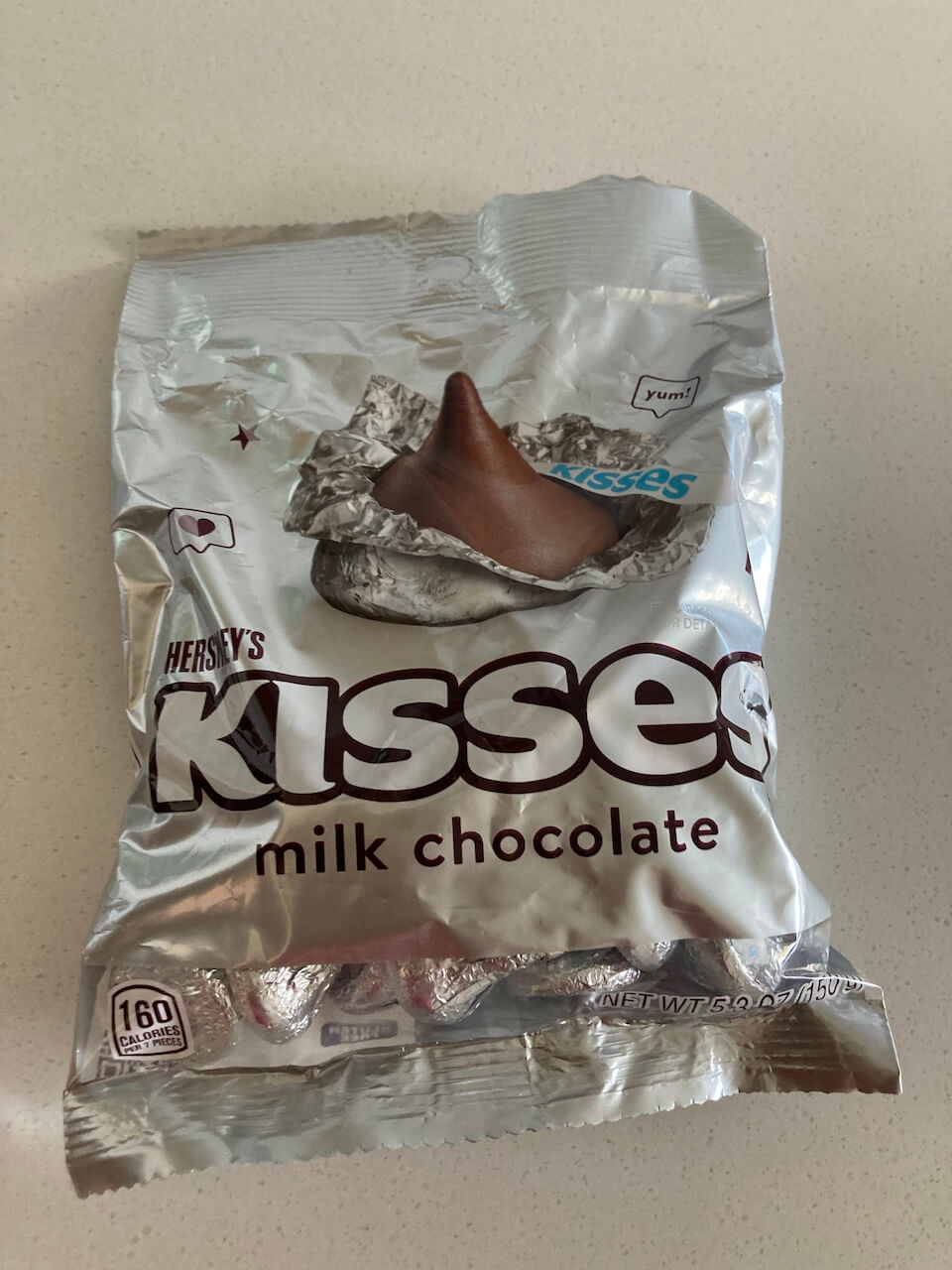 All you need to do is unwrap Hershey kisses ONLY using a toothpick. No fingers! Everyone played and the team with the most unwrapped Hershey Kisses after a minute won. There was so much cheating going on with this one that in the end both teams scored equally! Naughty naughty!!😂
5. Marshmellow Stack
This one was nice and easy because all you need is a bag of big marshmallows. Then a player from each team has to try and stack a tower of marshmallows. The highest tower wins! It's much harder than it sounds because they topple over so easily.
6. Ping Pong Santa Hat
You need a lot of ping pong balls, a table and Santa hats. For this game, you have two teams and one person from each team will be at each end of a table. One person holds a Santa hat and the other player bounces a ping pong ball on a table and their team member needs to catch the ping pong ball in the hat. The team with the most balls wins
7. Tortilla Slap
Another easy game that only requires a packet of tortillas. A player from each time has to battle it out by playing scissors, paper rock. The winner then gets to slap the loser with a tortilla! Best of three wins!
A Crazy Fun Night
Everyone's favourite game for the night was of course 'Tortilla Slap'. I'm laughing now as I think about how much joy my family got from slapping each other with a tortilla. I had only planned to play one round of this game and then take my remaining tortillas home for lunch during the week.
But no! Everyone was screaming for a turn. So in the end I gave in and we played until we had no more tortillas left. Next time we play I will have to buy the normal tortillas and not the soft ones. Because there were bits of tortilla flying everywhere! Friends it was hilarious!!
And just like that Christmas 2022 is over. I was so happy to see everyone enjoying themselves so much and laughing so hard. Especially after the year, we've all had. I knew that this year's Christmas was going to be so different (to put it mildly) without my Mumma. And the weeks leading up to the big day were definitely the most difficult. Everything made me cry! Putting up the tree made me cry. Hearing her favourite carol made me cry. Ugh, it was so hard!
But I kept in mind what my grief counsellor said. That I have 50% of my mum's DNA and my mum had a really fun side. So I dug deep and I harnessed this fun side. I'm pretty sure that she could hear us laughing all the way from heaven on Christmas Eve.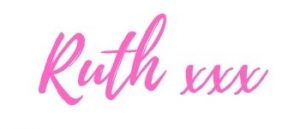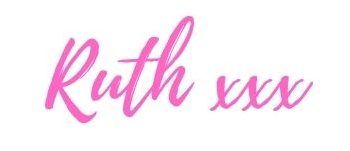 Linking up with Holly and Sarah