Hi there, friends! I hope you are all doing well and enjoyed a great weekend. For me, the weekend was an absolutely perfect opportunity to enjoy a cozy weekend at home. I didn't have any plans for Saturday or Sunday. So I took full advantage of it by staying home all weekend long. It was so lovely to spend the time catching up on a little of this and that. It was wonderful to be in my own space, surrounded by my favourite things, and take the time just to be. I really needed a weekend like this one!
Friday Night Pasta Night
But before my cozy weekend at home started I enjoyed a fun family dinner on Friday night. My aunt hosted this month's cousin connect. She is such an amazing cook and it was delicious pasta and schnitzel on the menu.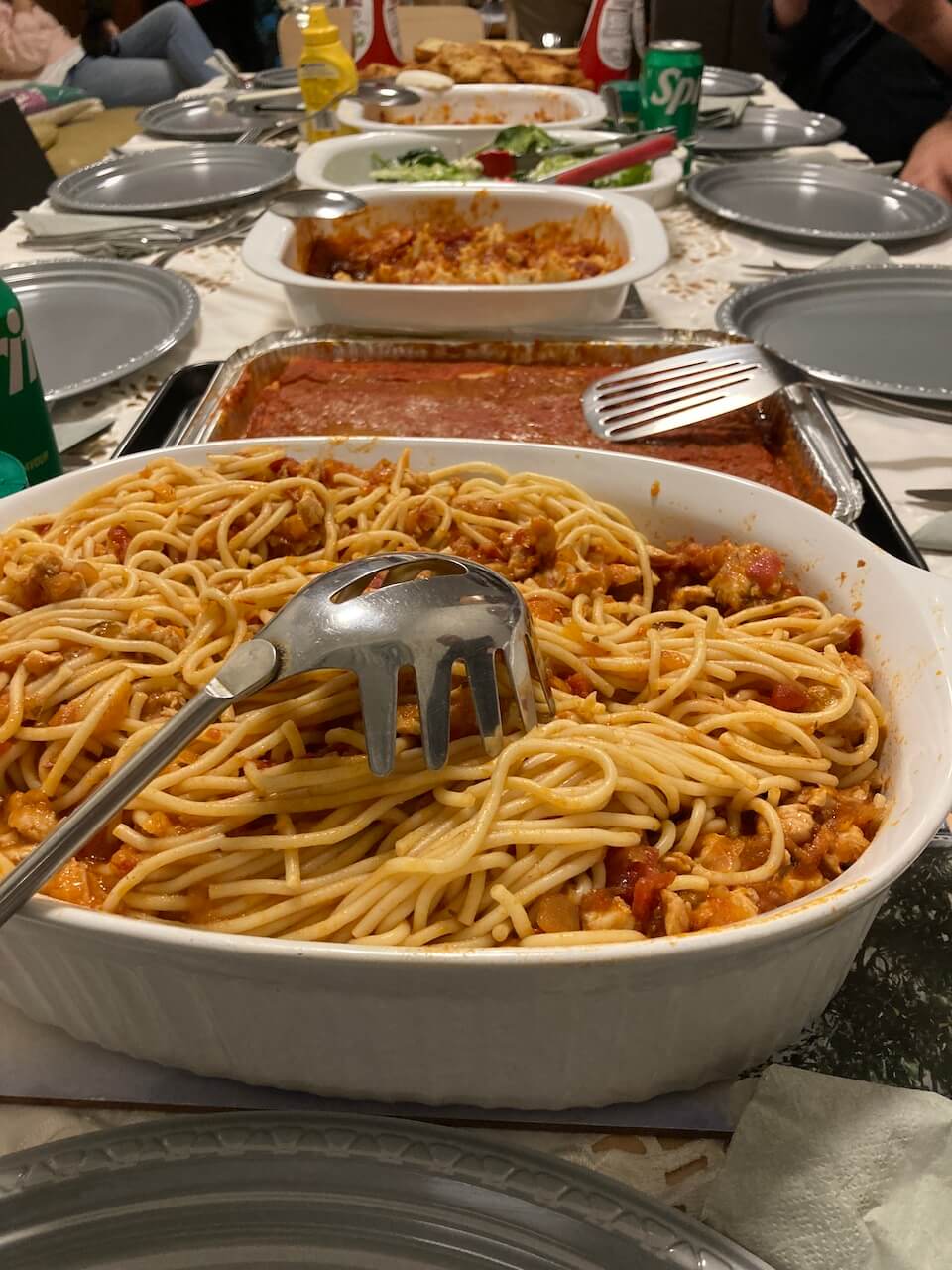 An Early Egg Hunt
We even had an easter egg hunt because my cousin and her family are flying to Ohio next week and they won't be here for Easter. And to make the hunt a bit more competitive we decided to include anyone 18 years and younger.
So Sam, his sweet girlfriend who are both 18 and two of my cousin's kids who are 12 and 9 all got to hunt around my aunt's house for chocolate eggs. It was very funny to watch these two grown-up kids against the real kids!
Reminiscing
We sat around talking for ages after dinner. I just love how we never run out of funny family stories. This time the conversation turned to my mum. And we all reminisced about her funny antics, especially the way that she used to tease our cat Sushi.
She loved our cat and she used to tell me how much happy she felt having Sushi's company when we were all at work and school. We all had a good laugh remembering how mum used to have staring contests with Sushi to see who blinked first. Yeah, my mum was funny and we all miss her very much.
Saturday
Just like that, the summer sunshine disappeared and autumn arrived. The sky was grey and it rained all weekend. I found myself reaching for my warm hoodie and I had to put cozy quilts on our beds because hey when it's 15°C-21°C in Sydney that's when I start to shiver hehe.
Sam went to work early and Steve and I enjoyed a very late breakfast of scrambled eggs and crispy bacon with tomatoes and mushrooms. I saved some for Sam to eat when he got home in the afternoon.
It was also perfect weather for hot chocolate with marshmallows.
And for lighting candles and embracing the cozy atmosphere.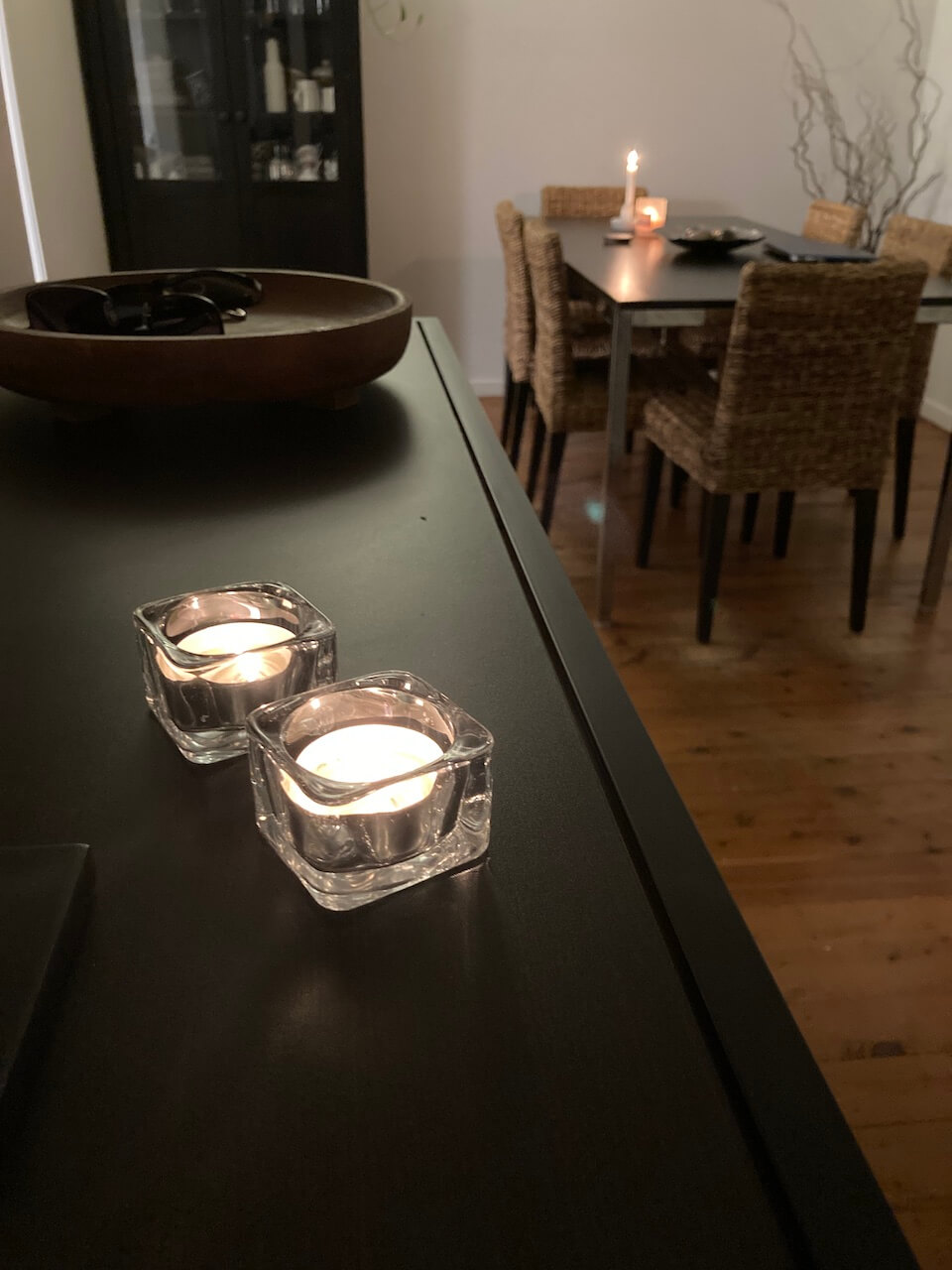 I'm so proud of myself for sticking to my goal of meal planning every week. I think I have only had one week where things went off the rails. Despite this small hiccup, I'm happy that I haven't let one bad week derail me. So as planned I made a mouth-watering roast lamb for dinner. It was so tender and juicy. The best part was that it was deboned which meant that carving it up was a breeze.
I also made some blueberry muffins.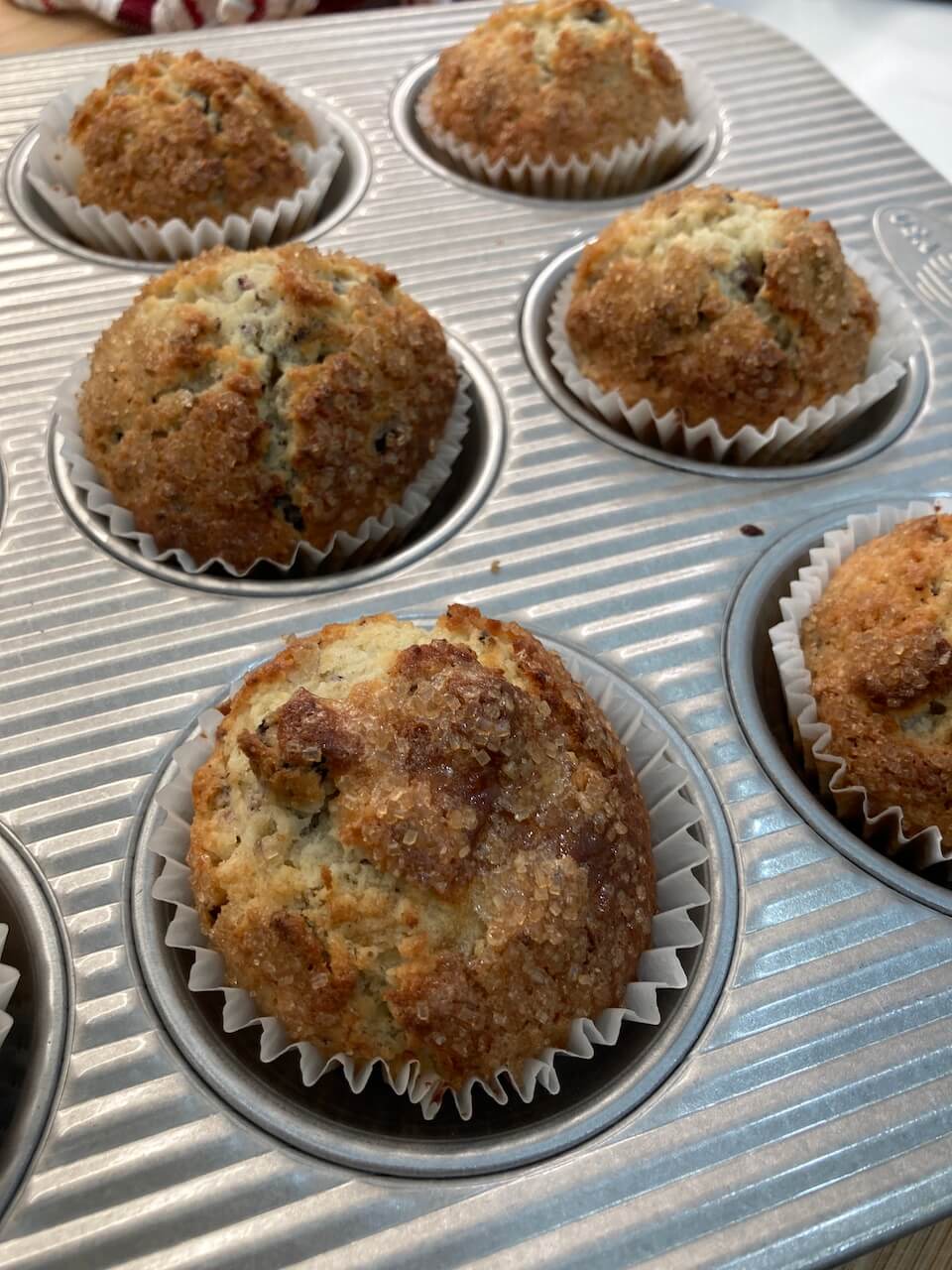 I opened my T2 tea sampler that Sam's girlfriend gave me for my birthday. And I made a nice cup of white tea. It really was white!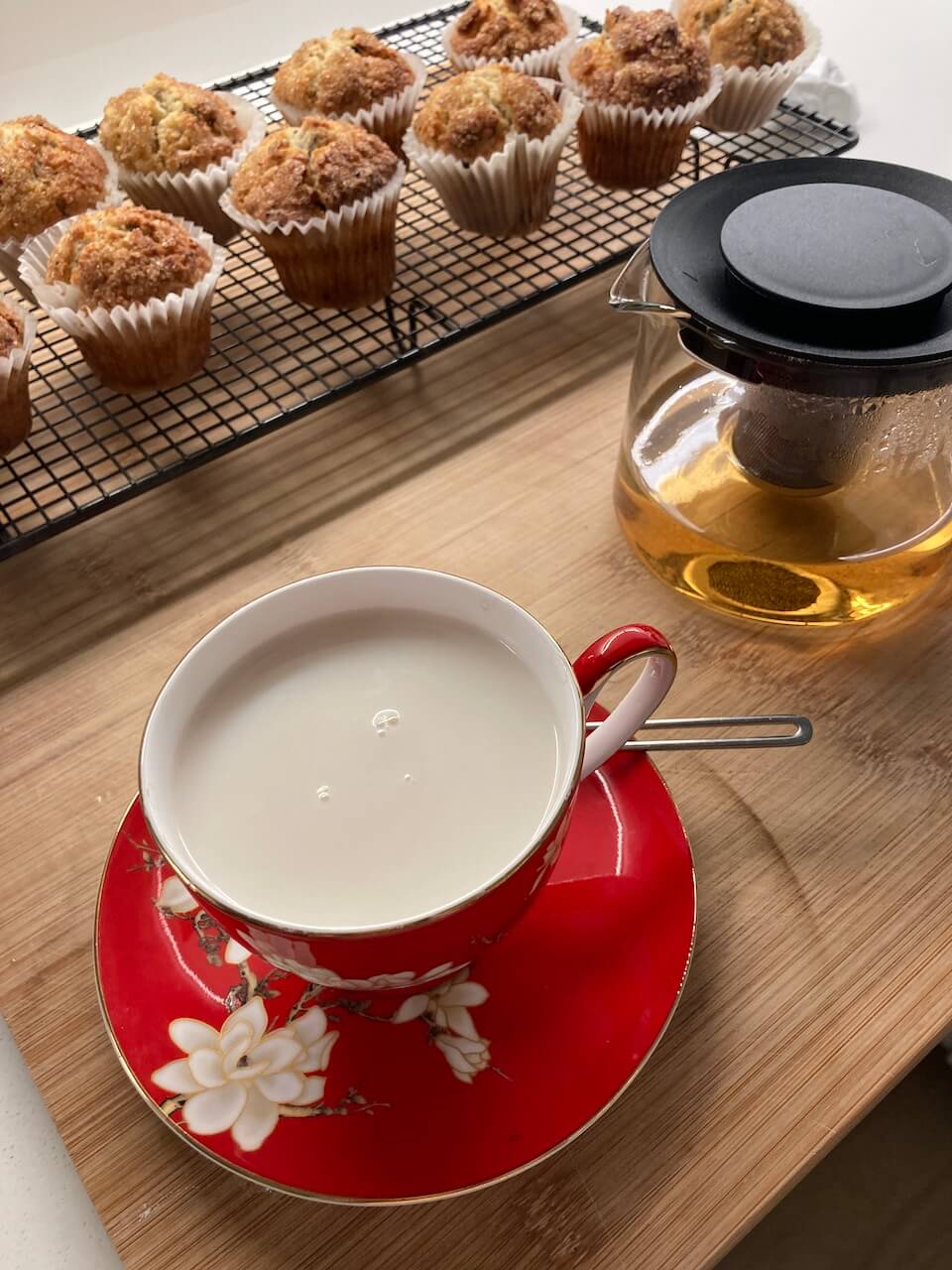 A Cozy Sunday
Sunday I didn't even make it to church. Instead, I stayed home and had a late breakfast of crunchy rice bubbles.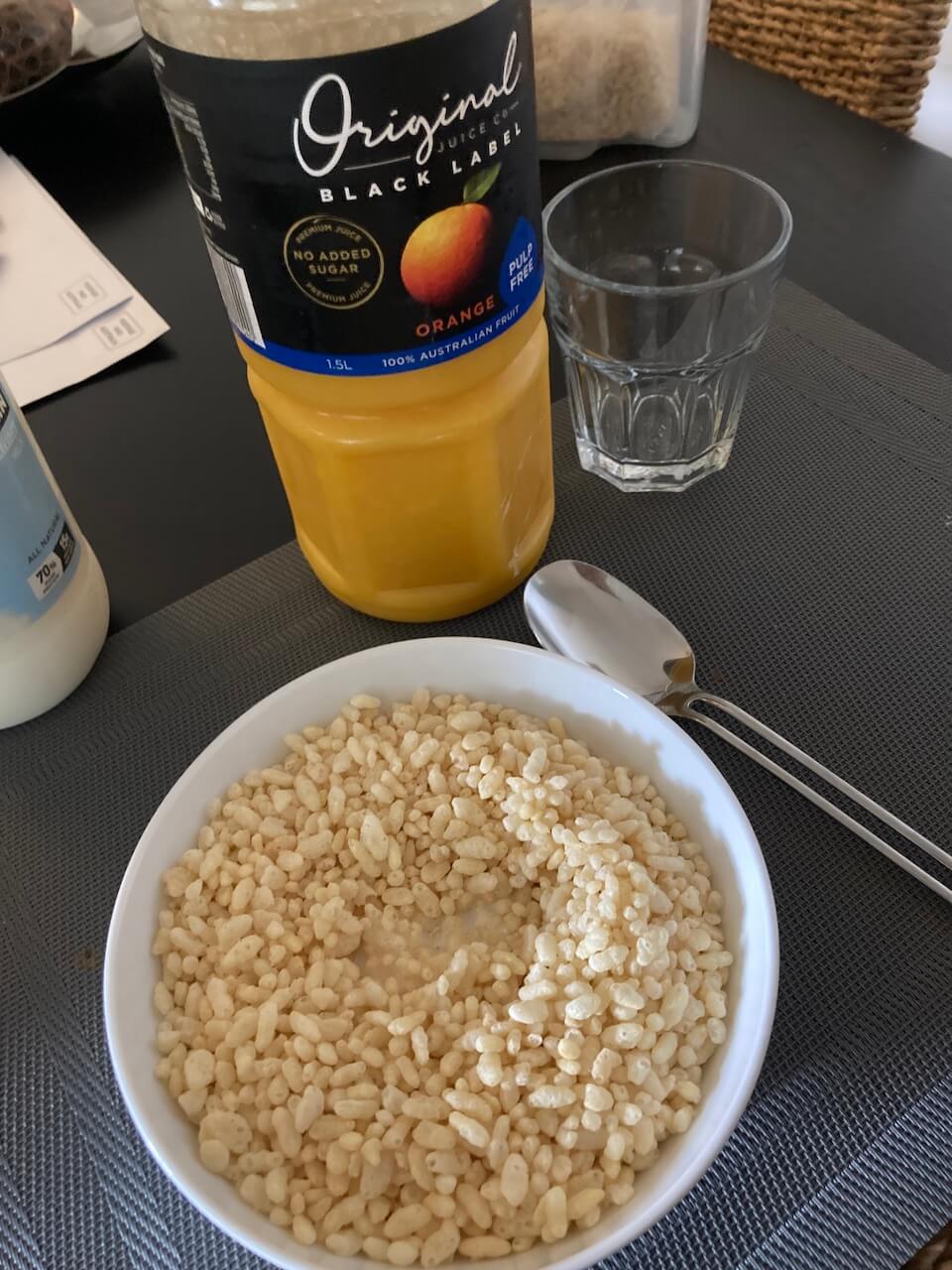 Then at around midday, Steve and I watched the last two episodes of season one of Blue Bloods. It's such a great show and we are absolutely loving it!
Steve went to work and I had a very late lunch. I made a lamb wrap with some salad and pita bread. It was so good.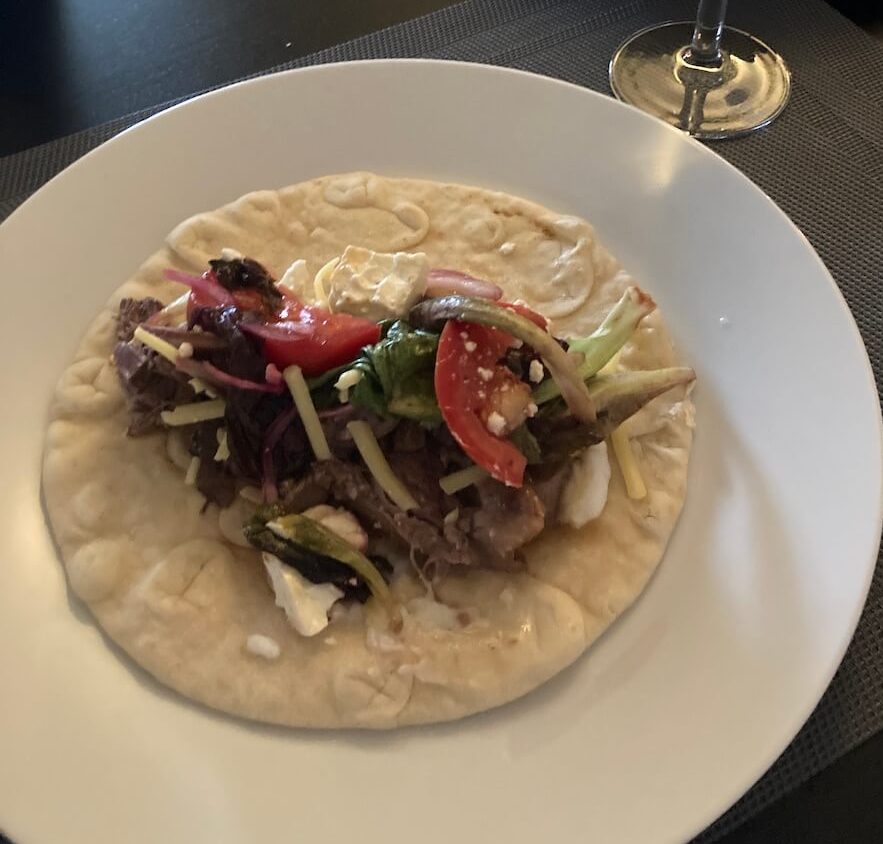 Then I pulled down my small box of Easter decorations. I don't have a lot of decorations, just a few. And I scattered them around the house for a bit of a cozy Easter vibe.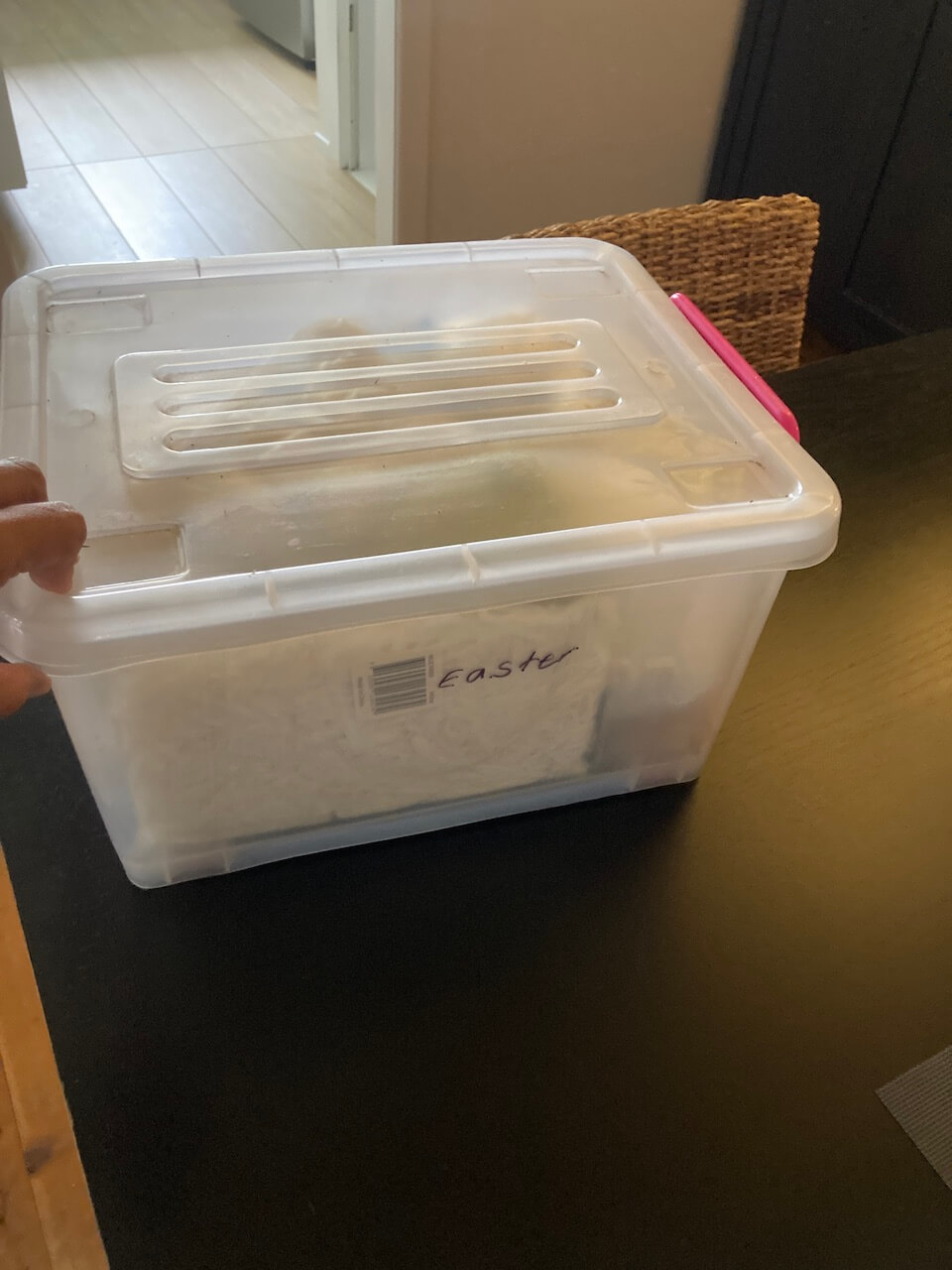 I added more eggs to my bowl of stone eggs that I always have on the dining room table.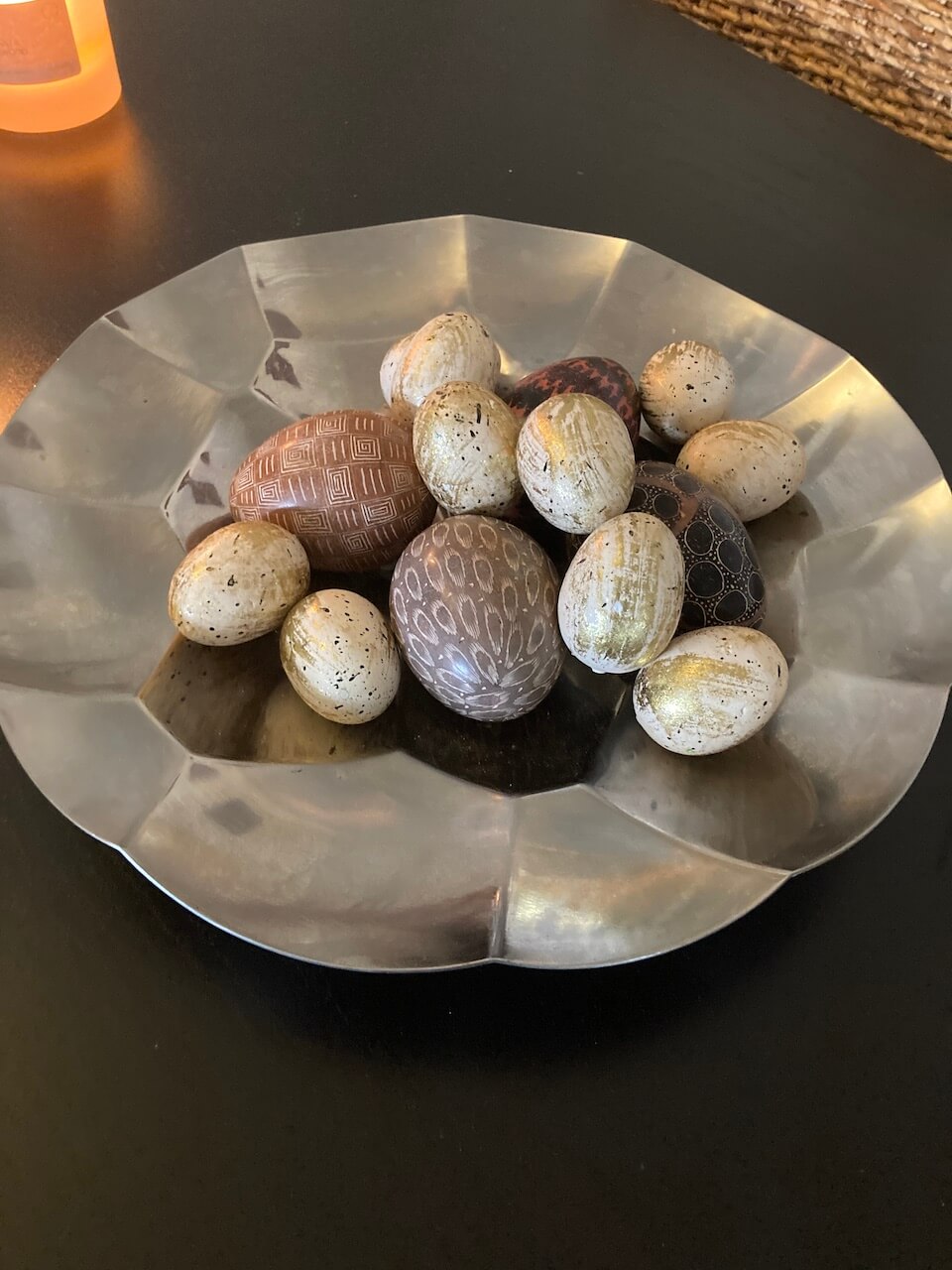 Hung some eggs with bunny faces on my decorative sticks.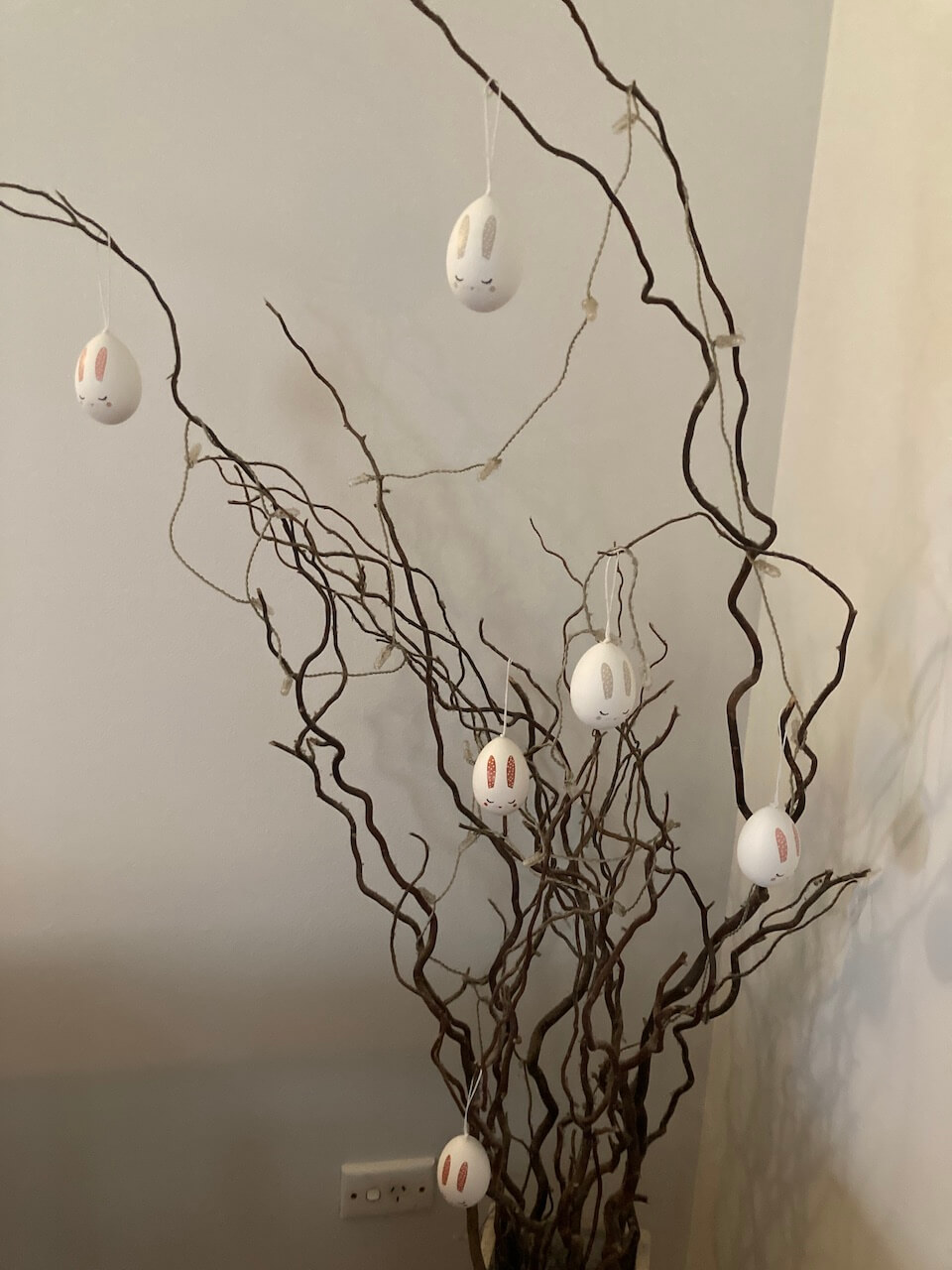 I placed a silver bunny and a couple of light-up ceramic eggs on the hallway table.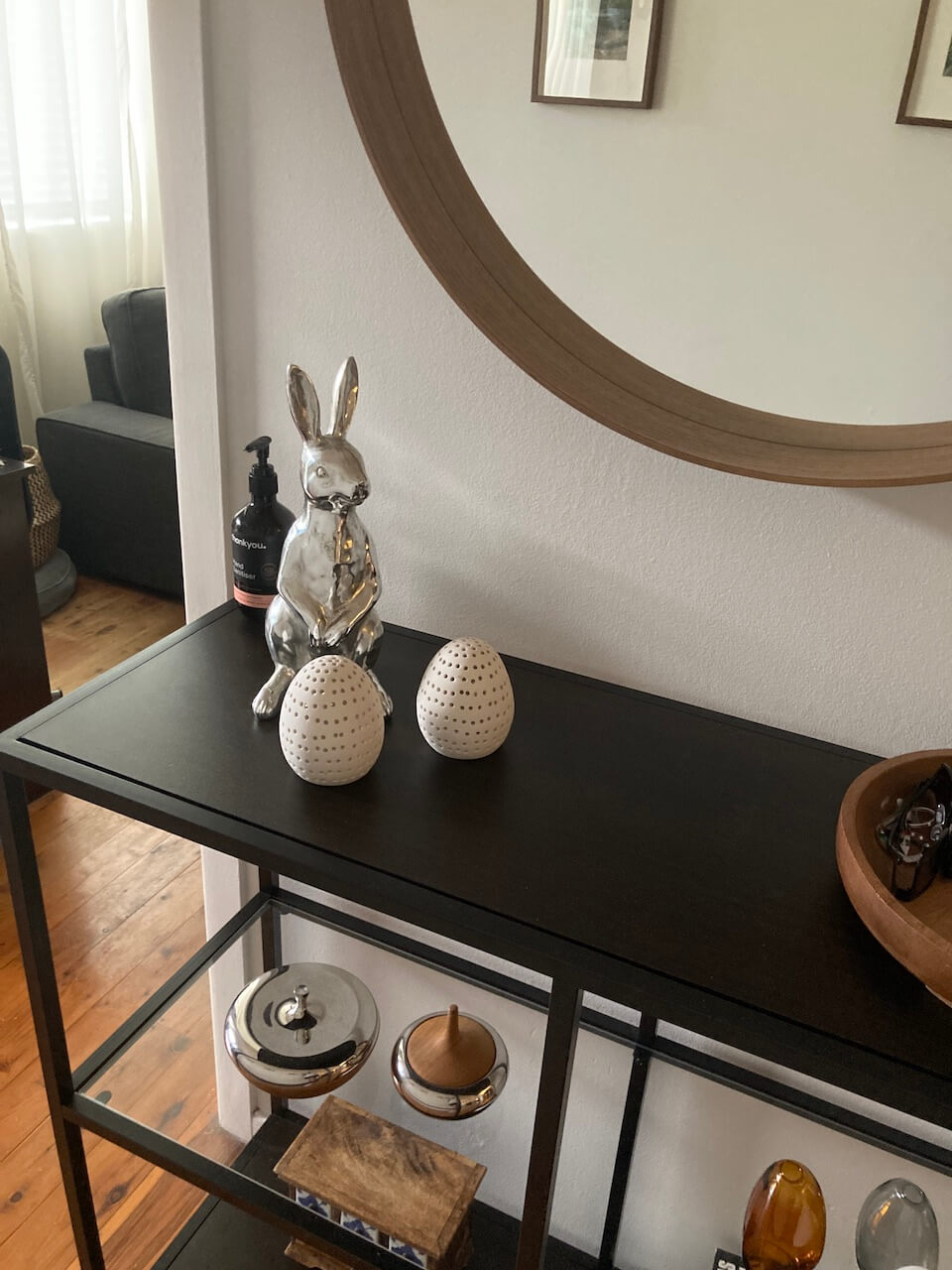 A green bunny and Easter sign.
And because we don't have a lot of places to put decorations in our small house. I sat these silver bunnies on the open shelf in the kitchen. I was really happy with the small Easter touches around the house.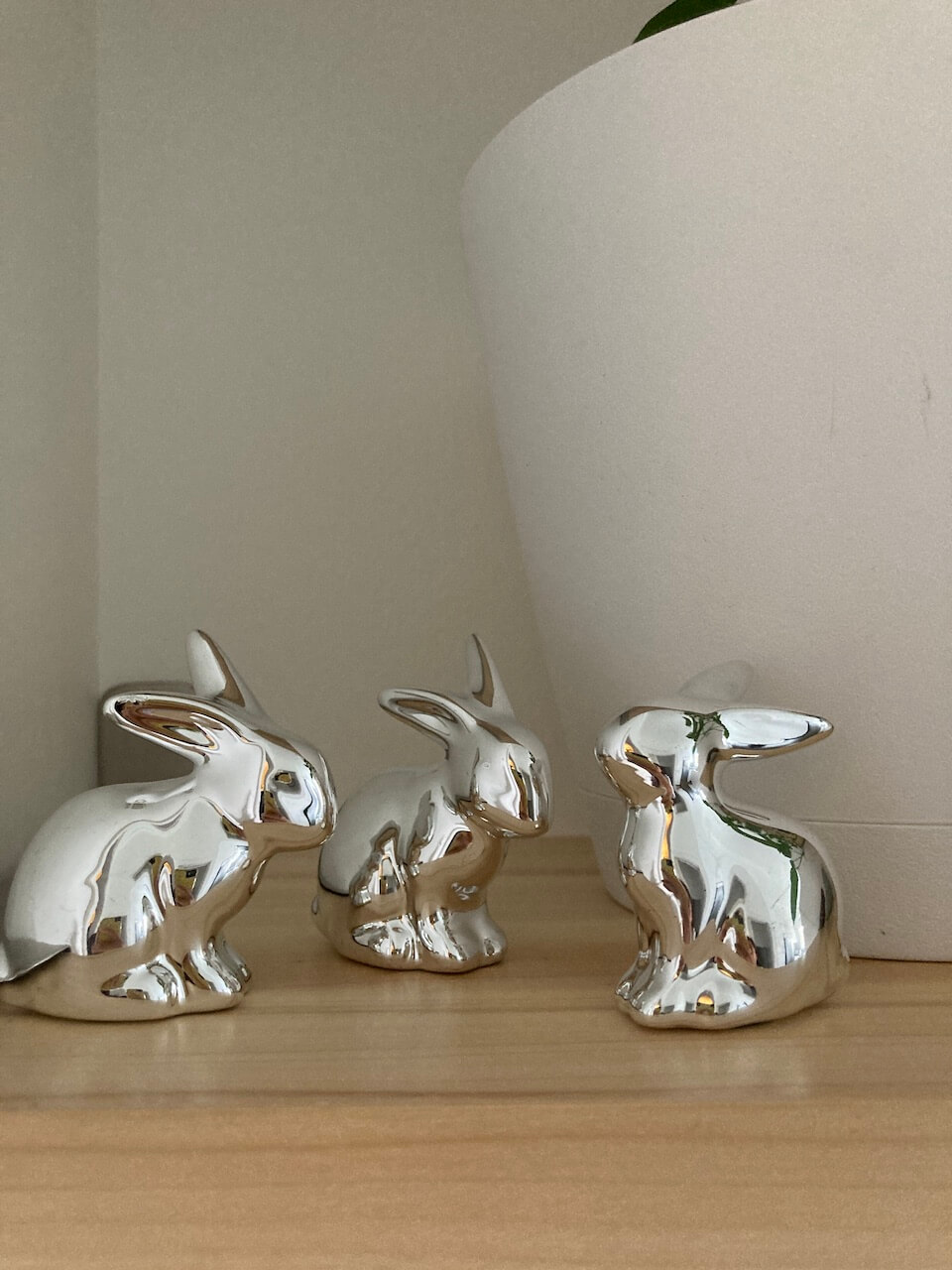 In the evening I used up a whole lot of vegetables that had seen better days and made soup.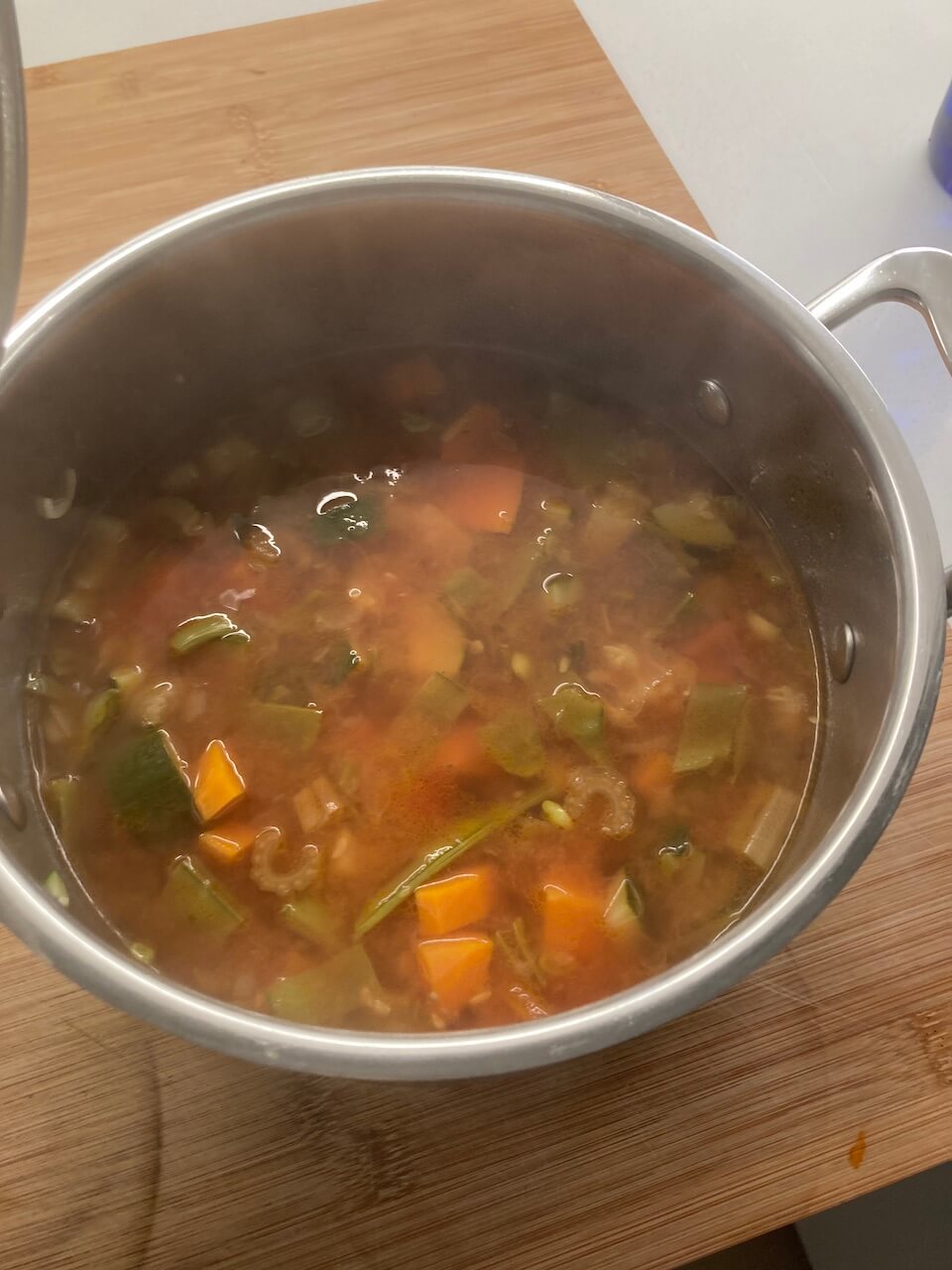 In the evening I wrapped myself up in my soft pink blanket to watch my favourite movie 'Volver' with Penelope Cruz.
Phew, after a hectic week at work that left my head buzzing, I was just craving a cozy weekend at home. I really needed to hibernate indoors and recharge my batteries. Now I feel ready for the short working week and I am so excited that Thursday is the last day of preschool and then it's a wrap for term one 2023!
Thank you so much for being here today. I hope that you have a wonderful week and I'm excited to be back here on Wednesday. Take care, friends!
Happy Monday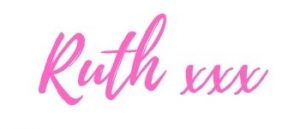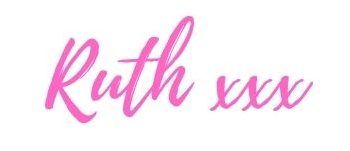 Linking up with Holly and Sarah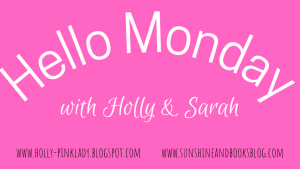 Sharing on