Keeping a clean home can be an overwhelming task, but with these simple cleaning hacks, you can conquer those tasks in a flash! These tips are effective and super easy to follow and they also add a touch of fun and creativity to your cleaning routine. These cleaning hacks are perfect for tackling those annoying little chores that are easy to forget about. From cleaning grout in your bathroom to dusting those hard-to-reach places. These cleaning hacks can help you keep up with those smaller cleaning tasks that can snowball and become overwhelming if you leave them "for another day". These tips can help you smash out these tasks quickly and efficiently, leaving your home looking and feeling clean and refreshed. So go ahead and give them a try and see how you can make your cleaning routine a breeze!
SIMPLE CLEANING HACKS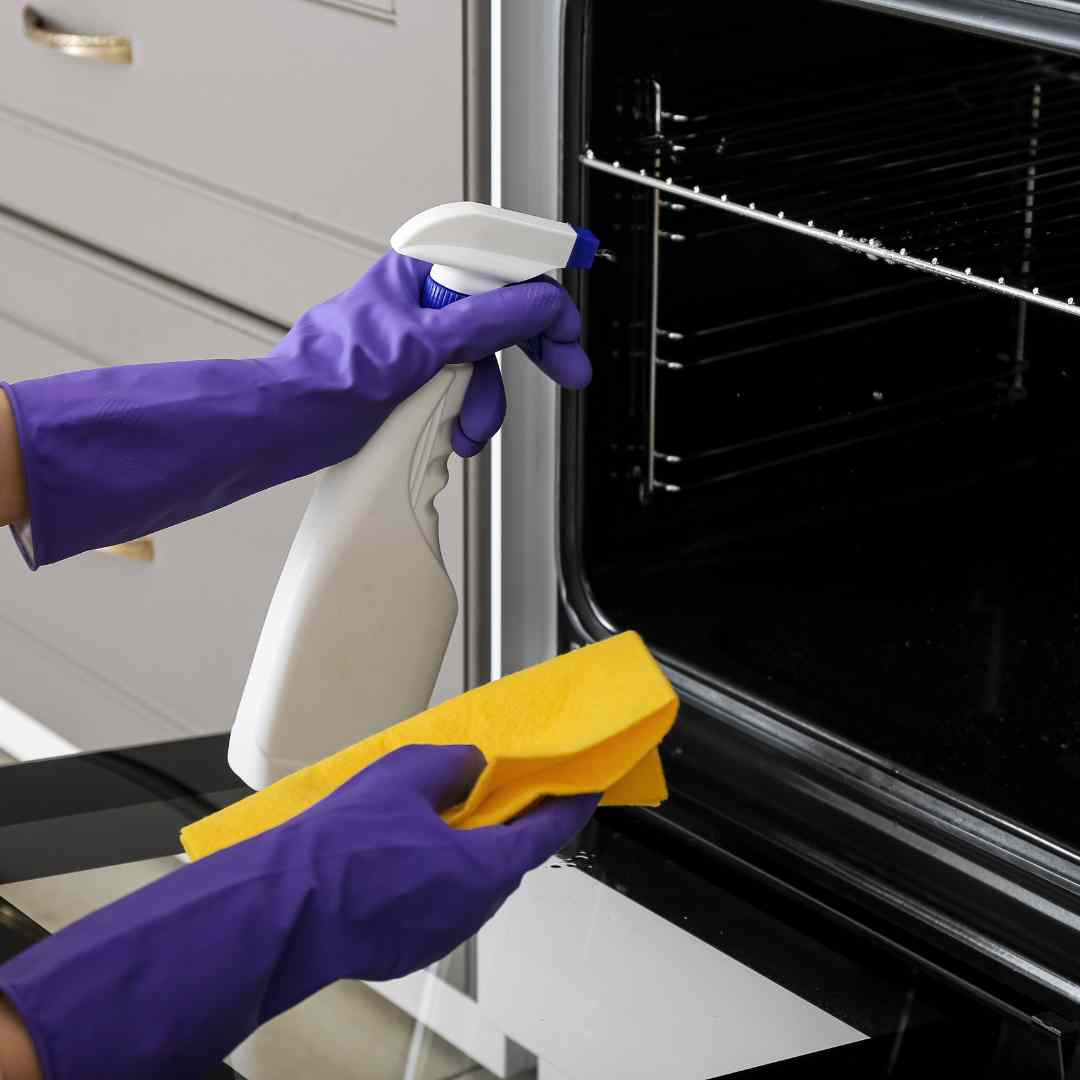 USE BICARB (BAKING SODA) TO CLEAN YOUR OVEN
If your oven needs a good clean and you are looking for an eco-friendly alternative to those nasty sprays which are full of chemicals. Then try this simple cleaning hack. First, remove the oven racks and soak them in hot soapy water. Then mix bicarb and water to make a paste and spread it over the inside of your oven. Let it sit for a few hours or better still leave it overnight. Then simply wipe it away with a damp cloth. Finally, spray vinegar on the inside of the oven. Wipe it down again to get rid of any remaining residue.
CLEAN YOUR SHOWERHEAD WITH VINEGAR
Have you noticed that over time mineral deposits can build up on your showerhead? This build-up can be really annoying because it causes the water to spray in all sorts of weird directions. A simple way to clean it is to fill a plastic bag with vinegar. Then tie the bag securely around the showerhead. You just need to make sure that the head is fully immersed in the vinegar. Then leave it for a few hours and run the shower to rinse off the vinegar. Your showerhead will be free of mineral deposits and good to go for a whole lot more refreshing showers.
USE A DRYER SHEET TO CLEAN BASEBOARDS (SKIRTING BOARDS)
Skirting boards can be big dust collectors and difficult to clean. One simple cleaning hack is to use a dryer sheet to wipe them down. The sheet will pick up the dust and an added bonus is it will leave behind a nice fresh fragrance.
USE A TOOTHBRUSH TO CLEAN SMALL SPACES
Don't throw away your old toothbrushes. Instead, give them a good wash and keep them for cleaning small spaces like the grout between the tiles, or the corners of the windows. If you also use a cleaning solution like vinegar or bicarb then this will help to loosen the dirt.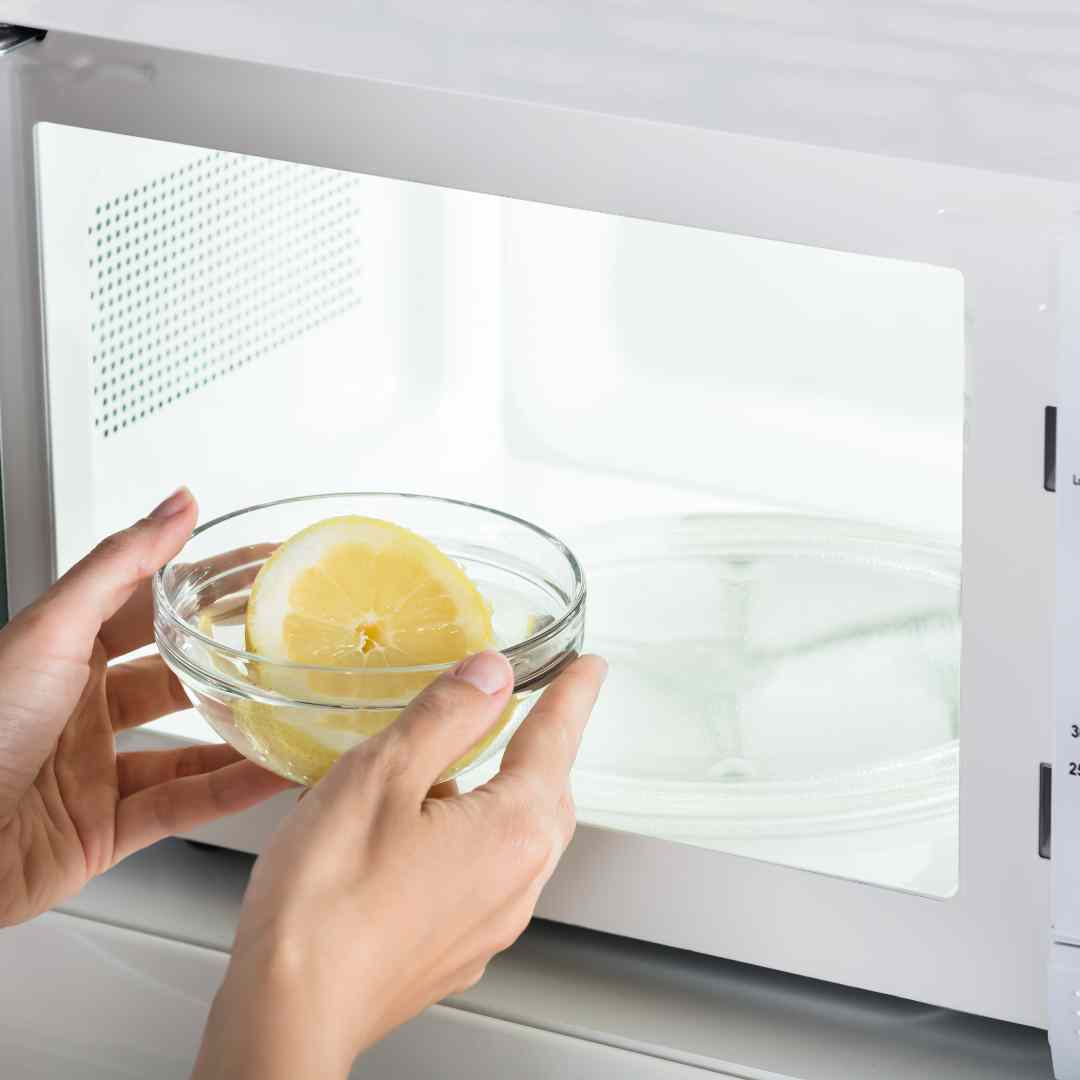 USE A LEMON TO CLEAN YOUR MICROWAVE
We all know that microwaves can become dirty really fast. Get rid of the splatters and food smells with a lemon. Simply cut a lemon in half and place it in a bowl of water. Then microwave the bowl for about 3-5 minutes. Let it sit inside the microwave so that the steam does all the work of loosening any grime and dirt. Finally, use a cloth to wipe down the inside of the microwave. And the result will be a clean, shiny and fresh-smelling microwave.
USE A LINT ROLLER TO CLEAN LAMPSHADES
Lampshades are one of those things that can be awkward to clean. But with a lint roller, you can quickly and easily remove any dirt and dust. Simply roll the lint roller over the lampshade and it will pick up any debris.
USE A VINEGAR SOLUTION TO CLEAN YOUR DISHWASHER
Dishwashers can get really dirty and smelly over time. To clean your dishwasher, mix equal parts water and vinegar in a spray bottle. Then spray the inside of the dishwasher, making sure to get into all the nooks and crannies. Let it sit for about 30 minutes and then wipe it down with a damp cloth.
USE A MICROFIBER CLOTH TO CLEAN ELECTRONIC SCREENS
Electronic screens can get smudgy, dusty and dirty very fast. But with a microfiber cloth, you can get it sparkly clean in no time. Simply dampen the cloth with a tiny bit of water and then gently wipe the screen in a circular motion. This is the gentlest and most effective way to clean electronic screens. If you use chemicals then you run the risk of damaging or scratching your screen.
USE VINEGAR TO CLEAN YOUR KETTLE
The inside of kettles can go brown and unsightly after a while. But with vinegar, you can get your kettle looking like new in no time. All you have to do is fill the kettle with equal parts vinegar and water. Leave it overnight and in the morning rinse the kettle several times to remove any vinegar.
USE A TOOTHBRUSH TO CLEAN YOUR KEYBOARD
Have you ever looked at your keyboard and then been horrified by all the crumbs, dust and debris? Just use a toothbrush dipped in rubbing alcohol. Gently scrub but always make sure that your keyboard is unplugged first. For a more thorough clean, you can also use compressed air to really blow away any remaining dust. You can buy compressed air at many office supply stores, electronic stores or hardware stores.
USE BICARB (BAKING SODA) AND VINEGAR TO CLEAN DRAINS
Ugh, clogged drains can just about ruin your day! But there's a simple solution to this problem. Simply pour a cup of bicarb down the drain followed by a cup of vinegar. Let the mixture sit for at least 30 minutes then flush it down wth boiling water. This can help clean any debris and leave your drains smelling fresh.
CLEAN YOUR BLINDS WITH A SOCK
Cleaning blinds can be so frustrating and time-consuming. But there's a simple hack that you can use to get your blinds clean in next to no time. Simply dampen a sock in a little water and cleaning solution. Then slip the sock over your hand and run your hand over each slat. This method will remove dust and dirt very easily!
USE A SQUEEGEE TO REMOVE PET HAIR
We love our pets but their pet hair on our furniture….. not so much. It sticks to furniture and carpets and it can be really tough to get rid of. A squeegee is a simple and effective tool for removing this annoying pet hair. All you need to do is run the squeegee over the surface, and the rubber edge will catch all the pet hairs and remove them in next to no time.
USE A MICROFIBER CLOTH TO CLEAN YOUR MIRRORS
Instead of using paper towels and those glass cleaning sprays that never seem to work very well. Use a damp microfiber cloth to clean your mirrors. Microfiber cloths are designed to attract and hold onto dust and dirt, making them perfect for cleaning surfaces like mirrors. Once you have cleaned your mirrors with a microfiber cloth. Then dry any leftover moisture with a 100% cotton cloth. This will leave your mirrors sparkling and completely streak free.
ECO-FRIENDLY TIPS!
These cleaning tips are not only effective and easy to use, but they're also sustainable, which means that they are kind to the environment! Many of the ingredients and materials in these tips are natural, non-toxic and eco-friendly! For instance, using bicarb, vinegar and lemons to clean means that you are not using harsh chemicals, which is better for your health and the environment. By incorporating these simple eco-friendly cleaning hacks into your everyday routine. Then you can create a healthier and happier planet for everyone.
IN CONCLUSION
Cleaning is a chore but if you use these simple cleaning hacks then it can actually be a rewarding experience. Just think about it: when you clean your living space, you are not just getting rid of dirt, clutter and mess. You are also creating a fresh and inviting atmosphere. And there is something really satisfying about seeing a room transformed from a crazy mess into a spotless fresh haven. And knowing that YOU are the one who made it all happen is a fantastic feeling!
 Related Articles 
Simple Hacks For Busy Working Mums
How To Get Motivated To Clean And Organise