Hey everyone! It's the first 'Let's Look' for 2023 and we are kicking off the series with some organisation tips as the topic for January is scheduling/organising a busy family. I enjoy being part of this link-up with Erika and Shay because it is a great way to share some really useful tips. And it's also fun to catch a glimpse of how we do everyday life.
It's funny how the seasons of life change. One minute you're in the thick of it with a million things to try and organise. The next you're not. At the moment I'm at the stage when life has calmed down in a lot of ways because my kids are all grown up. And I only have one son living at home as my oldest son moved out a few years ago.
But I do remember and it certainly doesn't feel like it was that long ago. When we were so busy trying to squeeze in work, school, sports, homework and everything else in between. Yep, those days were certainly full on, to say the least. And when it was all happening I would feel like "oh my goodness will this never end" and then it does (insert sad face).
Anyway here are some of the things that I did to organise my busy family when I was 'in the trenches'. Some of the things on this list I still need to do because I work full time, my husband works unusual hours and my son has just finished school but will be starting uni soon. So we still have to keep track of what we are all up to as far as chores, appointments and commitments go.
Organisation Tips For A Busy Family
Write Everything Down
It is just so easy to forget things and lose track of what events are coming up. The only way that I could ever remember things was and still is. Is to write everything down! I like to write things in my diary/planner and then back in the day when we had the whole family doing this, that and the other. I would write everyone's schedule on one big calendar using different coloured pens. And each person in our family had their own colour. I'm a visual person. So writing everything down in different colours just made it a whole lot easier for me to remember who was doing what.
Organise Stationery Supplies
Stationery just makes me so happy so this was fun to do. I have a shelf in my home office where I keep a whole lot of stationery supplies at hand. There we have all the things that we needed for school such as pens, pencils, spare ink for the printer, highlighters, rulers, erasers, paper, plastic sleeves etc. I could go on and on because even just writing about stationery gives me joyful goosebumps!
This shelf was a total lifesaver because it meant that we were never caught out having to run to the shops to grab stationery supplies. Especially things like ink for the printer. We always seemed to run out of ink when a big assignment needed to be printed at 11 pm. Those were the days!! Sam will be starting uni in February so I'm sure that he will be raiding the stationery shelf again soon.
Create A Cleaning Routine
Finding a routine that suits you will make keeping a clean home so much less stressful. My cleaning routine is different now than it was when my kids were younger. I had much less time when we had so many other commitments like swimming lessons, art classes, hockey, taekwondo, and jiu-jitsu. So I let some things go during the week to save my sanity. Consequently, I spent more time cleaning and doing laundry on the weekends than I do now. It's just a matter of adjusting and being consistent.
Meal Plan
Ahem…..confession…..I love to meal plan and I start off strong at the beginning of each school term. But sometimes by the end of the term I slacken off and then I find myself on the struggle bus. But when I do meal plan like a champ then the week is just so much easier! Shopping, sticking to a budget, and of course, knowing what to cook each day is a breeze when I meal plan.
Keep A Stash Of Birthday Cards
I like to keep a small stash of birthday cards and I will stock up on them if I ever see them discounted. My son and his friends have all recently turned eighteen. So he has been invited to quite a few parties recently. I grabbed a few birthday cards when I saw them on sale at Typo. And they have come in real handy!
Have A Place For Everything
One of the best organisation tips for a busy family is to keep a place for everything. When school excursion notes would come in I would sign the permission slip straight away, write it on the calendar and then file the note. Because the note always came with instructions for what time to be at school for the bus, uniform or clothing that they had to wear and supplies that they needed for the day.
I also have a file for birth certificates, passports, and other important documents. It just makes it so much easier when everything is in one place.
Keep Cleaning Supplies In A Caddy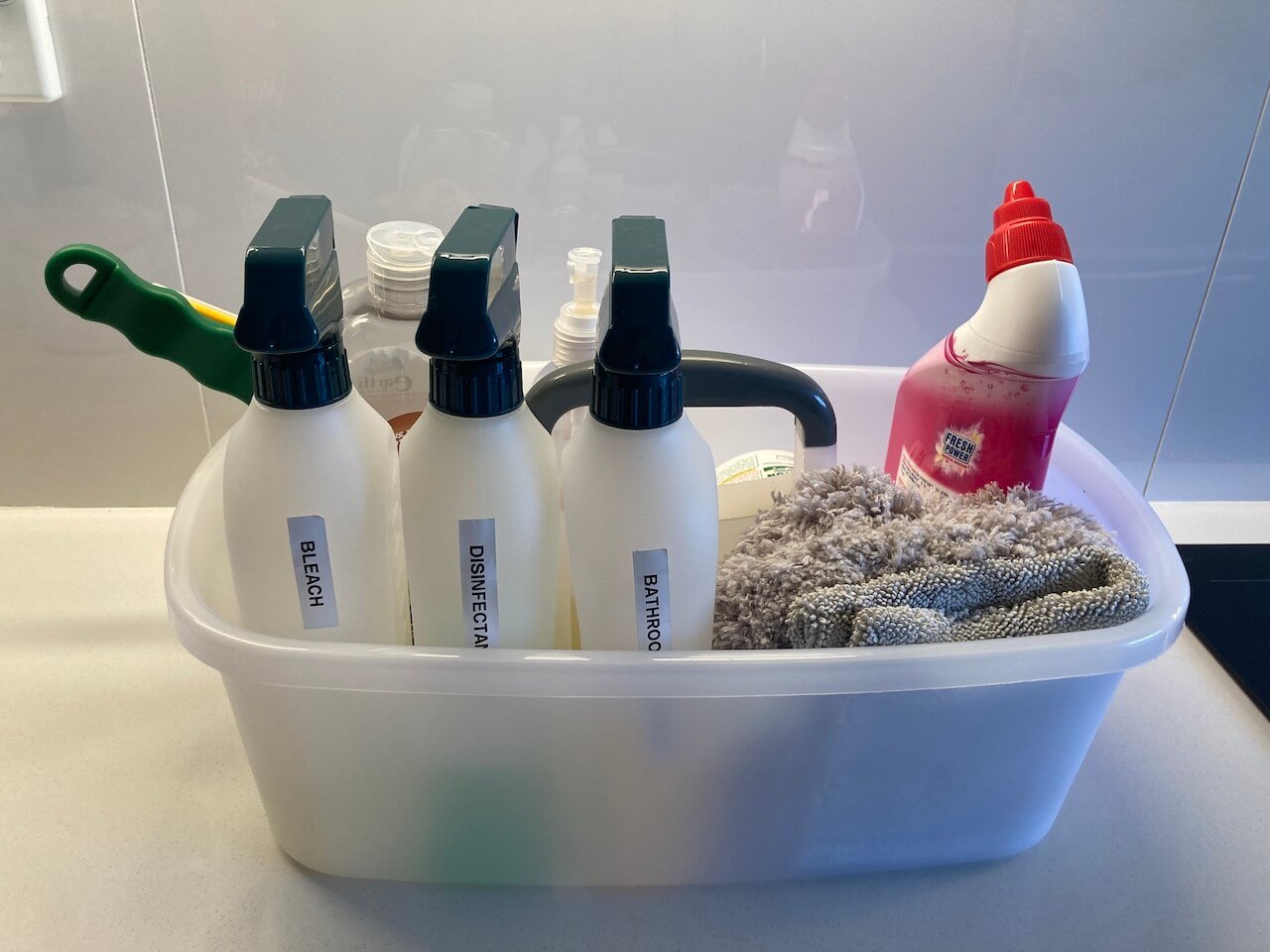 As far as organisation tips go this one is great for eliminating unnecessary frustration! Years ago I used to keep some cleaning supplies under the kitchen sink and some in the laundry. I used to frustrate myself by going back and forth gathering my cleaning supplies. Then one day I had a lightbulb moment and I bought myself a cleaning caddy. And now all I do is grab my caddy when I need to clean and everything I need is there in one place.
Have A Notepad In The Kitchen For Lists And Notes
I like to keep a notepad in the kitchen with a pen so that we can write down anything that we need from the shops. It's also great if we need to leave a note for someone at home. And it also saves us from frantically looking for paper and pen when we need to take some details down when we are on the phone. It really is one of my favourite organisation tips!
Get Things Ready The Night Before
Getting things like uniforms, work clothes and lunches ready the night before just makes the morning routine so much easier. I prefer making sandwiches in the morning so they are not soggy by lunchtime. But I usually pack leftovers or a salad for myself to take to work the night before. And it just means that I have one less thing to do the next morning. And every little bit counts when it comes to organising a busy family.
I think that just about covers my main organisation tips. Thanks so much for stopping by to have a read. I really look forward to hearing about any more great tips and suggestions that you guys have.
Have a great day!