The school year is starting soon. So now is the perfect opportunity to start planning and preparing for a new year of healthy school lunches. Without a doubt, it's very beneficial for kids to become involved in the planning process. It is a perfect opportunity to get them excited about nutrition, meal planning and learn how to pack a healthy school lunch box. Furthermore, they are more likely to accept any food changes if they feel that they are part of the whole decision-making process.
Set A Healthy Eating Example
We all know that children are always watching and learning from everything we do and say. So it is also really important to lead by example when it comes to our diet. When children learn good habits early on they will carry these habits right through to adulthood.
Some Things To Consider When Packing Your Childs Lunchbox
When considering how to pack a healthy school lunch box. Begin by making a list of some healthy food options together with your child. And just like you meal plan for your dinners, consider creating a lunch plan. You can easily rotate the food choices to avoid boredom or uneaten lunches.
Avoid sneaking in new foods in the hope that your child will be tempted to try them. If they are not going to eat it at home then they are not going to eat it at school.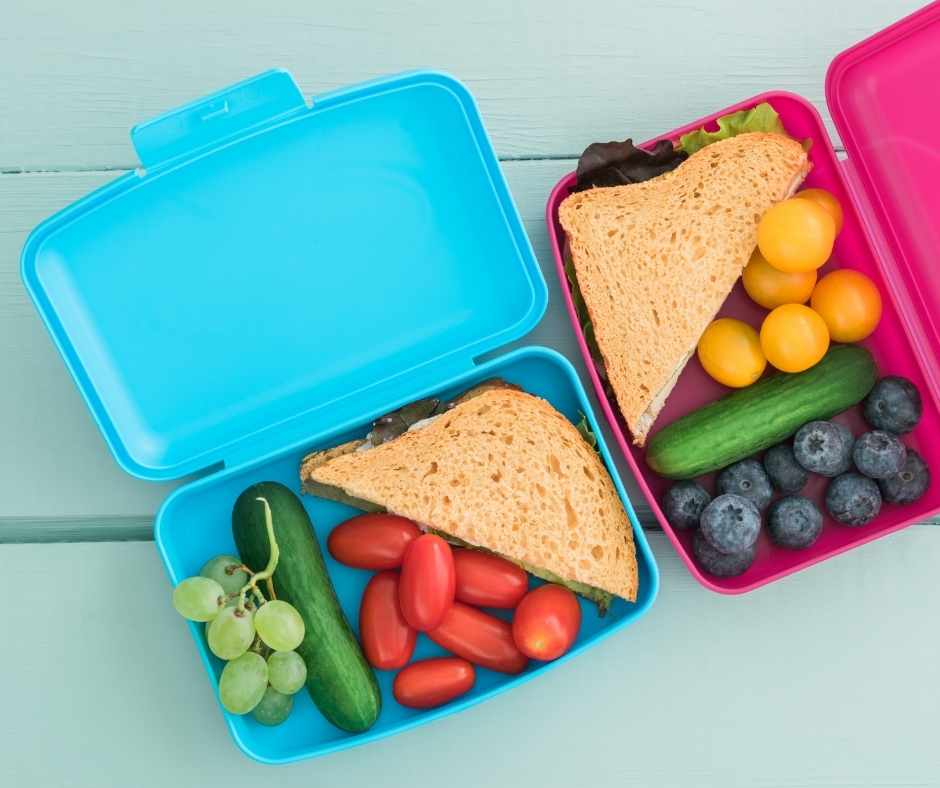 What You Can Include In A Healthy Lunch box
Fresh fruit
Apples
Bananas
Pears
Oranges
Grapes
Crunchy Vegetables
Celery
Cucumbers
Carrot
Tomatoes
Capsicum
Sugar snap peas or snow peas
Protein
Lean Chicken
Canned tuna
Canned salmon
Eggs
Baked beans
Hummus
Dairy
Grains
Wholemeal sliced bread
Wholemeal crackers
Bread roll
Flatbread
Pita bread
Tortillas
Drinks
Tap water, it's simple and it's the best option
Examples Of A Healthy School Lunch Could Include
Sandwich
It's best to choose wholemeal bread and you could add fillings like
Cheese, and salad
Egg and mayonnaise with some shredded lettuce
Sliced cooked chicken breast with pesto and salad
Tuna or salmon and salad
Chicken and avocado
Cheese and tomato
Roast beef, cheese, and salad
Omelette with slices of tomato and shredded lettuce or rocket
These are just a few ideas, you could also add things like leftover meatloaf or meatballs. Instead of using sliced bread why not rotate and include bread rolls and wraps. This will keep lunches more interesting and varied.
If you know your child likes condiments then you could include them in moderation and add them to sandwiches or wraps.
Some Condiment Ideas Could Include
Mustard
Pesto
Hummus
Mayonnaise
Chutney
Tapenade
Bento Boxes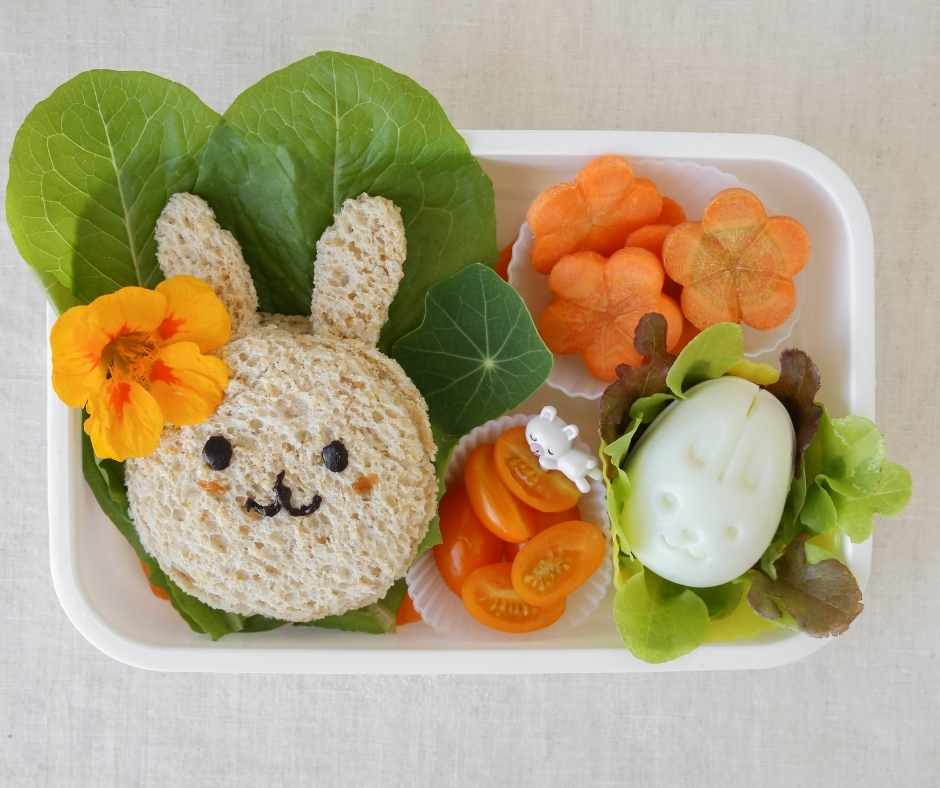 Bento boxes are a great way to keep your child's lunches both healthy and interesting. So you could add things like
A small variety of fruit and vegetables
Salad such as potato, garden or Greek Salad
Crackers or pita bread
Dips such as hummus, guacamole, or salsa
Dried fruits such as apricots or apples
Well cooked chicken, ham, roast beef, or hard-boiled eggs
Leftovers
Sometimes children prefer things like leftovers instead of sandwiches. For example
Leftover spaghetti bolognese
Rice dishes like fried rice
plain noodles
Children will enjoy leftover lunches either hot or cold. Just make sure that you pack these food items safely and correctly.
Examples Of Healthy Morning tea, Recess Or Snack
Air-popped popcorn
Sliced fresh fruit
Stewed fruit
Carrot and celery sticks with hummus
Cheese and wholegrain crackers
Rice cakes
Dried fruit
Fruit bread
Corn on the cob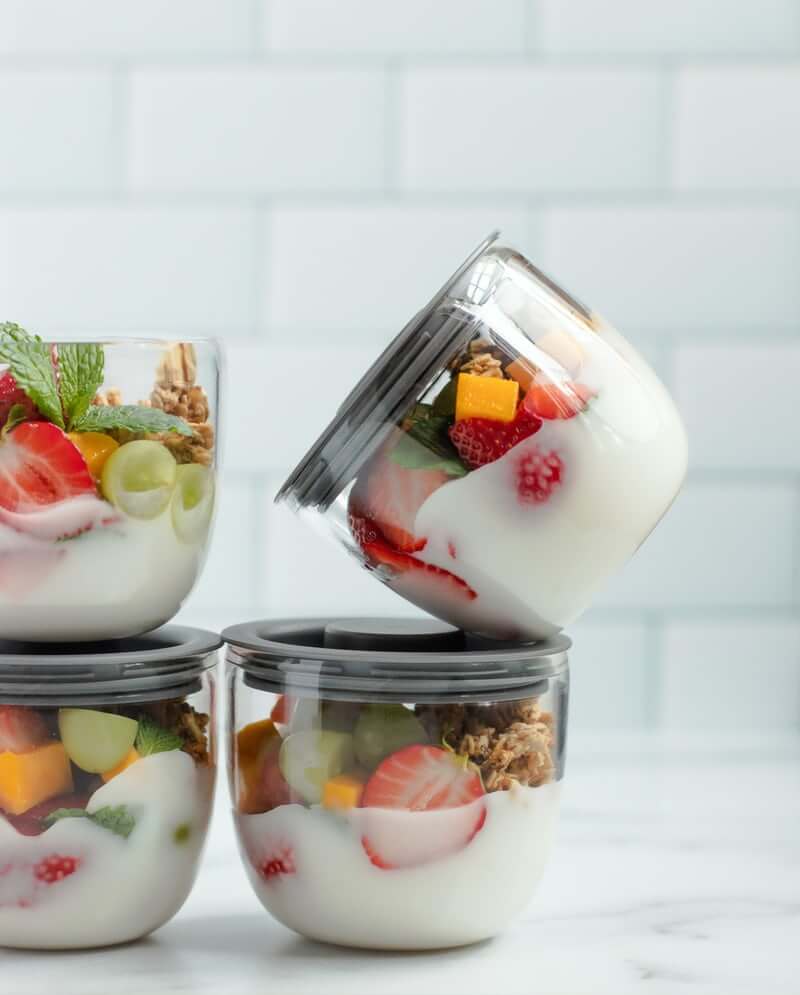 Foods To Eat In Moderation Or Avoid
Highly processed meats such as salami, ham, devon, pastrami, and mortadella. These cold meats are also high in fat and salt content. For this reason, they should only be included in moderation.
Many preschools and schools also have a "No Nut Policy" to ensure the safety of the children who are allergic. Therefore it is important to avoid sending anything with nuts.
Avoid giving your child chocolate spreads, honey, or jam as these contain very high amounts of sugar and are therefore very bad for their teeth.
Important Things To Remember When Packing A Healthy School Lunch Box
Indeed, remember not to overwhelm your child with too many choices. Therefore keep it simple and easy for them so they will want to eat their lunch.
Cut up their sandwiches in manageable pieces either in half or quarters
Cut or slice the fruit you pack. It is much easier and less overwhelming for children to eat an apple or pear if it is sliced. Just make sure to squeeze some lemon juice to avoid these fruits turning brown and looking unappetising.
Avoid soggy sandwiches. A great way to do this is by being mindful of how you prepare them. Firstly, don't add too many condiments or spreads. Secondly, layer the fillings in the sandwich correctly. Make sure the salad items are always in between the meat and the cheese. If the salad is touching the bread, by the time it's lunch break the sandwich will be nothing short of a soggy mess.
Importantly, if you send grapes please be sure to slice them lengthwise, there have been cases of children choking on grapes. The same applies to cherry tomatoes too!
Make sure to pack lunch boxes with an ice brick. This will ensure that your child's lunch is safe to eat later in the day.
The same applies to leftovers. If you plan to send cold leftovers then make sure to include an ice brick. If you want your child to have a hot lunch then make sure to heat the food to a safe correct temperature before it goes into the thermos.
These are some ideas and suggestions for how to pack a healthy school lunch box. Another thing you might like to consider is minimising the use of single-use plastic and wraps. This way your child's lunchbox will not only be healthy but sustainable too!
Related Articles
How To Pack A Sustainable Lunch Box
How To Prepare Your Child For Preschool