I thought today I would share with you the easiest way I know how to make easy and creamy mashed potatoes. Trust me you will want to throw away that old potato masher for good.
If you're like me and love comfort food, creamy mashed potatoes would have to be at the top of the list. There's nothing like it is there? It's the perfect side to so many dishes. Additionally, if you have leftovers there are a ton of things you can do with them. There is literally no excuse for ever having to throw any away.
With Autumn/Fall happening in the Northern Hemisphere and Thanksgiving coming soon, this mashed potato recipe will for sure come in handy!
So Many Types Of Potatoes
I have heard that the best type of potato for mashing is the Yukon Gold with its distinct creamy flavour and yellow flesh. Unfortunately, this variety of potatoes are not readily available here in Australia. So here is a list of other potatoes found in Australia that are also good for making yummy creamy mashed potatoes
Russet Potatoes- A large potato with brown skin. It is also known as the Idaho potato in the United States. It has white fluffy flesh and is high in starch. Apparently, this is probably the best substitute for the Yukon Gold Potato.
Dutch Cream Potatoes -These are large and waxy with a yellow flesh
Sebago – A long oval-shaped potato with white flesh. This potato is also great for roasting, boiling, and frying. It's a great all-round potato
Desiree- This potato has red skin and yellow flesh
White potato- Another good all-rounder because white potatoes are also great for boiling, frying, and even microwaving.
When I make mashed potatoes at home I usually use the good old White potatoes because they make a nice creamy and fluffy mashed potato. Plus they are always available at my local supermarket.
Get Rid Of The Potato Masher
As much as I love mashed potatoes, they can be time-consuming to make. I always found the potato masher hard work and also not great when it came to ensuring the potato was creamy and lump-free.
So I have ditched the old masher and now I use a handheld mixer. That's right, forget the old masher use a handheld mixer instead!!. Doing this is SO much easier and takes much less time. I just make sure the potatoes are really well cooked and that I heat up the milk before I add it to the potatoes.
The mashed potatoes are always free of lumps and they turn out so creamy and fluffy. Seriously a game-changer when it comes to making easy and creamy mashed potatoes. Of course, you can also use a free-standing mixer. However, this means transferring the ingredients to another bowl and more washing up. If you use a handheld mixer, you can mix the potatoes right in the pot.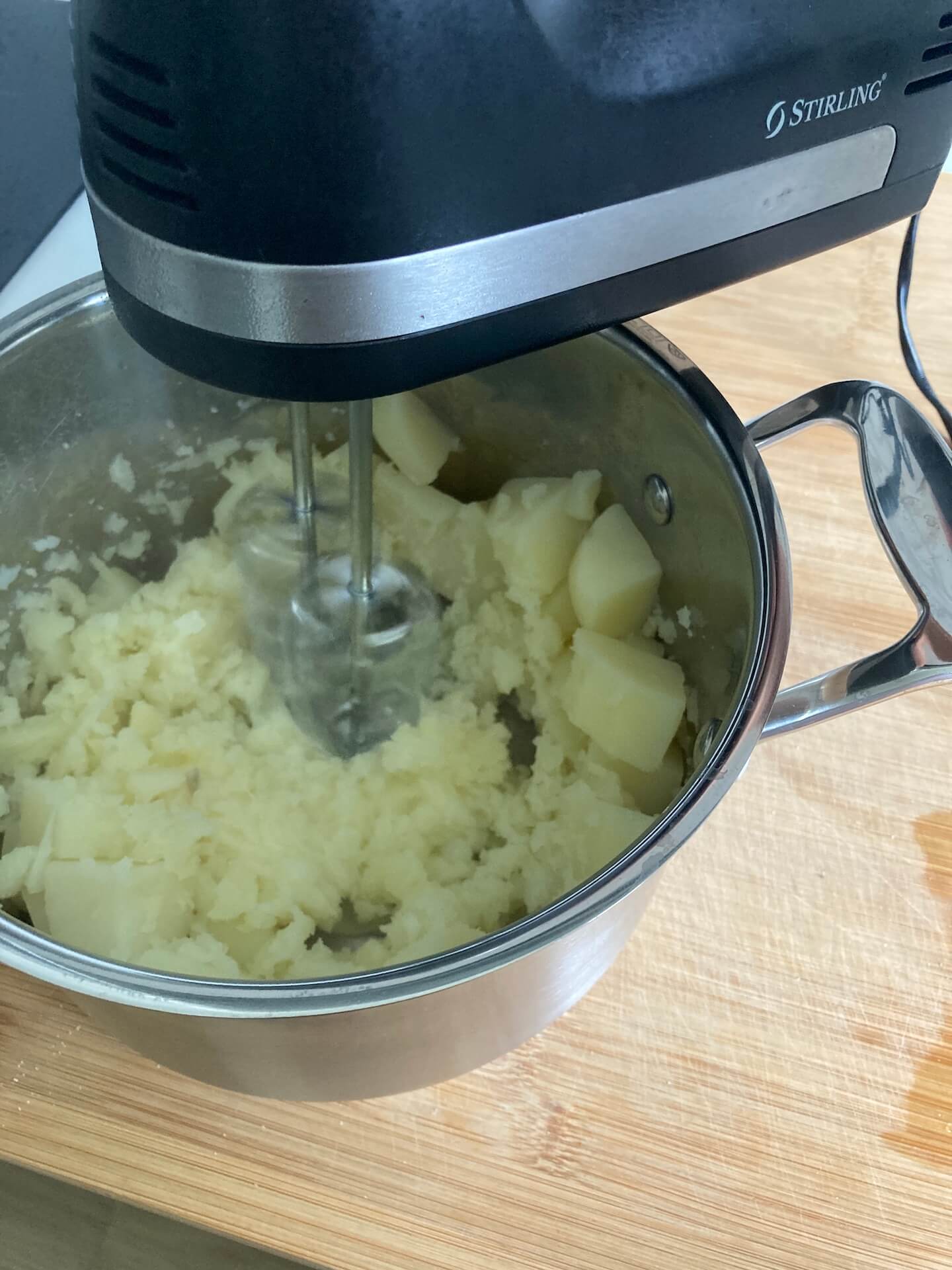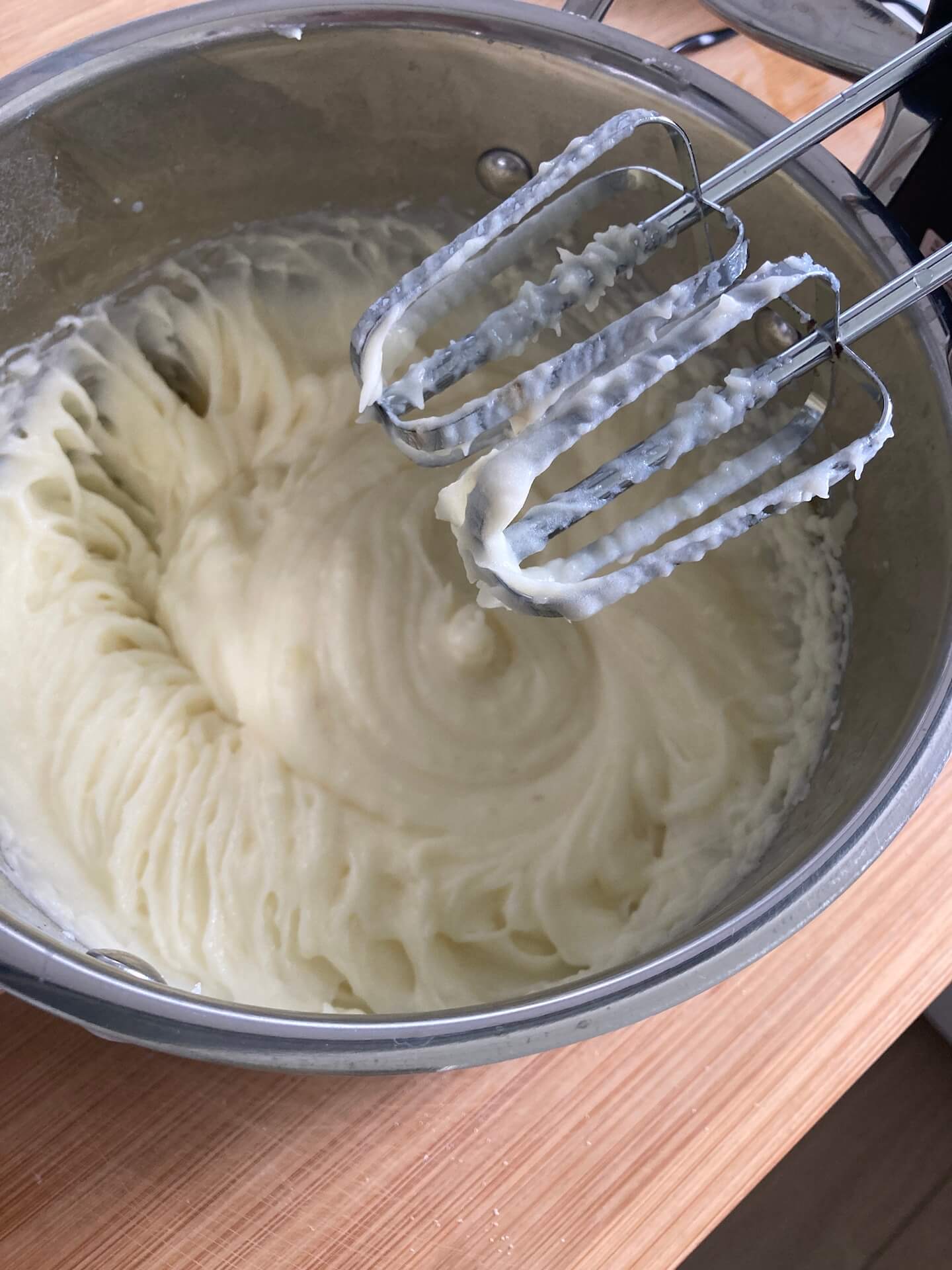 Recipe
6 Large potatoes suitable for mashing
1/2 cup cream
1/2 cup milk
100 grams butter
Salt and Pepper
Instructions
Wash, peel, and chop the potatoes
Add the potatoes to a large pot of cold water. Don't forget to add approximately 2 teaspoons of salt.
Bring the potatoes to a boil, reduce heat then cook the potatoes until they are quite tender.
Drain the potatoes
Add the warm to hot cream and milk to the potatoes in the pot along with the butter.
Use a handheld mixer to mash/blend the potatoes until they are smooth and creamy.
Add salt and pepper to taste.
Easy Peasy! Just don't forget to make sure the milk and the cream are warm to hot before adding.
For a healthier version, I also make mashed potatoes using one cup of light milk instead of half cup of cream and half a cup of regular milk. They turn out just as tasty but with a much lower fat content.
Other Things You Can Add To The Creamy Mashed Potatoes
Roasted garlic
Bacon
Cream Cheese
Chives
Green Onion
In case you are looking for more recipes
You can find a recipe for a healthy and delicious sweet treat here.