Hey there friends! Woah Monday sure came around fast!!  I'm not feeling quite ready to let go of the weekend because it was such a fun birthday weekend! But I'm happy to be back again linking up with Holly and Sarah for today's 'Hello Monday'.Thank you so much for being here, I always appreciate you guys stopping by to have a read.
Ok, so I have to confess that I don't usually love celebrating my birthday. I'm pretty shy and being the centre of attention always kind of freaks me out. I'll have to tell you about my wedding day someday! Plus there's also the fact that getting older doesn't excite me.
Anyway this year instead of moaning about being a year older I decided to embrace all the celebrations wholeheartedly. And I'm pretty sure that it's because after such a horrible 2022. I am learning that every minute on earth is a precious blessing not to be taken for granted.
Birthday Weekend
An Amazing Birthday Lunch!
I decided that last week was birthday week and so this weekend was definitely going to be birthday weekend! And we kicked off the celebrations by going to The Grounds Of Alexandria on Saturday. This is one of my favourite places to visit and we hadn't been there for ages. So when my husband asked me where I wanted to go for my birthday this was of course my first choice!
I did a blog post about The Grounds Of Alexandria a while ago and you can read all about it here. If you're ever in Sydney then I would say that this is one of the places that you really should visit!
This time we didn't eat in the cafe instead we ate in the restaurant called 'The Potting Shed'. The Grounds has a big cafe and a restaurant where you can enjoy lovely meals. There are also different function areas for wedding receptions and other big and small events.
The Potting Shed was just amazing! I loved the whole atmosphere, the decor and the super friendly and attentive staff. And to top it off the food was just incredible! We've eaten at places before where it's all about the atmosphere and vibe. But not so much about the food. Or the other way around where the food is great but the place is dull. The Potting Shed has both a really great ambience and incredibly delicious food.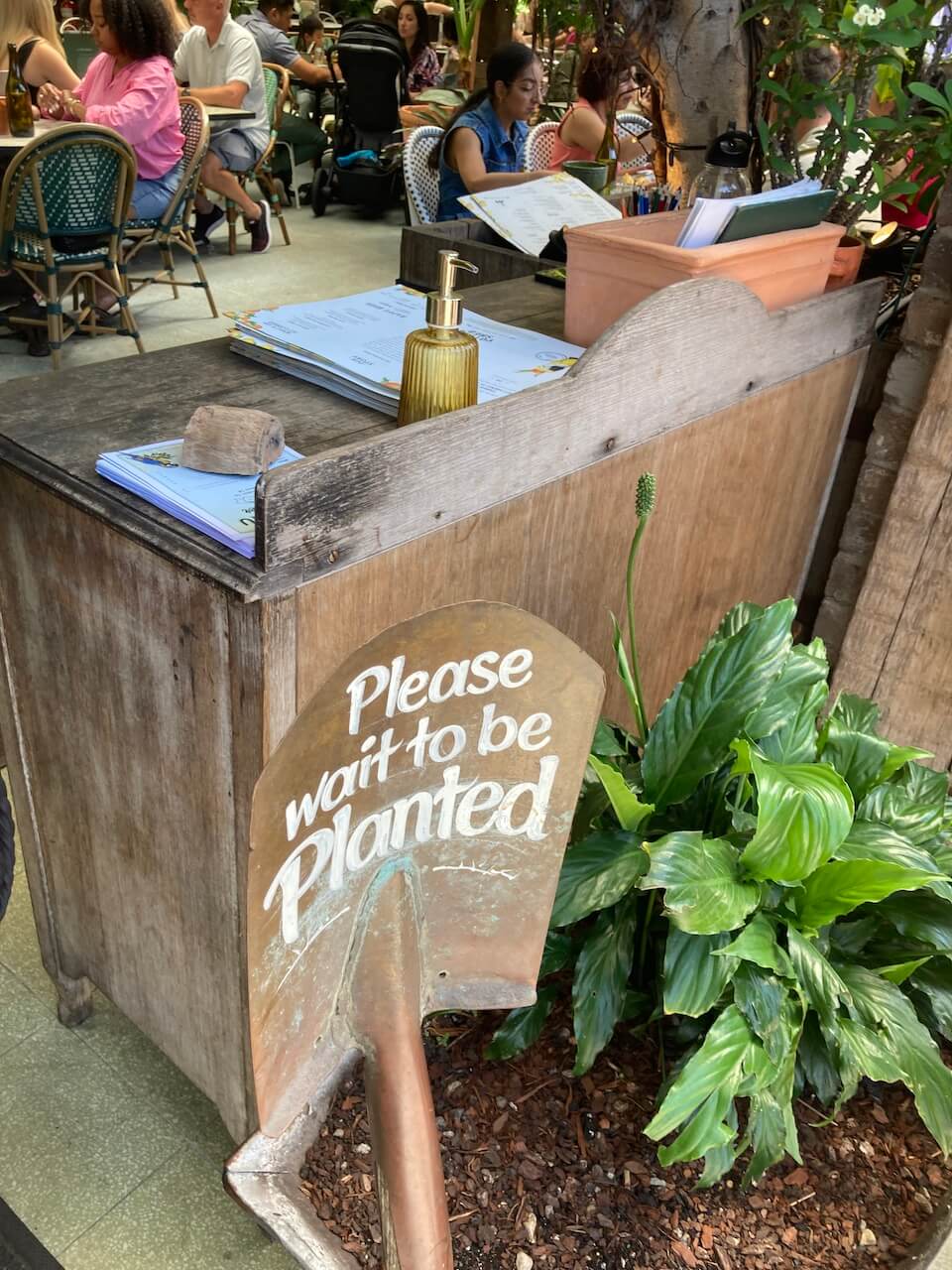 So much greenery everywhere!
Fun Cocktails!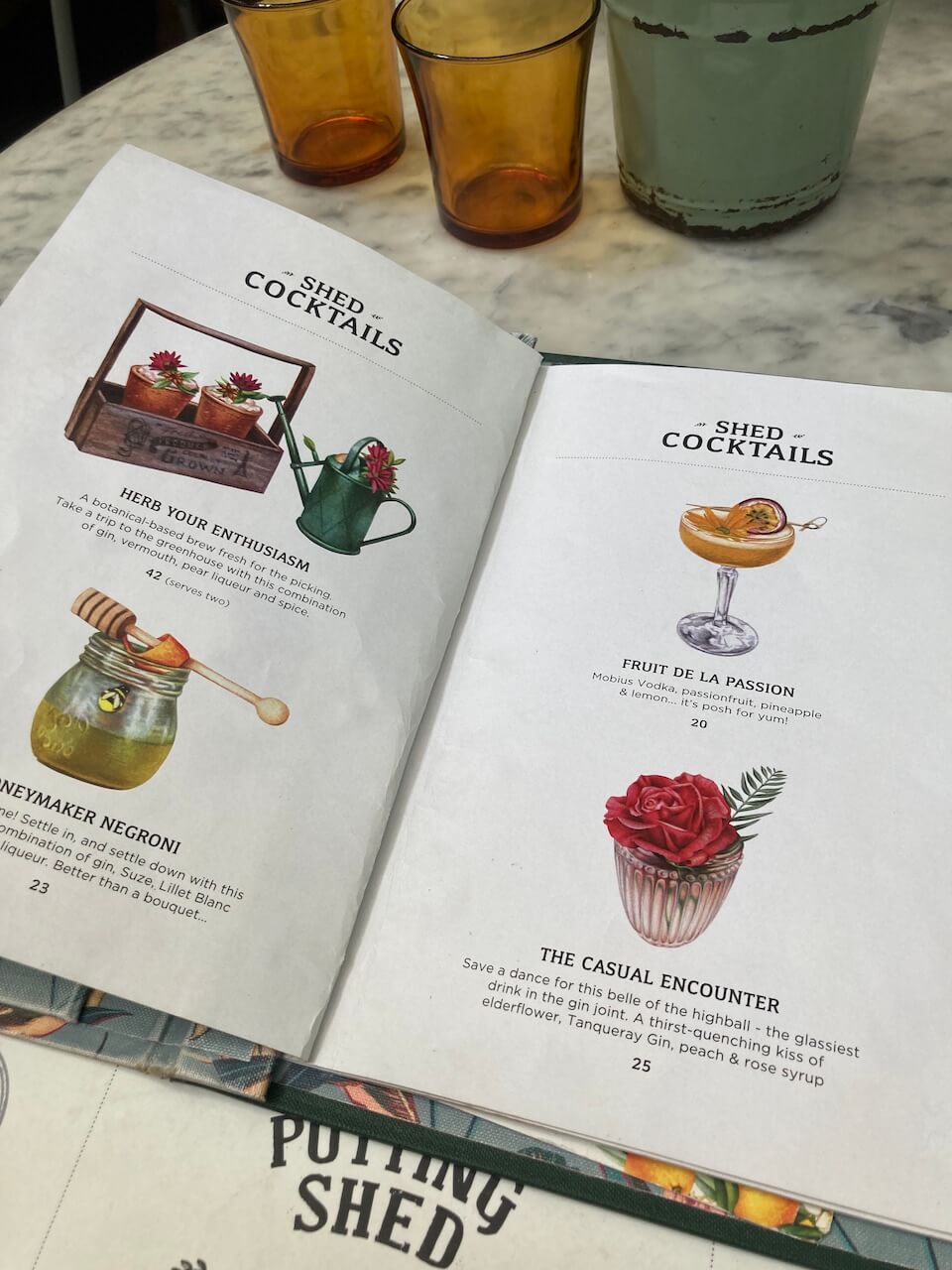 Steve and I started off with some cocktails and they came served like this!
Ha! Isn't it just so cute!! Two pot plants with ice and the cocktail in a small watering can.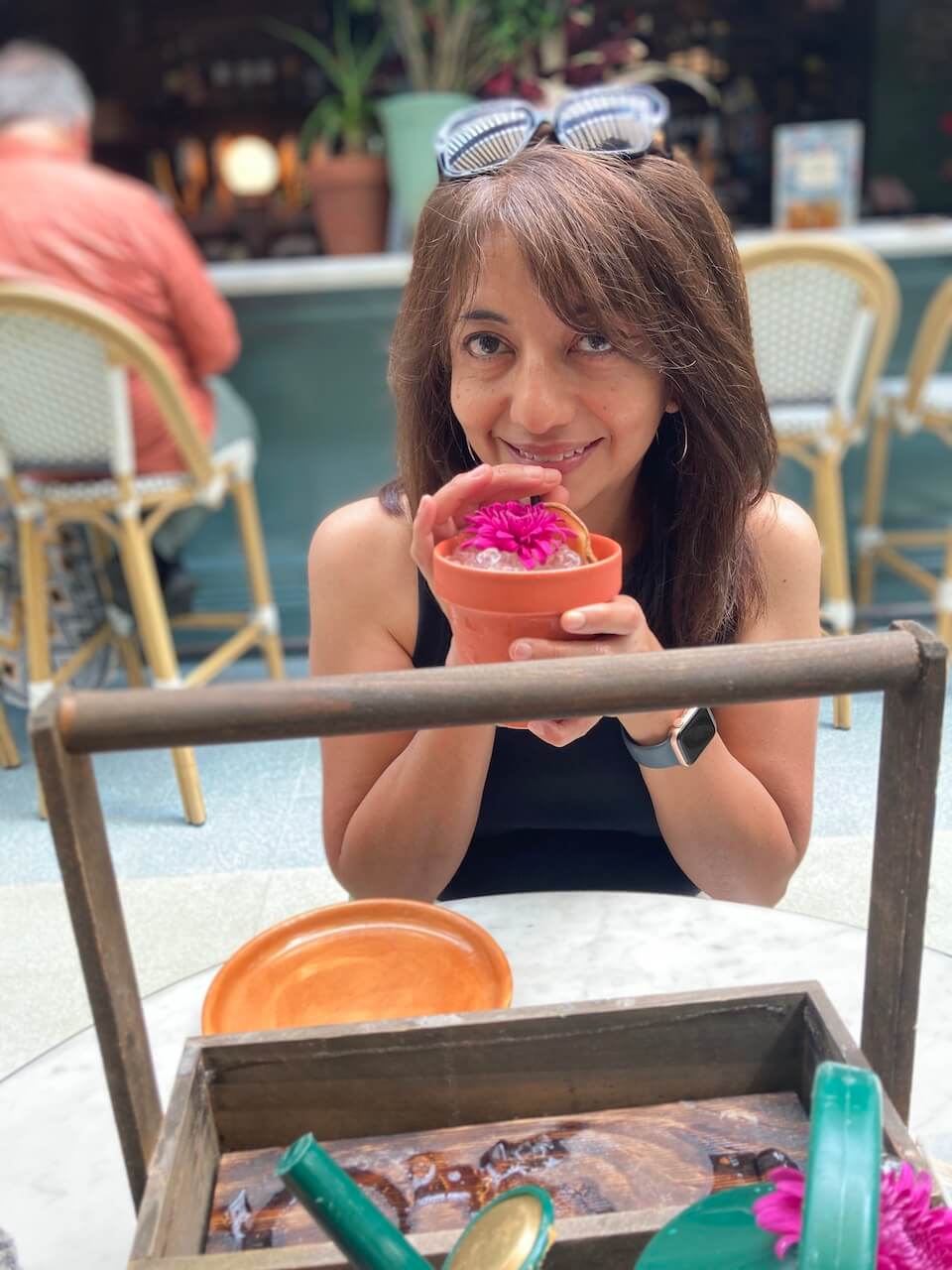 For our entree, we shared some mussels with crusty bread in the most delicious sauce.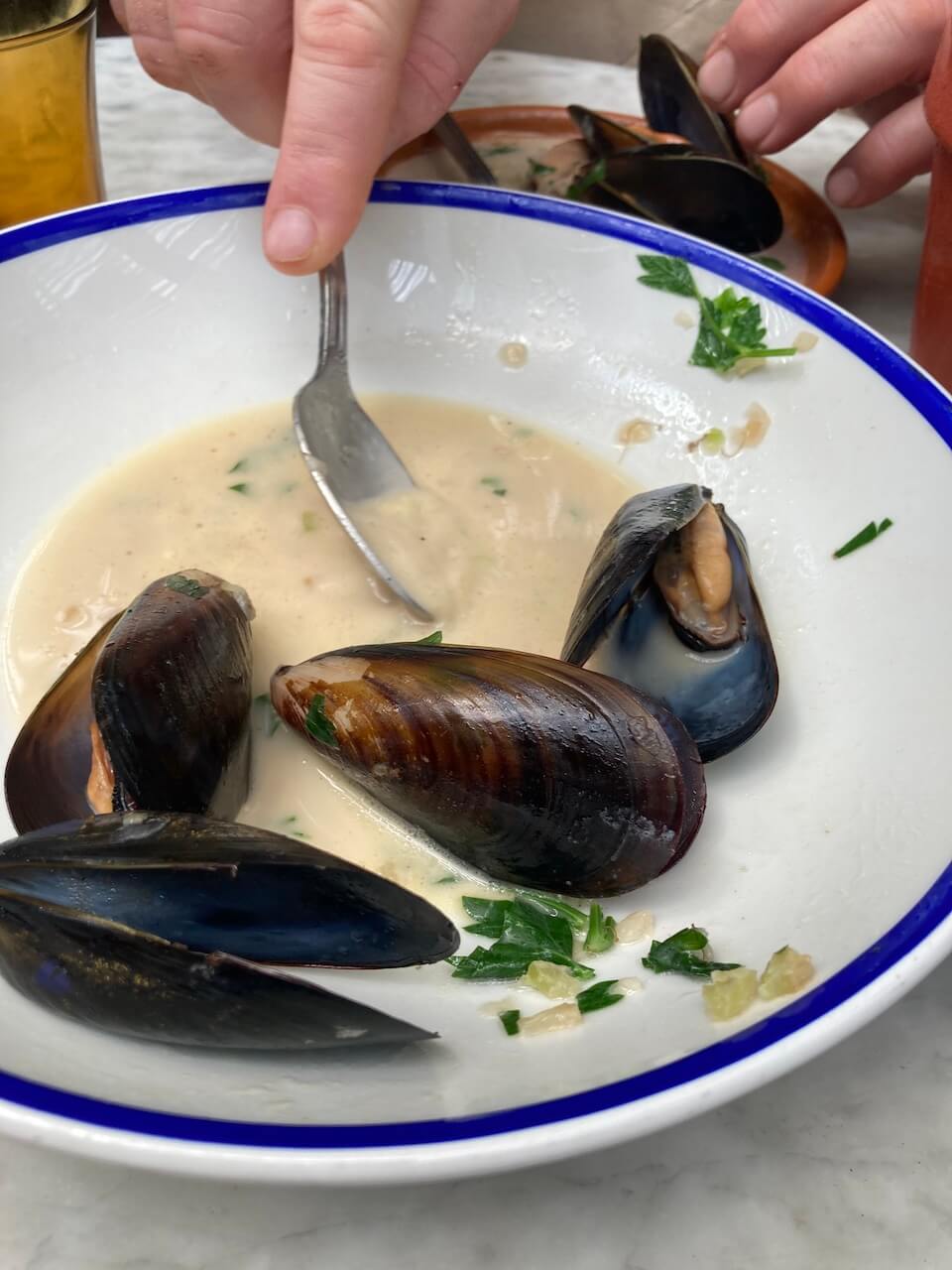 Oh my gosh, the sauce was so good that I honestly just wanted to pick up the whole bowl and slurp it all up! But don't worry I didn't.
For mains, we both ordered the Morton Bay bug tortellini. Moreton Bay bugs are a type of seafood that is native to the coastal waters of Australia. They have a sweet and delicate flavour which is often compared to lobster or prawns. I really wish they would take the word "bug" out of the name. Such delicious seafood shouldn't be called a bug eeewww! I try not to think about it because it really tastes divine!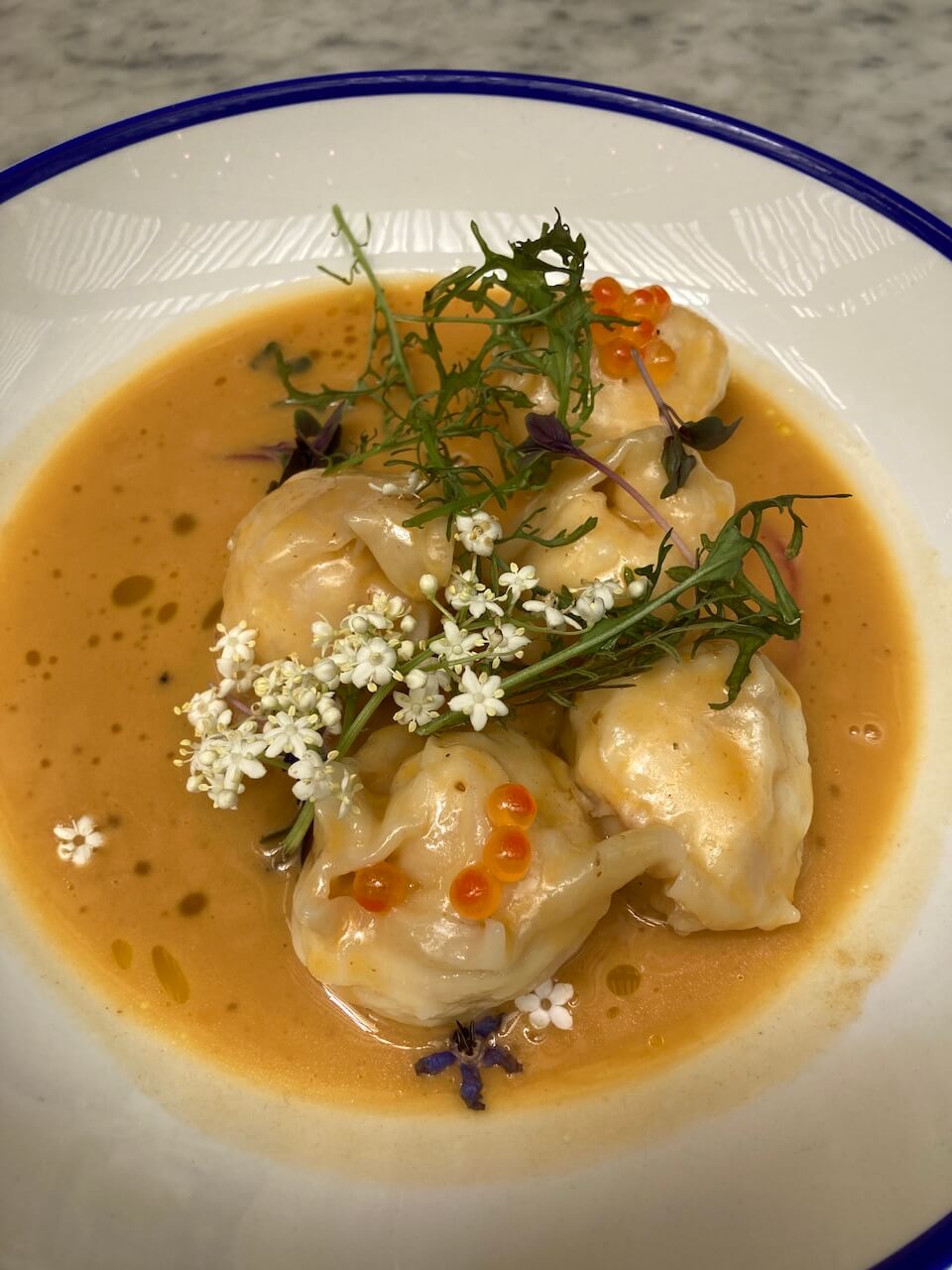 Then we finished off by sharing a red velvet skillet cookie with mango and passionfruit and white chocolate sauce.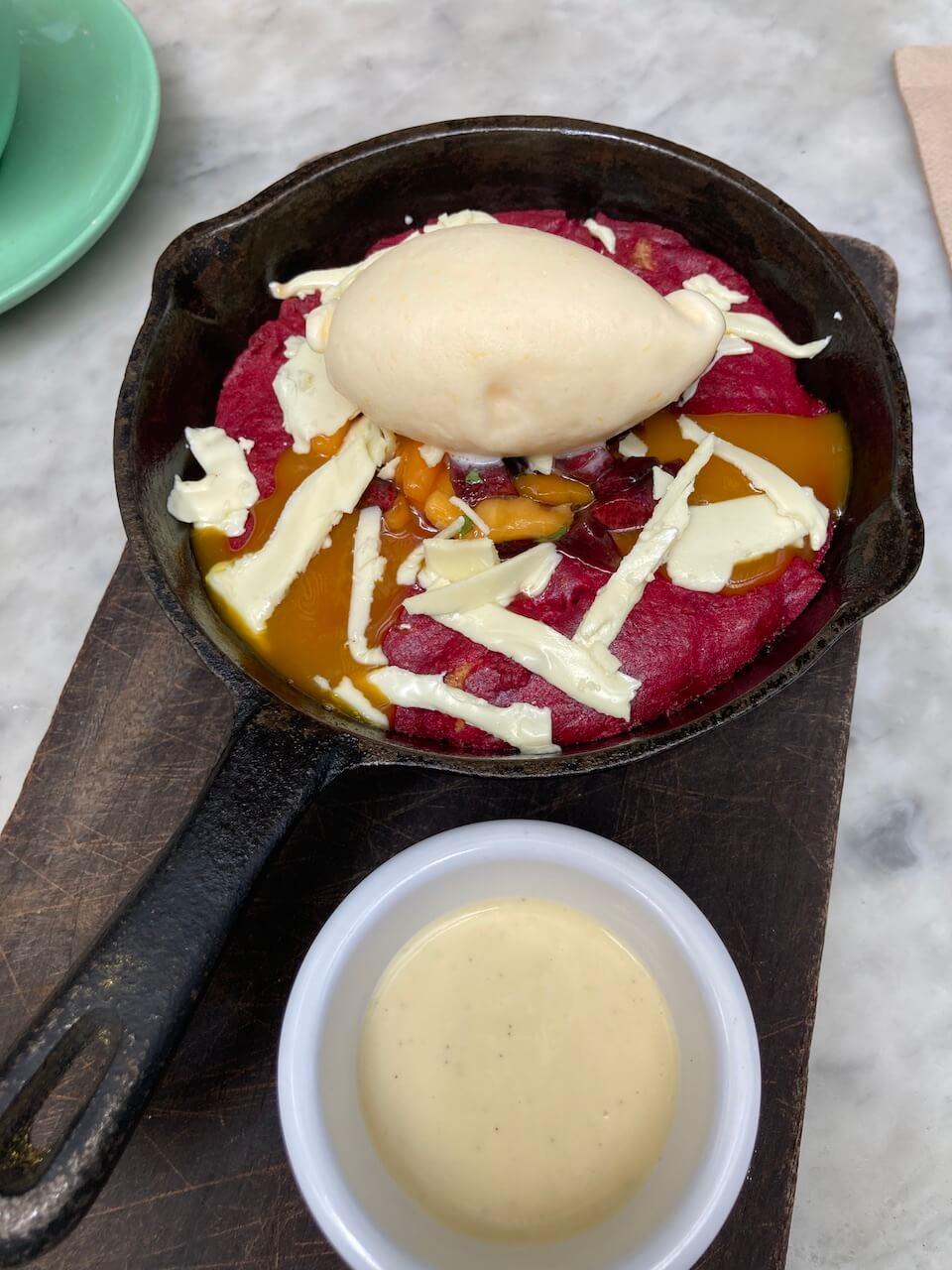 Afterwards, we wandered around The Grounds looking at all the fun Disney displays. The theme until the end of April is celebrating 100 years of Disney. And The Grounds Of Alexandria has been turned into a neon fantasyland. I would love to go back at night because it must look even more spectacular when all the neon displays are visibly lit up.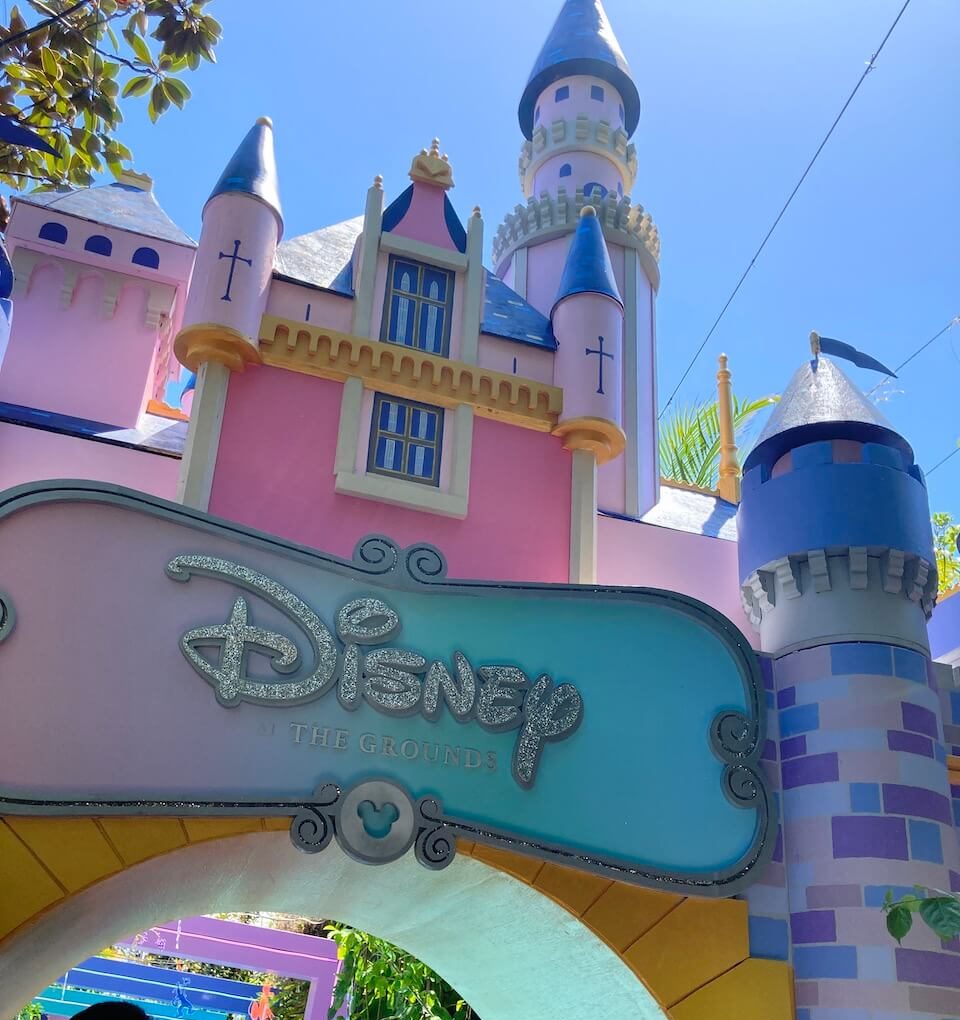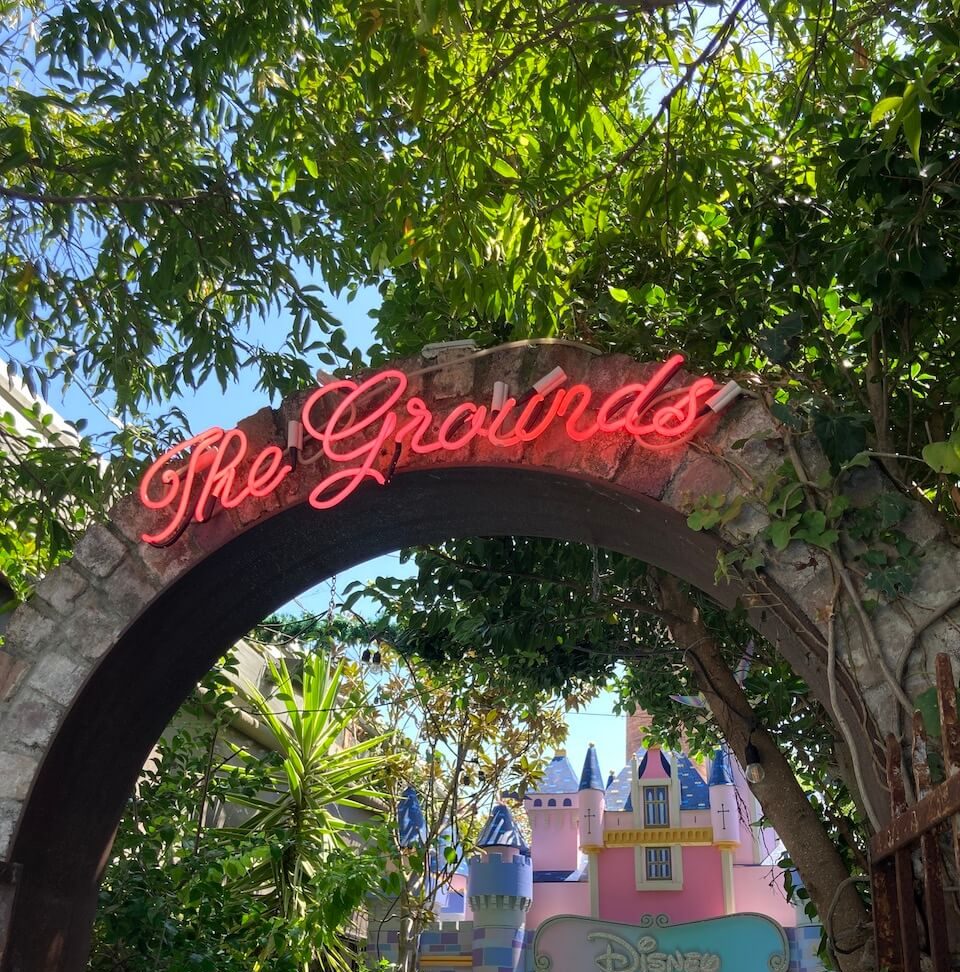 Verandah Bar
After our long lunch, we went home and hung around for a couple of hours before we got ready to go out for the evening celebrations! We met up with our friends, another couple and headed to the Verandah Bar in the city. I wasn't very hungry after such a big lunch earlier. But we all shared some arancini balls and a really delicious Butchers Board which had cheese, prosciutto, hummus, relish, flatbread and a whole lot more.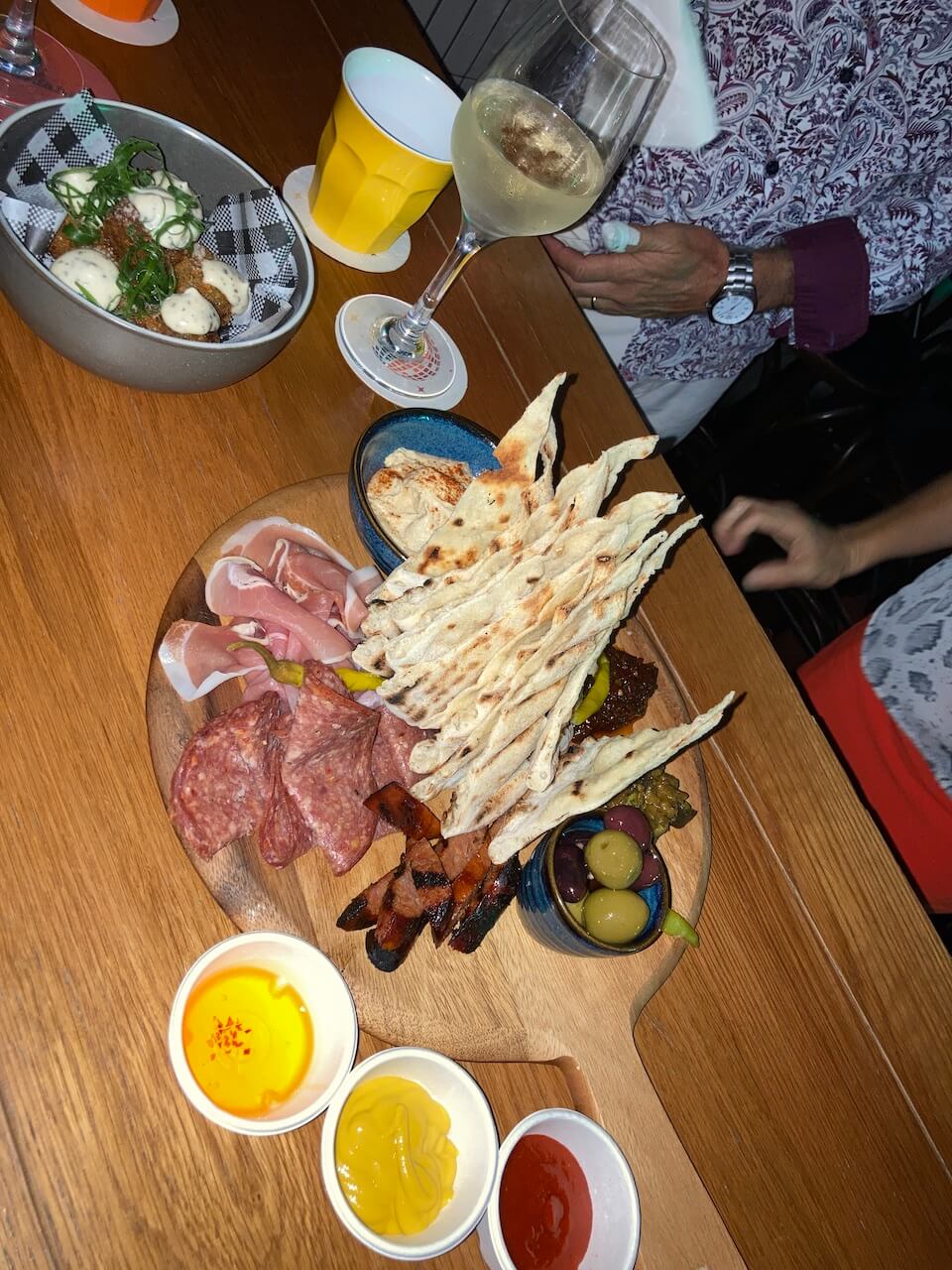 The cocktail jug was great too. And the DJ was incredible, playing a great mix which kept us on the dance floor the whole night.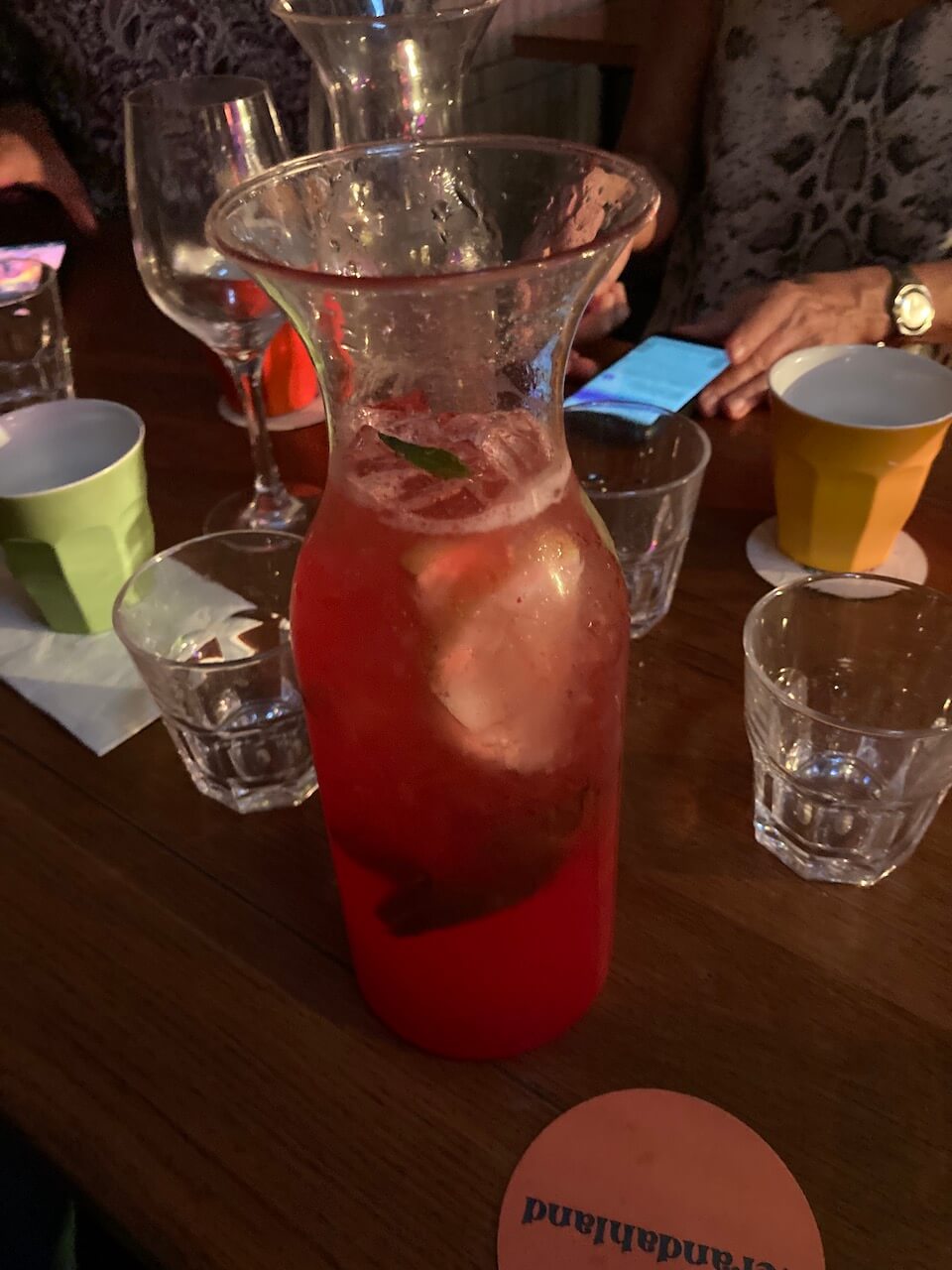 Sunday
Even after a big night Steve and I somehow still managed to get up bright and early on Sunday morning for swim club. The races started at 7.30 am and I helped with the timekeeping.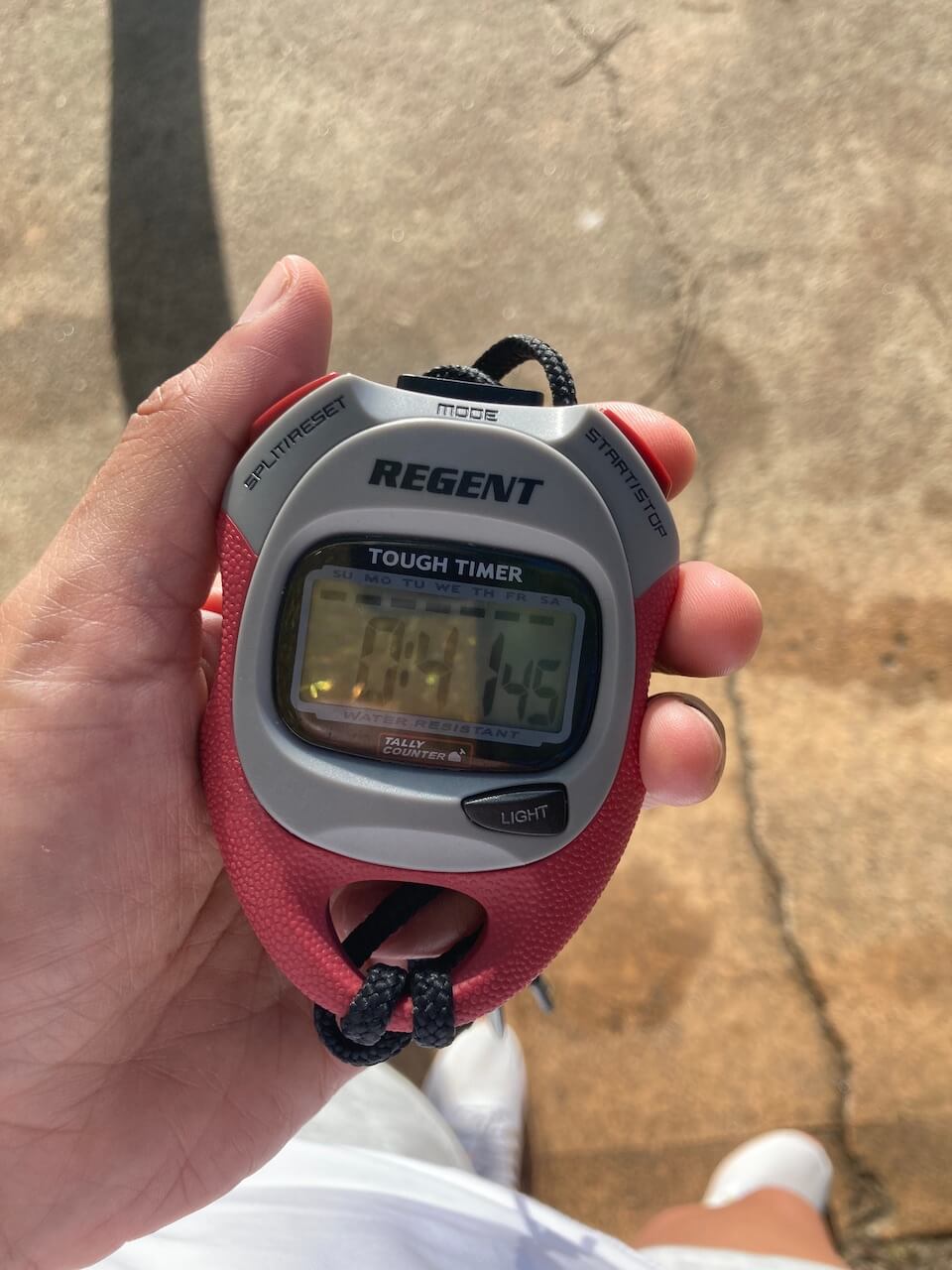 Steve did quite well in his races and he was just so happy being in the cool water on such a hot morning. I enjoyed the beautiful view of the water and was perfectly happy staying dry.
The races went on until midday and then we enjoyed a BBQ lunch. There was steak, sausages, chicken and a variety of salads.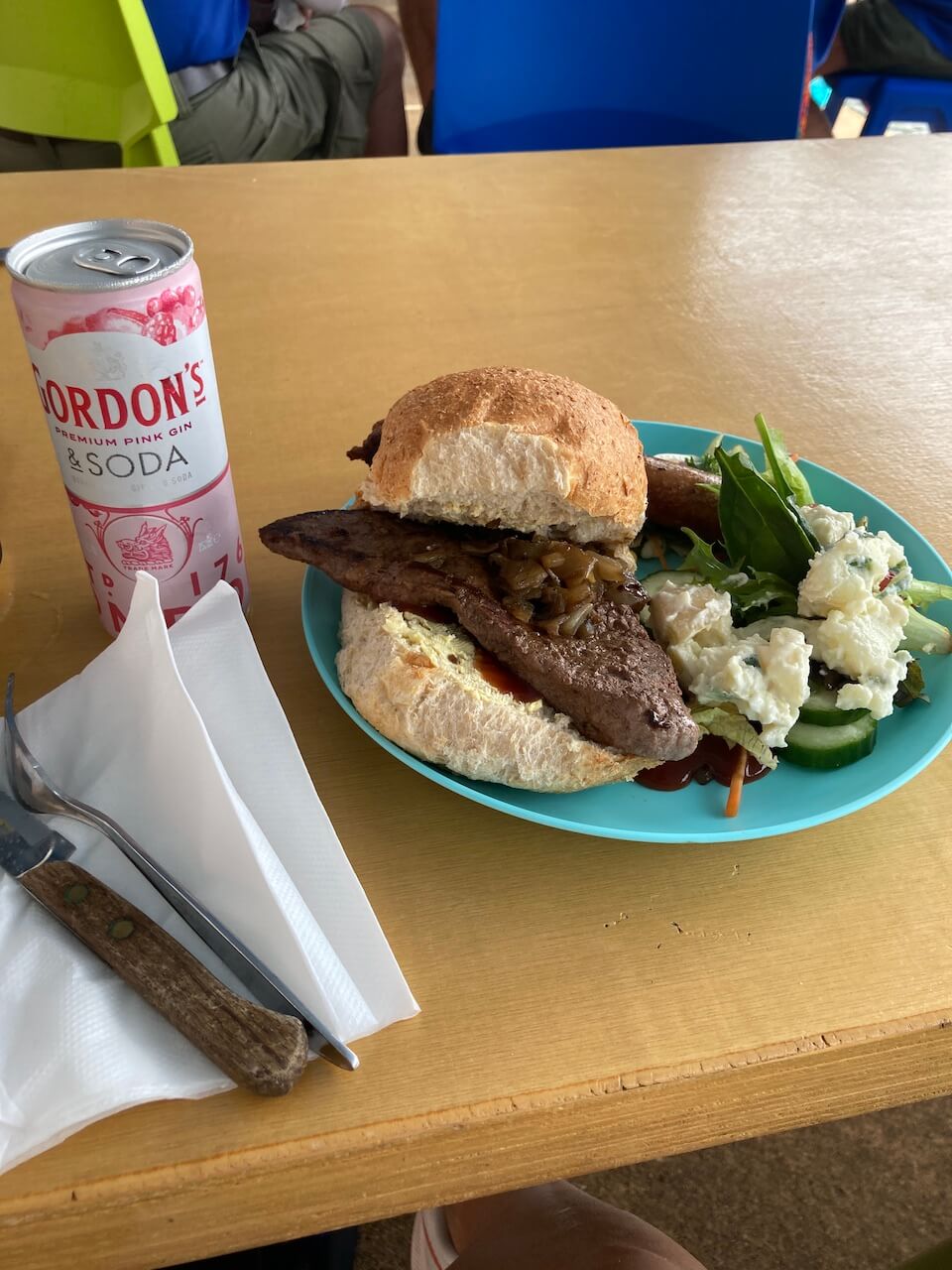 Oatley Amateur Swim Club sure do a great BBQ!
In the afternoon Steve went to work and my family dropped in to wish me a happy birthday. My cousin and his girlfriend brought their baby Zila to meet our cat Sushi.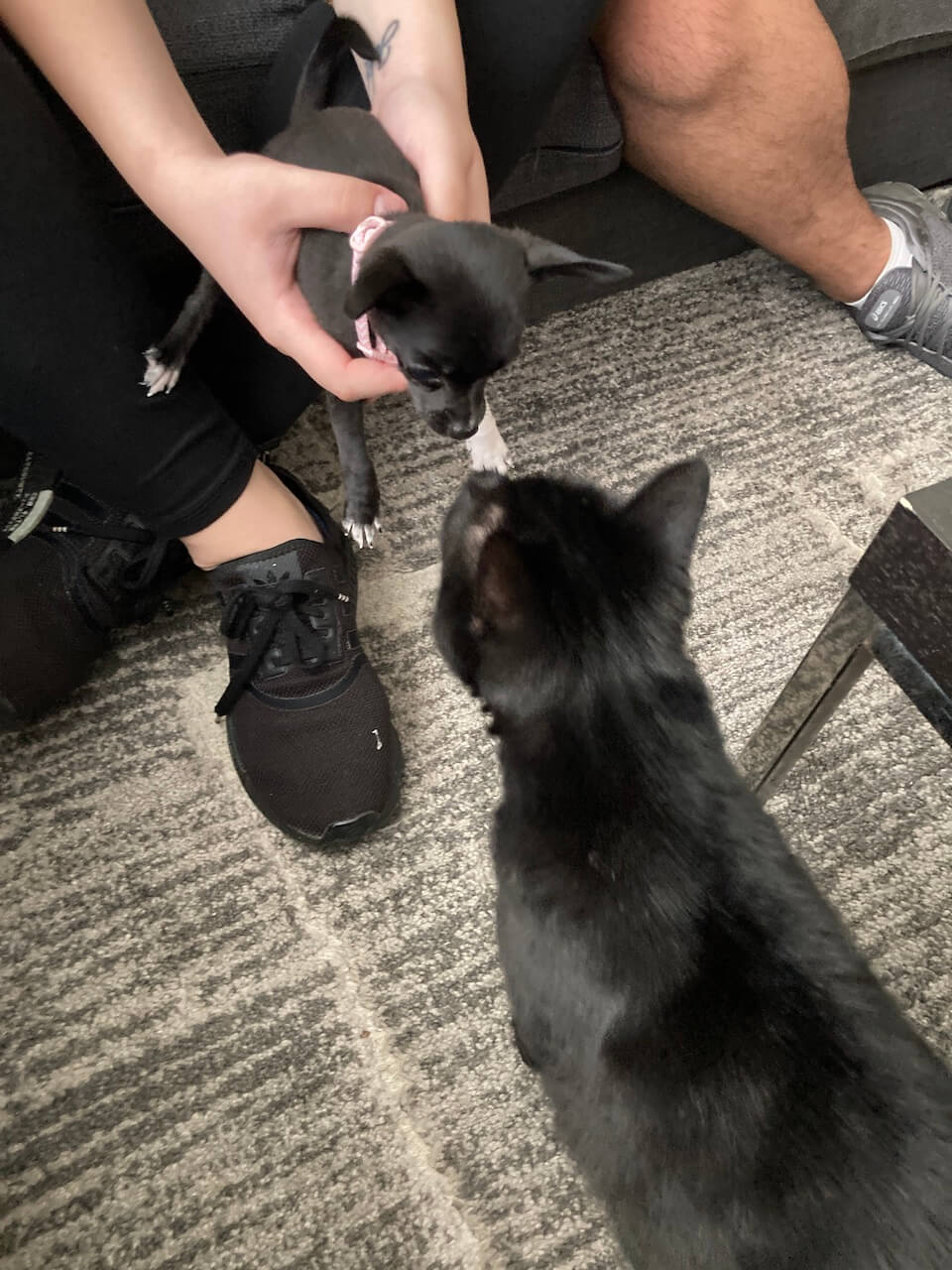 Not sure if they'll be best friends yet. They just stared at each other until Sushi got annoyed with Zila who was jumping around all excited. And then the deal breaker was when Zila went onto Sushi's bed. Nope, she wasn't impressed at all which really surprised me because Susi is the friendliest most chilled cat. But I guess everyone has their limits- even cats that are usually calm.
We ordered pizza, I made a quick salad and then everyone sang me Happy Birthday! My lovely aunt surprised me with a delicious carrot cake.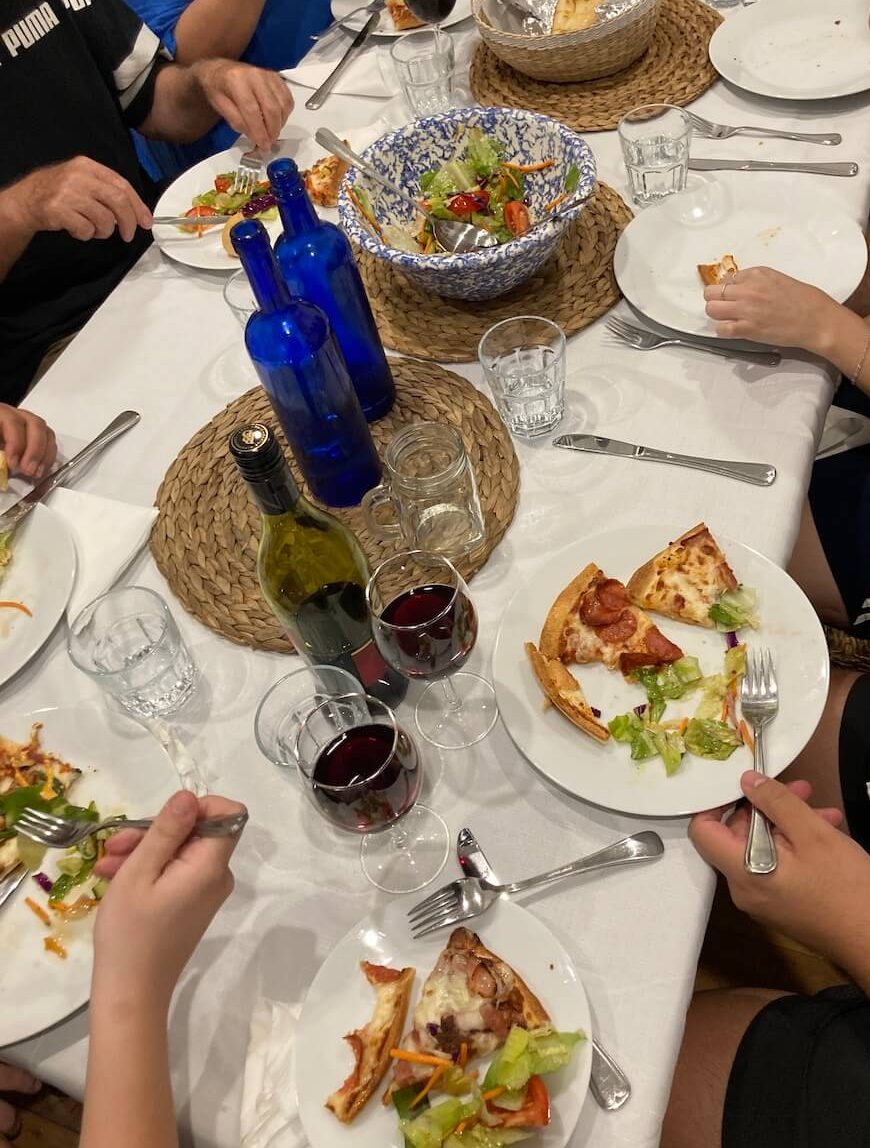 It was truly an epic birthday weekend! Getting up to go to work this morning was a bit (a lot!) hard but I made it through the day. And I think I'm still on a high after such a fun birthday weekend. Tonight I will have to make sure I go to bed early!! Look forward to being back here on Wednesday.
Happy Monday friends!