Hey there everyone! Welcome back to another edition of Hello Monday hosted by Holly and Sarah. I hope you guys had an amazing weekend filled with fun, great company, and a sprinkle of relaxation to help recharge your batteries. I'm so happy that you are here today as I share a recap of my weekend.
Friday Night
Friday night we had plans with some friends to go out for dinner and trivia at our local club. We were all looking forward to a night of fun and friendly competition. But when we got there surprise! The club wasn't hosting trivia anymore! We were all a bit disappointed but we didn't let it ruin our night. Instead, we went and explored another nearby restaurant and rooftop bar.
After some initial confusion about where to go, we decided to try a rooftop bar that is just a few minutes from where I live. I had been wanting to go there for ages as I had seen it featured on a show called 'Sydney Weekender'. I was glad we chose to go there because we all really loved it. The decor and atmosphere were great and we all agreed that it felt like we were in the city somewhere and not in our own small suburb. It had some really pretty views in the outdoor area. They had lounges and blankets as well as a cosy fire but it was just too cold to sit outside. Instead, we sat inside but I'm really looking forward to going back in the summer.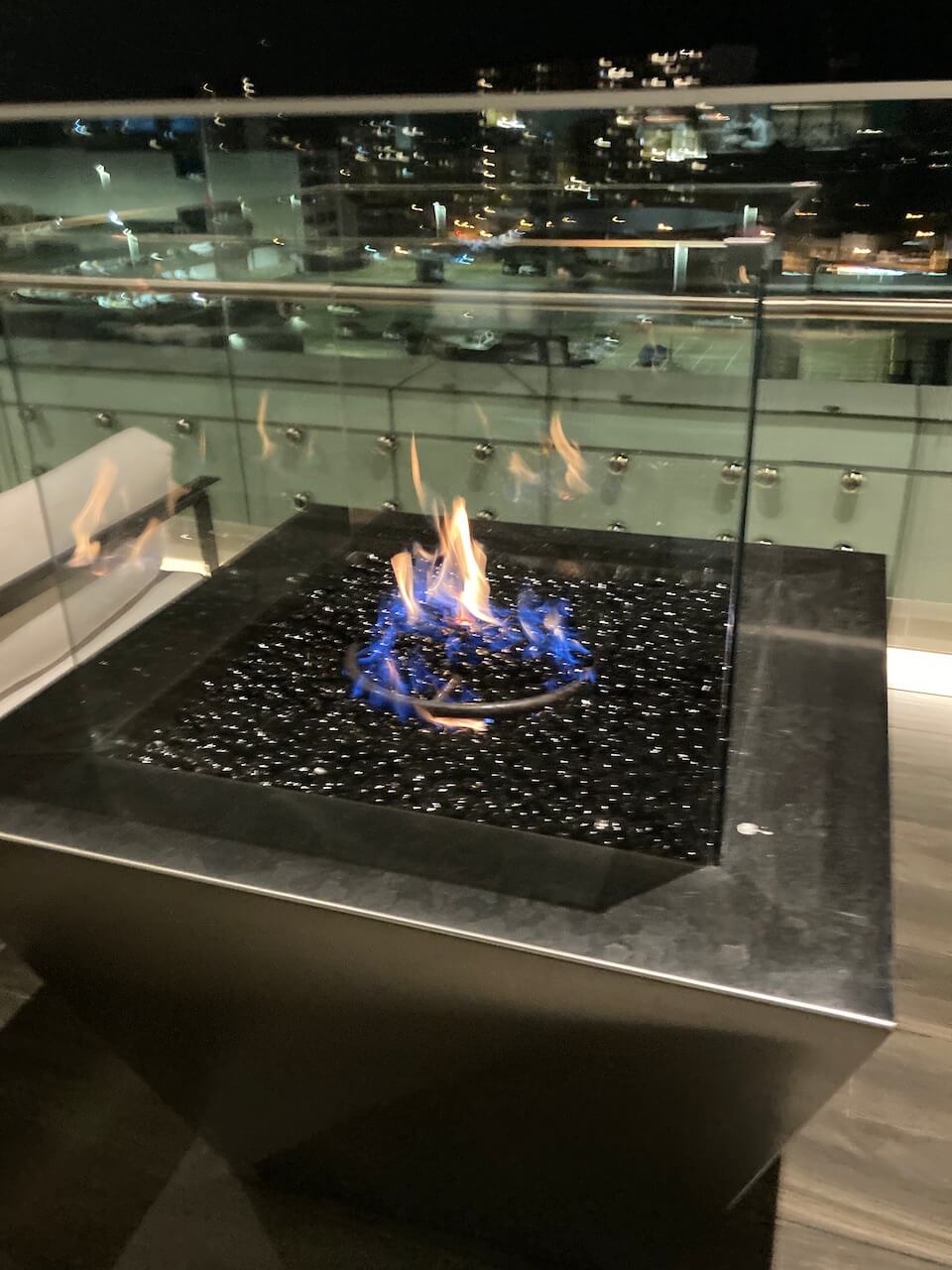 There was a restaurant next door to the bar so we had dinner there. But you know when it gets so late and then you're not that hungry anymore. Well, that happened to me and when I looked at the menu I just couldn't decide. Everything sounded a bit too fancy and complicated and I was kind of just craving something simple. So after studying the menu for ages I just ordered a small serving of fish and chips. Ha! I was in such an indecisive mood!
We got some focaccia to share.
And finished off with a parfait with a super long name that I can't remember. Yuzu, matcha something ??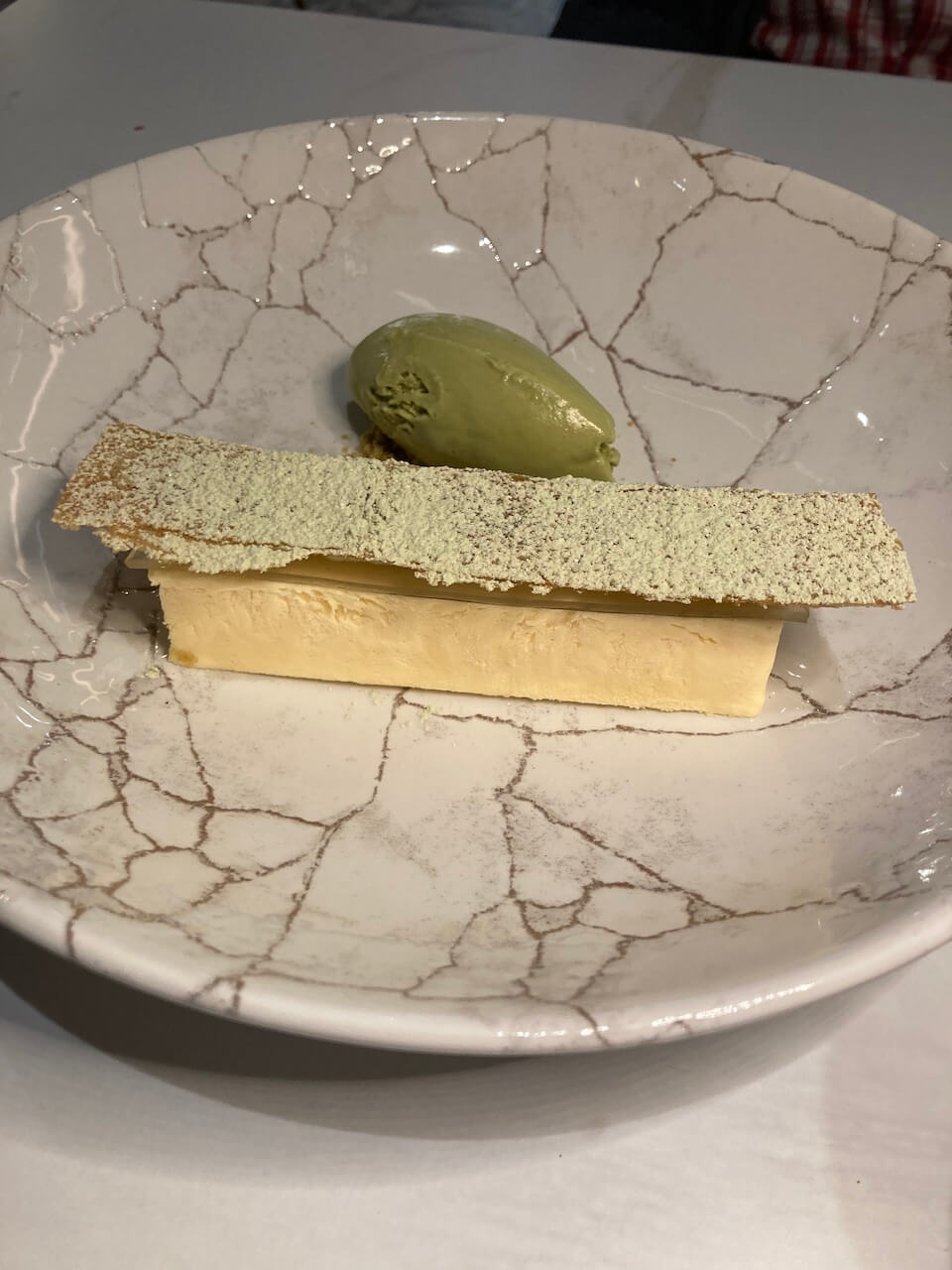 Saturday
I woke up on Saturday morning and I felt inspired to organise and declutter. There were clothes in my wardrobe that were bringing me no joy. So I bundled them up to give away.
I also tackled my ensuite cabinet which had gotten messy and I got rid of a whole lot of things that were taking up space. It's interesting how things just seem to eventually pile up over time. I feel like I tidy and organise pretty often, yet there are always still areas to declutter!
Then it was time to get through a few boxes of things that belonged to my mum. Sigh….that was tough. She used to love doing 'Find A Words'. But gradually her eyesight got really bad and so she couldn't do them anymore. I found a whole lot of these books that she never got a chance to do and it made me sad. Hopefully, someone else will enjoy them.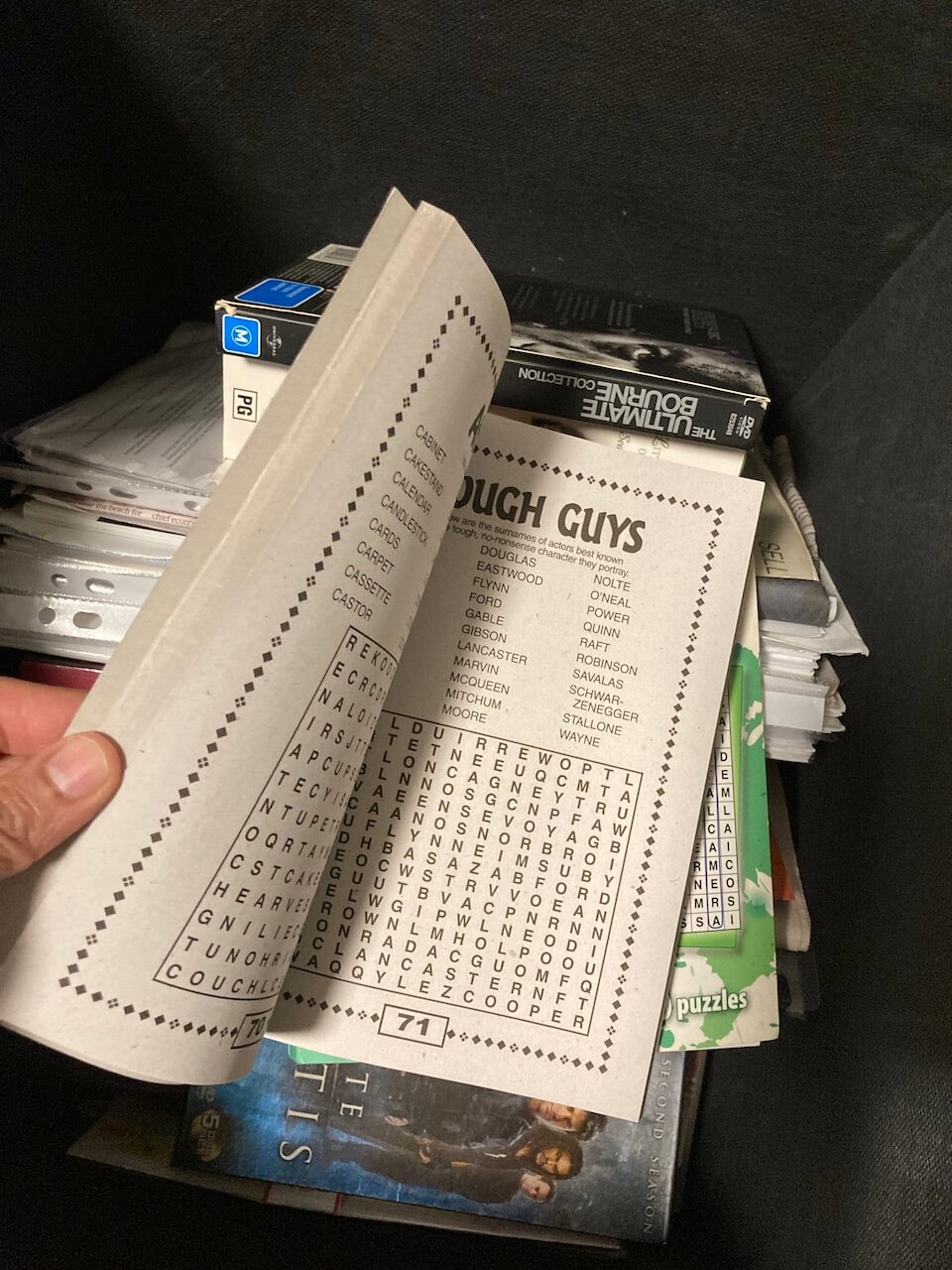 Saturday night I went to bed really early. Usually, I wait for Steve to get home from work and we stay up late watching 'Blue Bloods'. But I was tired from being so emotional clearing out some of the last of my mum's bits and pieces. And I knew that I would be no fun to be around so I thought that it was best if I went to bed. And I'm so glad that I did because I woke up feeling so much better on Sunday morning.
Sunday
Sunday I went to church and then in the afternoon Steve and I caught up on a few episodes of 'Blue Bloods' that we didn't watch on Saturday night. Then it was time to get together with some friends who we hadn't seen in ages for dinner. We met up at a pub nearby and we enjoyed a cozy meal on a cold wet night.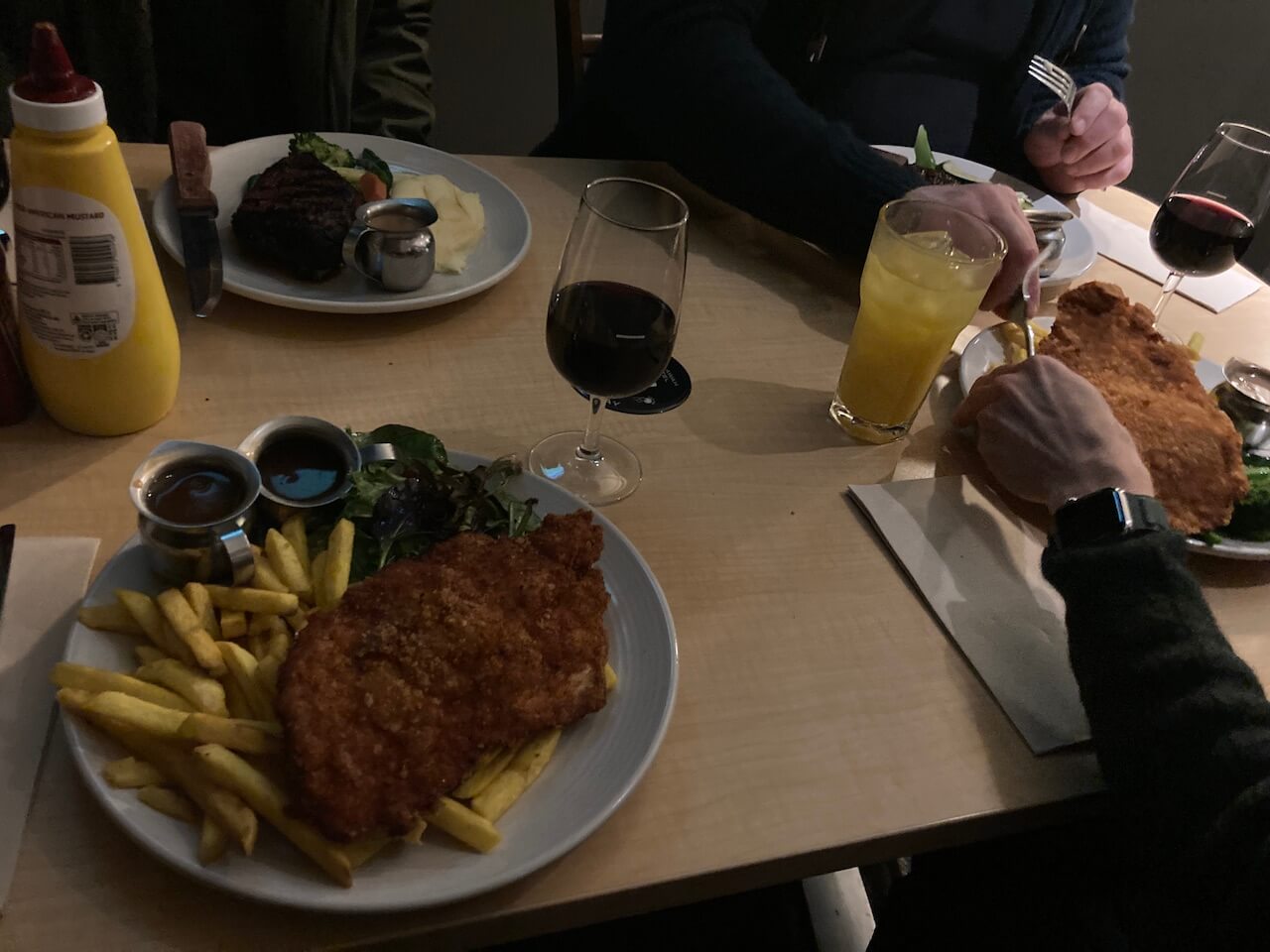 It wasn't too late when Steve and I got home after dinner so we decided to watch a movie on Netflix. We watched 'Mrs Harris Goes To Paris'. Have you seen it? You probably have because it's been out for a while but if you haven't then you totally should. It was just such a lovely feel good movie and it was a perfect way to end a lovely weekend.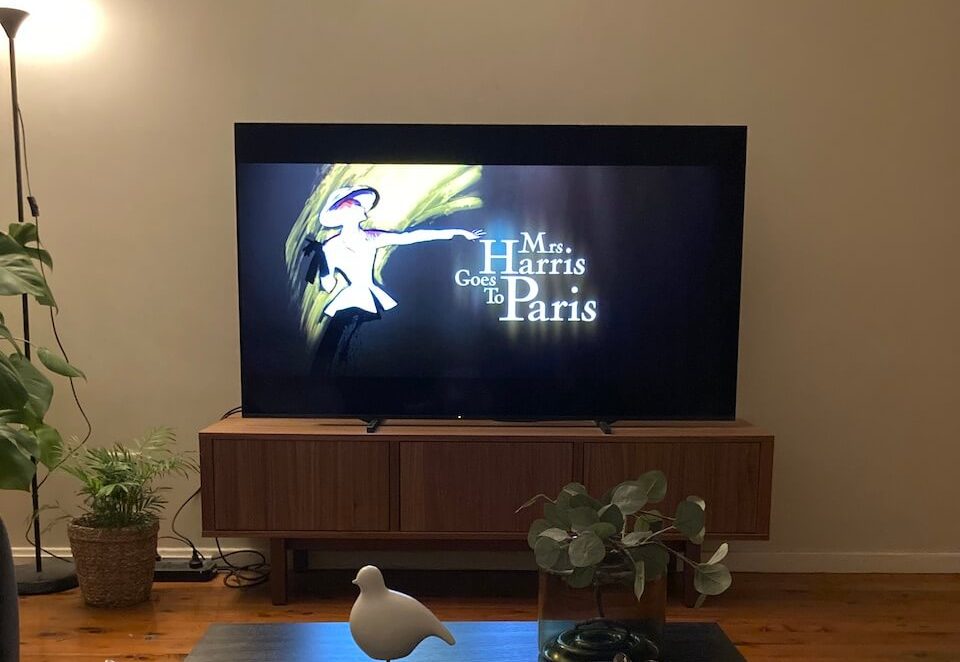 And I guess that brings me to the end of another weekend recap. I'm still getting used to being back at work after the long break and I can't believe that it's nearly the end of July. How??? Anyway, I can't complain because that means that we are heading a bit closer to spring and I can NOT wait! I look forward to being back here on Wednesday for What's Up Wednesday. See you guys then.
Happy Monday!