Hi friends, it's so good to be back today joining Holly and Sarah's Hello Monday link-up. I hope that you all had an amazing weekend and are ready to hit a brand new week. I know that I say this all the time. But I can't get my head around how fast the days are flying by! I just got off the phone after having a lovely chat with my sweet cousin. And we are both feeling a bit freaked out by how fast Christmas is approaching!
Anyway, I'm really happy that you have stopped by today to have a read. I always appreciate you guys and this fantastic blogging community! Today I'm really excited to share with you a few highlights from our lovely weekend away.
I shared with you on Friday that we were going to our friend's son's wedding. And because it was a fair distance from where we lived. We decided to make it an overnight stay too and it really was such an amazing weekend!
A Beautiful Saturday
On Saturday we were blessed with the most glorious weather. If you have been reading along you have probably heard me whinging about how awful the weather has been. And it really feels like we have totally missed spring and we seem to be mainly stuck in dreary winter.
But not this weekend. Thankfully the sun was shining brilliantly for the whole weekend and the temperature was around the mid-20s. So it was just perfect! We arrived at the church in Hunters Hill with plenty of time to spare and take some photos.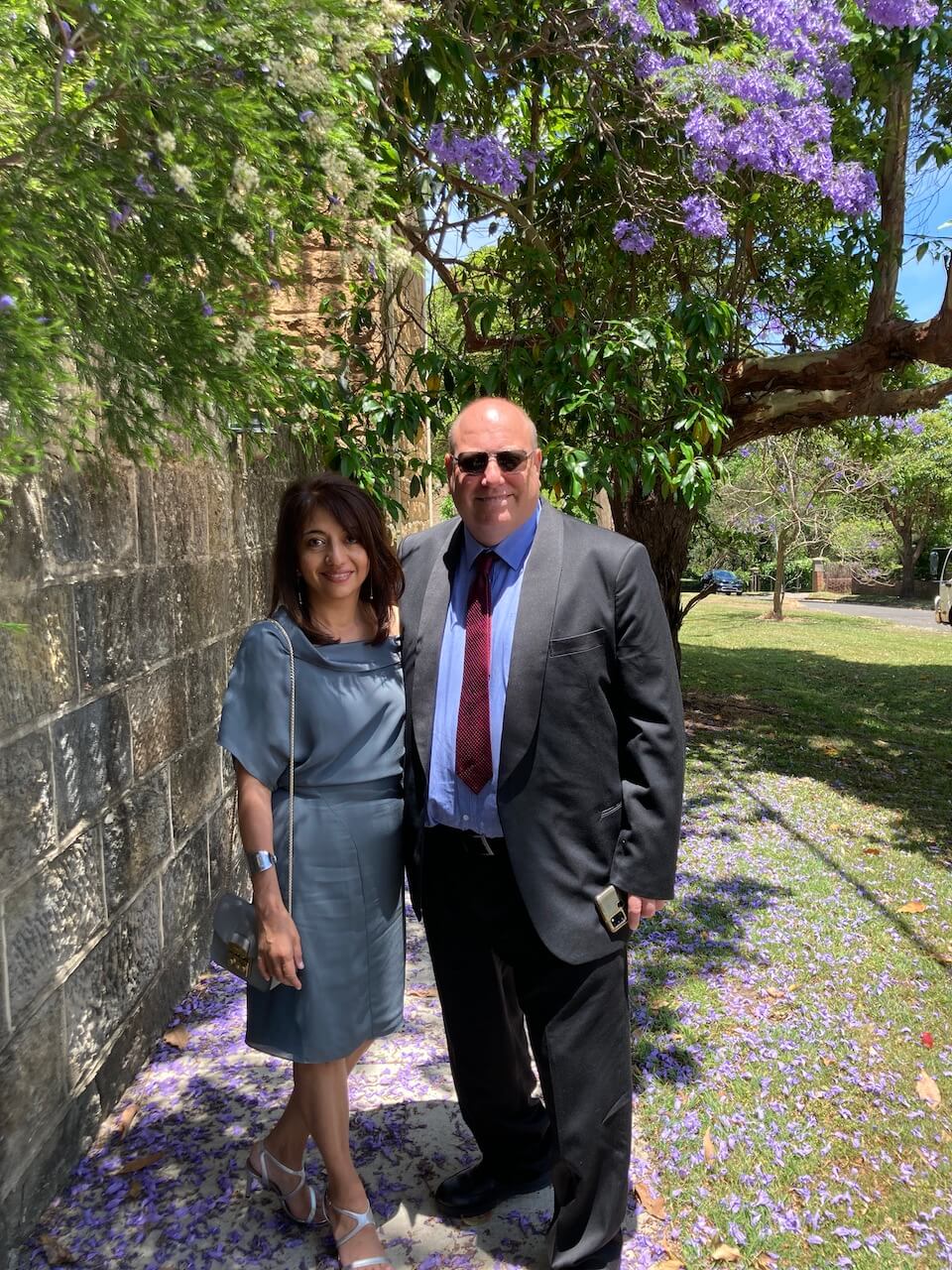 The church was absolutely stunning on the outside. And inside there were some beautiful stained glass windows and incredibly high ornate ceilings.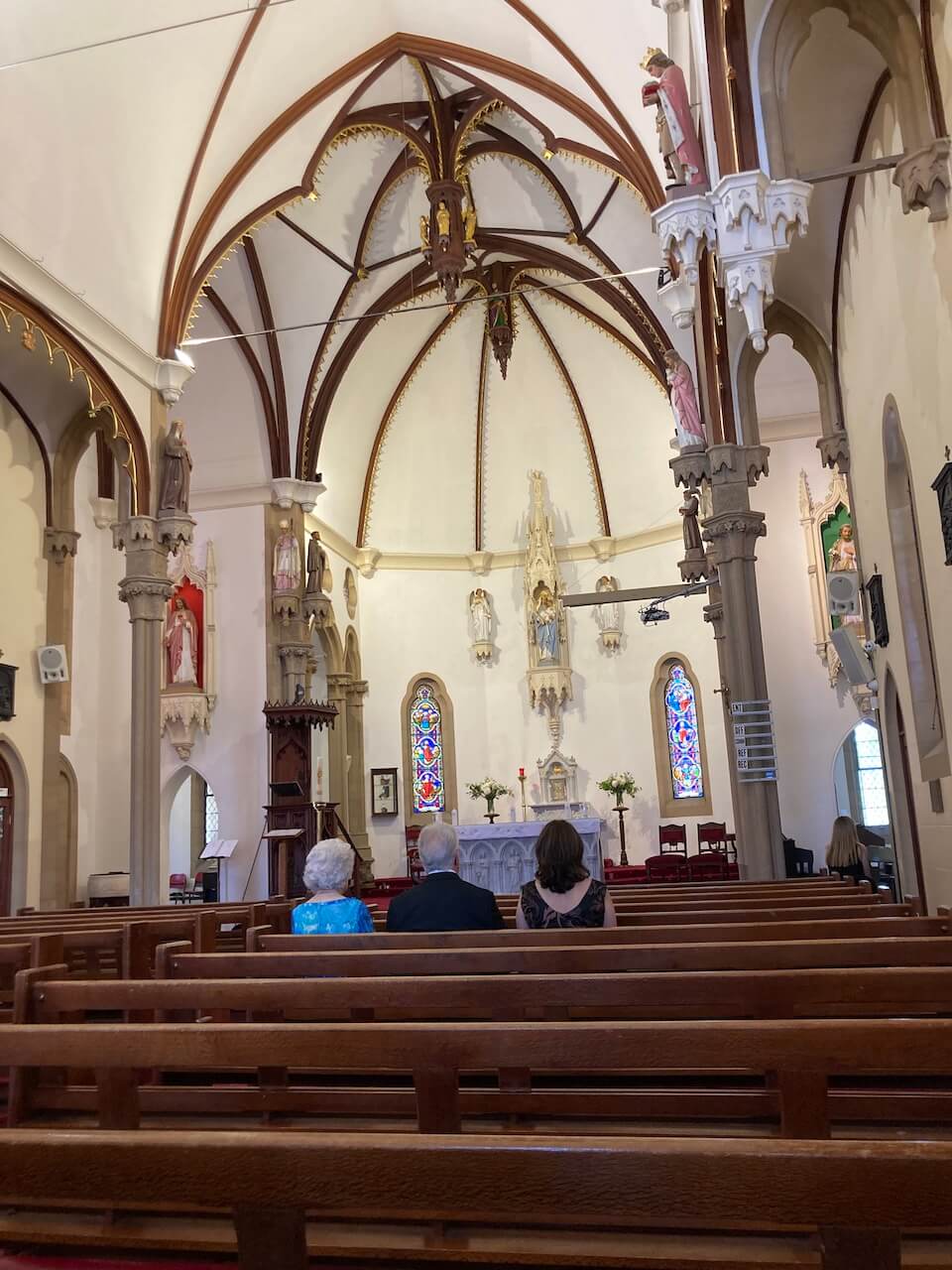 We saw the groom and his parents arrive in this spectacular limousine.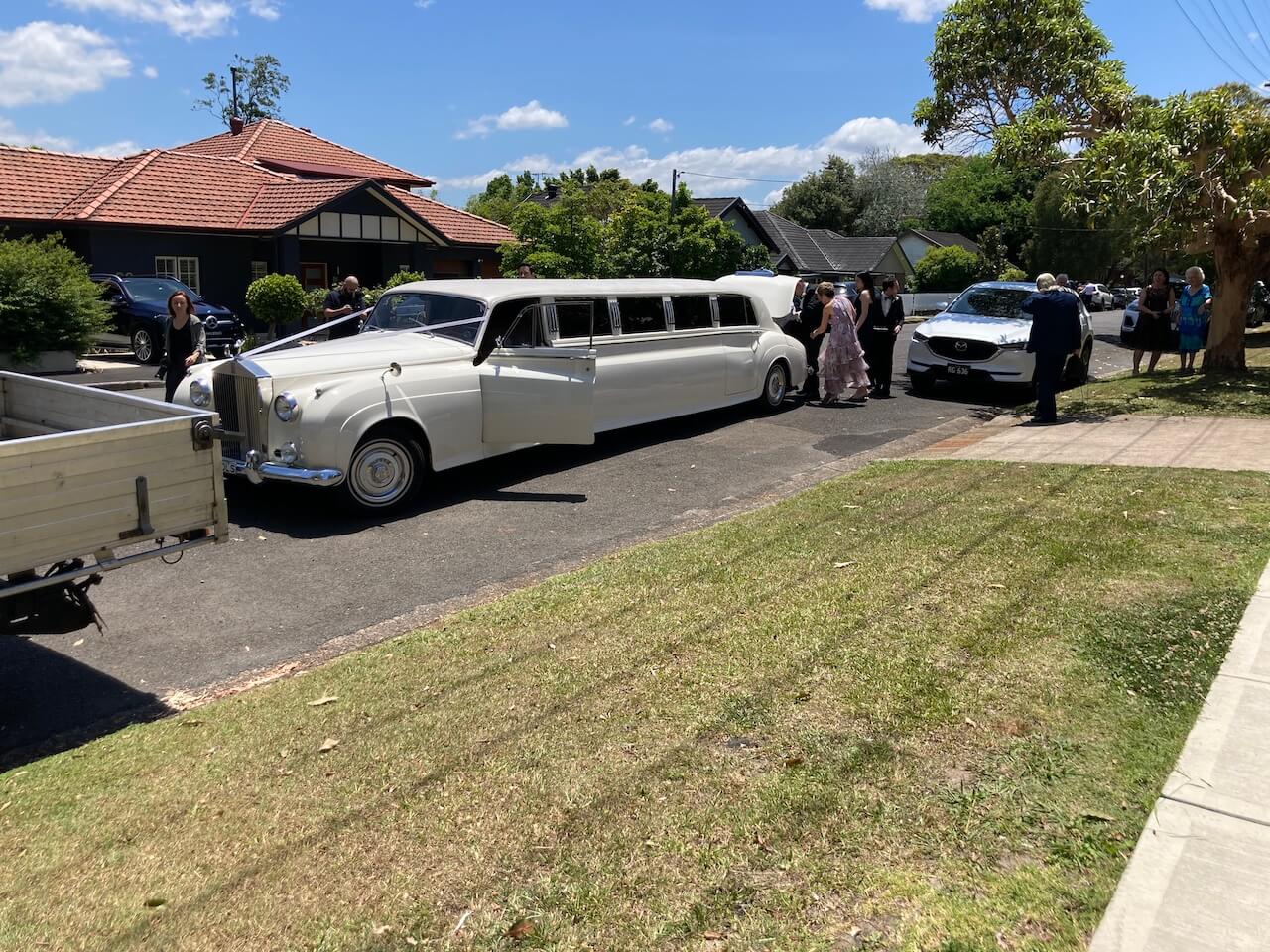 The Wedding Ceremony
The ceremony was really lovely and I got all choked up when the music started and the bride walked in. She looked so radiant and her wedding dress was absolutely beautiful. The vows that they said to each other were really heartfelt and special.
I loved how they promised to be kind to each other. I really value kindness and I think that kindness always trumps everything. In a marriage, I would have to say that for me this is one of the most important things.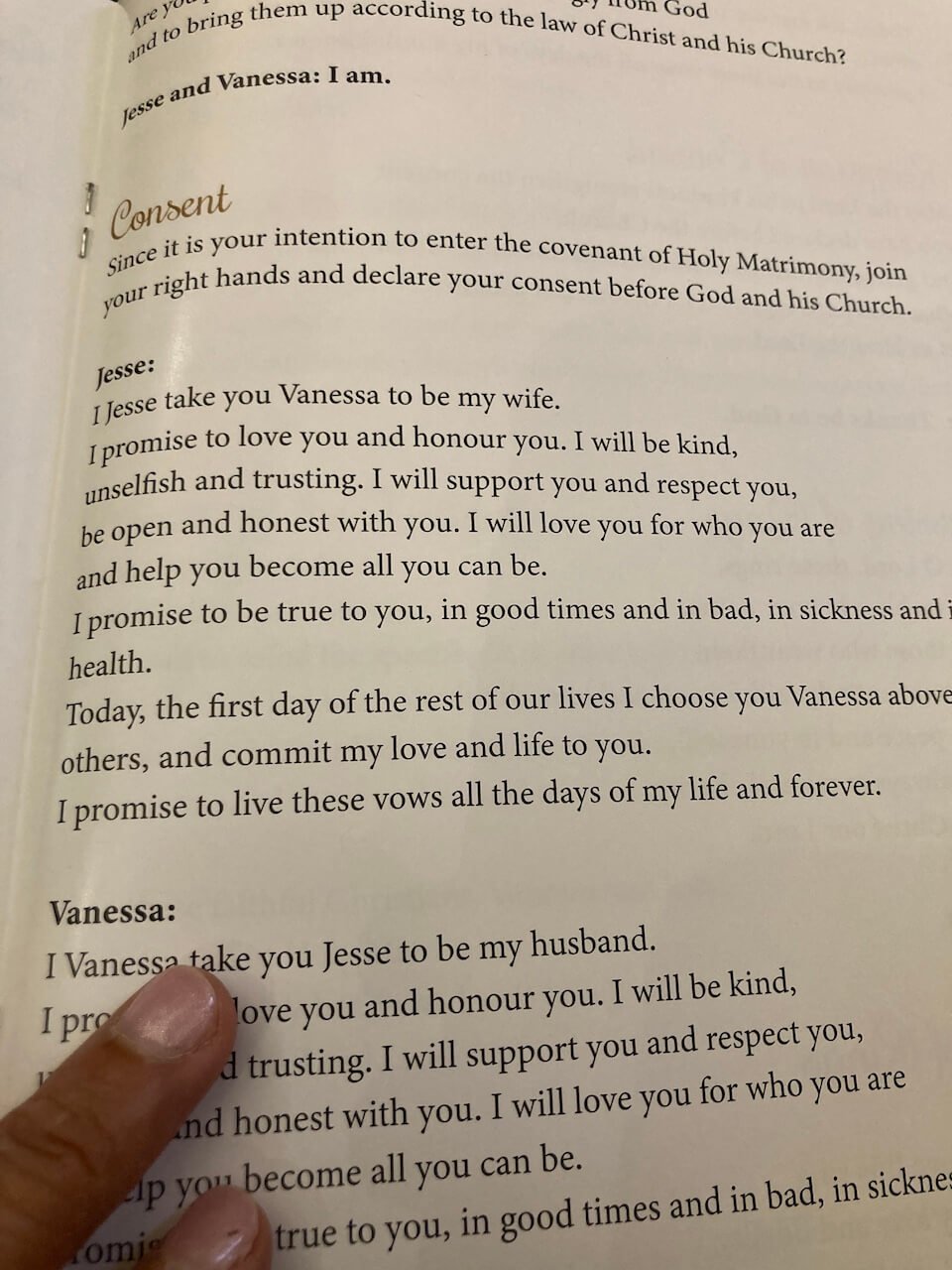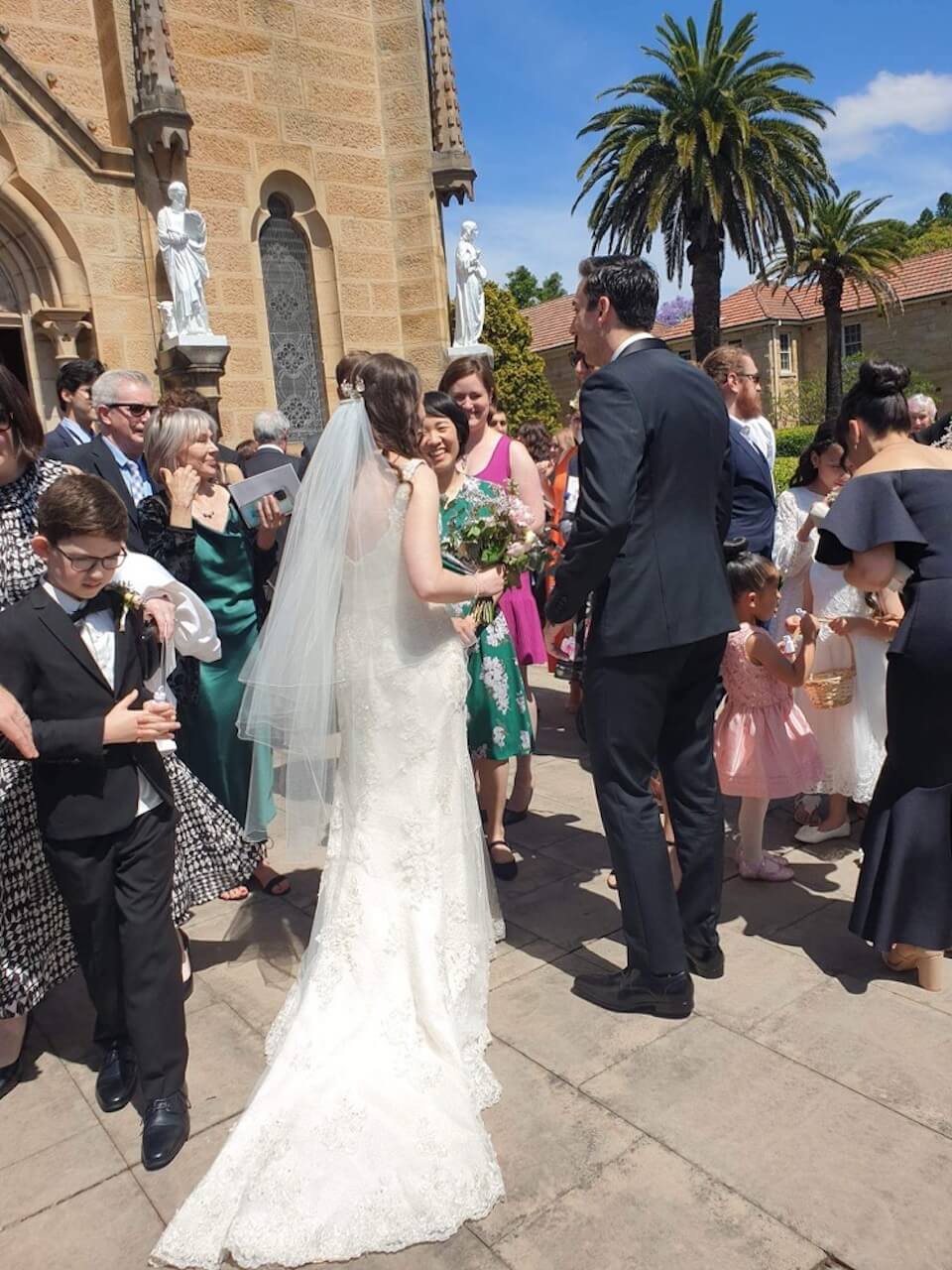 A Gorgeous Hotel Stay
After the ceremony, we went and checked in to our hotel because we had a couple of hours before the reception started at 6 pm. I'm so happy that we stayed at the Parramatta Parkroyal because it was beautiful!! I have a big thing about fragrances and smells in general. So I was super impressed with how lovely the hotel smelled when I walked in. I don't know what air freshener they had going but it was absolutely divine! I also loved the big Christmas tree and Santa in the foyer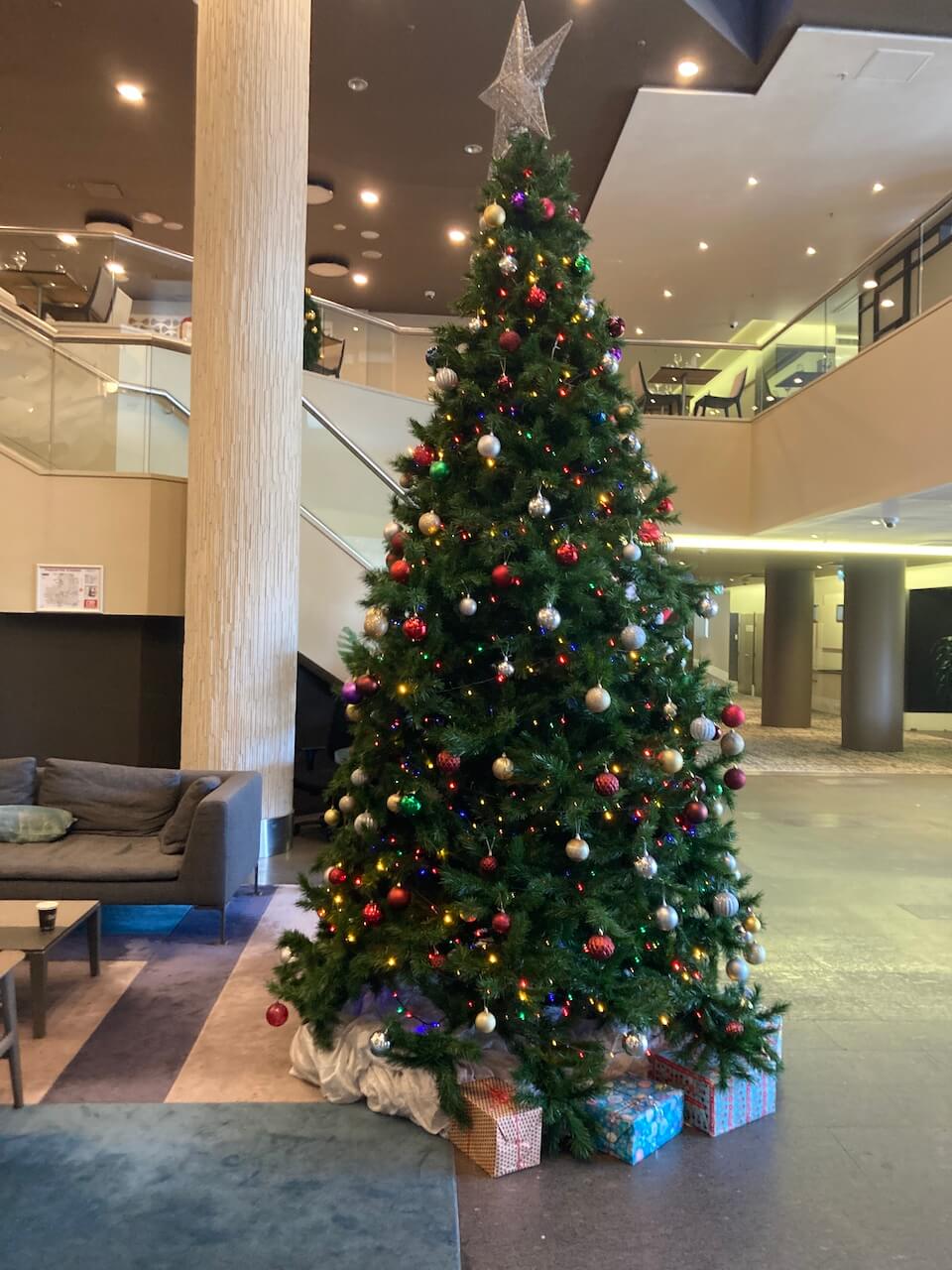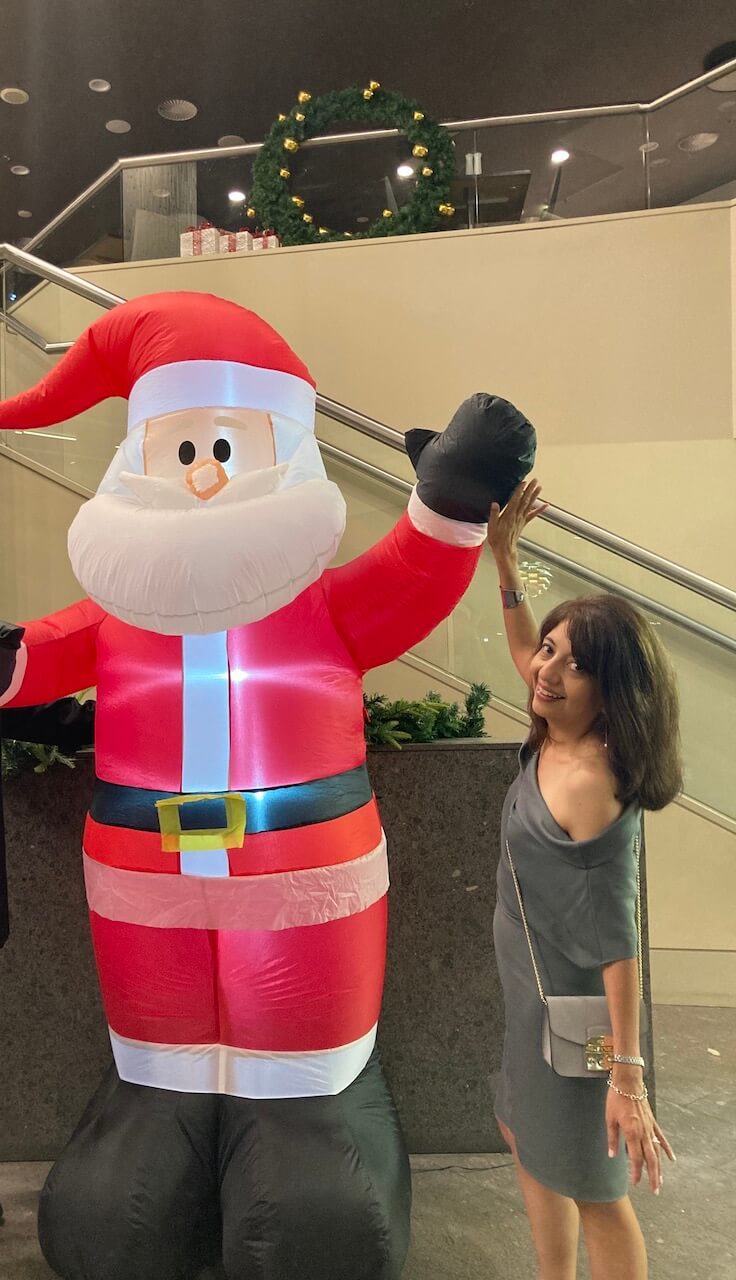 Our room was amazing! And I was beyond excited to be staying in such a gorgeous room with a bathroom that I didn't have to clean!!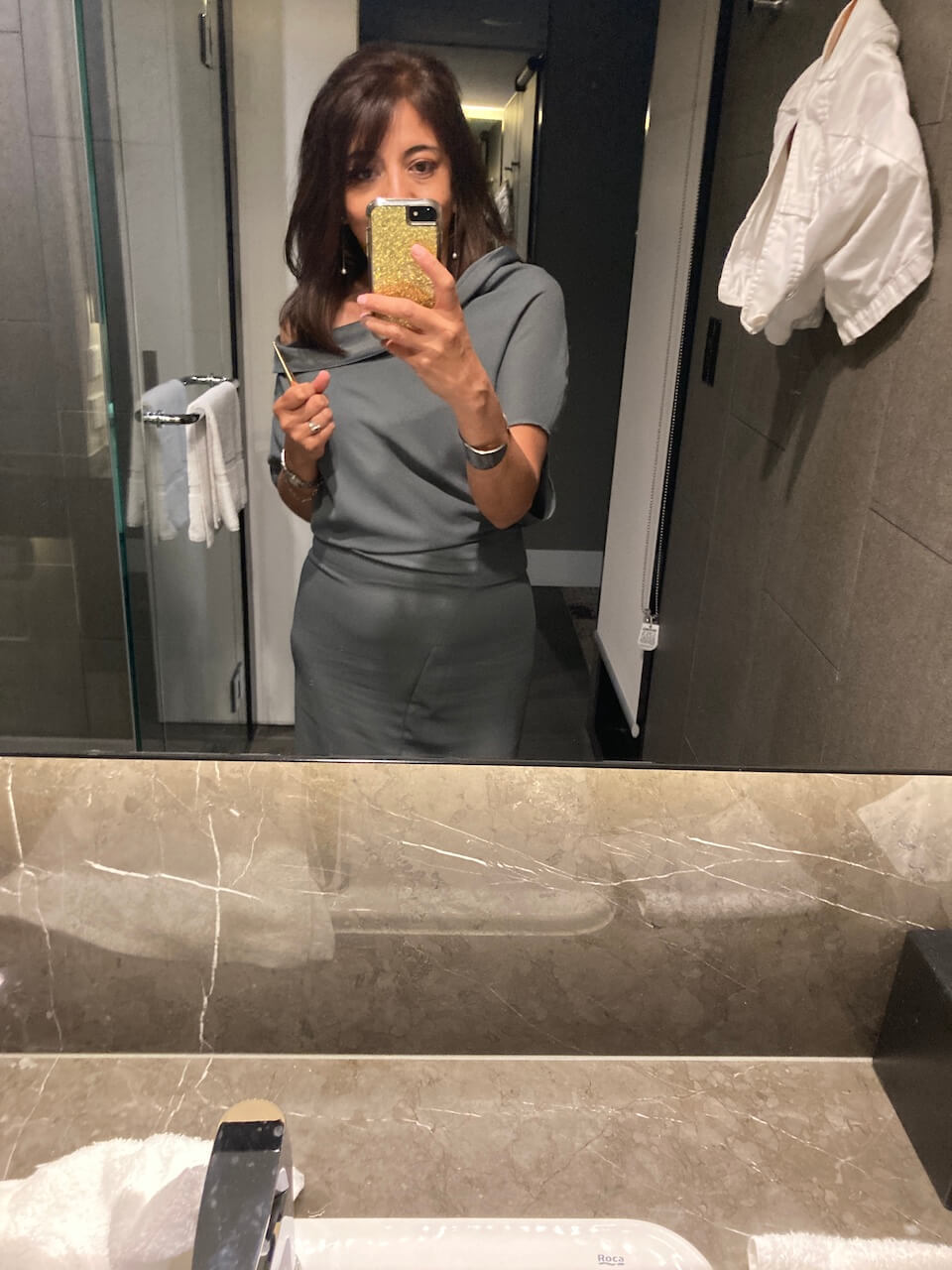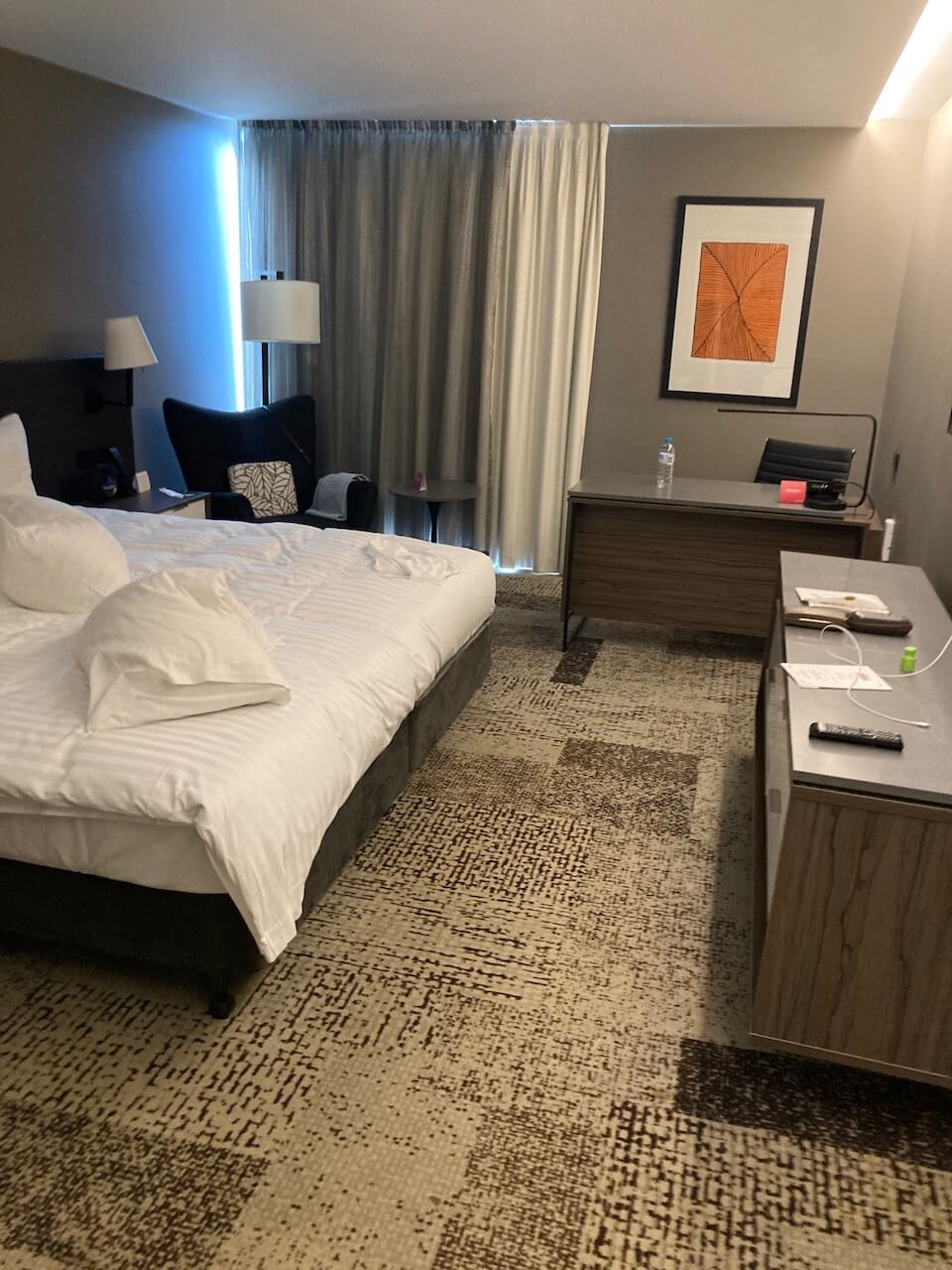 We hung around the hotel for a couple of hours and then we went to Oatlands House where the reception was being held.
Time To Party!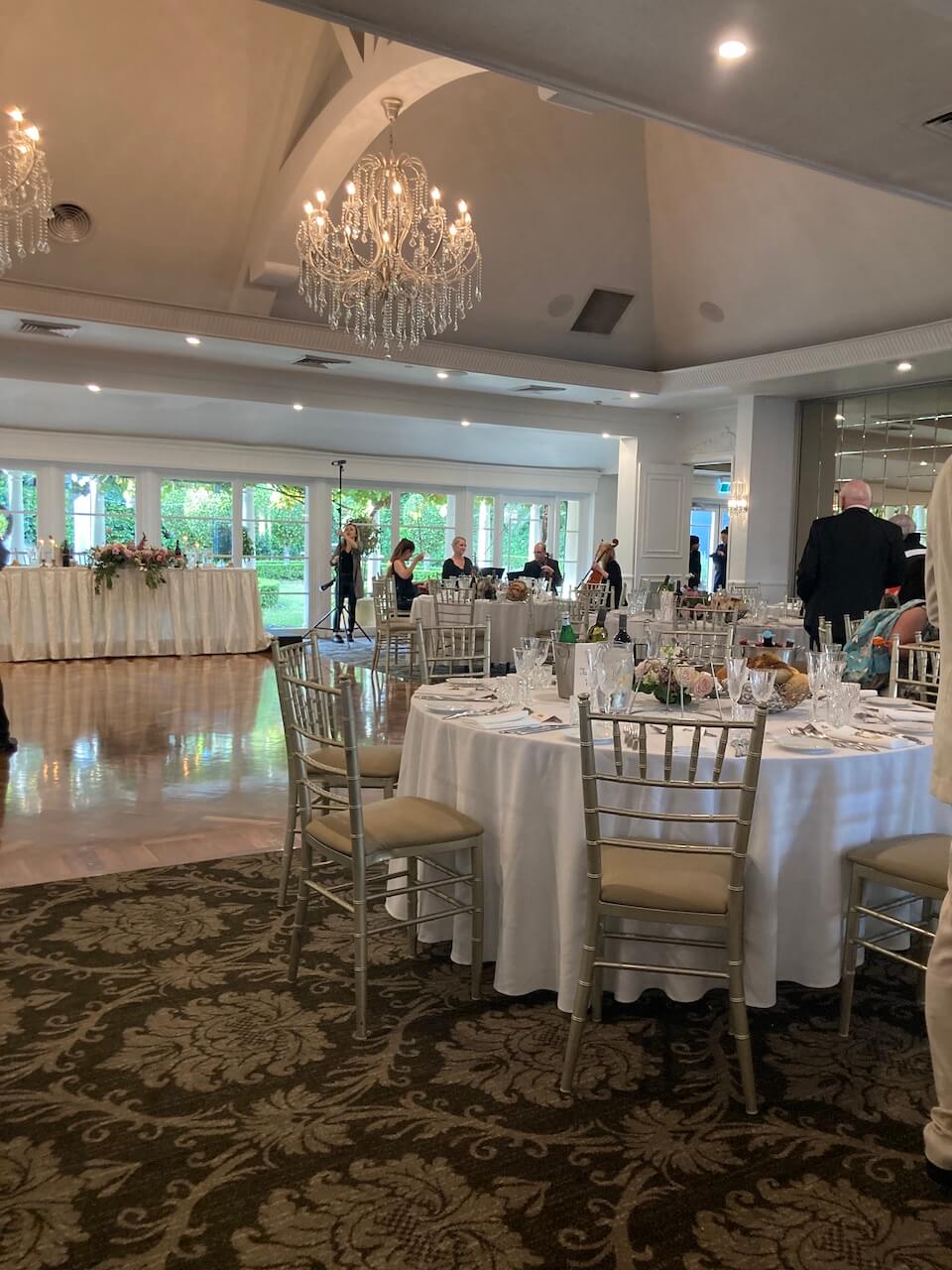 The ballroom was spectacular ( I'm running out of adjectives!) with beautiful chandeliers and stunning table settings. The menu oh my gosh the menu!! It was five courses and I wish that I had three stomachs to fit it all in! I did well though and ate everything except my dessert. And that was only because I had two quick mouthfuls and then the music started. So I was on the dance floor in a flash. Then when I got back to the table my dessert had been cleared away! I should have eaten it when I had the chance!
They even had entertainment for us while we enjoyed our meal. Four rock and roll dancers twirled around the dance floor flinging their partners in the air. It was amazing and I almost felt like I was enjoying a wedding in a movie.
The dancers got everyone up to do the 'shake your tail feather'. It was so much fun!!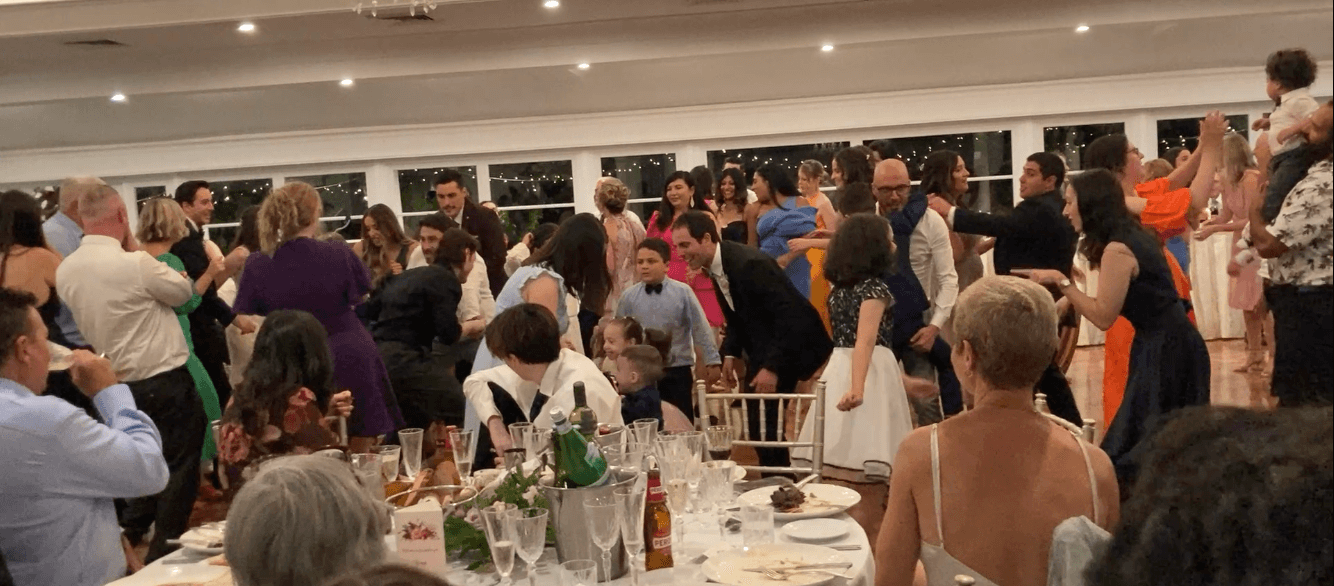 They also had a photo booth with cool props!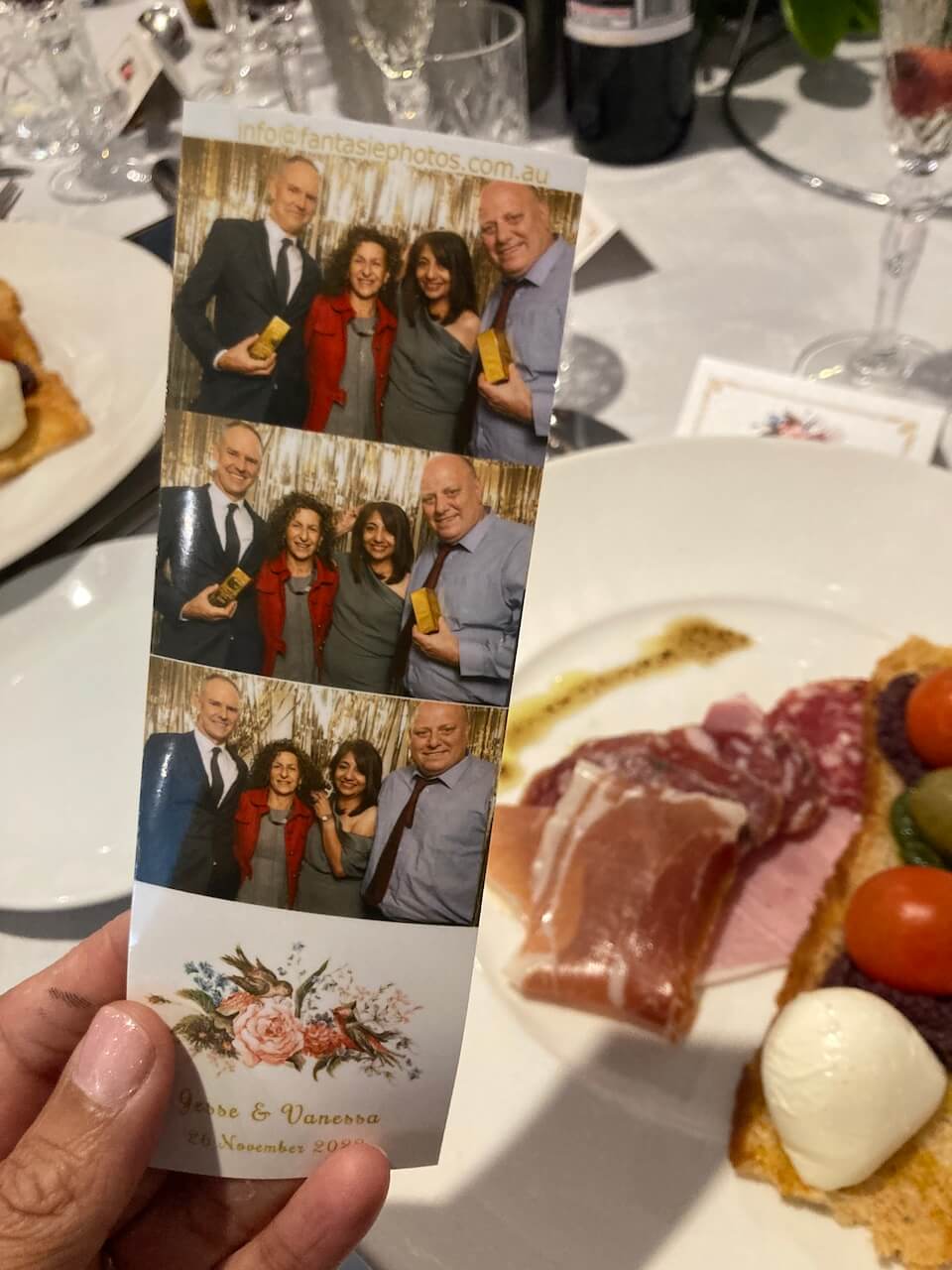 I don't have any more words left to describe what an amazing night it was. I had so much fun dancing and I wished that it had gone on for longer. When I was saying goodbye to my friend (the mother of the groom) She was saying how quickly it all went and how she also wished that it went for longer….like two more days longer!!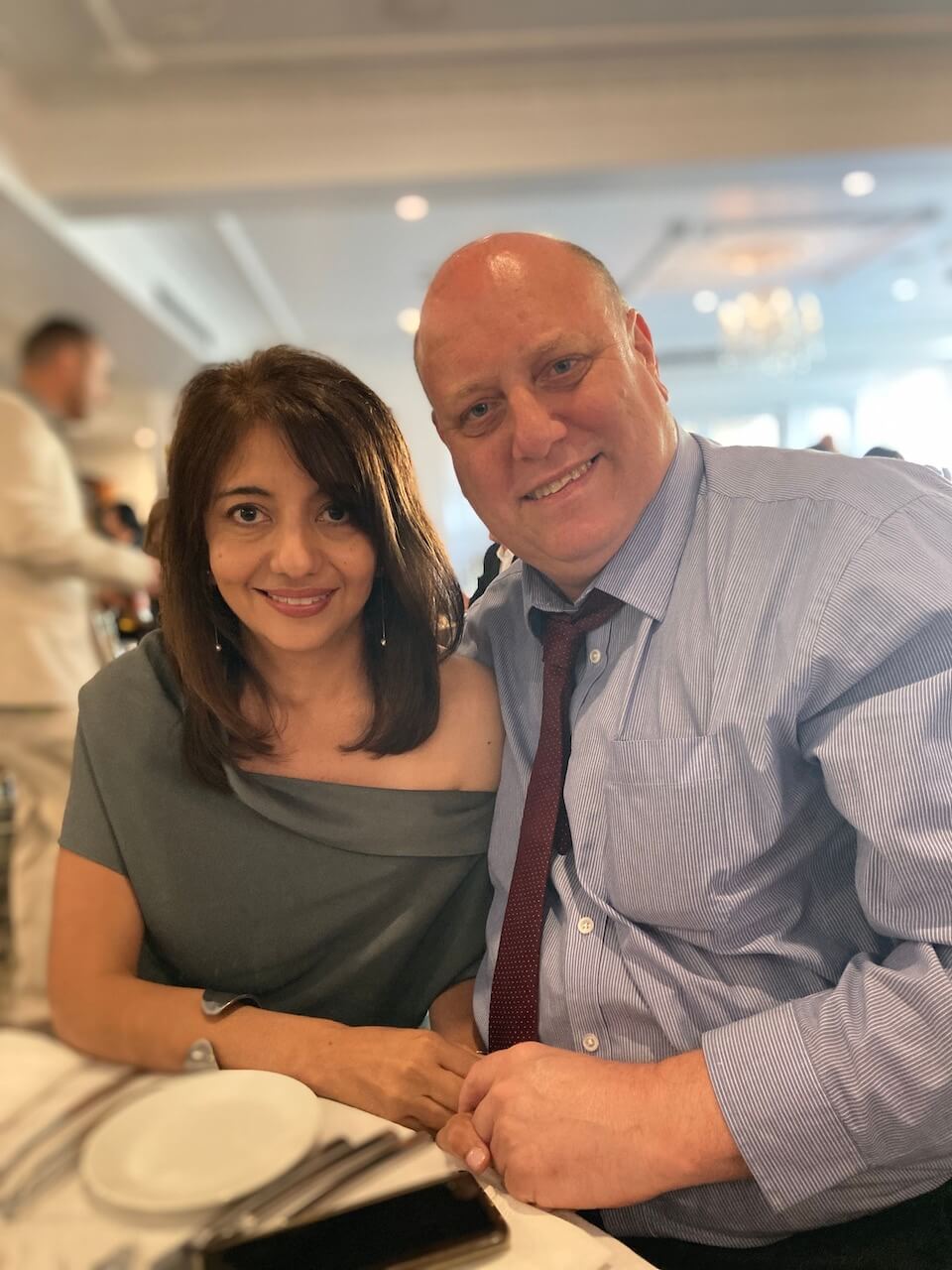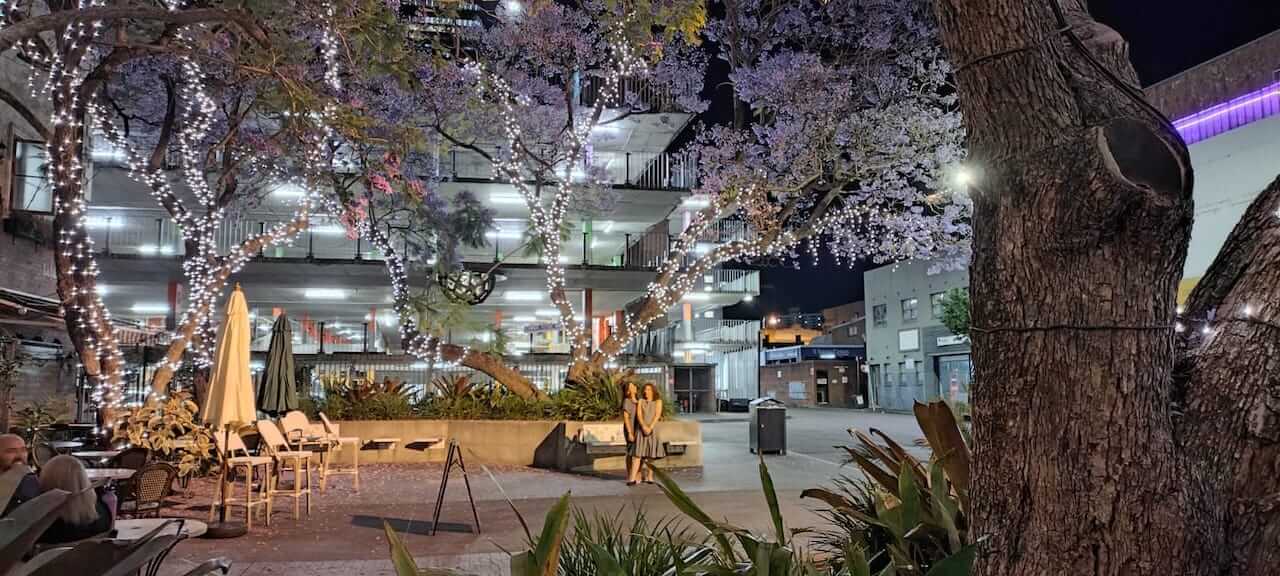 We saw these Jacaranda trees all lit up with fairy lights across the street from our hotel. What a lovely spot!
My Killer Shoes
The only complaint that I have about the night is my shoes! I wore these pretty silver heels that killed me! Now I wore these heels two years ago and I walked around the city in them without a problem. But I don't know if my feet have grown or what. But they hurt so bad!!
I remember ages ago watching Oprah on TV and she said that as you get older the only two things that still keep growing are your feet and your nose. Well, maybe she's right which is bad news for me because I have a rather large honker and now these shoes don't fit as well as they used to!
I think that if I had a lighter on the night I would have gladly set fire to these shoes. And at one point I had visions of throwing them in the bushes!! Luckily a lot of other ladies must have also had the same problem because they were barefoot on the dance floor. And in the end, I couldn't stand them a second longer so I joined them and took my shoes off too. What a relief to be able to do the YMCA properly and jump around to Living On A Prayer!!
When it was sadly all over we went back to our lovely hotel room and I was so excited to have a shower and slip into these comfortable slippers. My feet were throbbing and my legs were cramping up from so much dancing. Haha! the joys of getting older and clearly not used to going out much!!
I just love soft white hotel bathrobes.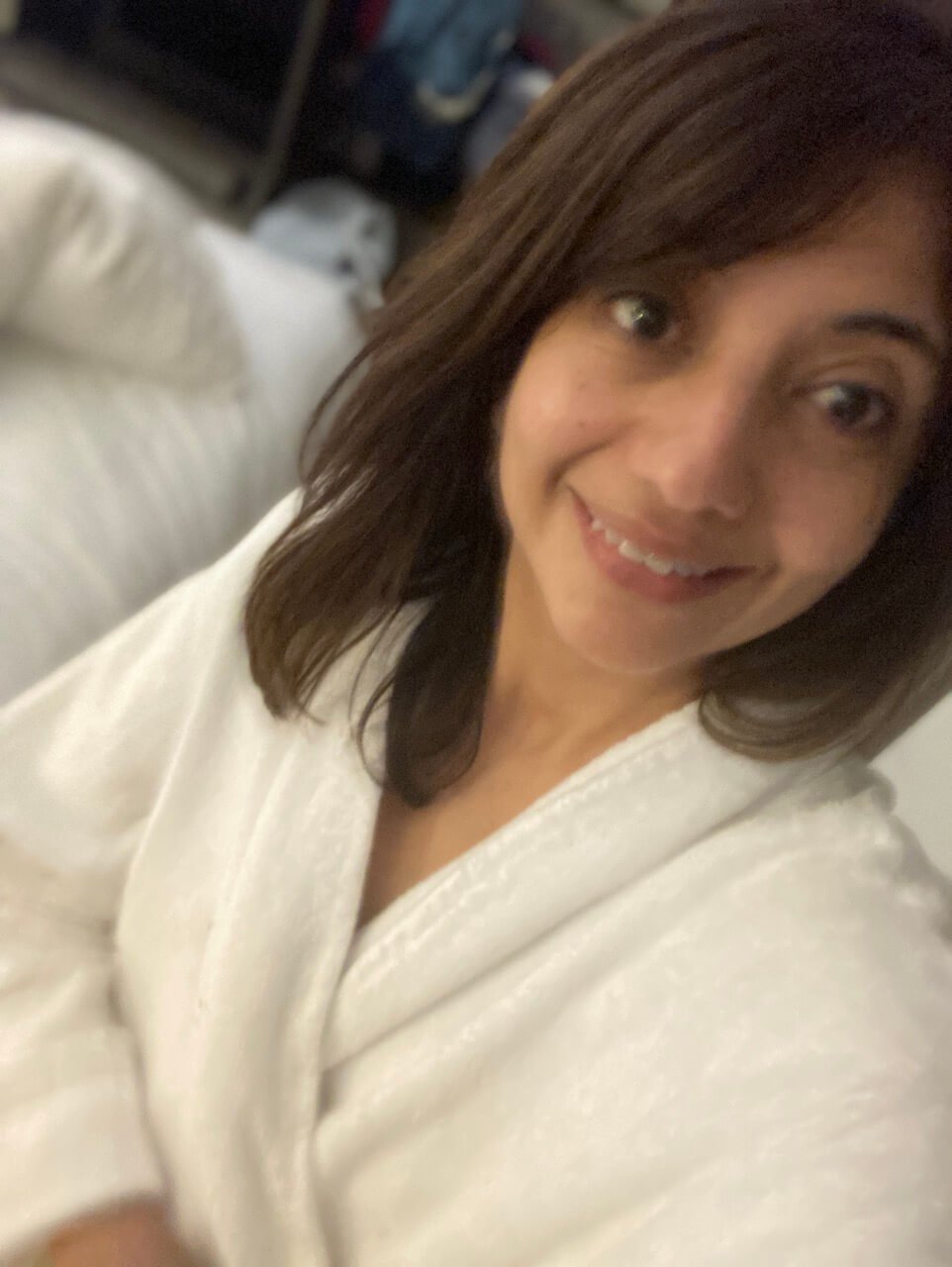 A Buffet Breakfast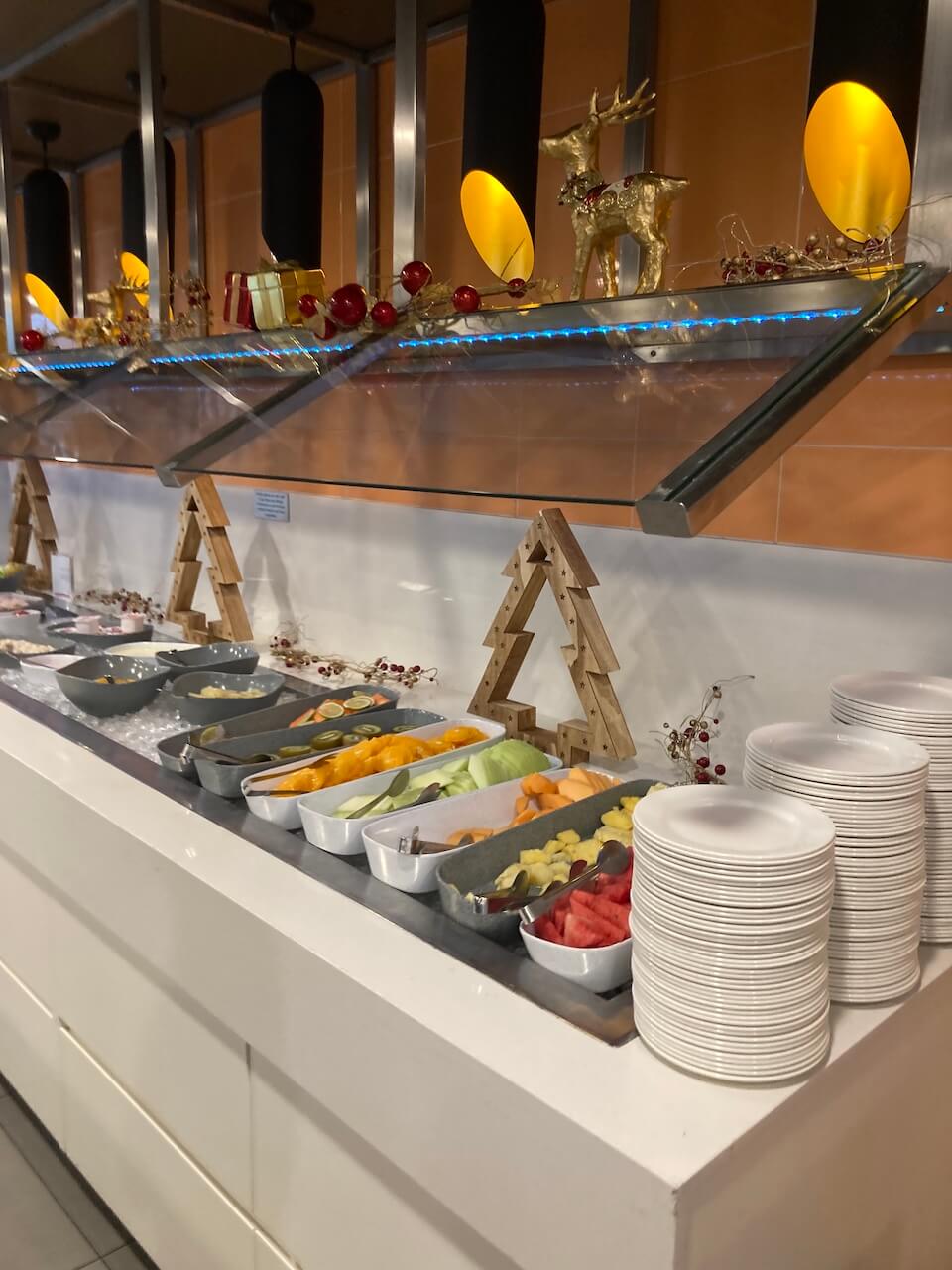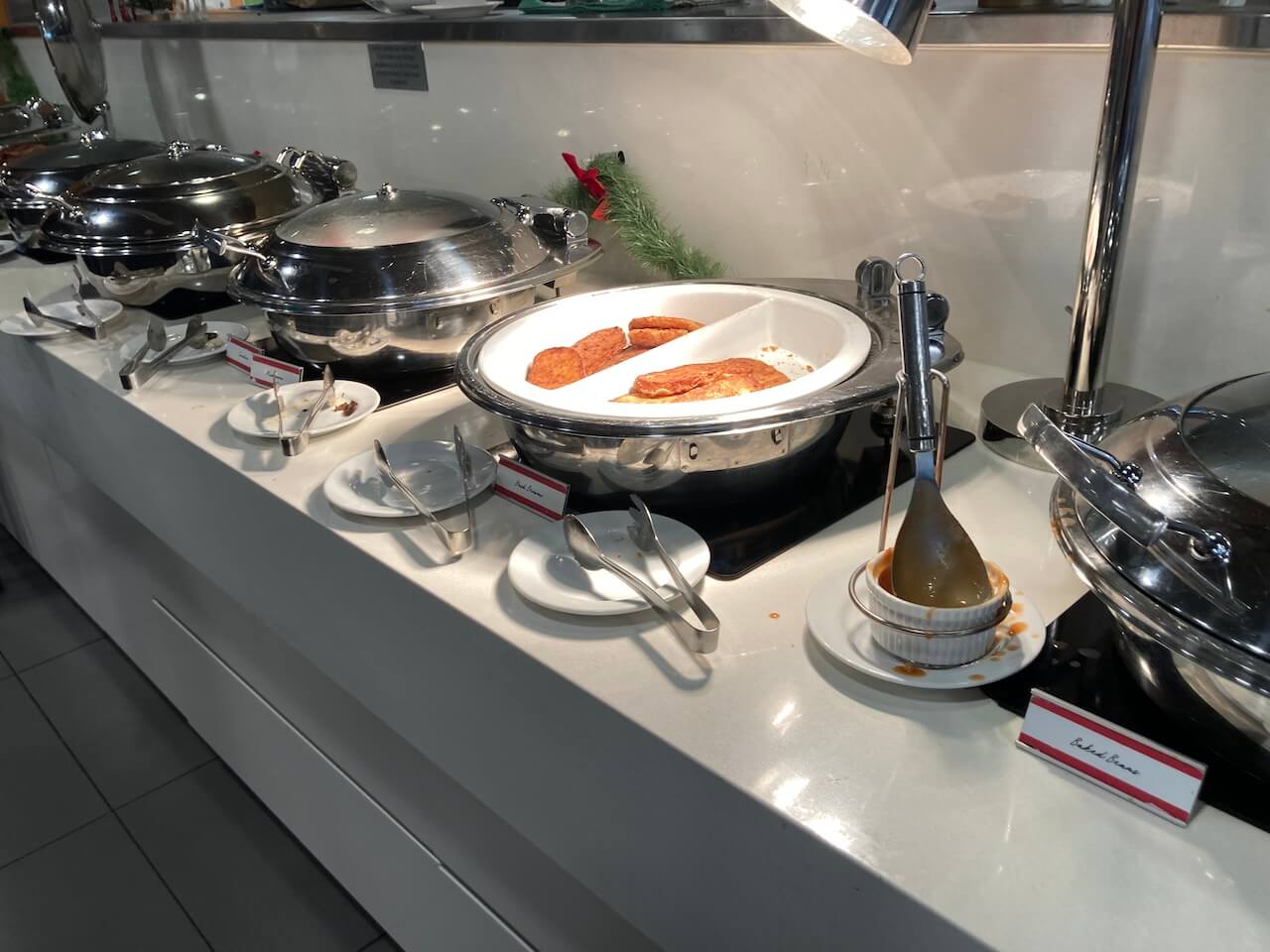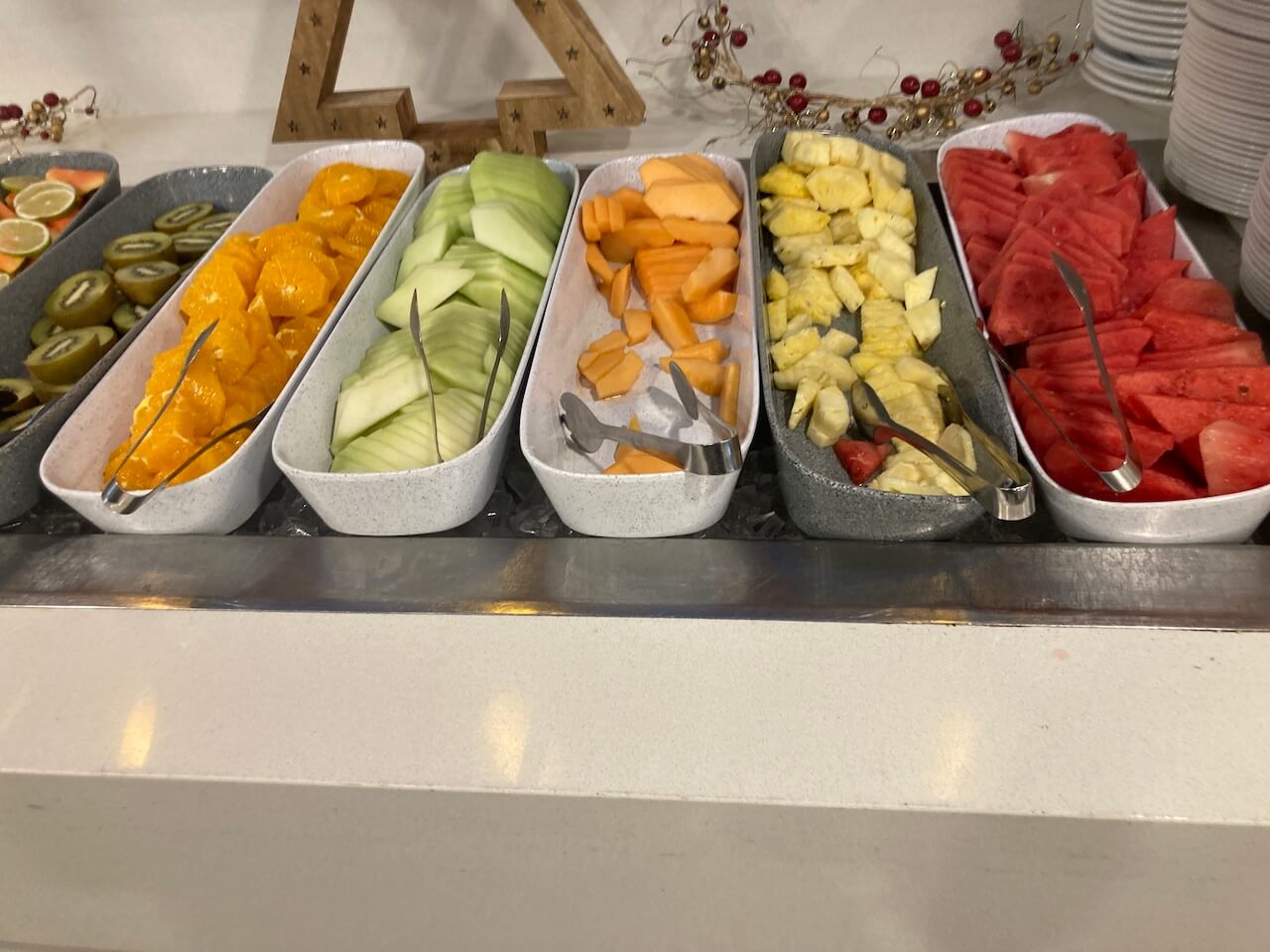 Sunday morning we had a spectacular buffet breakfast. I did a tour of all the amazing food and then I started with a bowl of coco pops hehe. Then I moved on to the full hot breakfast and then I ate my way through pastries, cold meats, yoghurt and a variety of cheeses. Geez, I sound like The Very Hungry Caterpillar. I also tried some of Steve's omelette. They had an omelette station where they made omelettes to order. I wish I could have eaten a whole one but I couldn't fit a whole one in….. booo!!
There was also a juicer so I had beetroot, apple, celery and ginger juice. As well as some orange juice from a machine that squeezed the oranges on the spot.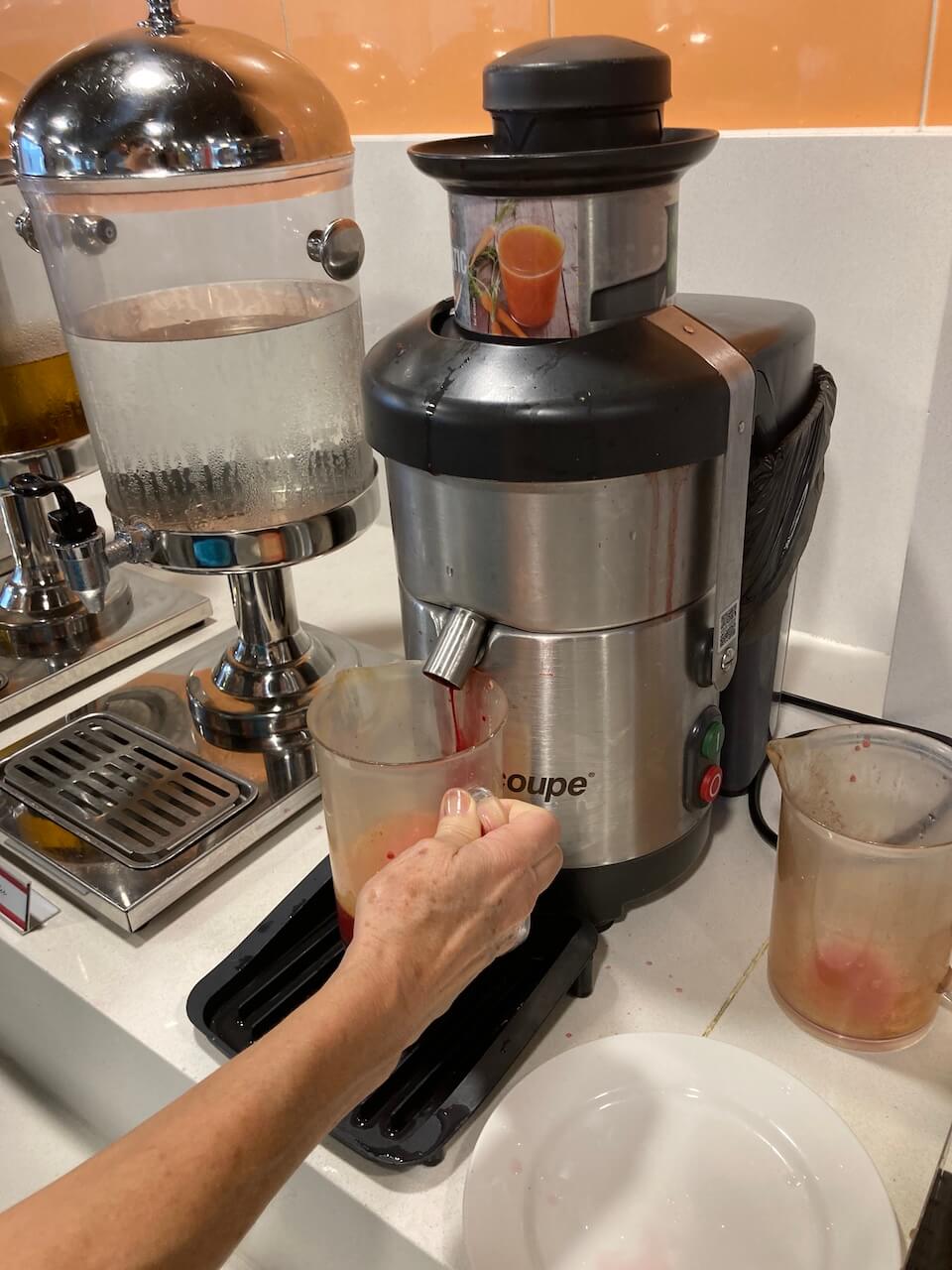 A Dip In The Pool
After breakfast, we went for a swim. I didn't actually swim but I did get in the water which was absolutely freezing. So I was proud of myself for being so brave haha!
I much preferred being on the lounge chair though!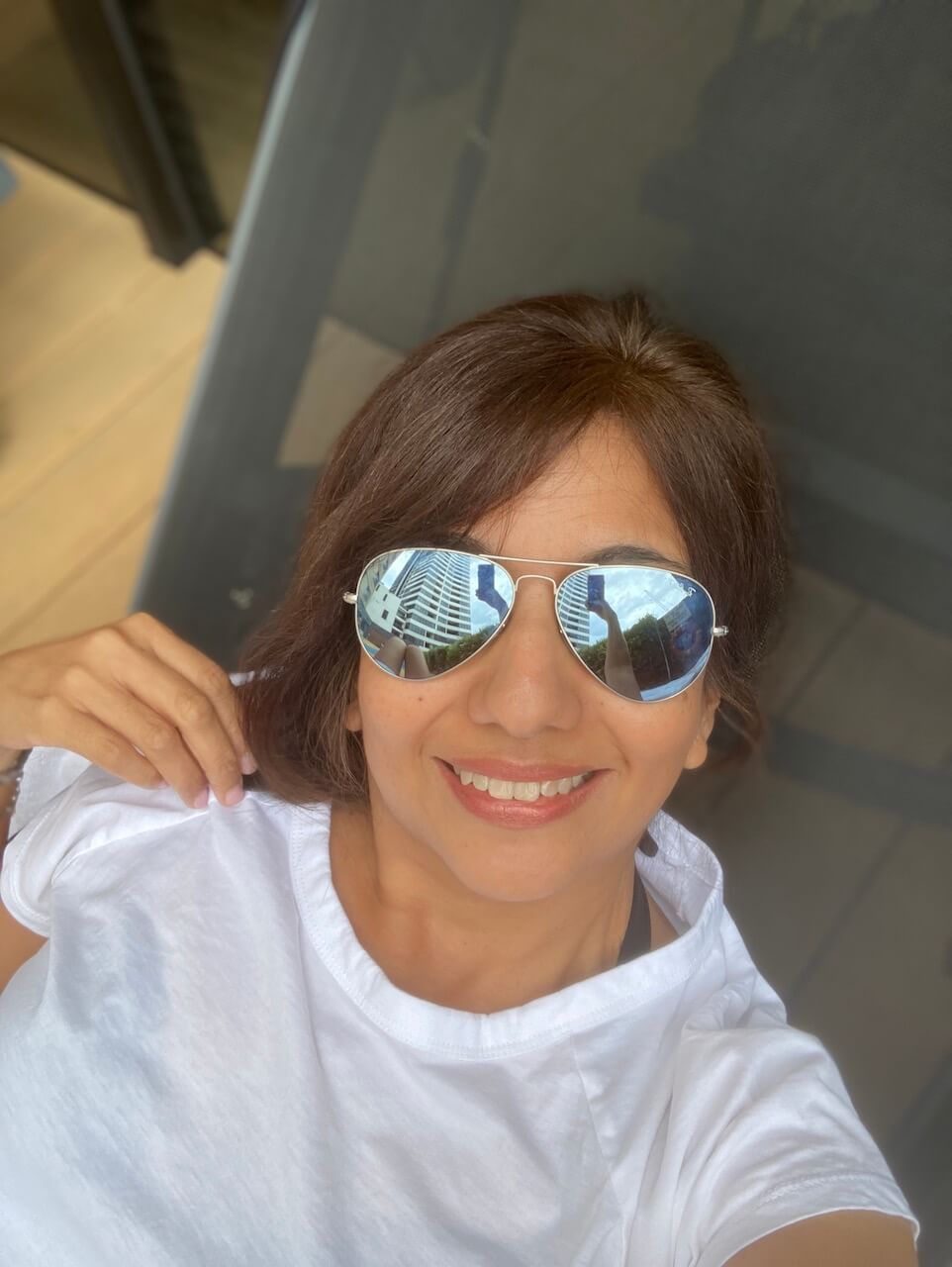 Then it was time to check out and just like that, the weekend was over. I was sad to leave and could have easily stayed another day or ten. Steve felt the same way too and I was so excited when he messaged me at work this morning to say that he's booked us in for a night's stay on the 21st of December to celebrate the start of my holidays from work. What a nice thing to do!
It was such an amazing weekend and I really needed it to reset and recharge. As I type this I have some lovely Christmas jazz playing and I am feeling more relaxed and hopeful than I was last week. I know big emotions will still come in waves. But at the moment I'm doing ok. I hope that you guys are well and that you all have a fantastic week. I look forward to being back here on Wednesday.
Happy Monday!